Shehr-e-Roghan/ Gondrani
Mysterious City of Caves
شھر روغاں غاروں والی بستی
This area is thousands of years old spread over an area of ​​two to three kilometers near Lasbela city. Hundreds of houses with double, triple, and four stories are constructed inside the caves and over the mountains.
Most of the houses comprise two to three rooms and these rooms are connected with each other through tunnels. It is said that it was a Buddhist monastery. It is also narrated that; Buddhism was on peak thousand years ago. There were almost 1500 caves but now they are 500 only.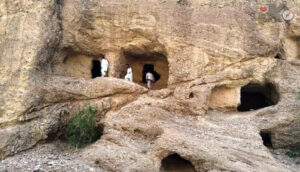 According to a folk tale, Prince Saif -ul -Malook established this town. According to some sayings, it was settled during the King Chach. Some people connect this place to Hazrat Suleman (A.S).
It is considered to be one of the largest towns of caves in the world. Turkey and other European countries earn millions of dollars in terms of tourism. Its condition is getting worst because of the effect of the weather. You have to reach the Gond Rani area, on the RCD Highway, 15km from Bella to Khuzdar road.