Quetta
(The Majestic Mountain city)
Located at the verge of Bolan pass and surrounded by the up and down chaotic but charming mountain ranges of Chilten, Mardar, Taktu, and Zarghoon, this lush green bowl-shaped valley named Quetta covers an area of 160 miles.
1692 km above sea level, Quetta is the capital of Balochistan. Balochi glasswork, embroidery, Balochi handicrafts, carpets, Fur coats, woolen jackets (واسکٹ), caps/hats, valuable stones, and dry fruits are the gifts of Balochistan.
Fruits like Peach, plums, pomegranate, apricot, apples, melons, cherry, pistachio, and almonds are produced in the valley of Quetta. This is the reason Quetta is called the fruit basket of Pakistan.
No place is better than Quetta for purchasing Iranian and Afghani rugs. Kashmiri Bazar, Liaqat Bazar, and Suraj Gunj Bazar are the best-shopping markets.
A lot of things in Quetta are imported from Afghanistan, Iran, and Central Asia. Therefore, they are available in different varieties. Quetta is close to Qandahar, the city of Afghanistan.
Quetta's Earthquake
On 31st May 1935, a huge earthquake hit Quetta whose magnitude was 7.1. After an earthquake of a few seconds, the city turned into a wreckage. According to an estimate, about forty thousand people were killed. It was the fifth-largest earthquake in the history of South Asia. The strong-willed and courageous residents of Quetta regained their status.
Famous Places of Quetta 
1- Museum
The museum of Quetta is different from the other museums in Pakistan. This museum has antique guns, Swords, unpublished drafts/ transcripts, tools from the Stone Age, coins, and prehistoric utensils discovered by Mehar Garh. The pictures before 1935 are also exhibited. You have to travel Wafar road to visit this museum. Where Pakistan is full of history.
2-Geological Survey of Pakistan Museum
This museum has archeological models, Pieces of meteorites coming from space about 47 million years old, fossils of whales, large reptiles, and lots of other informational things. This treasured museum is situated on Saryab Road near Balochistan University.
3- Command and Staff College Museum
This museum is established in the area of command and staff college in the bungalow of a former Field Marshal. A visit to this museum helps you in understanding the history of the British army.
4- Liaqat Park
Situated on the Iqbal Highway, this park has a playland for children, a cafeteria, and an airplane. These facilities make this park unique.
5- Askari Park
Situated in the Cantonment area and on airport road, this park is famous for its security arrangements, Chagi model mountain, playland, and cafeteria.
6- Chilten Hill View Point
To enjoy the beautiful aerial view of Quetta, go to the Brory road, situated on Chilten hill viewpoint. A splendid building of Balochistan Arts Council is located on Jinnah Road.
7- Karkhasa Park
This park is 10 km from Quetta and situated in a 16km narrow valley. It has herbs and shrubs of different kinds. Pheasants, hawks, and wild birds abound here. Before visiting this park, contact the department of forestry for better facilities.
8- Hanna Lake
Hanna Lake has situated 10 km from Quetta at the start of Urak Valley. It was built in 1894. Greenish blue lake water, brown mountains, and pine trees have enhanced the beauty of this lake.
Golden fish can be seen swimming in the lake. There is an island between the lake. The eastern side has Durrani Water Sports Academy.
People for Kayaking, rowing and sailing are trained here. This lake has everything you need for a picnic spot
9- Hanna Orak/Urak (Urak valley)
21 km in the suburbs of Quetta city, beyond Hanna Lake, the valley is famous for plums, apricots, apples, and other fruits. It is also a good picnic spot. At the end of Hnna Urak and the start of the narrow valley, a beautiful waterfall is the best tourist spot.
The water from the waterfall turns into the lake and increases the attractiveness of this place. The groups of young people swim in the cold water of zarghoon and play traditional games.
When you enter the lake from Quetta's side, the row of roses and flowery trees on both sides will refresh your body and soul. Enjoy tea and fritters on the way to the valley. A wagon can be hired for the valley from Suraklar road.
10- Hazar Ghunji, Chilten National Park
Hazar Ghunji means a thousand treasures. According to folk tales, a thousand treasures are buried here. No one knows about the truth of this tale. This national park is established for the safety of Markhor (screw-horned goat) and is situated on the Saryab road, about 20 km away from the southwest of Quetta.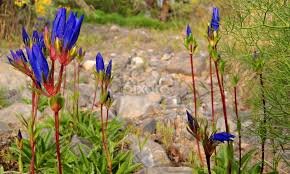 The quantity of markhor has increased after the development of this park. Twelve kinds of Markhors are placed in the park and the Chilten is famous for its longhorns.
In addition to these, rare kinds of animals and birds are kept there. About 225 kinds of plants are rooted there.  Surrounding an area of 32500 acres, this park has a natural history museum.
A rest house is there for the night's stay of tourists.
11- Tale of Chilten (داستان چلتن)
Chilten mountain is located at a height of 10853 feet from sea level. Chilten means "forty souls". According to the anecdote, a poor couple had 40 sons. They were living hand to mouth. It became hard for them to raise forty sons.
They found a solution. When a son was born, they used to leave him at the mountain. And they thought they had given their sons to God. They hand over 39 sons to God. When they took their fortieth son to the mountain, all the 39 sons came and carried their brother with them. Suddenly, all of them disappeared.
After that, no one found a clue about them. This mountain was named after them. It is narrated that; their souls come there and carry lonely wanderers.
12- Jabal Noor ul Quran
In 1992, two brothers Haji Abdul Rasheed Lehri and Haji Abdul Samad took the initiative to store the old pages of the Holy Quran. For this purpose, they dug the tunnels in the mountain of Chilten.
26 tunnels have been dug to date. They are divided into four blocks. One lac bag of holy pages and drafts are made and stored in the tunnels. These holy Qurans are about sixty to seventy lacs. Furthermore, they are renewed for use.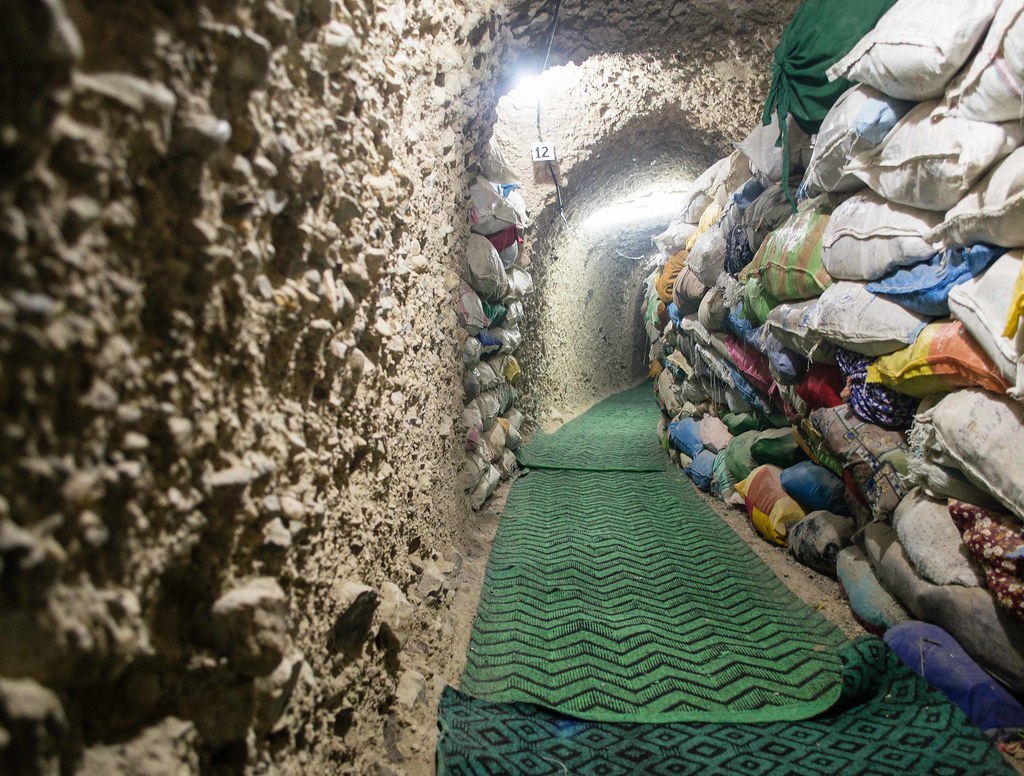 About one lac Quran-e-Pak are renewed and delivered all across the country. Valuable and rare drafts are kept in the showcase. The pieces of Quran-e-Pak before the Mughal regime are also present. One out of four blocks is open to the public.
13- Makhmal Tangi
This place is beautiful because of a small room-shaped cave situated on a large spring at a hill. The water continuously dripped over the cave and it is covered with fresh soggy algae. It seems like it is covered with velvety layers.
14 – Luk Pas / Lak Pas
Famous Pass, Luk Pas is situated in the south,17 miles away from Quetta at a height of 6888 feet from sea level. At this pass, an ariel view of Quetta city and Mastaung can be enjoyed at the same time.
At night, this bowl-shaped Quetta looks like a city of lights. Water continuously flows from a rock there. According to experts, a huge water reservoir can break this rock.
A cave is also present in the mountain and no one knows where it terminates. A cold breeze blows from the cave in the months of June and July. And warmth can feel like a heater in the months of January and February.
 15- Kambela Valley
The captivating valley of Kambela is located in the center of Luk Pass Mountain. Kambela means "the natural hillside". The whole area is comprised of orchards and crops and presents a splendid view.
16- Spin Karez
Quetta's mountains are full of minerals. World-renowned Sultan golden trained people for bike jumping in Spin Karez.
17- Famous foods of Balochistan  
Quetta Cantt has different restaurants where whole roasted goats are filled with rice and cooked. This dish is regionally known as "Khaddi Kebab" and is usually called "Sajji".
Landhi and Pulao are also good food items. Mir Afzal Karhai on Jinnah Road and Lehri Sajji house on the back of Liaqat Bazaar are famous for food. Meezan Chowk is renowned for tea.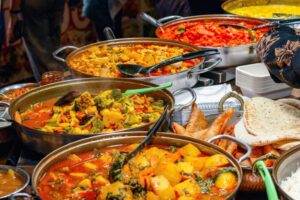 Prince road, Jinnah Road, Sarena hotel, coffee shop, and Loralai restaurant are the best spots for foodie people. Relish fresh fruit juice from the flora juice shop on mission road, the largest fruit juice shop in Balochistan.
Must try "Rosh" (roast) on in Kachlak area, situated 30-minute drive from Quetta near Bulbuli check post. Its taste is matchless.
Wind up Lines
Quetta is considered the fruit basket of Pakistan. It is not only famous for its beautiful historical places but also for the delicious street food, culture, traditions, and local industry that is booming by leaps and bounds