Khunjerab Top
Khunjerab Top is the highest crossing border of the World at an altitude of 16,000 feet above sea level. It is the highest point of Karakoram Peak too.
Every year, roads are blocked due to heavy snowfall. And the border is closed from 15th October to 1st May. It is also called the "Roof of the World". After reaching Khunjerab Top, cover yourself in warm clothes, jackets, woolen caps, and black glasses. Wear joggers. In this way, the bitterly cold winds will not affect you.
The eyes are scarred by the rays of the sun when sunlight falls on ice. The most important thing is the deficiency of oxygen at height. There can be difficulty in breathing. Try to walk slowly. Take deep breaths.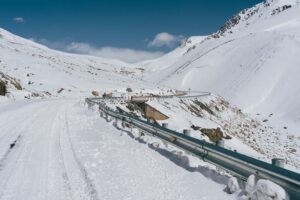 Embrace the military people on the top. Talk to them about their experiences. You will realize how much they are suffering for the safety and protection of our beloved country. Wave hands to the soldiers at the Chinese border. Raise the slogan
پاک چین دوستی
زندہ آباد