Ziarat
The most famous recreational spot of Balochistan Province, Ziarat, is 2449 meters from sea level.
The weather is cold in Ziarat even in the summer season. It is snow falling in winter and the temperature drops down to -19.
Red and Black apples are produced in winters, while black cherry, apricot, and peach fruits are cultivated in the summer season in plenty.
Ziarat is well known for the Juniper Forests. Juniper forests of Ziarat spread over an area of 247000 acres and they had 5000 to 7000 years old trees. They are second after the oldest trees in California. UNESCO has declared them the "World Net of Biosphere Reserves". Pakistan's first Bio travel area is in Lal Sohanra is in Bahawalpur.
A PTDC guesthouse and other hotels are there with all the facilities.
15km from the Ziarat, a water dam is a good picnic spot. On the way from Ziarat to Kharwari Baba, stand on the top of the mountain and see the shrine of Kharwari Baba in the lowlands and Allah written naturally on the hill in front. To see this clearly, use a telescope. Means of Transportation can be availed from Quetta Bus Stand.
Key information about Ziarat 
| Attribute | Information |
| --- | --- |
| Location | Ziarat, Balochistan, Pakistan |
| Altitude | Approximately 2,543 meters (8,343 feet) above sea level |
| Climate | Cool temperate climate with cold winters and mild summers |
| Landscape | Surrounded by rugged hills, juniper forests, and scenic valleys |
| Tourist Attractions | Ziarat Residency (Quaid-e-Azam's Residency), Juniper Forest, Prospect Point, Ziarat Valley, Sandeman Tangi Dam, Shrine of Baba Kharwari |
| Historical Significance | Ziarat Residency, the summer residence of Quaid-e-Azam Muhammad Ali Jinnah, Pakistan's founder |
| Economy | Primarily agriculture, with apples and cherries being significant crops |
| Biodiversity | Home to a variety of wildlife, including Markhor, leopards, and various bird species |
| Cultural Heritage | Enriched with local traditions and cultural festivals, such as the Marri Festival |
| Accessibility | Connected by road, accessible from Quetta, the provincial capital |
| Notable Features | Ziarat is known for its stunning natural beauty, juniper forests, and being a serene retreat for tourists |
| Accommodation | Offers various hotels, rest houses, and cottages for tourists |
| Outdoor Activities | Hiking, trekking, and nature walks in the beautiful surrounding landscapes |
| Local Cuisine | Traditional Balochi cuisine, with kebabs, sajji, and bread being local specialties |
Famous Places of Ziarat
Quid-e-Azam Residency
This building was established in 1882 by the British Government. Chief commissioner Balochistan, used this place as a summer headquarter. This building was also used as an army hospital.
Quaid -e- Azam came here when his illness got worse. He used to work there day and night. At last, the doctor suggested shifting Ziarat. He spent the last days of his illness here. On 7th January 1977, the Senate of Pakistan named this residency "Quaid -e Azam" house.
His belongings are also exhibited there. Residency is constructed from fine-quality wood and it is a great construction masterpiece. Surrounded by lush green lawns, poplar trees, and plants with loaded flowers, this building has been given the status of National Heritage.
Ziarat residency's picture is available on a 100 rupee note.
Chashma Walk
A spring is located 2km away from PTDC Hotel. The spring's water is used for irrigation. This 2km long way surrounded by mountains and valleys makes you feel fresh and glad.
Sandeman Tangi
At this place, 4 miles from, clear water flows from the top of a small cave inside the sky-high craggy cliff. The water freezes in winter and it becomes an avalanche. It breaks as the winter season ends. It sounds so loud that Ziarat residents recognize that it's time to say goodbye to the cold. In summer, travelers flock here.
Fern Tangi
A road direct to Fern Tangi 8 km from the highway leads to Quetta from Ziarat. 2km from this point, a cascade falls from the mountain. It has become the best recreational spot because of the scenery and the surrounding area.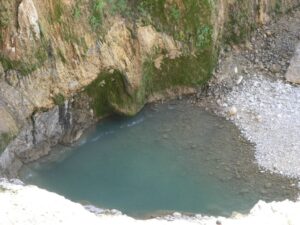 Kohen Tangi and Quas Tangi are also beautiful picnic points.
Zindara
This splendid place "Zinadara" is 14 km from Ziarat. Besides this, zarri (16km from Ziarat) and Mana Dam (20 km from Ziarat) are also worth-watching places.
Choteer Valley
This beautiful valley is located on Loralai Road,14 km from Ziarat. The local people of this area live in wood houses. These wood houses are unique as compared to other wood houses in Balochistan. This distinctiveness attracts vacationers to this place. There are a lot of picnic spots in the valley. Rest houses are also existing.
Tangi Chotiyari
Tangi is a local word that means "pass". This place is at a drive of half an hour on the highway directing Ziarat to Loralai. Stay in the resthouse for some days and enjoy your vacation.
Prospect Point
The steep path from residency goes to prospect. At this point, the most appealing and beautiful scenes of the valley can be viewed. 89000 feet high from sea level, prospect point has Balochistan's highest mountain peak (3485 meters) in its south.
From this place, the word "Allah" can be seen naturally written on a mountain. Mian Abdul Hakeem Khurwari's tomb is located 3km from this place. 35 km from Ziarat Minhar(Munna) lake is a worth-viewing place.
Exploring Ziarat's Charms – Beyond Quaid-e-Azam Residency
Juniper Forests:
Ziarat is renowned for its vast juniper forests, some of which surround Quaid-e-Azam Residency. The juniper trees, some believed to be thousands of years old, contribute to the unique and refreshing atmosphere of the region.
Prospect Point: For panoramic views of the valley and surrounding hills, visitors can head to Prospect Point, offering a breathtaking vantage point. The scenery from this location captures the essence of Ziarat's natural beauty.
Sandeman Memorial Hall: Named after Sir Robert Sandeman, a prominent British colonial administrator, the Sandeman Memorial Hall is another historical site in Ziarat. The hall serves as a museum, displaying artifacts and documents related to the region's history.
Hiking and Sightseeing:
Ziarat beckons to nature enthusiasts and hikers, offering scenic trails and opportunities for exploration. The combination of natural beauty and historical sites makes it a haven for those seeking both adventure and tranquility.
Local Cuisine and Crafts:
Visitors can immerse themselves in the local Balochi culture by savoring traditional Balochi dishes and exploring the vibrant local markets. Ziarat is known for its handwoven carpets and Balochi embroidery, providing unique souvenirs for travelers.
Famous Schools
Quaid-e-Azam Public School, Ziarat:
A prominent educational institution that reflects the historical significance of the region.
Famous Colleges
Government Degree College, Ziarat:
A well-known college offering higher education in various disciplines.
Prominent Hospitals
District Headquarters Hospital, Ziarat:
The main healthcare facility catering to the medical needs of the residents and visitors.
Popular Restaurants
Juniper Restaurant:
Known for offering local Balochi cuisine and a cozy ambiance.
Ziarat Valley Restaurant:
A restaurant that provides a scenic view of the valley along with a diverse menu.
Pine Park Restaurant:
Located amidst the natural beauty of Ziarat, offering a relaxing dining experience.
Frequently Asked Questions 
Q: What is Quaid-e-Azam Residency?
A: Quaid-e-Azam Residency is a historical building located in Ziarat, Balochistan, Pakistan. It served as the residency of Muhammad Ali Jinnah, the founder of Pakistan, during the last days of his life.
Q: Why is Quaid-e-Azam Residency significant?
A: Quaid-e-Azam Residency holds historical importance as it was the residence of Muhammad Ali Jinnah during the last days of his life in 1948. It is a symbol of the struggle for independence and the birth of Pakistan.
Q: What is the architectural style of Quaid-e-Azam Residency?
A: The architecture of Quaid-e-Azam Residency reflects a colonial style, characterized by its wooden structure and pitched roofs. It is surrounded by a beautiful garden and is situated amidst the scenic beauty of Ziarat.
Q: Can visitors enter Quaid-e-Azam Residency?
A: Yes, Quaid-e-Azam Residency is open to the public. Visitors can explore the rooms and artifacts inside the residency, gaining insights into the life of Muhammad Ali Jinnah.
Q: Are there any museums or exhibits within Quaid-e-Azam Residency?
A: Yes, there is a museum inside Quaid-e-Azam Residency that showcases personal belongings, photographs, and historical documents related to Muhammad Ali Jinnah. It provides a comprehensive view of the leader's life.
Q: What is the best time to visit Quaid-e-Azam Residency?
A: The best time to visit Quaid-e-Azam Residency is during the spring and summer months (March to June) when the weather is pleasant, and the surrounding landscapes are lush and vibrant.
Q: Are there other attractions in Ziarat besides Quaid-e-Azam Residency?
A: Yes, Ziarat is known for its scenic beauty and has other attractions, including the Juniper Forest, Prospect Point, and the Shrine of Baba Kharwari.
Q: How can one reach Ziarat and Quaid-e-Azam Residency?
A: Ziarat is accessible by road, and the nearest airport is in Quetta. Visitors can hire local transport or use their private vehicles to reach Ziarat and explore Quaid-e-Azam Residency.
Q: Is there an entry fee for Quaid-e-Azam Residency?
A: Yes, there is a nominal entry fee for visitors to Quaid-e-Azam Residency. The funds generated are often used for the maintenance and preservation of this historical site.
Q: Can visitors take photographs inside Quaid-e-Azam Residency?
A: Photography is generally allowed inside Quaid-e-Azam Residency, but it is advisable to check with the authorities for any specific guidelines or restrictions.
Wind up Lines
This city holds significant importance in the History of Pakistan. Furthermore, it is famous for the production of fruits. UNESCO has declared this place on the list of World Heritage sites. A tour to Balochistan Province without Ziarat is incomplete.