Hingol National Park
Hingol National Park is the largest park in Balochistan and Pakistan. It surrounds an area of 639043 hectares. 190 km from Karachi, this park included three districts of Balochistan named Gwadar, Lasbela, and Awaran.
It is named after the river Hingol flowing in this area. Situated on the Makran Coastal Highway, it was given the title of National Park in 1988.
This park is considered to be unique because of the four different ecosystems. The famous "Hanglaj Temple" of Hindus is also located here.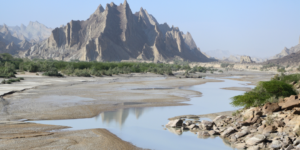 This park is divided into mountains, sandy rocks, and a flood plain near the river.
The Hingol Canal passes through this park. It forms a tidal wave before falling into the sea. It is a habitat for many Immigrants birds and crocodiles. Numerous birds and animals are present in the park. Countless valuable and rare plants are also found in this area.