Kanraj
The charming area of Kanraj is situated on the highway going from Hub to Karachi. Come to Winder through Hub and Gadani. Beyond Winder rough mountain ranges start. The air becomes cold as the city ends.
As the mountain ends, an endless blue seashore of the Sea appears. The bus stops at the town of fishermen. A private jeep is hired to reach the coastline.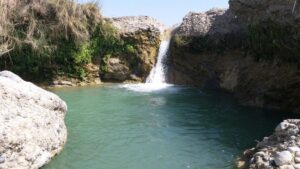 The habitants of the town go to the seashores of Balochistan for catching fish and prawns. A lot of Springs of sweet water are present there because of the rocky area.
Fish can be caught in the afternoon. It's a wonderful experience to visit the forest there. Partridges and rabbits are the best prey there. To visit this place with a guide is a better option.