Karachi – The City of Lights
(The pearl of the Arabian sea)
Karachi is the largest city in Pakistan. It is also the capital of Province Sindh. This ancient city has a population of more than 20 million. Karachi presents a beautiful contrast of antique and modern cultures and traditions. It plays a key role in the economy of Pakistan. It is famous for its grand buildings, captivating seaports, food streets, and  museums.
Brief overview of its history
| Attribute | Information |
| --- | --- |
| Location | Karachi, Sindh, Pakistan |
| Coordinates | 24.8607° N, 67.0011° E |
| Population | Over 14 million (as of my last update in 2021) |
| Province | Sindh |
| Importance | Economic hub, largest city in Pakistan, major port city, cultural center |
| Economy | Diverse, including finance, industry, trade, and services |
| Educational Institutions | Numerous universities, colleges, and schools |
| Transportation | Well-connected by road, air, and sea. Home to Jinnah International Airport. |
| Landmarks | Quaid-e-Azam's Mausoleum, Clifton Beach, Karachi Port, Mohatta Palace, Pakistan Maritime Museum, Karachi Zoo |
| Languages Spoken | Sindhi, Urdu, and English widely spoken |
| Climate | Hot and humid summers, mild winters, and monsoon rains |
| Cultural Diversity | A melting pot of cultures, hosting a variety of ethnic groups |
| Notable Industries | Banking, finance, textiles, manufacturing, port activities |
| Entertainment | Home to theaters, cinemas, art galleries, and a vibrant music and arts scene |
| Historical Significance | Has a rich history dating back to ancient times, influenced by various empires and dynasties |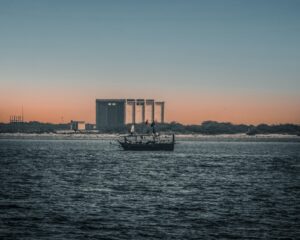 History Of Karachi
It was known as "Karro Kala" when the great Alexander's navy reached there. A village named "Kark" was settled there which was 16 miles away from the existing Karachi. A time came when this port was covered with sand. At this time the people of Kark searched for a better place under the mentorship of "Bhojomil". They found a place "Kalachi" which was famous as "Karashi" among Arabs Mariners. Afterward, this village adopted the name "Karachi".
During Talpurs' reign, it prospered a lot. In 1843, the British Captured this area. Sir Charles Napier shifted their Head Office from Hyderabad to Karachi. At that time, Karachi flourished as a navy port and Military Barracks. In 1936, Sindh became a separate province. Karachi was given the reputation of its Head Office.
In 1947, it was made the capital of Pakistan. Its population was two lacs at that time. After the creation of Pakistan, people from Muslim minority areas of India migrated to Karachi. This led to an increase in population there. This increased population created a big challenge for the administration. Since it was the capital, all the public servants, their offices, and their residence gathered here. And by the end of 1951, its population crossed 1 million.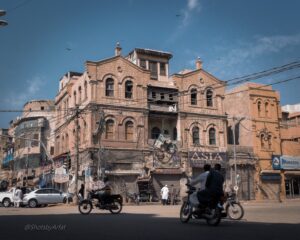 The second flood of the population came there when an industrial state was established there. People from Punjab and KPK migrated to find a better livelihood. People from the slums of Sindh also shifted to Karachi.
People of different languages and different cultures were accommodated there. Karachi is now a famous historical  Multi-Ethnic and multi-cultural city. It is also known as the city of lights. Karachi is the country's largest economic, industrial, trade, education, and Transportation Centre. In addition to these, it has many famous historical places and picnic spots. It is situated in the west of River Indus and Northern seashore of Arabian sea.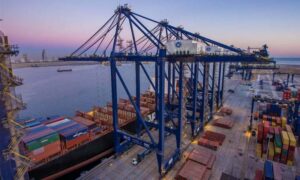 Pakistan's largest seaport and Airport is also located here. Its weather is moderate because of the seashore. One can enjoy fishery, eye-catching sea bank sights, sailing, golf, and horse riding all over the year.
Famous Places of Karachi
Quaid's Tomb (Mazar e qaid)
After the death of Quaid e Azam, Syed Hashim Raza decided to build his shrine in the honor of his majesty. He selected a place in the heart of Karachi, in the middle of important roads and tracks. An adept Architect Yahya merchant completed its design in 1956. Mohtarma Fatima Jinnah gave the approval in December 1958. In July 1960, President Ayub Khan inaugurated this project. Quaid's short biography, old Pakistani coins, and the content of Resolution of Pakistan are placed in its foundations. 1125000-carat silver is used for the safety of the grave. It was opened for the public on January,1 971.
The shrine has a parameter of 65000 yards and the central building is located at a height of 250 feet. Spacious Stairs are constructed on the three sides to reach this vast podium. High-Quality Marble is imported from Mardan and Peshawar. The building height is 114 feet, the dome inner diameter is 70 feet and the outer diameter is 74 feet.
Four arched-shaped doors are placed for the entrance. Calligraphy on the plate (Qatba) is done by the famous calligrapher. Verses of Surah Nasar and Surah Fateh are engraved on taweez (a trinket or piece of jewelry usually hung about the neck and thought to be a magical protection against evil or disease.) The inner dome is decorated with a stunning Chandelier gifted by our respected neighbor China to Pakistan.
A silver net is placed around the grave.  From January 1973, Armed Military Forces started guarding the Tomb. Four people of armed forces are positioned inside and four are positioned outside the tomb. the shrine is decorated with orchards covering up to 27 acres. Gigantic Trees and countless flowering plants make this area drop-dead gorgeous. Sitting arrangements have been made for the public. Escalators are available for Government officials and special personalities.
Quaid's Antiquities room is present on one side of the tomb. It was inaugurated on 23rd March 1982. These Antiquities were gifted from Mohtarma Fatima Jinnah. Quaid's personal cars PICARD. Model no KAM 1327 and official Cadillac are present there. Quaid's dresses, bed, sofa, books, wallet, stamps, and a lot of other things are exhibited here. Mohtarma Fatima Jinnah, Shaheed e Millat Liaqat Ali Khan, Begum Ryna Liaqat Ali, Sardar Abdul Rab Nishter, and Noor ul Ameen are also buried inside the Tombs' Boundary. This splendid building is situated on Quaid e Azam Highway, M.A Jinnah Road, Karachi.
Quaid e Azam House Museum – Flag Staff House
Located on the junction of Faisal Road and Fatima Jinnah Road, formerly known as Flag Staff house was the property of Quaid e Azam. Designed by Moses Somake this building was constructed in 1890. Quaid e Azam bought it for Rs.1115000. Quid's belongings with furniture were shifted to Flag House in 1948. After the death of Quaid, on 13 September 1948, his sister Mohtarma Fatima Jinnah shifted here.
In late 1964, she moved to Mohatta Palace (Qasar e Fatima). Later on, it was given under the custody of Quaid e Azam trust. On 14 February 1985, the Department of Archeology purchased it for Rs 5,507,000. On 25th November 1993, Governor Sindh Hakeem Muhammad Saeed officially inaugurated this museum. It surrounds an area of 10241 square yards. Quaid's personal things such as sticks, stationery, dress, furniture, shelves, crockery, etc. are placed here. Moreover, The Quran e Pak in his use is also exhibited here.
Liaqat Hall, Library, Bagh e Jinnah and Frere Hall
In the British era, Frere Hall was used as Town Hall. In addition to this, it was the center of social and cultural activities in Karachi. This Venetian Gothic Building was established in acknowledgment of the services offered by Sir Bartle Frere. The ground floor of this building is utilized as Library. Seventy thousand books and drafts are shelved here. The first floor is used as an art gallery where pieces of calligraphers and painters are kept. The central building has a beautiful Garden "Bagh e Jinnah".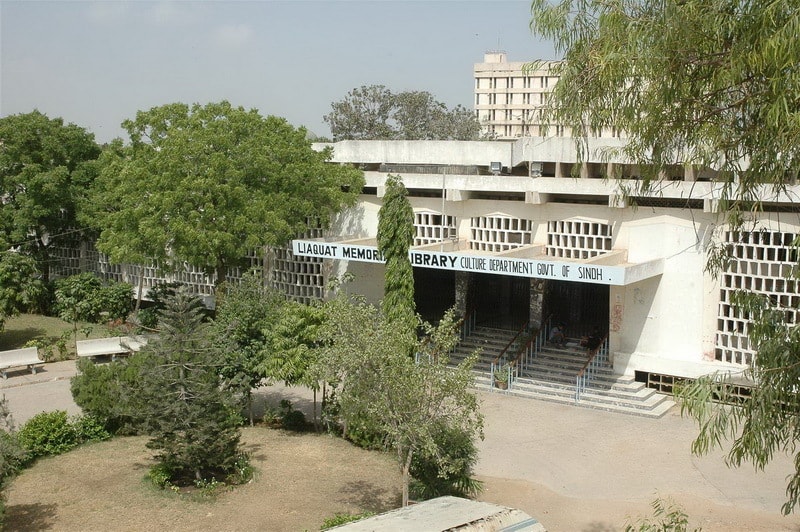 Sindh Madressatul Islam
Its foundation was led by a Turkish descent Sindhi Zulfiqar Ali on 1st September 1885. Based on the British education system, it gained popularity among Sindhi and Balochi Muslims.
Its vision was to introduce the Sindhi people to education compatible with the modern age. Mr. Jinnah being impressed by the vision of the school got admitted his son Muhammad Ali Jinnah. This historical school is situated near Habib Bank Plaza, Karachi.
Wazir Mansion
The Founder of Pakistan Quaid-e- Azam Muhammad Ali Jinnah was born on 25th December 1876 in a house of Kharadar Karachi named "Wazir Mansion".  It was declared as a national monument and changed into a museum. The ground floor has a library, upper storey has Quid's personal use things. It also has pictures related to "Tehreek-e-Pakistan".
 Mohatta Palace
In 1927, a Hindu Businessman Shivrtan Chandartan constructed this sumptuous building for his residence. For this, he hired a famous Muslim architect, Ahmad Hussain. Based on Rajhistani culture, he used pink stone from Jodh Pur Bharat and yellow stone from Guzri.
This Building occupies an area of 18500 square feet. He lived for twenty years thereafter its completion. After separation, he decided to move to India. The government of Pakistan took this under supervision and it was utilized by the foreign ministry.
In 1964, Fatima Jinnah took it under her custody. It was given the name of Qasar-e- Fatima. After the death of Fatima Jinnah Shehreen Jinnah used to live there. It was sealed after her death.
In 1995, the Government of Sindh decided to transform it into a museum with the intention of promoting and progressing art and culture. It was opened for the public in 1999 after its completion. It is situated on Hatim Alvi Road near the bus stop.
National Museum of Pakistan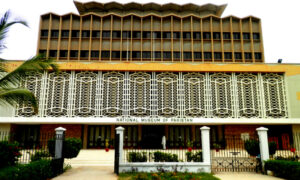 The National Museum of Pakistan was established on 17th April 1950 in Frere Hall. It was designed to give honor to the Sindh commissioner Bartle Frere. Its purpose is to introduce the history of Pakistani culture to the Public so that they can understand the struggles of their celebrities and forefathers. Thenceforth, it was shifted to Burnes Garden. The previous museum had four galleries while the present one has eleven galleries including Quranic Calligraphy studio.
Quranic Gallery has valuable pieces of Islamic art. While other galleries have the pieces of Gandhara, art, Indus sculptures, Islamic painting, antique coins, and the Documentation of Pakistani political history. Furthermore, it also gives a demonstration of the lifestyle of different races and cultures living in four provinces and Azad Kashmir.
This museum has 58000 antique coins which belong to the 74th century. Hundreds of Sculptures are present in good condition. Department of archeology and museum department are connected here so that people can enjoy everything in one place. Every year, many exhibitions are held on national days and other events. An auditorium is also built in the boundary of the museum for organizing seminars.
State Bank of Pakistan Museum
Situated on I. I. Chundrigar Road, constructed in 1920, this building was known as the Imperial Bank of India till the creation of Pakistan. Later it was used as the central building of Pakistan and then as a library. In 2004, it was ordered to change it into a financial museum. it was inaugurated in 2011. This unique museum tried to cover up about the 4000 years history of currency.
A guidance map is placed at the entrance of the museum. Governor gallery has pictures of governors of Pakistan, their short history, and the furniture, telephone set of first governor-general office. Two-coin galleries have valuable coins from 2500 B.C. to 2010. Outside the coin gallery museum, an old iron door of the strong room is installed. Kiosk technology installed in the coin gallery enables the visitors to see the antiques through 3D over zooming.
In the vast hall of the museum, the first T.M machine, currency printing machine, coins molding machine, and prize bond lucky draw boxes are also available. In the stamp gallery, post tickets are available from 3000 B.C. The currency gallery has currency samples from the creation of Pakistan till 2010. It also has some samples of international currency.
State Bank of Pakistan gallery has charts and documentation from the creation of Pakistan till 2010. On the ninth floor, Sadqeen gallery has famous wall-sized paintings are hanged. A part of the museum is specified for part-time exhibitions.
The facility of A mini theatre is provided to the public for watching different documentaries. This museum is an asset not only for the public but also for the history and economy students.
 Meri vedar Clock Tower
For the salutation of the services of sir William Lal meri vedar, the people of Karachi built this monument. This monument is located at the junction of M.A. Jinnah Road and  I. I Chundrigar. James Strachan municipal engineer presented its design. Its foundation was led in 1884 and in 1892 Commissioner Sindh, opened it for the Public. Constructed on 44 square feet podium, this tower is 102 feet high. It has clocks on its four sides. It is one of the oldest memories of Karachi but no one can claim about its design.
 PAF Museum
On 14th August 1947, Chief of air staff Air Marshal Abbas Khatak, inaugurated it and it was opened for the public in October. The air force decorated the whole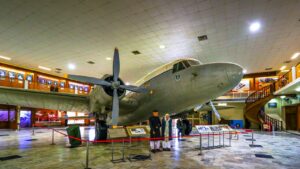 area with grass fields.
All the aircraft used in wars are dismantled on the green grass floor. It includes Star fighter F104 Sabro, F86, Mirage, FT6, F6, T53, Umig15, (Mushak) MF 117, Aero Commander, Antiv AN12, D95A (Travel Air) Beach, 16G (Harvard), Hvskie helicopters different types of radar and others defensive weapons. Founder of Pakistan's aircraft Viking is also exhibited. An Indian airplane Gnat (Pakistani forces crashed in Pasroor) and other antiques are revealed to the public.
Four sub galleries are designed one of which shows an airplane model with the painting of aerial battles. The other gallery has models of fighter planes from different countries. The remaining two galleries are dedicated to the martyrs of the 1965 and 1971 wars.
Two open galleries show the achievement of Squadrons and paintings of different airbase(stations). There is a souvenir shop for tourists, where they can buy models of small aircraft, air force key chains, shirts pins, and other things. It depicts their solidarity with military troops. Its tour will provoke patriotism in you. This museum is located between Awami Markaz of Faisal Highway and Faisal PAF Base.
Pakistan Merry time Museum
Pakistan merry time museum Park and art gallery are related to Pak Navy antiques. The central building is located inside the park and comprises six galleries and one auditorium. The cultural heritage of the Pak Navy is presented with different paintings, sculptures, touch screen computers, old weapons, and Taxidermy.
Light House
A lighthouse is constructed on the pattern of Manora Beach lighthouse. A birds-eye view of the museum and park can be taken from the tower.
Marine life gallery
On the second floor of the museum, a marine life gallery is established. This gallery reflects marine life in different stages.
Merry time history museum
It is the most interesting part of the museum. It has information related to Ormara beach. It has the Muslim Navy tools of the time when Muhammad bin Qasim army entered this area and invaded Debel. Old maps of Moden jodaro trading places are also exhibited here.
Museum Lake
A large lake is situated in the boundary of the museum to portray the sea environment. The orientation lobby and Ports Sharbovrs Gallery also give information about marine life. The museum is on Wednesdays for fans.
Pilot Rashid Minhas Shaheed (Nishan e Haider)
He was born on 17th February 1951. His father Abdul Hameed Minhas was a Garrison Engineer in Army. A large number of people in his family were posted in the Navy, air force, and land army on high ranks. He decided to choose the air force.
He got an education from Karachi and Rawalpindi and was finally admitted to PAF Risalpur Academy in 1969. After training, he was sent to Kohat, Risalpur, Peshawar, and Karachi. On 15th August 1971, he became Pilot Officer.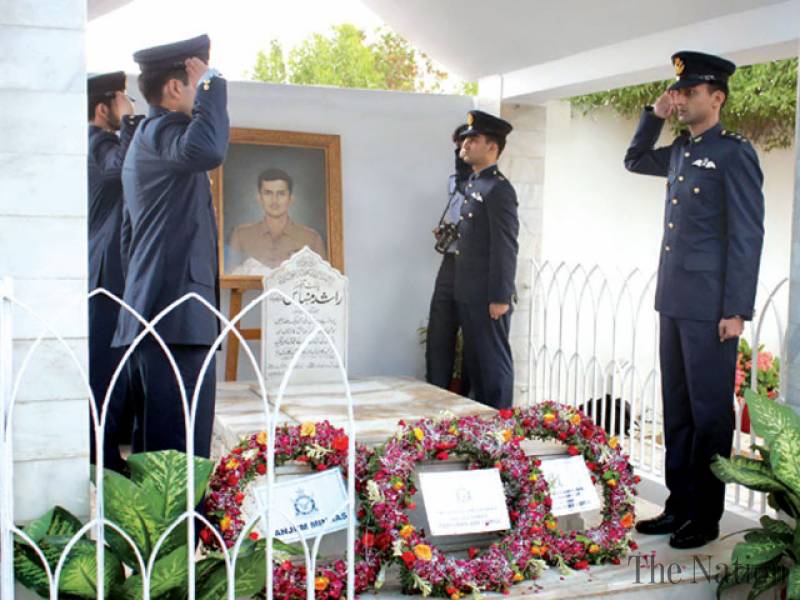 At that time, India had started the Bangladesh movement. On 20th August 1971, he was on his routine training. His instructor took the control of the plane and moved its direction towards India. He realized the situation and tried to take control. He was unable to do so. He directed the plane to the ground. He was aware of his ultimate death, but he secured his country by giving his life. As a result, the plane was crashed 32 miles from the boundary and he was martyred.
It was recommended to award him "Sitara e Jurat" but, President Yahya awarded him "Nishan e Haider". He is buried in the CSD army graveyard before Faisal Highway. Marra airbase is named after Rashid Minhas for the acknowledgment of his sacrifice.
Tuba Mosque (Defense)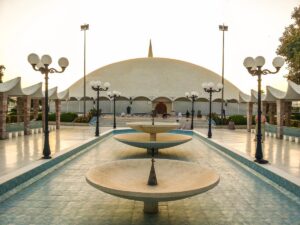 It was construed in 1969 under the supervision of Babar Hamid Khan in Defense Housing Authority situated on Korangi Road. It is considered the largest mosque in the World in terms of diameter. It has a unique diameter of 236 feet. It is said that no other mosque is identical to this. 5000 people can offer prayer at one time in its central hall. Its tower(minar) is 70 meters. White marble is used in its construction. It is also known as "Gol Mosque".
Empress market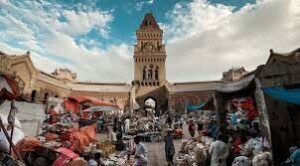 Before the market, it was used as Gallows. This market was built in the memory of Silver Jubilee. The architecture is based on Gothic style. It is not only a market but also an art and historic symbol of British era. Since it is located in the center of Karachi one can buy fruits, dry fruits. Vegetables, meat and almost everything of daily need.  Every thing is quite fine in this  140 feet height clock tower market. Based on Roman architecture, The Sindh high court building is worth watching.
Abdullah Shah Ghazi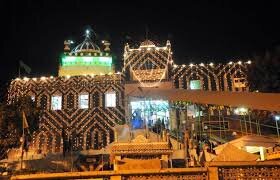 He was born in 98 Hijri in Madinah Munawwara. It was the time when the empire of Banu Umayya was taking its last breath. The whole country was in a state of huge disorder and disaster. His father took the charge of his education. He moved to Basra and Iraq on the advice of his father. Then he went to Sindh and started preaching Islam. Many people accepted Islam. In the last 151 Hijri the war was implemented and he was martyred and was buried on the bank of present Clifton.
Mango Peer
The saint of the 13th century, Mango peer's shrine is located in the north part of Karachi. There are springs of warm and cold water. These springs have natural ingredients. Devotees come here and take a bath. Dozens of crocodiles are present in the ponds adjacent to the shrine. They are called "crocodiles of Baba Ji". بابا جی کے مگرمچھ
Hub Dam
About 33 km from Mango peer to the northwest, the road connects to Hub Dam. With a span of 5 km, Hub Dam is constructed on a large lake. Water is supplied to Karachi through a canal rising from the Hub dam. A beautiful picnic spot on the corner of the dam is the best for an excursion.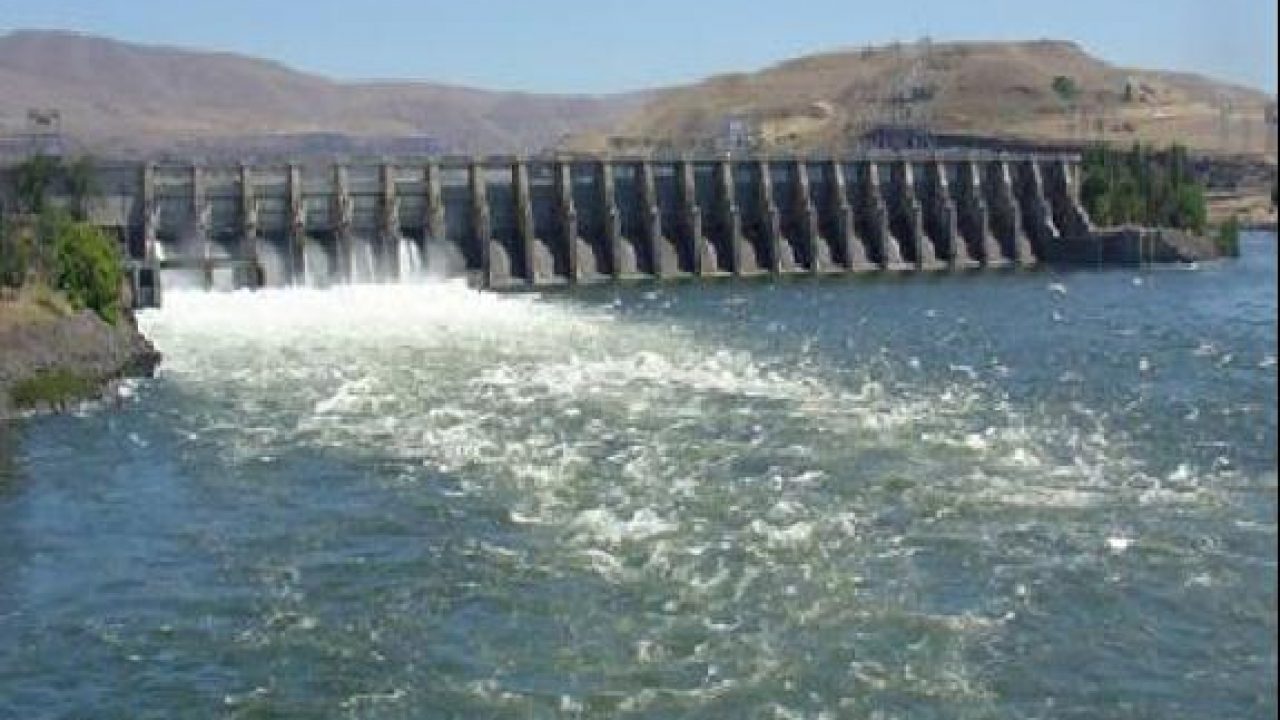 Tariq Road
The highways of Karachi are incomplete without Tariq Road. This important road is the center of shopping and commerce. It is always crowded with the people out for shopping. This road starts from quaideen Highway Allah wali Chorangi and ends at Shaheed Millat Road Tariq Chorangi. Liberty Chowk, rabi center, Mateen center, dolmen center, Kurta Gali, Jheel park, Uzma center, Rahmaniya masjid, café D khan, and Mc Donald's are its important places. Furthermore, zaib-un-nisa street, Jubilee market, cooperative market, Abdullah Haroon Road, zamzama boulevard, Bohri Bazar, Park tower, and Millennium Mall are important shopping places.
P.I.A Planetarium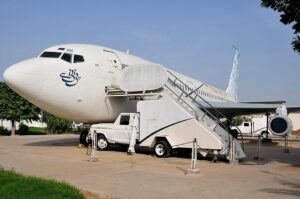 This planetarium is like a museum where information about the solar system and cosmic trends is presented through slide shows like movies. Decorated with the original airplane seats it is an adventure for the tourists. On Sundays, English shows, while Urdu shows are presented on the other days of the week. An interesting point is that an original airplane is present there. The tourist guide will tell you about this plane, its cockpit, and other systems.
Hindu Gym Khana
Established in 1925, the Mughal Architectural style was repeated in this building. Upper-class Hindus and Seth Rap Gopal aided in this construction. This club was designed for elite class affluent traders. Situated in Sarwar Shaheed road, this building was designed by famous Architect Agha Ahmad Hussain. Now, the national academy of performing arts is present here.
Hill Park
In 1960, officials decided to build a park between PECHSA Society because of the structure of the hill there. It became popular among the people because of its exceptional architecture and location. In the early days, films and tv shootings were completed there. People became excited to see their heroes. Nowadays, neither the artists nor the fans are there. Only the memories are left behind.
Safari Park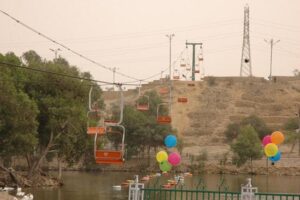 Located in Gulshan e Iqbal, this park comprises of playland, zoo, and greens grounds. Situated on university road, with an area of 1300 acres was inaugurated by Lieutenant General Atiq ur Rehman in 1970. A theme park named Goaish Adventure is also established here. It is the only park in Sindh with a chair lift. This project worth 2 million dollars was inaugurated on 8th March 2006.  One can enjoy a bird's eye view of the city while traveling over this thrilling chairlift.
Aziz Bhatti Park
This park named after Hero Aziz Bhatti Shaheed (martyred in the 1965 Indo-Pak war) is situated on the famous highway of university road near Urdu Science college. This park is under the Karachi administration.
Sindbad
This park has many sub-branches in Karachi with all kinds of children's swings. The largest sub-branch is on Rashid Minhas Road, Neepa Chorangi. One of its branches is located in the elite area of Defense Housing Society adjacent to the famous Nisar Shaheed station(choki).
Port Grand
Port Grand is a fun area and a food street on KPT. It has an amusing area for children, a concert arena and a Shopping arcade under one roof.
Fiesta Park
Swimming pools with stormy surges and a calm river environment, this water park is the favorite place for children and elders. It has 14 water slides. Seventeen slides are separately available for children. It is located in Karachi Hyderabad super highway near Toll Plaza.
Cosy Water Park
It is the largest water park in Pakistan with an area of 120 acres.  Consisting of twelve different areas it is famous for its beautiful lake, islands, and sailing. A lucky draw winner is announced every week. This park is located between DEH Shah Mureed Road TOPASONGAL super highway Gulshan e memar and New Sabzi Mandi.
Karachi War Cemetery (jangi Qabrustan) جنگی قبرستان
During world war – II the people killed were buried in different cities. It was noticed that no one is taking good care of them. Therefore, a separate graveyard was made in Karachi. All the 642 graves here related to the second World War. The dead bodies are taken from Abbottabad and Jehlum. This type of cemetery is also located in Rawalpindi. These graves have the soldiers of World war-I and World War II. The commonwealth commission of military cemeteries is responsible for the take care of these boneyards.
Karachi Zoo
It is the second-largest zoo in Karachi. Established in 1878, it was known as Mahatma Gandhi Garden. After the creation of Pakistan, it was named as "Karachi Zoo". Mughal Garden, veterinary hospital, and Karachi Municipal Aquarium is also a part of this building. Whenever you go there, just enjoy the elephant ride. In 1992, a Japanese princess visited the natural history museum
Chundrigar Road
This Highway starts from Shaheen Complex and ends at the merry veder clock tower. This highway is well said to be the Wall Street of Karachi. All commercial and financial offices, head offices of companies, stock Exchange, Newspaper and T.V offices, foreign consulate, and Rangers headquarters are located on this highway.
Teen Talwar
Teen talwar is in the circle of memorial road, situated on Abdullah Haroon Road. Prime Minister Zulfiqar Ali Bhutto gave the approval. Professional Architect Mannu mistri designed it and it was completed in the reign of Zulfiqar Ali Bhutto. Made from marble, these three swords are a symbolic representation of Quaid's motto "Unity, Faith, and Discipline".
Port Fountain
It is also known as Karachi Port Trust Foundation. It is the third-largest fountain in the world. It goes to a height of 620 feet.  Mounted on 135 square feet podium, this fountain costs about 320 million rupees. Because of its tall height, it can be seen easily from different parts of the city.
Dream World Resort
Karachi's best resort named "Dream World" is located near the Gulshan e Memar superhighway. It has a golf course, boating, table tennis, floodlights tennis court, sandbags, cricket stadium, ladies swimming pools, horse riding, laser shooting, snooker room, children playland, Harley Thriller bikes, archery, hilltop restaurant, fast food, club house, and whatnot. All is here so make a plan and visit this place.
Jehangir Kothari Parade
About ninety years ago, a famous citizen of Karachi Jehangir Kothari established this, Park. Later on, he presented this to the people of Karachi. A monument is made in his memory. In June 2005, it was renovated. Covering up to 130 square feet, it is one of the largest parks in Pakistan.
It was given the name "Ibn Qasim Bhag" in remembrance of Great Triumpher Muhammad Bin Qasim. All the corridors are well lighted. Green lawns add a charm to it. A beach park is also located near Ibn Qasim Garden which comprises an area of 147 acres. This memorial park is located near the shrine Abdullah Shah Ghazi.
Clifton Beach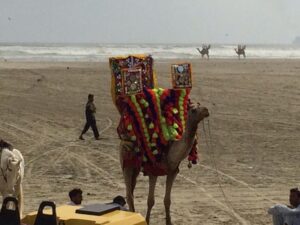 Karachi seashores are no less than the sunny beaches of Florida. Since it is located in the center of Karachi, a lot of people come there.  It is the most developed and modern beach in Pakistan. A long park is constructed alongside the beach. Handmade accessories, shops related to marine things, amusement parks, aquariums are available there. Its aquarium fishes are famous worldwide.
A trip to Clifton beach is incomplete without a camel ride.
Shaheed Mohtarma Benazir Bhutto Park
Situated in the Clifton area, this park surrounds an area of 1152 acres. This stunning park has walking and jogging tracks, exercise machines, swimming pools for children, and food courts.
Sea View (Sea Breeze)
Starting from Mc Donald's, this area goes to the marina club. No other jogging track is better than this sea bank jogging track. A long row of sea view apartments makes it more fascinating. Water is clearer than Clifton. Families prefer to come to this place.
To promote the regional culture and traditions of all provinces, theme-based restaurants are designed. These food points sponsor the food culture of all the provinces of Pakistan through their interiors and menus. Enjoy the Heart touching sea breeze with yummy food and horse riding.
Kimari
Kimari is one of the oldest islands of Karachi. It is the central seashore town of Karachi. It covers sandy beaches, Mangroves forests, small islands, wide coastlines towards the middle and western parts of Karachi. RCD highway, Lyari naddi, and the vast triangle of Arabian sea bank are its boundaries. People can visit  Manora and other beaches from kimari via launch.
Fish Harbor
People fond of seafood must visit Fish harbor West Wharf Karachi.
Manora Beach
Manora is a small island in the south near Kimari. There is a base station of the Pak Army. Civilians also reside in some areas. Besides, it's under the custody of the Pak army it is still open for the public and tourists. There's a long sandy beach alongside the southern edge of the Island. Due to its clear water, Manora beach is Tourist's favorite spot.
The seawater is clearer and transparent here than the sea view and Clifton. Moreover, this place is more close to the city than Hawke's Bay & other beaches. People can also visit Manora by road but it takes more time. In addition to this, a specific permission letter is also required but any boatman can take from Kimari Port to Manora for fifty rupees only in 20 minutes.
Sandspit Beach
Located in the southwest, 20 km away from the city, this bank is no less than the beaches of Rio de Janeiro. It is better for swimming, horse riding and sunbathing than other beaches. This beach is close to Hawke's Bay and attractive like this. It is neat and clean and there is no pollution. In the night, you will find turtles everywhere. It will be a pleasant and memorable experience to see these turtles in this clean water.
Hawke's Bay
Moving to the west of sandspit, 32km from Karachi Hawke's Bay is situated. Besides Fishing, camel and horse riding it is favorable for swimming because of its calm waters.  In March and April, the water was so clean, clear, and transparent. One can see the fish swimming there.
It is an amazing golden beach shining with the sunshine. If you want a dull complexion, you should definitely enjoy its sunshine. The huts provide complete privacy. This transparent beach is non-rocky. That's why families can enjoy themselves without any hesitation.
Paradise Point Beach
This beach is a masterpiece of high artistic surges, situated on the bottom right side of the French beach.  You will be fresh and delighted by watching the Seaview from the hill.  The ocean waves crashing the high cliffs present a splendid view. These appealing and amiable views provoke swimming but it is impossible because of rocky beach particles. Restaurants are there for refreshment.
French Beach
Situated in the middle of Hawke's Bay and paradise, it is the best bank in Karachi. Blessed with the clear and transparent water, the air is dry there. Beautiful cliffs are present on the seashore. When the waves of the large ocean hit the cliffs it's a remarkable moment to cherish. It is best for Swimming, Scuba diving and surfing is favorable but one must bring a surfing board with him.
Food Centre 
The business road is transformed into Karachi's food street. The taste of biryani there is matchless. One must enjoy desserts there. It will enhance their food taste and will bring immense pleasure. It is located in Fresco chowk. Besides this, Hyderabad colony, Burns road, Clifton, DHA, Faisal Highway, north Nazim e  Abad, Gulshan e Iqbal, Gulistan e johar, etc., provide a vast variety of amazing food.
Khadiji  Abshar
24 km from the superhighway, situated on the sidetrack. It's a superb place to entertain yourself. One must visit this.
Chaukhandi Graveyard

It surrounds an area of 3 km, located on the left side, and about 26 to 27 km away from the National Highway. This place this dedicated to Barjhoki and Baloch tribes. They constructed it during the time period of the 15th century to the 18th century. Constructed from sandy rocks, these graves have excellent architectural styles.
For the decoration of these graves, complex beautiful, and unique art is engraved. Horses, swords, flowers, and abstract art are engraved on men's graves while jewelry designs are designed on female graves.  Chaukhandi styled graves are found on the banks of the Indus River and River Makran. This type of graveyards continues till Sewan Shareef.
Frequently asked questions (FAQs)
Q: Where is Pasni Beach located?
A: Pasni Beach is located in Balochistan, a province in southwestern Pakistan, along the Arabian Sea.
Q: What makes Pasni Beach unique?
A: Pasni Beach is unique for its pristine shoreline, scenic views of arid hills, and its role as a gateway to Balochistan's rich maritime heritage.
Q: What activities can I do at Pasni Beach?
A: Fishing is a significant activity at Pasni Beach. You can also enjoy leisurely strolls along the shoreline, taking in the beauty of the Arabian Sea.
Q: What is the best time to visit Pasni Beach?
A: The best time to visit Pasni Beach is during late autumn to early spring (October to March) for pleasant weather.
Q: What is the local cuisine like at Pasni Beach?
A: Pasni is known for its fresh seafood. You can savor dishes like grilled fish and spiced curries, reflecting the authentic flavors of Balochi cuisine.
Q: Are there markets near Pasni Beach?
A: Yes, Pasni has a small market where you can find local crafts, fresh produce, and experience the vibrant culture of the region.
Q: How can I get to Pasni Beach?
A: Pasni is accessible by road, providing a scenic journey through the arid landscapes of Balochistan.
Q: Is Pasni Beach safe for swimming?
A: Visitors should be cautious about tides and currents, especially if venturing into the water. It's important to be aware of safety precautions.
Q: Are there accommodations near Pasni Beach?
A: Yes, there are limited accommodations such as guesthouses and small hotels that cater to visitors seeking a modest stay.
Q: What is the significance of the port at Pasni Beach?
A: The port at Pasni is a hub of shipping activities, playing a crucial role in transportation and fostering trade in the region.
Wind Up Lines
Karachi famous as – the city of Lights, is among the world's largest megacities, and also, the site of significant sectarian, ethnic, and political violence. This city is an amalgamation of ancient and modern culture. It is famous around the globe for its tourists' spots, food streets, sea coast, magnificent buildings, museum and much more. Karachi has faced a lot of challenges in the past years but still, it is thriving.