Hyderabad – All About Hyderabad

Hyderabad is the second-largest city of Sindh Province and the seventh-largest city of Pakistan. It is situated in the northeast about 164 km from Karachi. Hyderabad is considered to be a Gateway between modern and rural Sindh. The glass bangles industry of Hyderabad is famous in the world. It is the oldest district of Sindh Province.
History of Hyderabad
This hot and humid city was established in 1768 by Mian Ghulam Shah Kulhoro on the bank of the River Indus.
In 1789, Talpur ruler Mir Fateh Ali Khan shifted the capital from Hala to Hyderabad. Renowned as Neron Kot during the King Dahir Regin it was the prior capital of the province Sindh.
Before the creation of Pakistan, it was also known as the "Paris of Sub-continent". It was because its roads were washed by Rivers' water. After the detection of Harappa, 110 km from the city Amri, its importance was enhanced.
The first Hetrick of the world was made in 1982 in the Niaz Cricket Stadium Hyderabad.
Famous Places of Hyderabad
Glazed tile work, glass bangles, wood furniture, colorful crafts, blocked-printed Ajrak, handmade fabric Tus, forests Sheikh Makki fort, Talpur monument, Pakka fort, Kulhoro monument, Gham Kot are the eminent places of Hyderabad. The river Indus flows about 9km near Hyderabad. That's why it is famous for its cold breeze and beautiful gray and blue sky.
If the people from other cities spend an evening here, he will be captivated by the lovely evening of the city. Eid Gha, Rani Bhag, Thandi sarak (سڑک), Clock tower, Dawood Pota library, Makkhi house building are the worth watching places here. Hala-Naka is famous for its variety of food. Must try Traditional Pilla fish, and Limka (different flavored soda water).
1- Pakka Fort (Qila)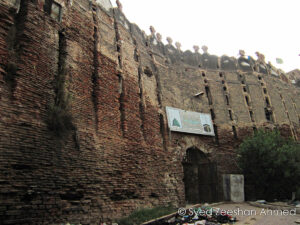 In 1768, Mian Ghulam Shah Kulhoro established a fort from solid bricks for a strong defense. He named it as Pakka Qila. (Pakka Fort). After the death of the last ruler of the Kulhoro family, Talpur had announced as the king of the area. Mir Fateh Ali Khan Talpur left the Khuda Abad. He shifted his capital to Hyderabad in1789. He made his residence there and organized courts there. The entrance door of this fort portrays the spectacular and glorious history of this fort.
2- Talpur Monument.
The tombs of Talpur's former ministers are located in the center of the city Hurra Abad. Blue glazed tiles on the tomb are still appealing the tourists. Six buildings are established in the Talpur monument. These were constructed between 1785 to 1850.
3- Kulhora Monument
Earlier Kulhora ruler's graves are located in Hyderabad behind the Jail. These graves are decorated with beautiful flowers. These fine pieces of architecture are still in good condition.
4- Sindh Museum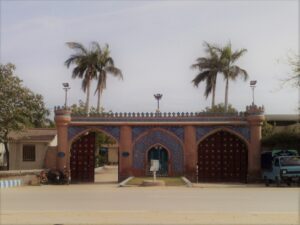 Situated on Eid Gha road, this museum exemplifies the history, heritage, and traditions of Sindh. The things that belonged to the emperors of the different eras such as Sama, Somro, Kulhora, and Talpur are placed there. The antiques from Kot DG, Amri, and Mohen jo Daro are also exhibited there.
5- Institute of Sindhology
Situated in Sindh University, the institute of Sindh is the best place to understand the history, heritage, music, traditions, and other values. Lifestyle Sindh tribes are explained through different models.
6- Mir Noor Muhammad Talpur Museum.
This museum was the personal collection of Mir Noor Muhammad Talpur. The present owner of this museum is Doctor Mir Noor Muhammad Talpur. There is no fee for visiting the museum.
7- Clock Tower.
Constructed in 1914, this clock tower is an identity of Hyderabad. Its architectural style gives a reflection of the British era.
8- Rani Bhag (zoo)
Its foundation was led by a British General. Its name was changed after the Queen Victoria visit.
9- Hussain Abad Park.
It is captivating because of the artificial lake and birds.
10- Hyderabad University Park
It is the extended part of Hyderabad's city. It surrounds an area of 12 acres. A beautiful lake between orchards adds to the beauty of this park. It is the best picnic point for the Locals.
11- Mustafa Park
Situated in Norani Basti, this park has different models of animals.
12-Badshahi Bangla
This belongs to Prince Mir Hassan Ali Khan Talpur, who was the son of Mir Naseer Khan Talpur.
13- Bazaar
Resham Gali and Shahi Bazar are the traditional bazaars of Hyderabad where one can find art, craft, embroidery Sindh's traditional jewelry, and the handicrafts of inner Sindh. In brief, everything that promotes the Sindhi tradition can be found here.
14-Miani Jungle
It is a historical place about 9 km away from Hyderabad. It is the place where the British and Talpur had a war in 1843. Because of forest life, and better weather conditions this place is best for a picnic. A children's park is also there for families. Dak Bangla of the forest department is there for a night's stay. In addition to this, Jamshoro Burj has its charm.
15-Kasano Mori
It is a beautiful picnic point that is situated 18 km from Hyderabad and on Mirpur Khas Road. It is an ideal place for swimmers and one day picnic.
Wind up Lines
Hyderabad is a center of art, craft, and jewelry. It also has historical sites which make it a noteworthy place. Since it is one of the largest cities in Pakistan, It has a major role in the economy of the country. Kasano Mori , Miani Jungle, and Rani Bhag zoo are the best places for one day trip