Nawab Shah (Benazir Abad)
From Sanghar via Shahpur chakkar, Nawab Shah is 86 km away. Peoples Medical College and Quaid e Azam university of Engineering and Technology are being considered as distinctive for this city. In summer, the temperature goes to 51. In September 2008, it was named Benazir Abad.
A brief History of Nawabshah (Benazir Abad)
This city was established by Syed Nawab Shah in 1881 who was an immigrant from Dadu. This city progressed by leaps and bounds and became a district in 1912. Situated on central G.T road, this city also has an airport. This airport was built during World War II and was used by British Royal Air Force. Now, this airport is used in an emergency, as an alternative to Karachi Airport.
Some Famous Places of Nawabshah
1- Kot Jam Karim Ali
This fort is a private property situated near Qazi Ahmad Town. Constructed from paved bricks, it was built by Jam Family.
2- Naz Bhag
This beautiful garden is situated in Qazi Ahmad Town located on Qomi High way. It is called the Shahlamar of this area because of Greenery, walking area, playground, and attractive fountains.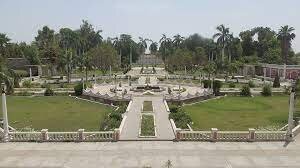 3- H.M Khoja Public Library Park.
This library was built for the sake of education and research in the acknowledgment of well-known researcher H.M Khoja
4- Thal Meer Rukn
15 km from Dolat Pur, on Qomi Highway, the only Buddha Stupa is present in the Thal. One can go to this thousands of years old building through Qazi Ahmad Town.
5- Karedo Pir lake
This place is a good picnic spot situated in Sakrand. Syed village in Sakrand, has regional glazed tilework decoration pieces, Pir Zikri Mosque, and a school. One can visit Daleel Daro Fort on Sakrand Nawab Shah Link Road.
6- Paii Forests
A rough road on the left side of National Highway, on Sakrand Bypass, on Nawab Shah Road from Karachi, will take you to the beautiful Paii forest of WWF in 20 minutes. Ayub Khan, Zulfiqar Ali Bhutto, Arab Kings, and other celebrities have visited this historic and beautiful forest.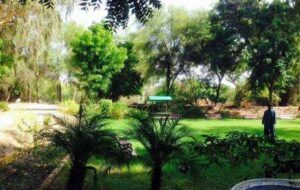 You will be surprised to see the Ayub Bangla rest house in the middle of the forest. This forest has seventy kinds of birds and different categories of animals. Different spots are established at different places in the forest for the tourists so that they can observe the wildlife closely. Rest house is present for a night stay. It will be a good decision to visit this place after the rain.
Wind Up Lines 
Nawabshah is a city of both ancient and modern culture. Medical college and engineering university is considered to be a great development. It also plays a role in the economy through crops and tourism.