Kasur
میرا سوہنا شھر قصور نی
 جدیاں دھماں دور دور نی
It is one of the oldest cities in Pakistan. Situated 53 km away in the south of Lahore, it is famous worldwide for its daily flag-raising ceremonies on the border with India.
It is well-known for the variety of food. Fried fish, Falooda (a dessert), Andrassy, and Kasuri Fenugreek are famous items. It is a city of renowned personalities. Baba Bulleh Shah and the queen of melody Noor Jahan belonged to this city. She sang national songs during the Indo-Pak war of 1965 and represented the people of Kasur and Pakistan.
A brief History of Kasur
Before the creation of Pakistan, Sikhs were living in the suburbs villages of Kasur while there was the majority of Muslims in the Kasur city. The Sikhs migrated to India after the separation. Different stories are famous about the name "Kasur".
It is said that the son of King Ram led the foundation of this city and gave it the name Kasur after his name. His brother settled the city of Lahore after his name. According to another folk tale, the Afghan city was established in the Mughal king Akbar's regime. The immigrants from Kabul built 12 forts there. The word fort has the meaning of "Qasr" in the Persian language. Therefore, it was named "Kasur" meaning the city of many forts.
Famous Places of Kasur
1- Kasur Museum
This museum is situated 2 km away from Kasur city on the highway going from Lahore to Kasur. Five galleries have been established there.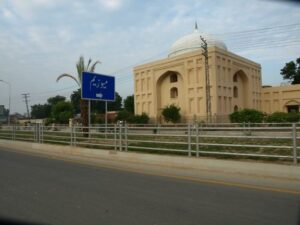 Greek coins, models of Gandara civilizations, fossils of Chakwal, different items related to the Sikh era, handwritten Quran-e-Pak, Holy Quran written in Nastalik by Hafiz Murtaza Afghan Kasuri, weapons of Muslim regime, jewelry, and other valuable items are exhibited there.
Noor Jahan gallery is under construction here.
2- Baba Bulleh Shah
His real name was Abdullah Shah. He was a great Sufi poet and a philosopher who love humanity. He was born in 1680 in Uch Sharif near Bahawalpur. According to history, his forefathers immigrated from Uzbekistan.
His spiritual teacher was Sufi Inayat Shah Qadri. He did spiritual poetry by following Punjabi poets like Shah Hussain (1538-1599), Sultan Baho (1629-1691), and Shah Sharaf (1640- 1724). Baba Bulleh Shah and Shah Abdul Latif Bhatti are contemporaries.
He died in 1757 and was buried in Kasur city.
3- Ganda Singh Border
Ganda Singh is the last village in Pakistan on the Indian Border. It is in front of village Hussaini wala district Feroz Pur of Eastern Punjab. It is named after army officer Ganda Singh (1830-1903).
It was opened for transportation in the decades of 1960 and 1970. However, it was closed and opened at the Wahga frontier near Lahore. The flag-raising ceremony is organized daily in the afternoon.
It is alike the ceremony held at the Lahore Wahga border. The river Sutlej flows near Ganda Singh.
Wind Up Lines
Kasur is the homeland of many famous and respectable personalities of Pakistan. It is one of the most ancient and historical cities in Pakistan.