Bhimber
Situated 50km from Mirpur city, Bhimber is 459 meters above ocean level. This historical city is connected to Gujrat and Kharian and is called "Bab-e-Kashmir". Mughals emperors used to enter Kashmir from this route.
An old road in Bhimber goes to Srinagar through Peer Panjal. It was constructed by the engineer of Akbar King in 1586 and it is called the "Mughal highway".
This region was liberated in 1947 under the supervision of Bargedier Habib-ur-Rehman. It is 48km from Gujrat. An ancient Mughalia well, a mosque, and an elephant gate are historical assets.
Famous Tourist Spots in Kashmir
1- Jandi Chontra
This hill station is 17km from Bhimber at a height of 1000 meters above sea level. The mountain ranges of occupied Jammu Kashmir and Peer Panjal peaks can be viewed from this hill station. There is a tourist rest house in Jandi Chontra.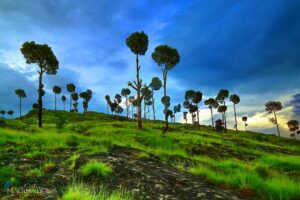 2- Samahni Valley
It is completely surrounded by high mountains at a distance of 28km from Bhimber in the north. Cascades and noisy streams with clear water attract everyone.
Saif Ullah Kashmiri is the best guide to visiting Mughlai inns, archaeological sites, camping, and housing facilities.
3- Bagh Sir Fort and Lake
Bagh sir has a meaning of water and land of gardens. It had gained special attention from the Mughals due to its calm environment. Bagh sir fort is an ancient fort.
Established on the mountain top, there are different points of view about this fort. The majority of the evidence revealed that it was built by the Mughal monarch.
According to some historians, Mughal king Jahangir sicked here while returning from Kashmir and died here. Later on, his dead body was shifted to Lahore.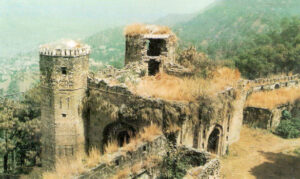 Some said that this fort was built by Sikhs after defeating the last ruler of Bhimber state Raja Sultan Khan in 1812. This place is 12km from both Samahni town in the east and Jandi Chontra.
Bagh sir is utilized as the central location because of its strategic geography, and calm environment. The public is not allowed in this fort since it is under the supervision of the Pakistan army.
Bagh Sir Lake is at 975 meters height above sea level near this fort.  It is almost 1.5 meters long.