Mirpur
Mirpur city was settled by Meral Shah who was the son of the Ghaghra family. District Mirpur is located in the south of Azad Kashmir.
This city has plains and hilly areas with a warm climate. It is connected to Pakistan through many routes. The citizens of this town resemble the people of Jhelum and Gujrat.
Over the previous few decades, a lot of people from Mirpur have shifted to the United Kingdom for livelihood. Pakistan is getting a huge foreign exchange because of them.
The Government of Azad Kashmir has established an Industrial State for the promotion of private investment. The old Mirpur city is 459 meters high from sea level and it was a hurdle for the construction of the Mangla dam. Therefore, this new city is established with a proper plan and it has all the latest facilities.
Historical Spots in Mirpur Azad Kashmir
Ram Kot Fort
It is narrated that this fort was built above an ancient Shiva temple. This fort located on a mountain peak has the river Jhelum flowing on its three sides.
Muslim rulers of the sixteenth and seventeenth centuries took part in the construction of this temple. It is located in the opposite direction from Mirpur city. People can reach this temple through Mangla Lake by boat.
Army sports club is on the left side 10km away from Mirpur. From there, we can reach the temple using speed boats in 20 minutes. People reach this fort via bikes when the water level is low in Mangla Lake.
Khari Sharif
According to history, this place was ruled by Sohlan Rajput Family. It is an agricultural area of district Mirpur and is commonly called Khari.
It is located in between Mirpur City and river Jhelum hills at a distance of 8km from Mirpur. A well-known writer of romantic love stories Saif-ul-Malook, former prime minister of Azad Kashmir, and Barrister Sultan Mehmood belonged to this area of Khari Sharif.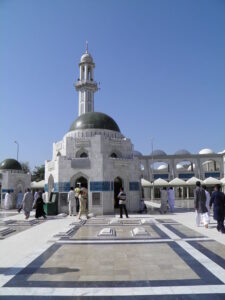 Wind Up Line
Mirpur district has many historical sites to visit like khari Sharif, Mangla Tourist spot and Ram Kot Fort.