Muzaffarabad
Muzaffarabad is the capital of Azad Kashmir. It is located at the confluence of river Jhelum and River Neelum and at the foothills of Peer Chanasi.
It was settled by the chief of the Rajput tribe Sultan Muhammad Muzaffar Khan in 1652. This city is 138 km away from Rawalpindi, 70km from Abbottabad, and 182 km from Srinagar.
It is at a height of 2470 feet from sea level.
In 1921, Allama Iqbal used this path to reach Kashmir. In 1948, Quid-e-Azam used the Srinagar Muzaffarabad route while he was returning from Kashmir.
This district is surrounded by mountain ranges. And the weather is too hot in the summer season and cold in the winter season. However, many areas of this district are above sea level and the weather is dry and pleasant there in summer.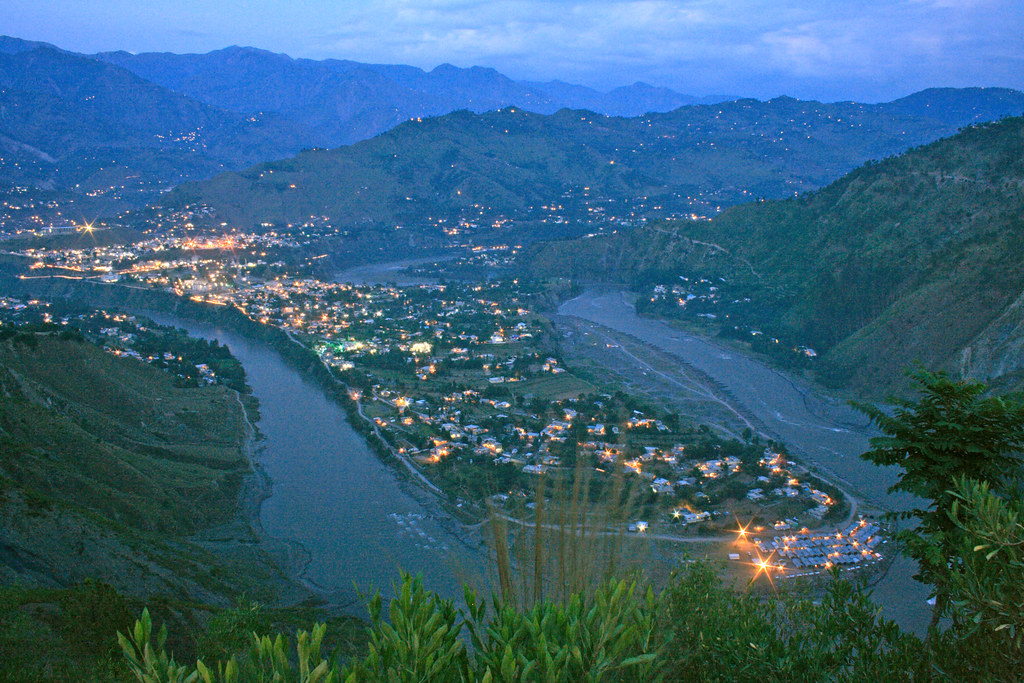 Shopping and Handicrafts
The crowded bazaars of Muzaffarabad city are awaiting tourists. You can find everything of daily need.
You will find pieces of fine arts. They include engravings on walnut wood, woodworking, Guba embroidery, Numda embroidery, and Shawls.
Special shawls of Kashmiri embroidery can be purchased from the Bazaars of Muzaffarabad. Kashmir Shawl house is an important center in Madinah Market.
Food Points in Muzaffarabad
You can also enjoy the Kashmiri food like math maze, Karam ghost, Yakhni ghost, Gushtaba, Aab ghost, and Kofta (meatballs). Lala Zar hotel of Madinah market is a special center of Kashmiri food.
Travel Guide
Transport is available from the General Bus Stand of Lahore and different areas of Rawalpindi for Muzaffarabad. It is connected to the whole of Pakistan by road since it is the capital of Azad Kashmir.
Karen route goes to occupied Jammu Kashmir above Chakhoti. Mughals emperors and tourists used to adopt this way to reach Kashmir.
Famous Tourist Spots in Muzaffarabad
The worth watching sites of this city are the Sultani Mosque built by Sultan Muzaffar Khan on Ketcheri road, Lal fort on the bank of river Jhelum, a monument to Jalal-ud-din Akbar, a garden, and Peer Chanasi.
1- Muzaffarabad Fort
This fort is also called Lal fort and it was built by Chak rulers. It is a splendid and rare piece of architecture.
There were clashes between King Akbar Azam and Chak chiefs. Therefore, they started the constriction to this fort in 1529 for defense purposes.
It was completed in the regime of Sultan Muzaffar in 1665. The nearby flowing river enhances its beauty.
2- Food Street
A beautiful confluence of river Jhelum and river Neelum takes place at the point of Domel in Muzaffarabad. A food street is established on the right side of the river Jhelum. Traditional Kashmiri foods are served with regional culture.
3- Syed Sain Sakhi Saheli Sarkar
This tomb has the same importance in Muzaffarabad as the shrine of Hazrat Ali Hijvari in Lahore and Bari Shah Latif in Islamabad. It is crowded all day long.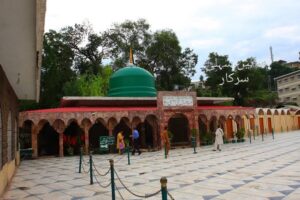 The devotees come to visit his shrine in bitter cold during Urs Shareef held from 13th January to 20th January.
4- Surbhi
This lake is 8km away from Muzaffarabad and came into being due to heavy rainfall in 1975. Fishermen are awaiting tourists with their Shikaray (special boats of Kashmir).
5- Lohar Gali
This place is 9km away from Muzaffarabad on Abbottabad Road. It is located at a height. You can enjoy an aerial view of Muzaffarabad and the suburbs at this point.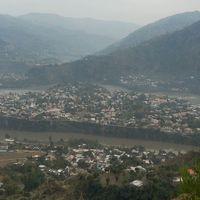 The whole scenery looks stunning at night in the floods of light.
6- Shaheed Gali
It is located at a height of 4500 feet from sea level on the northwest side about 16km away from Muzaffarabad. People can take a birds-eye of Muzaffarabad valley from this site.
There is a rest house of the tourism department.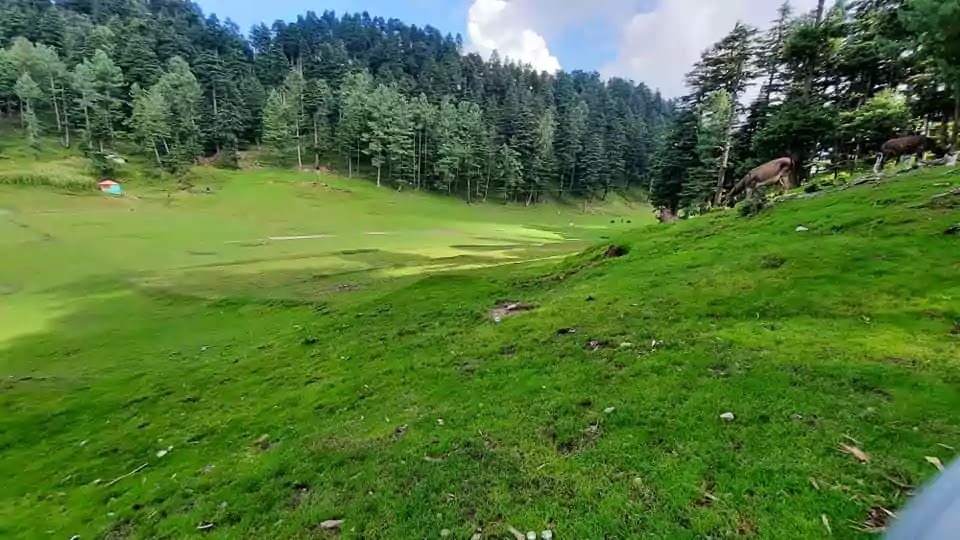 7- Patikka
This place attracts tourists for its beautiful geography and is located 17 km away from Muzaffarabad on the North side. This area is full of pine cheer tree forests.
Trout fish farms and Wildlife parks are also sources for vacationers. A rest house is there in the clumps of trees.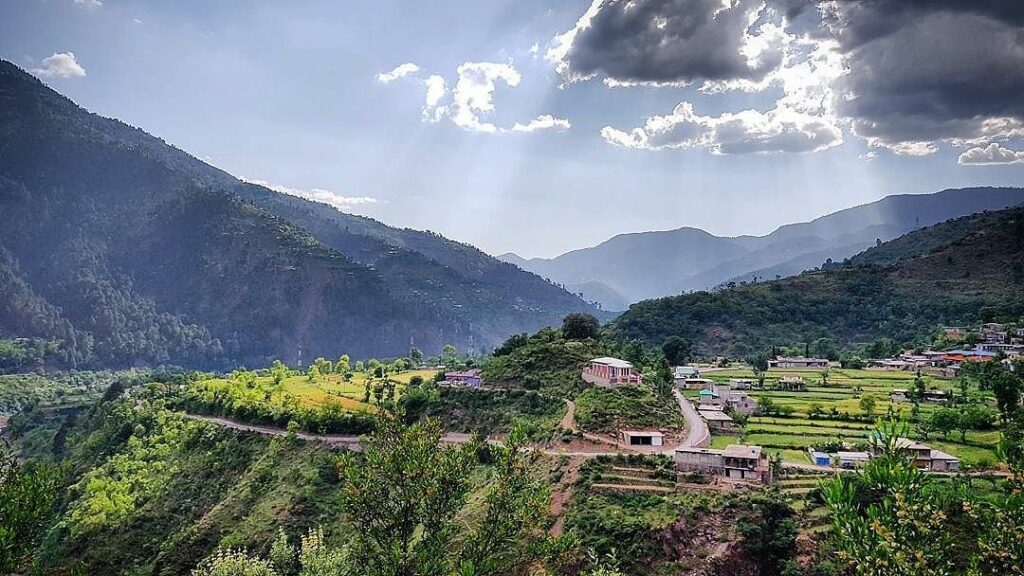 8- Peer Chanasi
This tourist destination Peer Chanasi is 34 km away from Muzaffarabad on the northeast side. It is located at a height of 2429 meters on a mountain. The weather is quite pleasant even in summer since it is located at a peak point.
There are numerous opportunities for hiking, trekking, and paragliding due to the high mountains and lush green slopes. The route from Peer Chanasi to Muzaffarabad is very attractive.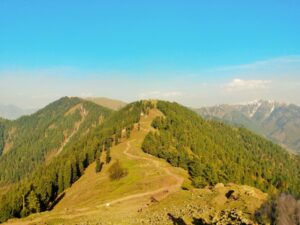 Never forget to take a jacket and sweater to this site. You can enjoy Kashmiri tea on your way to this site. You can also stay at night to fully enjoy Peer Chanasi. The sun rising sight in the morning is mesmerizing.
Wind Up Lines
Kashmir is bestowed with divine beauty. Its capital Muzaffarabad is a beautiful city with many tourist and historical sites. Lal fort, the tomb of the Sain saint, Shaheed Gali, and Peer Chanasi are the source of attraction for holidaymakers.
The city is equipped with all kinds of facilities of life. A visit to this city will refresh your physique and soul.