Bannu
Bannu is a city in the province of Khyber Pakhtunkhwa. It is about 140km from Dera Ismail Khan and 127km from Kohat at the south of the river Khurrum. Bannu is an agro-based city famous for the production of cereals and pulses. People usually speak Pashto.
It remained under the administration of Sikhs, Britishers, and Muslims.  Many battles were fought for the occupation. It is located inside a strong boundary wall. Gates are also built. This wall has been damaged to a large extent. Some gates are also demolished. This city has many ancient buildings. The traces of many settlements are found in the suburbs of Bannu.
Bannu Walled City, Nicolson House, Bannu Museum, and ancient Akra are famous historical sites.
The Bannu – KPK
| Aspect | Details |
| --- | --- |
| Country | Pakistan |
| Province | Khyber Pakhtunkhwa (KP) |
| Location | Southern Khyber Pakhtunkhwa, bordering North Waziristan and Karak districts |
| Area | 1,227 square kilometers (474 square miles) |
| Population | Approximately 1.2 million |
| Official Language | Urdu, Pashto |
| Other Languages | English, Hindko |
| Climate | Hot semi-arid with extremely hot summers and mild winters |
| Famous Landmarks | Bannu Cantonment, Bannu Jail, Bannu Medical College, Bannu Stadium |
| Historical Significance | It has a rich historical background and has been a center of trade and commerce for centuries. It has witnessed various invasions and has cultural and architectural influences from different periods. |
| Cultural Heritage | Known for its Pashtun culture and traditions, Bannu showcases vibrant traditional music, dance forms like Attan, and Pashto literature. The city also has unique handicrafts, including embroidery and rug-making. |
| Educational Institutions | Bannu Medical College, Bannu University of Science and Technology, Bannu Polytechnic Institute |
| Transportation | Bannu Airport, Bannu Railway Station, well-connected road network |
| Major Industries | Agriculture, trade, manufacturing, services |
| Cuisine | Bannu offers traditional Pashtun cuisine, including Chapli kebab, Lamb karahi, and Mantu (dumplings). The city is also known for its local sweets like Gulab Jamun and Jalebi. |
| Festivals | Eid-ul-Fitr, Eid-ul-Adha, Pashto cultural festivals like Jashn-e-Bannu, traditional wedding festivities |
| Sports | Cricket, football, wrestling (traditional Pehlwani) |
| Historical Sites | Bannu has historical sites such as Khyber Gate, Bannu Museum, and the ancient ruins of Marwat civilization. |
| Parks and Gardens | Shaheed Benazir Bhutto Park, Dost Muhammad Khan Park |
| Art and Literature | Bannu has a growing art and literary scene, with local artists and writers showcasing their work at exhibitions and literary events. |
| Shopping | Traditional bazaars offering a variety of handicrafts, fabrics, and Pashtun attire. |
| Religious Sites | Bannu has several mosques, including Ghosia Masjid and Miryan Mosque, along with Hindu temples and Sikh gurdwaras. |
| Museums | Bannu Museum, showcasing local artifacts, historical relics, and tribal heritage. |
| Performing Arts | Bannu hosts cultural events and music concerts, featuring traditional Pashto music and dance performances. |
| Educational Legacy | Bannu has a history of educational institutions, including Government High School Bannu, which has produced notable scholars and professionals. |
| Tourism | Bannu attracts tourists with its historical sites, natural beauty, and cultural heritage. Visitors can explore the local culture, enjoy traditional Pashto music and dance, and experience Pashtun hospitality. |
Bannu Famous Places
Bannu Fort
The Bannu Fort is a historical landmark in the city. It was originally built during the reign of Durrani Empire and later renovated by the British. The fort offers a glimpse into the region's rich history and architectural heritage.
Tochi River
The Tochi River flows through Bannu, providing scenic beauty and opportunities for picnicking and leisure activities. The river is surrounded by lush green fields and offers a tranquil environment.
Lalazai Picnic Point
Located near Bannu, Lalazai Picnic Point is a popular recreational spot. It features beautiful gardens, picnic areas, and a waterfall, attracting locals and tourists for relaxation and enjoyment.
Shahi Bagh
Shahi Bagh, a historical garden, has been a backdrop for cultural events and celebrations. It remains a hub for local traditions and festivities.
Akhunabad
This religious site holds immense importance for the local population and serves as a place of pilgrimage and spiritual significance.
Ghulam Khan Village
Located near the border, Ghulam Khan Village plays a vital role in cross-border trade and relations. It reflects the region's commercial ties and strategic importance.
Schools in Bannu
Bannu Model School and College
Government High School
Islamia Public School and College
Beaconhouse School System
The City School
Colleges and Universities in Bannu
Bannu Medical College
Bannu Law College
Government College of Technology
Gomal University
Government College for Women
Hospitals in Bannu
District Headquarters Hospital
Khalifa Gul Nawaz Teaching Hospital
Women and Children Hospital
Combined Military Hospital (CMH)
Bacha Khan Medical Complex
Restaurants in Bannu
Bannu Kabab House
Charsi Tikka House
Quetta Tawa Fry Restaurant
Pizza Planet Bannu
Royal Foods Restaurant
Bannu Museum
The items used in the eras of Muslims, Britishers, Sikhs, and Hindus are kept in Bannu Museum established in 2009. Keeping weapons is a sign of bravery and manliness in Pashtun culture.
Swords, guns, revolvers, and shields are kept there. The local musical instruments Banjo drums, satar, and rabab are kept there. Regional clothes, coins, and jewelry made of stones are also exhibited. Quran-e-Pak models with beautiful calligraphy are also placed.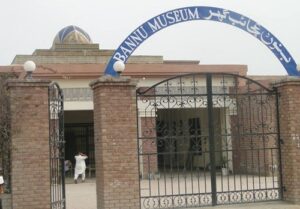 This museum is located on Norank Chowk. There are archaeological signs in Bhart spreading over 133 acres.
Challenges and Development
Despite its rich history and culture, Bannu faces several challenges. Infrastructure development, socio-economic issues, and security concerns need to be addressed. However, there are ongoing initiatives aimed at improving the living conditions and prospects of the people in the region.
FAQs
What is District Bannu?
District Bannu is a region in the Khyber Pakhtunkhwa province of Pakistan. It serves as an administrative division with Bannu city as its headquarters.
How can I reach Bannu?
Bannu is accessible by road and is well-connected to other major cities in Pakistan. You can reach Bannu by bus, car, or other private transportation.
What is the population of District Bannu?
The population of District Bannu was around 1.5 million people. Please note that population figures may have changed, and it's advisable to check the latest census data for the most accurate information.
What are the major attractions in Bannu?
Bannu has historical and cultural significance. Some notable attractions include Bannu Fort, Daudzai Irrigation System, and various bazaars that offer a glimpse into the local culture.
What languages are spoken in District Bannu?
Pashto is the predominant language spoken in Bannu, reflecting the Pashtun culture of the region. Urdu is also widely understood.
Is Bannu safe for tourists?
Like any other destination, it's advisable to stay updated on the current security situation. Check travel advisories, and it's recommended to respect local customs and guidelines for a safe and enjoyable visit.
What is the climate like in Bannu?
Bannu experiences a semi-arid climate with hot summers and mild winters. Summers can be extremely hot, with temperatures rising significantly.
Are there educational institutions in District Bannu?
Yes, Bannu has several educational institutions, including schools, colleges, and a university. Bannu Medical College is one of the notable institutions in the area.
What is the economy of Bannu based on?
Agriculture is a significant part of the economy in Bannu, with the cultivation of crops like wheat, sugarcane, and tobacco. Livestock farming is also common. Additionally, trade and commerce contribute to the local economy.
How can I obtain more information about District Bannu?
For the most up-to-date and detailed information, you can contact the local government offices, visit official websites, or consult tourism authorities. Local libraries and community centers may also provide additional resources.
Wind Up Lines
District Bannu in KPK is a place where history, culture, and development intersect. With its historical sites, diverse demographics, and a promising future, Bannu is a district of immense potential. While it faces challenges, it is making strides towards a brighter tomorrow, ensuring that its unique heritage continues to thrive and evolve.