Bannu
Bannu is a city in the province of Khyber Pakhtunkhwa. It is about 140km from Dera Ismail Khan and 127km from Kohat at the south of the river Khurrum. Bannu is an agro-based city famous for the production of cereals and pulses. People usually speak Pashto.
It remained under the administration of Sikhs, Britishers, and Muslims.  Many battles were fought for the occupation. It is located inside a strong boundary wall. Gates are also built. This wall has been damaged to a large extent. Some gates are also demolished. This city has many ancient buildings. The traces of many settlements are found in the suburbs of Bannu.
Bannu Walled City, Nicolson House, Bannu Museum, and ancient Akra are famous historical sites.
Bannu Museum
The items used in the eras of Muslims, Britishers, Sikhs, and Hindus are kept in Bannu Museum established in 2009. Keeping weapons is a sign of bravery and manliness in Pashtun culture.
Swords, guns, revolvers, and shields are kept there. The local musical instruments Banjo drums, satar, and rabab are kept there. Regional clothes, coins, and jewelry made of stones are also exhibited. Quran-e-Pak models with beautiful calligraphy are also placed.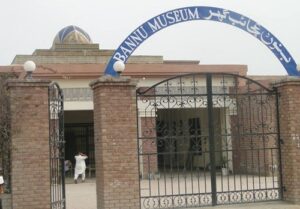 This museum is located on Norank Chowk. There are archaeological signs in Bhart spreading over 133 acres.