Faisalabad
Formerly known as Sandal, and Layellpur, Faisalabad is the third-largest city in Pakistan. It is situated 137 km from Lahore and it is connected to the country through a motorway, railways, and an airport.
Key information about Faisalabad PK
| Category | Information |
| --- | --- |
| Location | Faisalabad, Punjab, Pakistan |
| Population | Approximately 3.2 million |
| Area | 1,230 square kilometers (473 sq mi) |
| Coordinates | 31.4182° N latitude, 73.0772° E longitude |
| District | Faisalabad District |
| Language | Punjabi, Urdu, and English |
| Nicknames | "The Manchester of Pakistan" due to its textile industry |
| Economy | Industrial and commercial hub, known for its textile and manufacturing industries |
| Major Industries | Textiles, manufacturing, agriculture, and trade |
| Transportation | Well-connected with a network of roads and railway lines |
| Education | Home to numerous schools, colleges, and universities |
| Healthcare | Several hospitals and medical facilities |
| Notable Places | Clock Tower, Jinnah Garden, and Lyallpur Museum |
| Local Festivals | Eid, Basant (spring festival), and various cultural celebrations |
| Culture | Rich cultural heritage with traditional music, dance, and local cuisine |
| Administration | Faisalabad is divided into several Union Councils for local governance |
| Climate | Hot and dry, experiencing extreme temperatures in summer |
| Major Highways | M-3 Motorway and Faisalabad-Pindi Bhattian Road |
| Airport | Faisalabad International Airport (Lyallpur Airport) |
| Industries | Textiles, manufacturing, agriculture, and commerce |
| Commerce | Wholesale markets, industrial zones, and commercial centers |
| Sports | Cricket and field hockey are popular sports in the city |
A Brief History of Faisalabad
It was a deserted area. Its settlement plan was drawn up in the last quarter of the nineteenth century. Its urbanization was initiated in 1890. And in 1906, the settlement plan of the city was completed.
This uncultivated area was an open pasture. In 1982, this area came under cultivation due to the construction of the various canal. In 1985, the foundation of the city was laid.
It was named "Lyallpur Pur" after the name of the Governor of Punjab Sir James B Layal. Its design was made by Desmond but the final design was put into practice by the famous town planner Sir Ganga Ram. He was given a plot of 5 acres as a gift.
The map of Faisalabad is a duplication of the British Flag Union Jack. There is a clock tower in the center and 8 Bazaars or markets are established around the circle. They are linked to each other through a round Bazaar.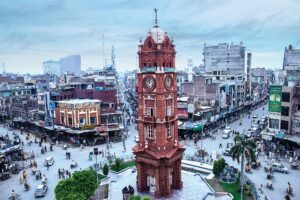 Earlier, there was a well at the place of Clock Tower. Its construction was done under the supervision of Gulab Khan, who belonged to the family of architects who built the Taj Mahal Agra.
The clock was given by a watchmaker in Bombay. In 1910, a railway line was established. And in 1920, the first colony named Daglas Pura was established. The industry was revolutionized after 1930. The Lyall Pur Cotton mill was completed in 1934. This city progressed by leaps and bounds as time passed.
Today's Faisalabad
At the time of the creation of Pakistan, its area was 3 square miles and now it is the third-largest city in Pakistan. In 1997, it was named after King Faisal of Saudi Arabia.
On 1st July 1982, it become the capital of the Division. It is also the third-largest hub of trade and industry in Pakistan. At the time of the creation of Pakistan, there were about two dozen small and big factories. At this time, they have reached thousands of industrial units.
Faisalabad has the largest textile industry in Pakistan. That's why it is called the Manchester of Pakistan. Besides textile, there are other factories of the different industrial departments. They are playing a major role in the economy of Pakistan.
Some Famous Places to visit in Faisalabad
Faisalabad Agricultural University
Faisalabad Agricultural University, often referred to as the University of Agriculture Faisalabad (UAF), stands as a cornerstone of agricultural education and research in Pakistan. Situated in the bustling city of Faisalabad, Punjab, it has earned a distinguished reputation for its pivotal role in advancing agricultural sciences and contributing significantly to the country's agricultural sector.
UAF is a prominent academic institution known for its academic excellence in agriculture and related fields. Established in 1906 as the Punjab Agricultural College and Research Institute, it has evolved into a comprehensive university with an array of academic programs encompassing agriculture, animal sciences, food sciences, and environmental management.
The university's research endeavors have a profound impact on agricultural practices and policies in Pakistan. Its researchers are at the forefront of addressing the challenges faced by the agricultural sector, such as increasing crop productivity, improving livestock management, and enhancing food security. UAF's innovative research contributes not only to the local agricultural landscape but also on an international scale.
UAF boasts state-of-the-art laboratories, research centers, and experimental farms that provide students and faculty with a conducive environment for hands-on learning and groundbreaking research. These facilities play a crucial role in fostering innovation and technological advancements in agriculture.
Recognizing the importance of knowledge dissemination, Faisalabad Agricultural University actively engages in extension activities. It collaborates with farmers, government agencies, and the private sector to share research findings, provide training, and transfer modern agricultural techniques to local communities.
UAF's role in shaping the agricultural landscape of Pakistan cannot be overstated. It has contributed to the development of high-yield crop varieties, improved livestock breeds, and sustainable farming practices, all of which have been instrumental in increasing agricultural productivity and livelihoods in the region.
The university has forged collaborations with renowned international institutions and universities, fostering exchange programs, joint research initiatives, and a broader global perspective for its students and faculty.
UAF celebrates its deep-rooted connection to agriculture and rural culture with events like the Faisalabad Agri Expo and the Barani (Rainfed) Agricultural Show. These events showcase innovations and best practices in agriculture and provide a platform for knowledge sharing.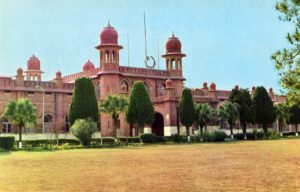 Jinnah Garden
Jinnah Garden, located in the heart of Faisalabad, is a well-maintained urban park named after Pakistan's founding father, Quaid-e-Azam Muhammad Ali Jinnah. It provides a serene escape from the bustling city life, featuring lush greenery, walking paths, fountains, and a beautiful floral clock.
Clock Tower Faisalabad
The Clock Tower, also known as Ghanta Ghar, is an iconic landmark in Faisalabad. It stands tall at the city's center, dating back to the British colonial era. This majestic structure serves as a symbol of the city's rich heritage and history.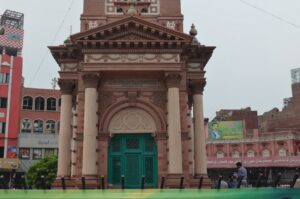 Gat wala or Gutwala Park
Gatwala Park is a sprawling recreational area on the outskirts of Faisalabad. It offers a peaceful environment for picnics, family outings, and outdoor activities. The park is known for its green expanses, a lake with boating facilities, and an amusement park for children.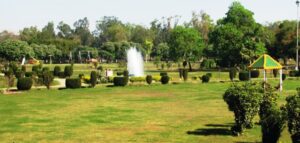 Lyallpur Museum Faisalabad
The Lyallpur Museum, named after the city's former name, showcases a diverse collection of artifacts, cultural exhibits, and historical items. It offers visitors insights into the heritage and history of Faisalabad, making it an enriching cultural experience.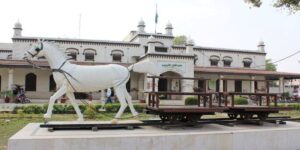 Faisalabad Arts Council
The Faisalabad Arts Council is a cultural hub where various forms of art, including visual arts, performing arts, and literary activities, are celebrated and promoted. The council hosts art exhibitions, music performances, and literary events, fostering creativity in the city.

Hockey Stadium
Faisalabad's Hockey Stadium is a sporting venue where field hockey enthusiasts gather to watch and participate in this beloved sport. It has witnessed numerous local and national hockey matches, showcasing the city's passion for the game.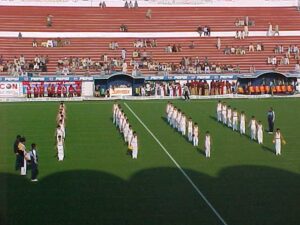 D- ground
D-Ground is a bustling commercial area in Faisalabad, famous for its vibrant markets and shopping streets. It's a prime destination for shopping, dining, and experiencing the lively atmosphere of the city.
Darul Ehsan of Sufi Barkat
It is located on the left side of Sahiyanwala Interchange on Faisalabad Pindi Bhattian Motorway.Darul Ehsan is a revered Sufi shrine dedicated to Sufi Barkat Ali, a spiritual figure of significance. Devotees visit the shrine to seek blessings, offer prayers, and partake in the spiritual ambiance.
The Holy Place of the Quran Mahal
The Quran Mahal is a religious and cultural center where people come to recite the Quran, seek religious guidance, and participate in various Islamic activities. It is a significant religious space in Faisalabad.
Sindbad
Sindbad is a popular amusement and entertainment center in Faisalabad. It offers a wide range of indoor and outdoor activities for people of all ages, including arcade games, rides, and a food court, making it a favorite spot for family outings and recreation.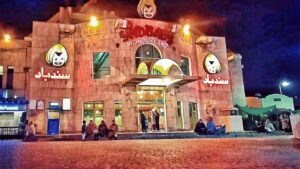 Ganga Ram
The village Chak# GB-591 of Tehsil Jaranwala of district Faisalabad is famous as the "Ganga Ram". Renowned architect and civil engineer Sir Ganga Ram belonged to this village.
It is said that he was the landlord and owner of the village. He made this village a model village.
At the end of the nineteenth century, the latest machinery was introduced for the development of the agriculture sector. A heavy-duty motor was imported from Lahore through rail for Gogera Branch Canal. This canal water was used for irrigation.
There was a facility of railway line till Bachiyana. But there was no proper track from which the motor can be taken between Bachiyana to Gangapur. At that time, Sir Ganga Ram ordered the building of a narrow railway track between Bachiyana and Gangapur.
And the motor was brought to Gangapur through a horse trolley. After the installation of the motor, this trolley was used by people as local transport.
About after 100 years, this horse trolley track was closed due to its poor physical condition and economic issues.
At last, on 9th March 2010, this rare horse trolley was again started, and nowadays it is known as Ganga Ram.
To enjoy this unique ride, you have to go to Bachiyana from Jaranwala.
Ganga Ram built the Lahore Museum, National College of Arts, General Post office, Mayo Hospital Lahore, Aitchison College, Ganga Ram Hospital, Hailey College of Commerce, and many other buildings and welfare agencies.
He started a campaign for the marriage of widow Hindus. He established an association for this purpose. This association has arranged the marriage of 39,500 widows in 18 years.
Mirza Sahiba
Mirza Khan was a handsome young man of the Kharal tribe situated near the river Ravi. He was the son of the chief of village Dana Abad, Tehsil Jaranwala district Faisalabad.
The maternal uncle of Mirza had two sons (Ameer and Sher) and a daughter named Sahiba. Sahiban was a sculpture of beauty. At a young age, Mirza and Sahiban used to study in the same institution. They fell in love with each other.
Their love story became popular among the villagers. When Khewa Khan came to know about it, he called the elders of the tribe. They decided to marry Sahiba to another man according to society's norms.
They engaged Sahiban to a prosperous young man Tahir Khan. According to some folk tales, it was that Chanda tribe that turned into Chiniot City.
The day of marriage arrived. Everyone in the family was happy. But the Sahiban was gloomy. She sent a message to Mirza through his servant Kamoo.
When Mirza came to know about Sahiba's marriage, he got miserable. He rode on his faithful mare Bukki and reached Sahiba's village.
He stayed at her aunt's home. He changed his appearance and flee away with Sahiba. On their way, he felt exhausted and slept on the knees of Sahiban.
Sahiba thought that if his brothers there chasing them, Mirza will kill them with his excellent skill in archery. She hung his arrow and bow on the tree. Their uncle first came to know about their escape.
He took Sahiban's brothers with him and chased them in the Jungle. She heard the voice of horses around her. She awakened Mirza. He got up and searched for his arrow and bow. Suddenly, an arrow stuck in his chest and he died. She was shedding tears wrapped around him when an arrow pierced her too.
In this way, both of them left this world. Renowned Historian Asif Khan has set the era between 1625 to 1676 as Mirza Sahiba Era.
Educational Institutions
University of Agriculture Faisalabad (UAF): A renowned agricultural university.
GC University Faisalabad: A prestigious public research university.
Chenab College Faisalabad: A prominent college known for academic excellence.
The Educators School: A chain of quality educational institutions.
Allied School: A well-recognized school offering quality education.
Restaurants
Faisalabad Serena Hotel: Offers a variety of dining options.
Nando's: Known for its peri-peri chicken and international cuisine.
Pizza Hut: A popular pizza chain.
Bundu Khan: Famous for its barbecue and traditional Pakistani dishes.
Ginsoy: Offers Chinese and Thai cuisine in an elegant setting.
Hospitals
Allied Hospital Faisalabad: A well-equipped medical facility.
Faisalabad Institute of Cardiology (FIC): Specialized in heart care.
National Hospital Faisalabad: Known for its medical services.
Aziz Fatimah Hospital: Offers a range of healthcare services.
Faisalabad International Hospital: Provides comprehensive medical care.
Frequently asked questions (FAQs) 
What is the history behind the name "Faisalabad"?
Faisalabad was originally named Lyallpur, but it was renamed in 1977 in honor of King Faisal of Saudi Arabia.
What is Faisalabad known for?
Faisalabad is famous for its textile industry and is often referred to as "The Manchester of Pakistan."
What are the popular tourist attractions in Faisalabad?
Tourists can explore places like Jinnah Garden, Clock Tower, and Lyallpur Museum, among others.
How do I get to Faisalabad?
Faisalabad is accessible by road and has an international airport, Faisalabad International Airport, connecting it to major cities in Pakistan.
Is Faisalabad a good place for shopping?
Yes, Faisalabad is a great place for shopping, especially for textiles and garments. D-Ground is a popular shopping area.
What are the major industries in Faisalabad?
The city is primarily known for its textile industry, but it also has a significant presence in manufacturing, agriculture, and trade.
Are there renowned educational institutions in Faisalabad?
Yes, Faisalabad is home to esteemed institutions like the University of Agriculture Faisalabad and GC University.
What is the climate like in Faisalabad?
Faisalabad experiences a hot and arid climate, with extreme temperatures during the summer months.
What cultural events are celebrated in Faisalabad?
Festivals like Eid and Basant, a spring festival with kite-flying, are celebrated in the city.
Is Faisalabad known for its food and restaurants?
Yes, the city has a variety of restaurants offering both local and international cuisine.
What is the significance of Clock Tower in Faisalabad?
The Clock Tower is an iconic historical landmark and symbol of the city's heritage.
Can tourists visit historical and cultural sites in Faisalabad?
Yes, tourists can explore cultural sites like the Lyallpur Museum and the Darul Ehsan of Sufi Barkat.
Wind Up Lines
Faisalabad is a masterpiece of rich history, culture, and traditions. Clock Tower, the village of Mirza Sahiban, and Lyell Pur Museum are witnesses to its glorious past. In addition to this, it is a center of Pakistan's textile industry thus playing a key role in the economy. It has many shopping sites, recreational places, and food courts making it a good spot for tourists.