Chiniot
(The city with an Art)
Chiniot is a historical city in Punjab Pakistan. This city is the homeland of many famous personalities. It is located on the bank of river Chenab.
This city is 58 km from Lahore and is famous for its high-quality wood furniture. The skill of workers is depicted in doors, windows, balconies, and stone windows (Jharoka). There are some worth watching places for tourists.
It is said that the word Chiniot is derived from two words "Chin" and "Ot". It has the meaning of "dark before the moon".
Key information about Chiniot
| Category | Information |
| --- | --- |
| Location | Chiniot, Punjab, Pakistan |
| Population | Approximately 240,000 |
| Area | 160 square kilometers (62 sq mi) |
| Coordinates | 31.7196° N latitude, 72.9787° E longitude |
| District | Chiniot District |
| Language | Punjabi, Urdu, and English |
| Economy | Known for its skilled craftsmanship and woodworking |
| Major Industries | Woodworking, furniture, and cottage industries |
| Transportation | Well-connected to surrounding cities by road |
| Education | Several schools and colleges |
| Healthcare | Hospitals and medical facilities |
| Notable Places | Shah Burhan Tomb, Ramban Park, and various mosques |
| Culture | Renowned for intricate woodwork and craftmanship |
| Climate | Hot and arid, experiencing extreme temperatures in summer |
| Major Highways | Faisalabad-Chiniot Road (N-70) and others |
| Airport | Nearest airport is Faisalabad International Airport (about 75 km away) |
Prehistoric Chiniot
According to Doctor Amjad Saqib's research, Chiniot is mentioned in Maha Bharat. According to another study, this area was named Chandan Wat after the name of Rani Chandan before Christ.
It changed to Chiniot as the time passed. These facts were verified when archeologists found traces of B.C. construction in the Punj Peer area on the bank of river Chenab.
It is also assumed that there was a university of Buddhism. The department of archaeology is still researching it.
It is situated adjacent to small hills mountain range near Chenab's seashore and 38 km away from the highway directed from Faisalabad to Sargodha.
Chinioti
Some traditions and personalities become the special identity of their area. The richest man in Pakistan Mian Muhammad Mnsha (Nishat Group) belonged to Chiniot. Famous comedian Nasir Chinioti is a brave son of this city. A craftsman of Chiniot Haji Atta Muhammad has received Pride of Performance for his art.
The local food of Chiniot is so delicious. The Chinioti Kunna (mutton cooked in mud utensil) is a special dish here.  There is a wide range of handicrafts in this city. Please don't forget to enjoy the aerial view of this city from a cliff in the northwest of the city.
Some Famous Places to Visit
Umar Hayat Palace
This wonderful palace is a masterpiece of the finest woodwork of the nineteenth century and is called the Taj Mahal of Chiniot. Now, this Mahal is called Gulzar Mahal.
Sheik Umar Hayat (his forefathers shifted to Chiniot from Kolkata) decided to build a palace in the happiness of the birth of a son. Syed Hassan Shah was appointed as a supervisor for this purpose.
He gathered different skilled craftsmen from different areas. They import wood from Rangoon and Burma, tiles, glass, and colors from Europe.
The artisans of Chiniot amalgamated Muslim, European, and local architecture. The stone windows depict the Hindu style. The designs are so beautiful that one forgets to blink his eyes while visiting this palace.
The art of well-known carpenter Elahi Bakhsh and architect Jan Muhammad truly came to the fore. A bathroom has been built based on the Royal Bathrooms in Lahore. A specialty of this palace is that the design of every room is different.
In 1935, Sheikh Umar Hayat died. His widow Fatima Bibi married his son Gulzar with such pomp and splendor that there is no precedent in the history of Chiniot. But destiny had decided something else.
The very next morning, when Gulzar entered the bathroom, he died of suffocation due to the poisonous gas of the coal-fired for hot water. He was buried in the courtyard of the Palace. After some time, Fatima Bibi died and was buried alongside his son. Their graves are present in the lower courtyard.
The ground floor is utilized as a Library. It is open to tourists.
Shahi Mosque
This mosque is situated in the center of Chiniot and it was constructed by the prime minister Nawab Saad Ullah Khan Thaheem in the era of Shah Jahan.
In 1645, when Nawab Saad was appointed as Prime Minister, he was awarded 3 million and lots of other presents. He led the foundation of this beautiful mosque in 1646 in his hometown with that money.
For the construction of this mosque, stones from the nearby mountains were used. The construction was completed under the supervision of Nazar Hussain, Muhammad Yaqoob, and Ustaz Khair Muhammad.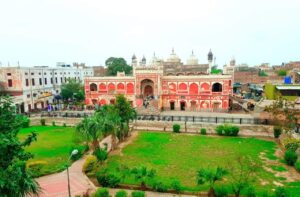 They were the craftsmen who built the Taj Mahal Agra, the Kashi Ram temple of Banaras, and the Wazir Khan Mosque.
The beautiful intricating designs on the walls have elevated its decoration. This mosque standing on 21 pillars was completed in 9 years. It is also called Masjid-e-Larza (a trembling mosque). The pillars are replicated from the Khirka mosque in Delhi.
Rekhti Fort
This fort was built in 1326 by Gias-Ud-Din Tughluq son of Sultan Muhammad Tughluq. It is said that it was situated on the right bank of river Chenab. However, the historical city Chiniot was settled on the left seashore. The traces of this fort can be found in front of Umar Hayat Mahal.
Chilla Gah and Mosque Bu Ali Qalandar
The saint Sharf-ud-Din Bu Ali Qalandar used to meditate on the seashore of river Chenab for 12 years. He belonged to Pani Pat India.
A few years ago, a beautiful mosque is constructed there that attracts tourists because of its unique architecture.  It is built like the Badshahi Mosque in Lahore.
The shrine of Sai Sikh
These shrines are of Ahmad Mahi alias Sai Sikh and his wife Ayesha Bibi. They immigrated from Madh Ranjha to Chiniot.
They initiated the construction of the shrine in his life. From 1950, the third generation of artisans is busy in the construction of it. The architecture and the decoration in the shrine and adjacent area are worth watching.
There are two verandas outside the two tombs. Moreover, there are two splendid domes inside and outside the mausoleum.
The memorial
In the Indo-Pak war of 1971, the Indian army attacked to demolish the bridge on the river Chenab to stop the supply line of the Sargodha airbase of the Pakistan Airforce.
The army troop crashed the plane with a tiny anti-aircraft gun. A part of this plane is fixed on the left side of the old bridge as a memorial. On the riverbank, a TDCP resort, and an information center are located as picnic spots.
From Chiniot to Pindi Bhattian is a village called Daleki, 6km away on Lahore Road, which is the hometown of the famous freedom fighter Abdullah alias Dilla Bhatti. And an ancient mosque of the Khaleji era is located 21 km from Pindi Bhattiyan Interchange on Hafiz Abad Road.
Educational Institutions
Chiniot Islamia School and College
Government Degree College Chiniot
City Grammar School Chiniot
The Educators – Chiniot Campus
The Superior College Chiniot Campus
Healthcare Facilities
Chiniot General Hospital
DHQ Hospital Chiniot
Aziz Medical Complex
Ali Hospital Chiniot
Zainab Memorial Hospital
Restaurants and Eateries
Chinioti Dera Restaurant
Al-Kareem Bakers & Restaurant
Karachi Haleem & Fast Food
Food Street Chiniot
Pizza Hut Chiniot
Frequently Asked Questions (FAQs) 
What makes Chiniot renowned for its craftsmanship?
Chiniot is celebrated for its exceptional woodwork and furniture craftsmanship, passed down through generations. The city's artisans are known for intricate designs and meticulous attention to detail.
Are there notable historical landmarks in Chiniot?
Yes, Chiniot boasts historical landmarks such as Chiniot Fort, Shahi Masjid, and Qila Takh-i-Bahi, each narrating tales of the city's rich past and cultural evolution.
How diverse is the economic landscape of Chiniot?
Chiniot's economy is multifaceted, with agriculture, industry, and crafts playing pivotal roles. The city's skilled craftsmen significantly contribute to the local and global furniture markets.
What educational institutions are present in Chiniot?
Chiniot hosts educational institutions like Chiniot Islamia School and College, Government Degree College Chiniot, and others, fostering intellectual development within the community.
Tell us about the healthcare facilities in Chiniot.
Chiniot is equipped with healthcare facilities such as Chiniot General Hospital, DHQ Hospital Chiniot, and Aziz Medical Complex, ensuring the health and well-being of the local residents.
Is Chiniot easily accessible?
Yes, Chiniot is well-connected by road, with convenient accessibility from the nearby city of Faisalabad. This facilitates both local residents and visitors in exploring the city's cultural and historical offerings.
What is the significance of local cuisine in Chiniot?
Chiniot's culinary scene is enriched with traditional Punjabi dishes, offering a delightful blend of flavors that reflect the city's cultural vibrancy.
Apart from historical sites, what else does Chiniot offer to tourists?
In addition to historical sites, Chiniot's craft markets and museums provide an immersive experience, allowing tourists to witness artisans at work and explore the city's cultural evolution.
Wind Up Lines
Chiniot is relatively a small city in Punjab Pakistan with many honors and rich history. It is one of the best tourist spots for history lovers and explorers.