Gujranwala
This city is located 10 km from Eimanabad and 65 km from Lahore in the North on the G.T Road. It is one of the historical and major cities of the Punjab Province.
It is not an old city. This city is not even quoted in the books of the Mughal Era.
A Brief History of Gujranwala
Eimanabad and Hafizabad were settled in Akbar's regime. This area was deserted in the eighteenth century. Then, the Gojar people were expelled by Jat from Amritsar and they got settled here.
This Dera (place) of Gojar's is called Gujranwala. At last, the grandfather of Ranjeet Singh, Charat Singh Jat occupied this area and declared Gujaranwala the capital of the state.
This place was also the residence of the son and grandson of Charat Singh. The graves of Charat Singh and his son of Mahan Singh and the birthplace of Ranjeet Singh still exist.
Wrestlers of Gujranwala
Gujranwala is not only known for the export-driven industrial units but also for the internationally recognized wrestlers. This city is honored to raise wonderful wrestlers that prove themselves around the globe. The wrestlers of Gujranwala won many grand titles ever won by any city in the world. There are about 25 bouts for wrestling in Gujranwala. Therefore, it is called the "Land of Wrestlers" and "Pahalwana da Shehar".
Different terms are used in Gujranwala for wrestling. The style of wrestling is "Pahalwani", the bouts are called "Dangal" and the sport is called "Kushti". The wrestlers are named "Pahalwans".
Rahim Baksh Sultani Wala, Muhammad Afzal (Goga Pahalwan), Yonous Pahalwan (Sitara-e-Pakistan), Meraj Pahalwan, Acha Pahalwan, Shahid Pehlwan Atty Wala, and Babar Sher-e-Punjab are some worth mentioning wrestlers in the history of Gujranwala.
Rahim Baksh Sultani wala was a great wrestler in Gujranwala with a tall height of 7 feet. He defeated the wrestlers of Lahore and Amritsar.
Yonous Pahalwan was a student of Rahim Baksh. Sitara-e-Pakistan Yonous was born on 30th December 1925 in Gujranwala. He fought at the age of 16 for the first time. He won the title of "Rustum-e-Punjab" at a very young age.
Shahid Pervaiz Butt – the pride of Punjab was born in 1964 in Gujranwala. His father and many famous wrestlers trained him. He was entitled to "Rustum-e-Gujranwala" in 1984 after defeating Aslam Pehlwan in Lahore.
Pakistan has won the most medals in wrestling since 1952. And many of the wrestlers belong to Gujranwala.
Inam Butt is one of the wrestlers of Gujranwala who is undefeated for the past many years. Despite the difficulties and inadequate facilities, he won medals for his land and nation. He won the first gold medal against India in Commonwealth Games. Pakistan won this title after 40 years.
He defeated Kenya and South Africa too. He also won the title of "Rustom-e-Pakistan". He gained popularity as an international player in 2019 when he won a medal in World Beach Wrestling Championship. He received "Pride of Performance" by the Government of Punjab.
Haider Ali, Talha Talib, and Nida Dar are among the heroes of Gujranwala.
Haider Ali has the honor of achieving Pakistan's first gold medal in the history of the Paralympics.
Nida Dar is the first Pakistani cricketer to complete a century of wickets in T20 matches.
Talha Talib is a young weight lifter from Gujranwala Pakistan. He made the nation proud with his excellent performance in Olympics. Coached by his father, this young wight lifter represented Pakistan in the Olympics after 45 years. He stood 5th in the 67kg category.
You can also enjoy wrestling in the local training centers. They are open in the evening. Pakistani youth have great talent. If proper training centers, gyms, grounds, and sponsorship are provided for these sports, Pakistan can win many titles in near future.
Today's Gujranwala
Gujranwala City
This city is the seventh-largest city in Pakistan and is located at a height of 744 feet. The old city is located on a circular road. It had doors all around this city. Traces of some doors are still present.
The historical Sheranwala garden is in the center of the city. This garden plays the same role in Pakistan's movement as the Lahore Manto Park did.
Quid-e-Azam, Liaqat Ali Khan, Mohtarma Fatima Jinnah, Sardar Abdul Rab Nishter, Allama Mashriqi, Atta Ullah Shah Bukhari, Pandit Nehru, and other leaders delivered their enthusiastic speeches in front of a huge crowd there.
There is a beautiful Baradari in the garden built by Raja Ranjeet Singh.
It is also a city of Body Builders and wrestlers who gave birth to Rustom Hind wrestler. The old Bazaars of Gujranwala are considered among the best Bazaar in Pakistan.
Today, this city is known for iron cupboards, closets, electric fans, electronics, furniture, utensils of copper and aluminum, ceramics, stainless steel, sports, leather, and textile industries.
Bestowed with fertile land, the soil of Nandi Pur Gujranwala barrage has been laid in cricket stadiums around the world.
Famous Places of Gujranwala
1- Eimanabad/Aimanabad Gurdwara Rori Sahib
This Gurdwara is located in Eimanabad city, four miles to the right side on G.T Road, ten miles before Gujranwala on the way from Lahore to Gujranwala.
It is said that the cornerstone of this historical city Aimanabad was led by the king of Sialkot Salbahun in the first century B.C. This city was settled and ruined too many times. General of Humayun Aiman Baig burnt this city and settled it again as Eimanabad.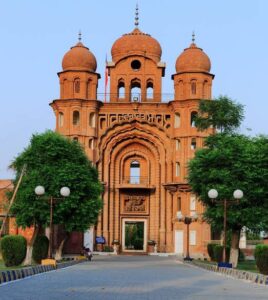 This ancient city has many historical sites in which Gurdwara Rori Sahib is one of the most sacred places for Sikhs.
It is stated that Baba Guru Nanak stayed here for some days. He didn't find a proper place for taking a rest. He leveled the ground with small stones and slept there.
After that, Sikhs considered this place a holy place. A Gurdwara was constructed at this place and the largest Beshaki fair in United Hindustan was held there. Its redecoration continued after the creation of Pakistan. The present building is a splendid piece of architecture.
2- Parks
Model town park, Liaqat Park, Jinnah Park, and Iqbal Park on G.T Road have enhanced the beauty of Gujranwala. It has playgrounds, picnic spots, sailing, and playland recreational areas.
A memorial to the martyrs of Pakistan's army is built in the Nishan Manzil Park.
3- The food of Wrestlers and food streets 
This world-famous city of wrestlers is also renowned for its delicious food variety. Kebab, Chicken Tikka, and Chops are famous dishes. Traditional breakfasts are a specialty of this city.
In addition to Shahbaz Tikka, Allah Rakha Chicken Karhai, there are lots of restaurants and food courts at Sialkot Darwaza, androon city, and Chan da Qila Lahore Road.
4- Gakhar Mandi
It is a few kilometers away from Gujranwala and famous for the manufacturing of mats. There is an ancient temple of Hindus near Gakhar Mandi built on the architecture of Hiran Menaar.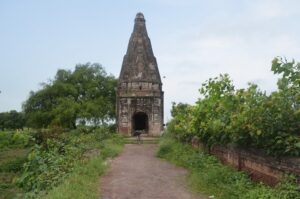 Wind Up Lines
Gujranwala is an industrial city that is flourishing by leaps and bounds. Furthermore, it has a lot of historical places, shopping centers, food streets, and tourist spots which make it a favorite place to travel.