Leepa Valley
It is surrounded by 10 to 16 thousand feet high mountains and is located 1921 meters above sea level.
It is famous as small Kashmir and it looks like heaven because of its luxuriant greenery, waterfalls, thick forests, pleasant climate, calm environment, orchards loaded with fruits, and white snow caps on the high hills.
There are two and three-floor wood houses that look similar. The environment of Leepa valley truly reflects the environment of occupied Jammu Kashmir. No other place is better than Leepa valley to enjoy the autumn season.
The area is covered with snow when red, orange, and yellow leaves stop falling. The routes to Pakistan and Azad Kashmir from Leepa valley are blocked in winter during snow falling.
Walnuts, honey, cherry, apple, and apricot are abundant. A road goes to Leepa valley after crossing the river Jhelum Bridge. This bridge is 45km away from the highway directed to Srinagar from Kashmir after Hattian Bala and Neeli Village.
You will have to take a permission letter for this valley from the Hattian Bala deputy commissioner's office. It is 60km away from Neeli Village.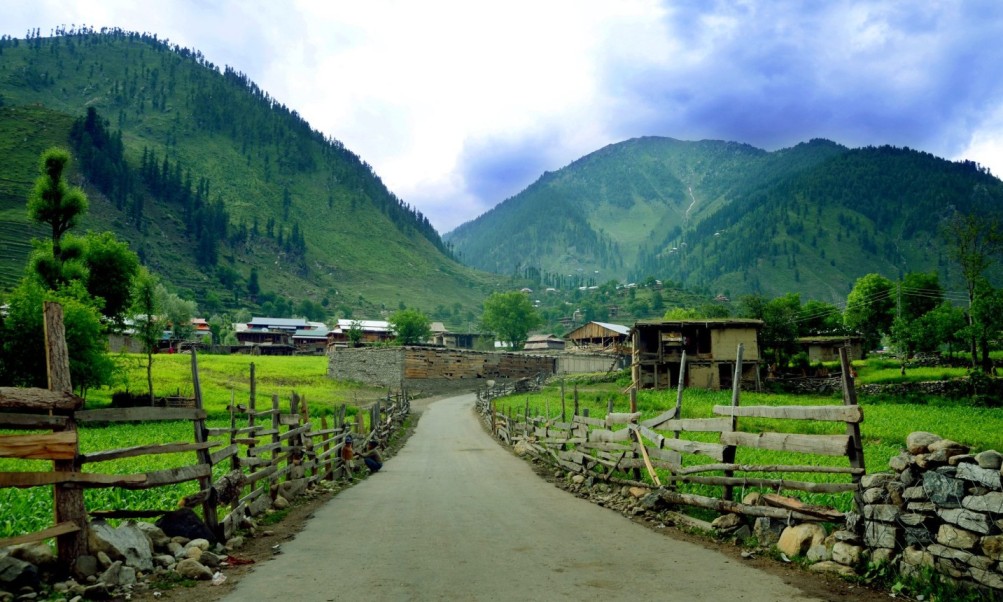 Famous Places in the Suburb of Leepa Valley
1- Eesha
22km away from Neeli Village, Eesha is a perfect place for natural beauty seekers. The road is smooth and solid till this point. For traveling beyond this place, you will have to book a jeep.
It is a better idea to book the jeep from Muzaffarabad. It is an adventurous journey on a motorbike. You can take NOC from the army check post in Eesha.
There are two ways to Leepa valley from Eesha. It will be a great idea to reach there by the Dao Khan way and return back from the other. In this way, you can visit the whole valley.
2- Dao Khan
It is a charming place 4km from Eesha. Its aerial views are splendid at a height of 2490 meters from sea level. There is a tourist rest house, a forest rest house, and a tent service by the tourism department.
3- Leepa
This central point of the valley is 38km away from Eesha and at an elevation of 1921 from ocean level. Must visit the local hydropower station on the way from Leepa to Chinian. You will be captivated by the fascinating scenery of the valley.
Leepa valley is parallel to occupied Jammu Kashmir. Pakistani and Indian forces are in front of each other. During the tension between the frontline Pakistan and India, Indian army forces attacked innocent citizens of the valley.
The Pakistan army has to be very careful because there are Muslim people on the other side of the border. It is a thrilling experience to climb the hilltop of Leepa from Eesha.
The link between Leepa to Pakistan and Azad Kashmir is jammed due to snowfall in winter. The army helicopters are the only way to reach there in the bitter cold. The Tatwal – area of occupied Jammu Kashmir is in front of Neelum valley.
Tatwal is 15km from Leepa. It was a part of Azad Kashmir before the Indian occupation.
4- Chinian
Chinian is at an altitude of 2226 meters from the sea level at a length of 6km from Leepa. This area is close to the line of control. There is a rest house and Chanar hotel for the public.
Wind Up Lines
Leepa Valley is full of mesmerizing places. Sites near Leepa Valley such as  Eesha, Dao Khan, and Chinian are worth watching too. It is well known for fruit orchards.