Gilgit City
Situated at an altitude of 5000 feet above sea level, Gilgit has always been the trade hub of the region. And even today it is the headquarters of the province of Gilgit Baltistan. And there is a relationship between Gilgit City and the neighboring country China for 2000 years.
 A Brief History of Gilgit
Gilgit Agency and adjoining areas were evacuated by the people from Maharaja Kashmir's military without any assistance. And they arrested Brigadier Ghansara Singh that was appointed by Kashmiri Monarch. Their command was in the hands of retired Karnal Mirza Ahsan Khan (Late). And he called "Fateh-e-Gilgit".
The area of Gilgit Baltistan was a part of the state of Jammu and Kashmir before the partition. The geographical importance of Gilgit Baltistan has increased due to the Karakoram (Resham) Highway.
Today's Gilgit City
The city is equipped with all kinds of latest facilities since it is the capital of the province of Gilgit Baltistan. You can reach the province of Gilgit Baltistan from all over Pakistan via car, jeep, bus, and wagon. The general bus stand in Gilgit is located at the boundary of the city. You can reach Gilgit from Rawalpindi via coster at any time.
Gilgit airport is there that connects Gilgit to the areas of Pakistan. Flights are available for Gilgit from Islamabad on daily basis. From the airport, you can reach the hotels located in the center of Gilgit City in five to ten minutes.
There is a bridge on the Rawalpindi road at a distance of 10km from Gilgit City. It is attributed to Aalam Khan. The Resham (Karakoram) Highway, turns towards Hunza from this bridge. You will find hotels for every class there. Your choice depends on your budget.
Besides regional and traditional items, you can buy Chinese products from NLI Market, Karnal Hassan Market, Makkah Market, Madinah Market, Kashmiri Bazaar, Jamil Gym Store, and handicrafts, and Qayyum Handicrafts on airport road. Danyor, Oshikhandass, Bigrote, and Namal are worth mentioning valleys.
The temperature of Gilgit City ranges from 10  to 40 centigrades.
Famous Tourist Destinations and Historical Sites in Gilgit City
1- Buddha Sculpture
The picture of Mahatma Buddha is engraved on a giant hill stone on the Kargah Road (at a distance of about 8km) in the west of Gilgit City. This inscription is 10 feet long at a height of 30 feet from the ground.
It is a glorious masterpiece of the Gandhara Civilization.  A monastery and three stupas are located nearby which were discovered in 1931.
2- Nopora Basin
There is a sketch of a witch on a hill rock. According to a popular tale, a witch was buried here due to her cruelty and oppression.
3- Taj Mughal Monument
This memorial is established to give tribute to Taj Mughal who was the ruler of Badakhshan. He conqured Gilgit in 1290. It is 30km from Gilgit.
4- Shikargah
There is a fish farm for trout at Shikargah. Visit this farm and gain information about this expensive and tasty fish.
5- Chinar Bagh & Martyres Memorial
There is a beautiful park named "Chinar Garden". There are Chinar trees that are older than one hundred years. The river Gilgit passes through the northwest edge of this garden.
In front of this garden, in Gilgit Provincial Assembly, the graves of two famous Mujahideen (soldiers) of the War of Independence of 1947-48, Karnal Hassan Khan and Babur Khan, and a memorial to the martyrs have been erected. The memorial which was established in 1962 is reminiscent of the amazing courage of the native.
6- Chinese Cemetry and memorial
The Silk Route  (Karakoram  Highway )turns towards Hunza after crossing China Bridge before Gilgit City. At the spot of Danyor, a cemetery and a memorial (Yad-e-gar) has established for the Chinese workers and masons who sacrificed their lives during the construction of Resham Highway.
During the construction of the Karakoram Highway from 1966 to 1978, 810 Pakistani and 82 Chinese Workers died.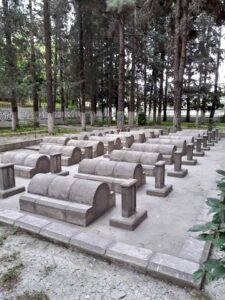 7- Naltar Valley
It is perhaps the favorite valley in Pakistan for adventurous people. A journey by jeep is the best to reach this valley which is surrounded by the ice-tipped Hindukush mountain range, alpine trees, and rich green meadows. It is 35km from Gilgit at an altitude of 10,000 feet above sea level.
The Resham Highway separates from the road directed to Hunza from Gilgit at the point of Namal Village. Then it goes gradually uphills.  The upper Naltar's pastures are the best choice to get rid of the hot climate of Gilgit.
Enjoy these valleys. They are awaiting you. Relish the sips of tea in a small restaurant in the pleasant weather. It is the beginning point to reach Naltar Pass (4200 meters above sea level), Ishkoman Pass (4800 meters), and Daintar Pass (15,700 feet). The whole valley is awaiting trekking enthusiasts.
Sky resort is another good spot there. Pakistan Airforce (PAF) organizes snow sports every year. The players from all around Pakistan come here to participate. There is a chairlift too. This 19km long valley has four lakes. It is better to take a local guide along with you during the visit to this valley. Enjoy the 12km trek.
One can do camping in the first and fourth lake. Book a jeep for upper Naltar. It is because Upper Naltar comes after Lower Naltar.
Wind Up Lines
Gilgit City is a historical city of Gilgit Baltistan. It has traces of the Buddhism era. Besides this, its neighboring areas have beautiful tourist sptos