Gilgit Baltistan
Heavenly Blessed Land
Gilgit Baltistan is among the extremely beautiful and charming northern areas of Pakistan. These areas are spreading over capacious land covering up to 72494 square kilometers. And it consists of Hunza, Astore, Gilgit, Ghizer, Diamer, Skardu, and Ghanchy.
The capital of the province Gilgit Baltistan is Gilgit. On first November 1947, the people of this region get rid of the slavery of the Kashmiri emperor without any external aid. On 16th November 1947, with the assistance of Sardar Muhammad Khan Political Agent, Pakistan took it under its control by the will of the common people. While the Baltistan got freedom on 14th August 1947.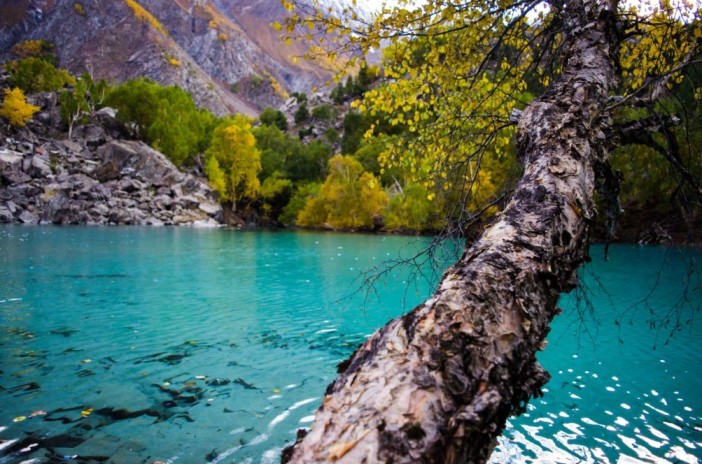 These regions with an altitude ranging from 4000 feet to 25,000 feet above ocean level are well known around the globe for sky-high giant mountains, sky-kissing, ice-tipped peaks, long glaciers, and narrow valleys. These landscapes are inviting scientists, tourists, and hikers for a long.
Famous Mountain Peaks, Passes, and Glaciers in Gilgit Baltistan
Deosai is the second highest plateau in the Asia after Pamir Plateau in the north. The famous mount peaks in the world such as K-2 (28,250 feet, the second-highest peak in the world), Nanga Parbat (26,607 feet), and Rakaposhi (25,520 feet) are located in these areas.
Its large glaciers are Siachen, Baltoro, Chogo Lungma, Rimo, Hiapar, and Biafo.

Many historical and ancient passes are here too. These include Babusar, Burzil Qamri (Diamer), Karakoram, Muztagh, Chorbat, Zojila, Saltoro, Thalay, Alampe, Braldu, Basha (Baltistan), Hispar Irshad, Kilik, Mintaka, Khunjerab, Shimshal (Gilgit), Karamber, Broghil, and Shandur Passes. These passes are of significant geographical importance.
Geographical Location of Gilgit Baltistan
It is the region that connects two great states of Asia, Pakistan, and China. On the other hand, it splits the two great states India and Russia. The geographical importance of this zone can be evaluated from the titles given to Gilgit Baltistan.
Hunza is called "the region where three empires meet". The borderlines of China, Russia, and British India were used to meet in the north of Hunza. It is also entitled "End of the World" and "the Winter Land of Asia". Now it is called the "Center of the World" because it is the connection point of five countries China, India, Tajikistan, Afghanistan, and Pakistan.
There is no monsoon rain in northern areas. The area of natural forests is about 4% of the total land area. The climate is terribly hot in Summer and bitter cold in winter. The hottest month is July and the coldest month is January.
It is heavy snowfall in the districts of Ghanche, Ghazar, Astor, Skardu, Hunza, Nagar, and in low valleys. The ice melts in summer and causes floods in the river Indus.
Beautiful Tourist Spots in Gilgit Baltistan
Nature has blessed these areas with sky-scraping mountains, rivers, brooks, watercourses, glaciers, valleys, and lakes. Upper Kachura, Lower Kachura (Shangrila), Sidpara, Naltar, Shandur, Deosai, Phander, Rama, Gdai, Zircon, (Bonji), Kutwal, Gasho (Jaglot), Gultari, and Borith (Gilmat Hunza), Lakes are worth mentioning because of their exquisiteness and beauty.
Fairy Meadows in Chilas and Sital in Tangir are renowned around the world for their spectacular beauty. May to September is the best season for tourism. But the ice doesn't melt on the high peaks. This may cause trouble for hiking and trekking.
Rivers & Springs Flowing in Gilgit Baltistan
The noteworthy rivers of this region are Indus, Shyok, Shigar, Astore, Hunza, and Gilgit. All the rivers and brooks of this area confluence with the River Indus. Agriculture and power sector of Pakistan is chiefly based on the River Indus.
There are many hot and cold-water springs in Gilgit, Baltistan, and Diamer. People use these springs' water for curing different diseases. The springs of Raikot, Bar, Nagar, Barsat, Damas Punial, Gronjur, Darkot, and Murtazaabad (Hunza) are very famous.
National Parks in Gilgit Baltistan
There are four national parks in Gilgit Baltistan. They are named Deosai National Park, Shandur National Park, Khunjerab National Park, and Central Karakoram National Park.
Silk Route Festival
Cultural and trade delegates from Pakistan, neighboring countries, and Central Asian states attend this festival. It is arranged in the summer season due to pleasant weather and a charming environment.
At this festival, government, private, social, regional, and international departments organize their stalls. Local and foreign troupes also perform. Its special programs are held in Gilgit. Its partial programs are organized in Hunza and Skardu.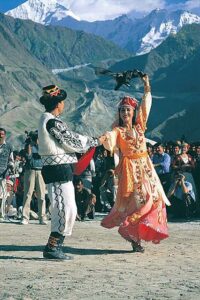 Water Sports
River rafting, canoeing, and kayaking can be enjoyed at these sites. From Jaglot to Thakot in the river Indus, Naran Kaghan in the river Kunhar (Kanhar), from Bahrain to Mingora in the river Swat, Aliabad to Gilgit in the river Hunza, Gopiz to Gilgit in the river Gilgit are sites for water sports. Tours operators of Islamabad and tour operators of related areas can assist you.
Wind Up Lines
Gilgit Baltistan is an alluring province of Pakistan. It is the best region for vacations, family trips, festivals, adventurous sports, and trekking. It is due to the beautiful tourist spots like  Diamer  Tangir, Darel, Chilas, Bonardas, Gonarfarm, Raikot, Nanga Parbat, and Fairy Meadows, sky-high mountain peaks, and murmuring rivers.