Hunza
The land of legends
Chinese called it "Kanjut". Hindus called it Humadesh which has a meaning of "The land of mountains". Hunza was a free state. It was a royal state till 1974 with Karimabad its capital. In 1974, after the formal affiliation with Pakistan, Hunza is directly linked to the Federal Capital Islamabad and the regional capital Gilgit of Gilgit Baltistan.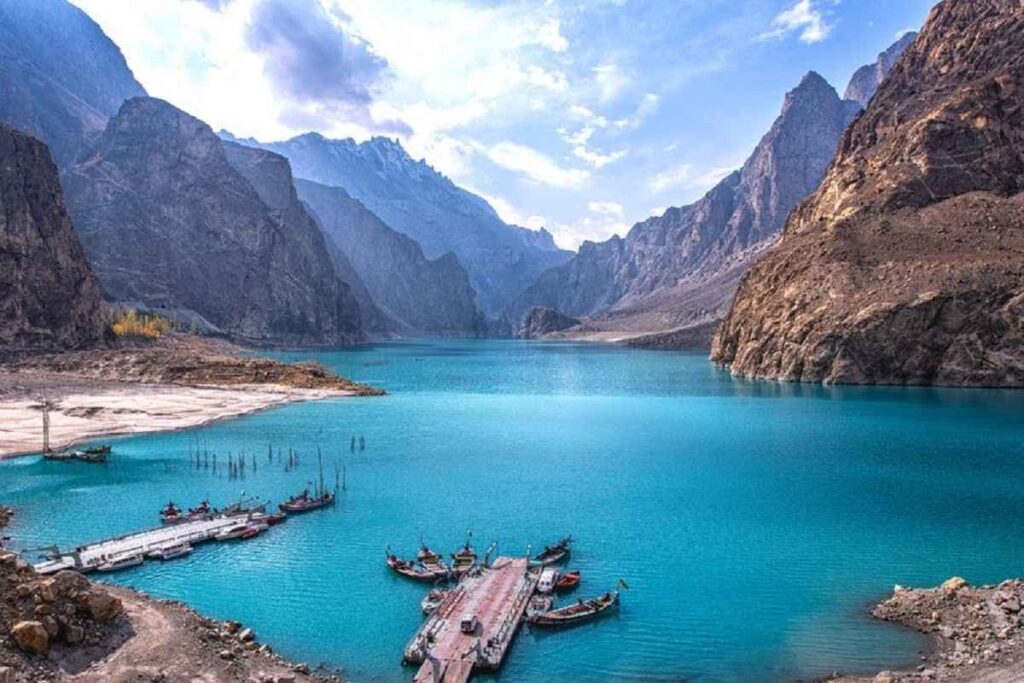 Karimabad, Hunza's capital city is located at an altitude of 2438 meters above sea level near the left edge of the Silk Route at a distance of 112km from Gilgit.
The views of four peaks Rakaposhi, Dran, Golden, and Astar from different sites of Hunza make it unique from other regions. The valley presents different sceneries with the changing weather. This distinctiveness makes it stand out from others.
Details of Hunza
| Feature | Details |
| --- | --- |
| Location | Gilgit-Baltistan, Pakistan |
| Geographical | Nestled in the Karakoram Range |
| Elevation | Varies, with Karimabad around 2,400 meters (7,900 ft) |
| Historical Significance | Former princely state, part of the Silk Road trade route |
| Culture | Unique and vibrant, strong community bonds, traditional music, dance, and festivals |
| Tourist Attractions | Baltit Fort, Altit Fort, Attabad Lake, Karimabad Bazaar, Passu Cones, Hussaini Bridge, and more |
| Scenic Beauty | Towering peaks, lush green valleys, serene lakes, and terraced fields |
| Activities | Trekking, mountaineering, cultural experiences, shopping for local handicrafts |
| Best Time to Visit | Spring and summer months (April to October) |
| Accessibility | Connected to Gilgit via the Karakoram Highway |
Hunza is divided into three sections on the basis of dialect. People speak Wakhi in Gojal, Burushaki or Burushki, and Shina in central. However, Burushaki is spoken in Hunza. The people of Hunza are famous for their longevity. According to them, the reason behind this are fruits, vegetables, and Hunza's water.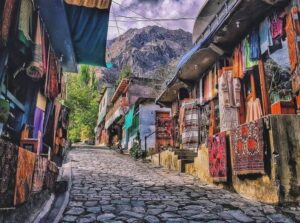 Hunza's water has iron sufficiency and gold particles. Granite mines and handmade Paffu cloth of Hunza are famous among the visitors. Colorful, intricate, and beautiful embroidery is done on the clothes. This cloth is used to make women's caps, gowns, and coats.
Hunza Valley is enriched with fruits. Apricots, peach, grapes, apples, plums, and cherry orchards are abundant. You can eat them. No one will stop you. But it is better to take permission. In summer, there are apricots of various kinds. Local people dry them on the terrace and in the fields.
The best tourist season is from April to September. The weather is pleasant during this time. There is a crowd of photographers in Hunza during autumn. Light woolen clothes are required. However, warm clothes are essential in snowfall.
If you want to go till Khunjerab Pass, you will have to wear warm woolen clothes even in summer. It is because there is snowfall in June and July at Khunjerab pass which is 4733 meters high.
Tourist Attractions & Ancient Historical Traces in Hunza
1- Karimabad
The old name of Karimabad (capital city of Hunza Valley) is Baltit. It was changed after the name of Prince Agha Karim Khan. Karimabad is located at an elevation of 2437 meters above sea level.
A route separates from Silk Highway at Aliabad and ascends towards Karimabad. As you move gradually upwards, Hunza Valley is resplendent there with all its indescribable beauty. You reach there by passing through hotels.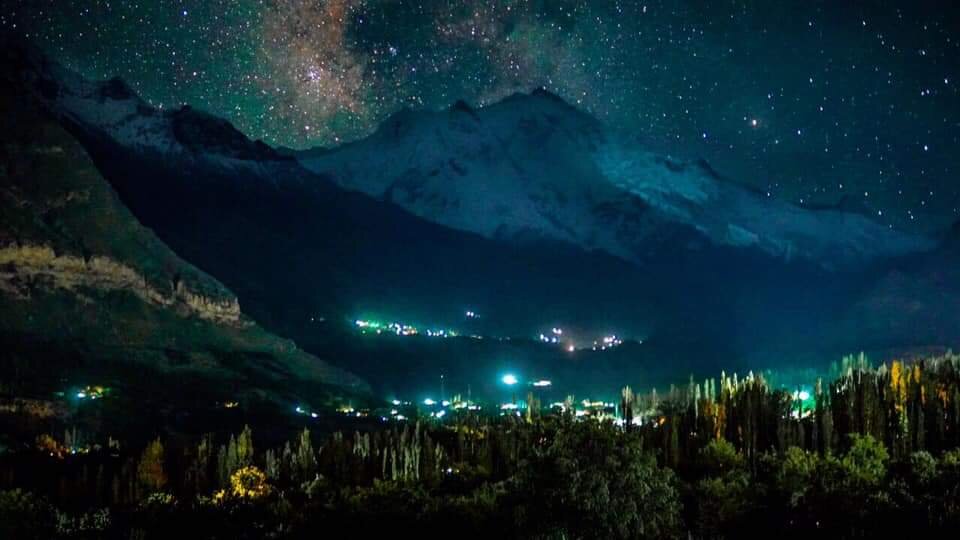 In the local market, there are shops for dry fruits like almonds, apricots, walnuts, mulberry, tourism guide offices, restaurants, special embroidered shawls, handmade rugs, souvenirs, stones, jewels (discovered from the mountains of Gilgit Baltistan), handmade cloth Paffu, and other stuff.
You can also buy handicrafts by visiting the women weaving center. Hunza looks more beautiful at night in the floods of lights. Hidden paradise restaurant is a specialist in Hunza's local food. Enjoy the Italian food and walnut cake in Café D. Enjoy Fittis which is a local cake. There are cherry and apricots trees in the surrounding Karimabad.
2- Baltit Fort
Experience the magic of a royal past
This fort is located at some height in the Baltit Village at the end of Karimabad Bazaar. Mir of Hunza's family ruled Hunza for 940 years. This fort is still there as a memory of their empire.
About 700 years ago, a ruler of the Mir family married a woman of Tibet. His wife called skilled artisans from Tibet. They worked with the regional craftsmen and created this splendid masterpiece. This residential palace was constructed with mud, stones, and wood.
At an altitude of 2800 meters above sea level, this fort is designed in such a way that it can withstand earthquakes, storms, and enemy invasion. It was the residence of Mir of Hunza till 1950.
This fort-shaped palace is changed into a cultural museum. This museum reflects the historic traditions of Hunza with regional culture. Hundreds of years old rooms have carpets, utensils, closets, emperors' attires, and other things. You will be aware of the local traditions of Hunza after visiting this fort.
Enjoy the scenery of Hunza and Nagar from the balcony of the fort. After watching the view of the valley from the terrace you will be sure that it is the same region which is the Shangrilla of "The Lost Horizon" (a novel by James Hilton). You will agree that this is the largest photography region in the world.
There is a ticket for this museum. Buy a ticket for you and visit the ancient era. Enjoy a trip to the Baltit Village on the return from the fort (museum). Do gossip with the locals. The best time for photography of the valley from the fort is morning time and evening time is for the fort's photography from the valley.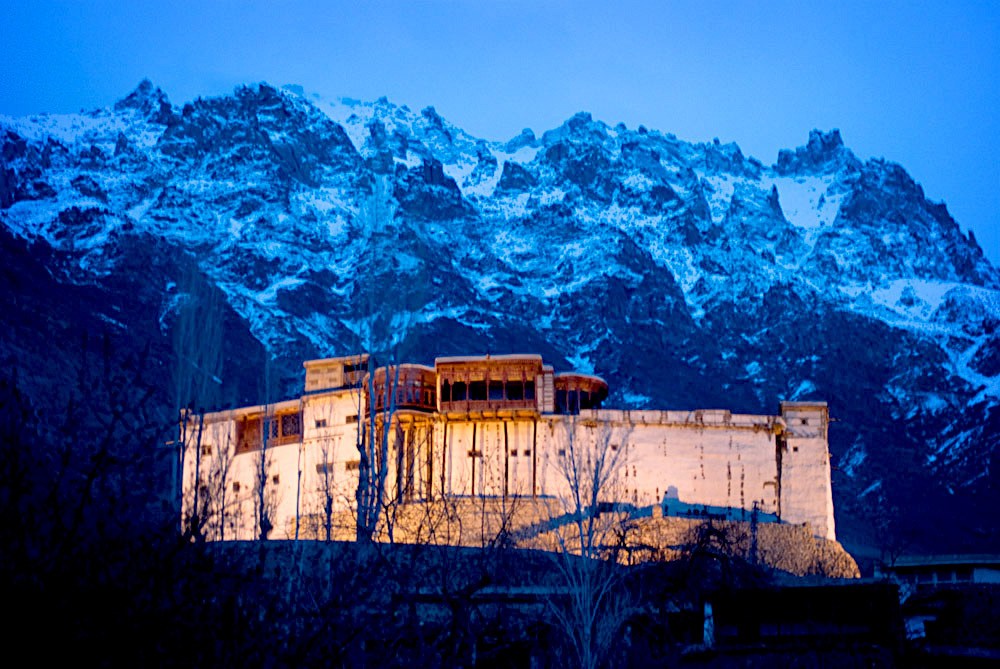 3- Vicotria Monument
A memorial is built in the north of Altar Glacier ahead Baltit fort. It is a tribute to Mir Nazim Jan.
4- Duikar
Adore the beautiful sunrise from Duikar which is located at a height of 10,000 feet at a distance of 10km from Karimabad above Altit Village. One can see 8 peaks from this spot that are more than 7000 feet high.
The light rays that fall on these peaks at sunrise and sunset present a wonderful view. But you will have to leave the Hunza before sunrise to cherish this moment. It is better to stay in the "Eagle nest" hotel there to sight the sunset. There are other hotels too.
5- Altit Fort
This fort is a few kilometers away from Karimabad in the Altit Village. It is about 900 to 110 years old. It is said that it was the headquarters of Hunza's monarchs till the 13th century. It holds an exceptional status because of its antique architecture and location.
Its foundation is so strong that it can resist an earthquake on a 7.9 scale. This fort with narrow corridors has a prison too. It is now altered into a museum. One can view the river Hunza, Karakoram Highway, Lady Finger peak, Baltit fort, Rakaposhi peak, and Hilan peak. This fort was completed in 1 year. There is a royal garden and an 1100 years old tree near the fort.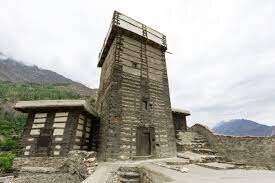 6- Nagar Valley (The land of peaks and glaciers)
Nagar City and Valley is 120km from Gilgit. Nagar is at an altitude of 7550 feet and is well known for Hispar, Hoper, Miar, and Minapin Glaciers. This valley has hot water springs and emerald mines. The river Hunza splits Nagar from Hunza. Nagar City, situated opposite Hunza was once important like the state of Hunza.
This valley spreading over a large area has its central town Nagar across the river Hunza in front of Karimabad. You will see layers of crops and orchards everywhere. Jafarabad, Hassanabad, Skindarabad, Altit, Gulmit, ad Nagar Valley are considered among the big villages. The first mosque in Nagar was established by Raja Kamal Khan after accepting Islam. This mosque which was constructed in 1696 is a masterpiece of local culture.
7- Hoper Valley
Hoper Valley is situated 16km away from Nagar. This valley is greener than Hunza and Nagar Valleys. There are thousands of years old clay-colored glaciers. You can reach there with the help of a local guide. It is the only glacier in the world that is at a height of 8000 feet above sea level.  Hoper Lake is situated nearby. Ultar peak can be seen clearly here. Hispar Valley and Lake are 22km beyond Hoper.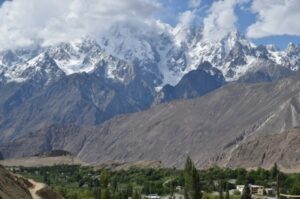 8- Central Karakoram National Park
At this time, there are 21 national parks, 98 wildlife sanctuaries, 102 game reserves, and 94 community control hunting areas in Pakistan. Central Karakoram National Park was established in 1993.
Stretching over an area of 10,000 square kilometers, it is the largest park in Pakistan. It includes four districts of Gilgit Baltistan. Hoper, Hispar, Rakaposhi, Bagrot, Haramosh,  Astak, Tormik, Shigar (Basha, Baraldu), Hoshe, are worth mentioning valleys.
Baltoro,  Biafo, Panorama, Hinarchi, and Hispar glaciers are here. K-2 (the second highest peak in the world at a height of 8611 meters), Bardak, Gasherbrum I, and Gasherbrum II are located in this region.
9- Rush Lake (Rush pri peak)
It is one of the highest alpine peaks in the world at an altitude of 5098 meters. Rush peak is 15km from Miar and Golden peaks. To reach rush lake and valley, the route directed to Nagar from Hispar is used. It is called the highest lake in Pakistan at an elevation of 15,400 feet. Every year many holidaymakers come here.
10- Ganish
It is the most ancient region in Hunza. There is a watch tower, old traditional mosques, and cultural centers. Ganish Village is located near the bank of river Hunza. And 7500 feet high Hunza hill is located nearby. You can analyze the regional norms and culture by talking to locals.
11- Buddhism Rocks
A few kilometers away from Ganish, quotes from the Buddhism era are engraved on large stones above the river Hunza. Besides the citations in Kharosthi, Gupta, Sogdiana, and Tibetan languages, there are shapes too. Altit fort can be seen on a hill rock across the river.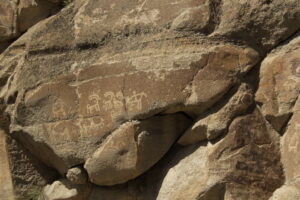 12- Attabad Lake
On 4th January 2010, land sliding near Attabad caused the rock fragments and wreckages to block the downstream flow of the river Hunza, creating a lake. A region of about 42km has become a part of the lake from Attabad to Gojal. As a result of this, transportation on the Resham Highway (Silk Route) was disrupted.
For some time, giant motor boats were the source of transportation. Later on, with the contribution of China, Pakistan constructed miles of long tunnels near the coast of the lake. This lake is still in use for boating.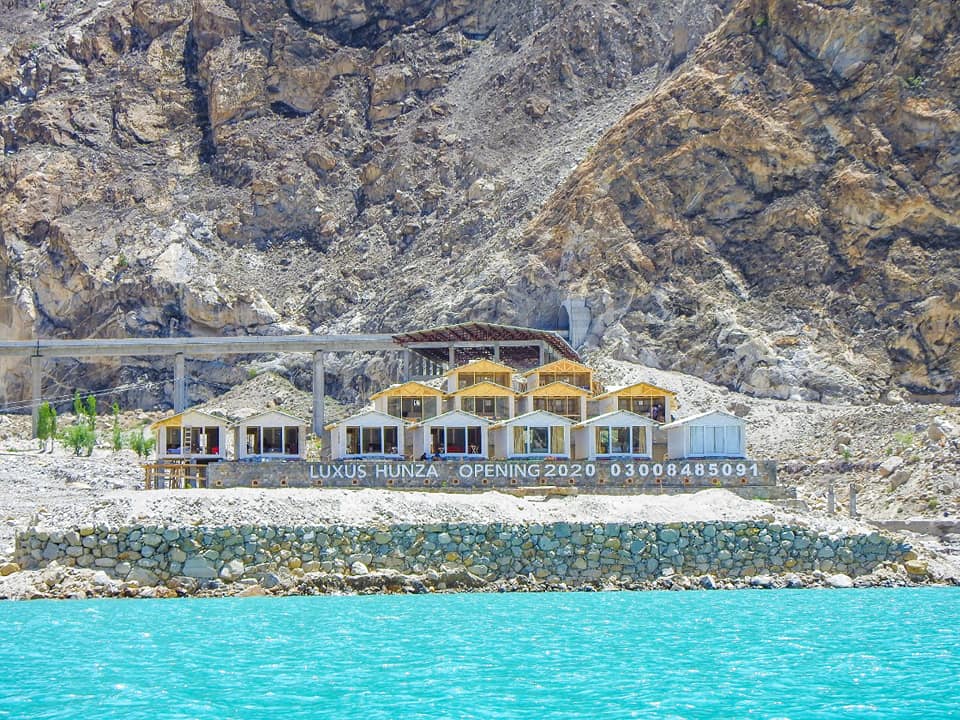 13- Lord Kitchener Memorial
In 1903, Lord Kitchener visited this place for the first time as a commander in chief of the Indian army. A monument was established in the memorial to this visit. This memorial is on the way to Gulmit from Saret. Now, this memorial is submerged in Attabad Lake.
14- Gulmit
Gulmit was the summer headquarter of the Hunza state. It is at an altitude of 7900 feet above sea level. Gulmit presents a splendid view of Kathedral Peaks and Gulmit Tower Mountain. Gulmit village is located nearby.
Gulmit has the meaning of "Valley of Flowers" in Turkish and Persian languages. There are rock carvings on a hilltop. There are different hotels too. You can reach Passu glacier from here.
15- Gulmit Museum
Ther is a small museum in Gulmit. Items related to Hunza Valley are exhibited here. The mummified body of the Markhor (national animal of Pakistan) is kept in this museum with horns. The erstwhile flag of the Hunza state, made on cloth, is also hung as a symbol of the state's traditions. Attires of Hunza's former rulers, antique weapons, wood utensils, home décor items, and other stuff are exhibited in beautiful showcases.
16- Borith Lake
This lake has the status of the world's highest salty lake. This lake is located at the back of a small hill northwest of Hussaini village near Gulmit. It is at a distance of 25 to 30 minutes on foot.
17- Passu Cones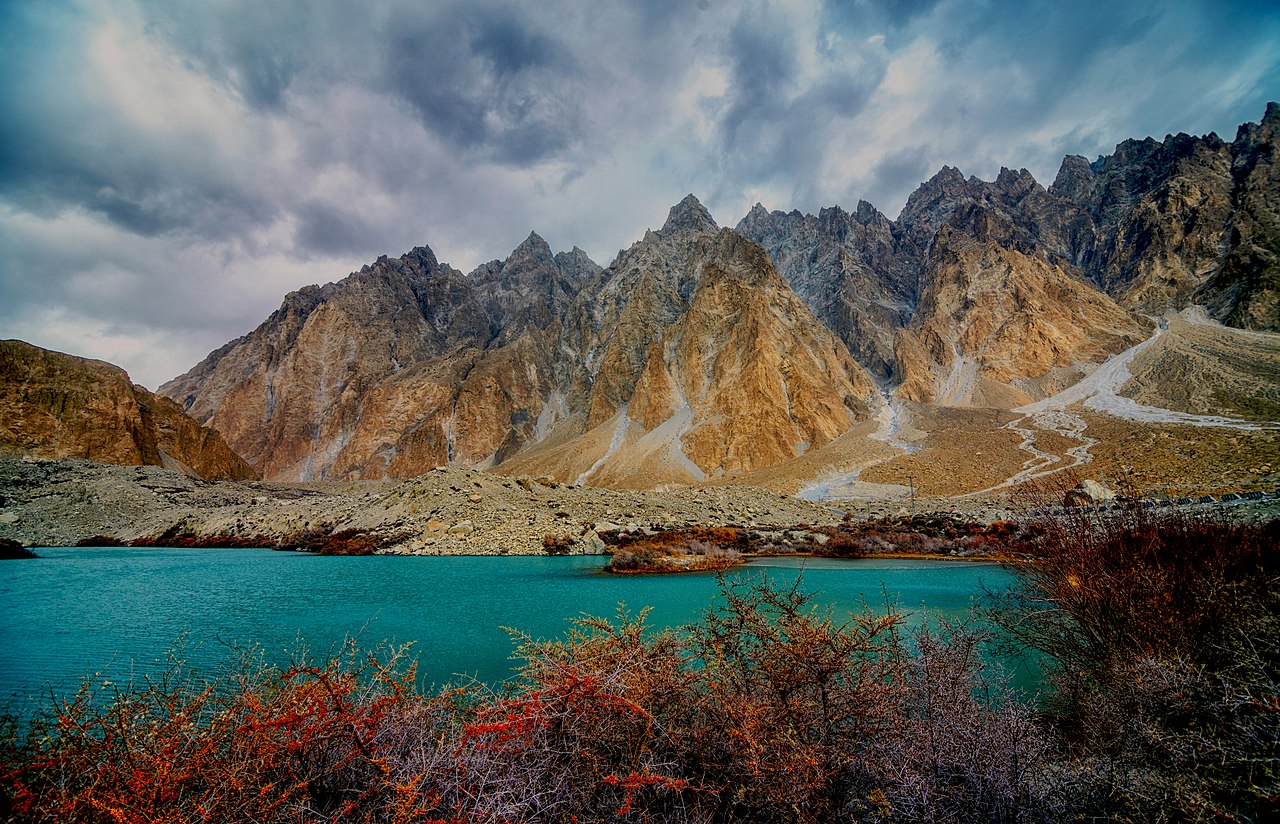 A throng of strange and incredible structure rocks is visible near Shiskot. These pointy and elevated peaks are called "Passu Cones". You have never seen this kind of unusual formation before. It is indeed a wonderful landscape.
Passu is a beautiful village at a distance of 14km from Gulmit. The inhabitants of this village guide the hikers and mountaineers. Tourists and climbers start their adventure for Batura, Passu, Kuck, Lagar, and other peaks from Passu Village. It is the beginning point of Shamshal Valley and Batura Glacier.
You will be hypnotized by the beauty of Passu.
18- Sost
Sost (also spelled as Sosat or Sust) is a small town at the border of Pakistan. Now, it has become a commercial center due to the transportation of merchandise from neighboring countries like China. You will see containers and brokers everywhere.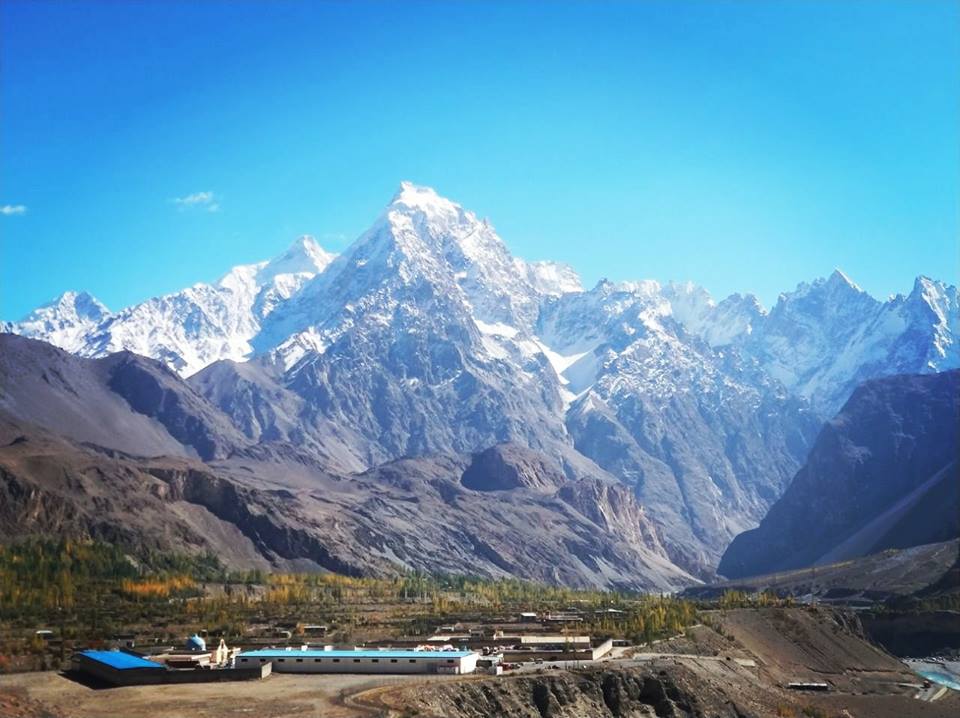 Restaurants and residential hotels are there too. On 1st May 1986, Kunjebrab Pass was opened by the governments of China and Pakistan for transportation. In 1996, Pakistan Customs and Immigration were formally shifted to Sost. A bus is available for Sosat from Rawalpindi.
19- Khunjerab National Park
This national park is stretching over an area of 2269 square kilometers in Gojal north Hunza. Its boundaries spread from Karakoram Highway to the Pak-China border Khunjrab Pass. You can enter the park after buying tickets. One can see yaks, Ibex, Urial, marmoset, tigers, and Marcopolo sheep.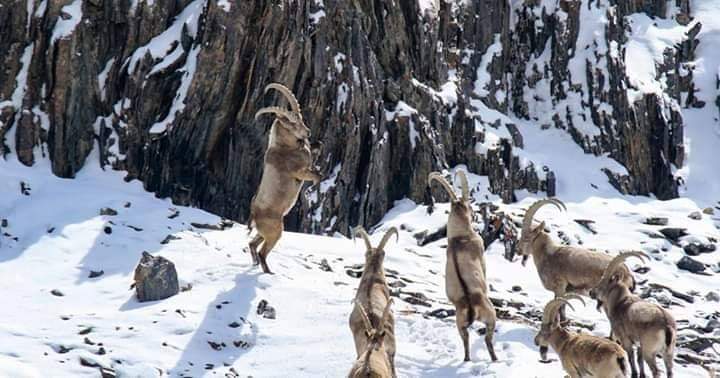 20- Misgar Valley
Misgar Valley is the last settlement before China at a distance of 15km from Sost in Gojal. It is enriched with antique artifacts. Here in this valley, many passes of China and Afghanistan connect with each other.
This valley is covered with layers of fields that are irrigated through clear water channels. You can reach a small fort KD (Kalander Chand) in an hour from valley Misgar. There are many long treks for hikers. It is better to take a local guide along with you.
FAQs
Q1: Where is Hunza located?
Hunza is a breathtaking valley situated in the Gilgit-Baltistan region of Pakistan, nestled amidst the towering peaks of the Karakoram Range.
Q2: What is the historical significance of Hunza?
Hunza has a rich history, with a heritage dating back to ancient times. It was once a princely state and part of the Silk Road trade route, known for its strategic location.
Q3: What is unique about the culture of Hunza?
Hunza boasts a unique and vibrant culture, with a strong sense of community and traditional practices. Visitors can experience traditional music, dance, and local festivals.
Q4: What are the must-visit tourist sites in Hunza?
Hunza offers a plethora of tourist attractions, including Baltit Fort, Altit Fort, Attabad Lake, Karimabad Bazaar, and the picturesque landscapes surrounding the valley.
Q5: When is the best time to visit Hunza for tourists?
The best time to visit Hunza is during the spring and summer months, from April to October, when the weather is pleasant, and the valleys are in full bloom.
Windup Lines
Hunza stands as a jewel in the crown of Gilgit-Baltistan, offering a harmonious blend of history, culture, and natural beauty. This enchanting valley has been a witness to centuries of trade and traditions, with a culture that continues to thrive. Whether you're exploring the ancient forts, savoring local cuisine, or simply taking in the breathtaking landscapes, Hunza leaves an indelible mark on the hearts of all who visit. Plan your journey to this captivating valley, and let the magic of Hunza immerse you in its rich history, vibrant culture, and awe-inspiring landscapes.