Skardu City – Baltistan 
Where mountains speak the sky
Baltistan was called Skardu in the past because of its central headquarter Skardu. Baltistan has the world's second-highest peak K-2, Masherbrum (7320 meters) peak, Gasherbrum (8355 meters) peak, Broad peak (8047 meters), and 150 peaks of Karakoram Mountain range out of 300 peaks.
The world's largest and most famous glacier "Siachen" after the Pole glacier is here in Baltistan. Stretching between Karakoram and Himalaya ranges, Baltistan has Skardu, Khaplu, Shigar, Kharmang, Hushe, and Gultari Valleys. Parapo, Balay, Marzan, and green tea are among the popular foods of Baltistan.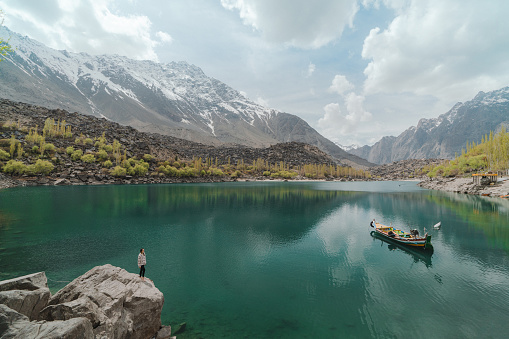 In the Suburbs of Baltistan
I- Adventure of Skardu Road
A road turns toward Skardu from the Alam Bridge 48km before Gilgit. Skardu is 173km from this point. The Skardu road becomes narrow gradually after splitting from Karakoram Highway.
It is an adventurous journey between the Karakoram and the Himalayas along the river Indus. It seems difficult to breathe on the Skardu trail for the first time due to the twisting road like snakes, sharp turns of the highway, sky-scrapping mountain ranges, and the river Indus flowing like a thin line below. But, one feels better as you move forward.
II-  Haramosh Valley, Kutwal Lake
At a distance of 25km from Skardu Road, a track lead to Dasu Village from Sassi Village. You can reach there in one hour. From Dasu to Haramosh Valley's Kutwal Lake is a one-and-a-half-day pedestrian track. So, it's a three-day journey. If you are a good trekker and have the stamina you can reach earlier.
There is no arrangement for a stay during the journey. You will have to take camping stuff and food with you. Dasu and Iskari have some small restaurants.
A memorial to the martyrs who sacrificed their lives during the construction of the road is built at the Shingas point. This point is 52km from Skardu Turn. A small town Rondu is 30km from Shingas.
Come across the river by crossing the bridge 38km from Dambu Wali Village. Dambu Wali Village is 22km from Rondu. From here towards the right side, a trail is directed to Shangrila Lake. The valley spreads from there. Skardu airport is 22 km beyond this road. And Skardu city is 13 km forward to the airport.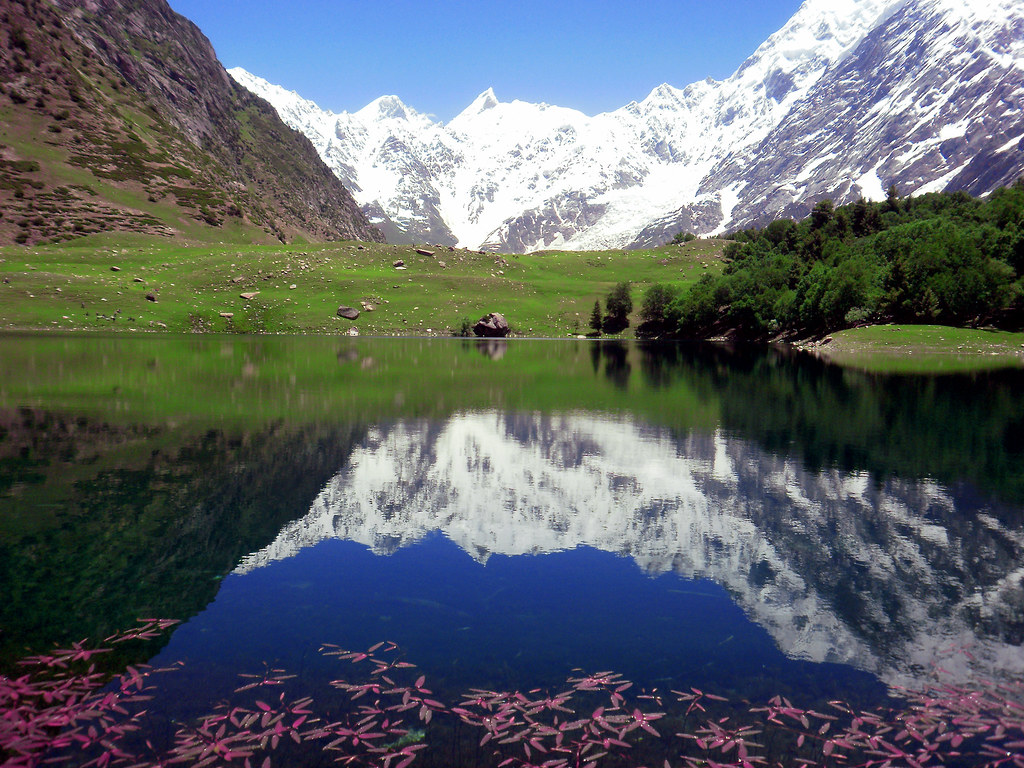 Skardu City
Skardu, the headquarter of Baltistan is at an altitude of 7500 feet above sea level. The Skardu Valley is 10km wide and 40km long. Skardu Base Camp is among the most adventurous and beautiful trekking sites in the World. Skardu is enriched with calm lakes, murmuring waterfalls, sky-kissing snow-capped peaks, and beautiful landscapes.
The world's second-highest peaks K-2, Siachen Glacier, Batura Glacier, and Biafo Glacier are embracing each other in a unique manner. It is hard to find such a beautiful scene anywhere else in the world. Therefore, climbers from all over the world come here every year to fulfill their hobbies.
Skardu's tourism season is from April to October. Peach, apples, apricots, and pear are the best fruits there. This city is located on a very interesting point. The river Indus flows in a calm and serene manner. Skardu is fenced by dry mountains and sand dunes. Wear a sweater before if you are going for an evening walk in Skardu. Do shopping in the old Bazar.
A PIA flight is available from Islamabad for Skardu on a daily basis. And the same plane brings the passengers back to Islamabad. All the flights depend on the weather condition. The flights are canceled if the climate is not favorable. Sometimes, the fights return back to Islamabad without landing at the Skardu Airport due to the lack of required atmospheric pressure.
Traveling at a height of 38,000 feet above the snow-capped mountains is a thrilling experience. According to the global tourism perspective, it is considered among the most beautiful journeys in the World. If you are fortunate to grab a window seat during the Skardu flight, the beauty of the north will mesmerize you.
Lush green valleys, colorful lakes, and snow-clad peaks are awaiting you. Skardu airport is 14km from Skardu City. This track is open throughout the year via Gilgit. Gilgit City is 241km from Skardu with about a 6 to 7 hours drive. A jeep and coster can be booked from Gilgit Bus Stand.
Famous Historical Sites and Tourist Destinations in Skardu
1- Fort Kharphocho Gangope
Raja Bokhany of Makboon family initiated building this fort. The king was a contemporary of Mughal king Babur. But, he died before its completion. His grandson Sher Ali Khan completed it. This fort of the 15th century was constructed near the river Indus bank on a rough rocky hilltop.
It is spreading over an area of two miles. It is said that 12 lac or 1.2 million for making a mud mixture. It is an adventure to reach this fort at the top. Take water along with you. There is a royal polo ground in between the fort. Players are practicing at the noon. It will be a memorable experience to enjoy this royal polo game for you.
A public library and a memorial to the martyrs are adjacent to the polo ground. A stream used to flow in Skardu City. It had a length of 3 miles. It was constructed by queen Gul Khatun of Sher Ali Khan. It was named Ganope after the name of the engineer who built it. There are traces of this stream in the city.
2- The first organic village in Pakistan
Nansoq, the first-ever organic village in Pakistan is 3km from Skardu City at the confluence of the river Shigar and the river Indus. This village is at the back of the historical Kharphoco fort. British Prince Charles, Lady Camilla Parker, and Prince Agha Karim visited this village in 2006. It is a curious point of Skardu.
3- Italian K-2 Museum
A museum in the PTDC Motel of Skardu City is established by the contribution of Itlay. This museum has different galleries which portray trekking and hiking in the mountains of Pakistan with the help of charts and pictures. It especially focuses on the peaks that are trekked by Pakistani and global hikers. Documentaries are there too to become familiar with the culture, history, and traditions of Gilgit Baltistan.
4- Lake Katpana 
The beautiful Lake Katpana is 10km away from Skardu City's Police Line. You can visit historic villages Katpana and Sandos. Spend some time near the grey water lake Katpana. You will see a lot of ducks swimming in this shining water. Thick green woods, desert, and sky-high mounts on its sides present a charming view.
5- Shangrila (Paradise on Earth)
A DC3 plane of orient airways took off from the Skardu Airport on 13th October 1954. One of its engines failed and the pilot did a crash landing near the river Indus. All the passengers and the staff remained safe.
Brigadier Muhammad Aslam of North Scouts purchased this plane and took it here. This human heart-shaped lake has a garden, a hotel, and a restaurant. They are established beautifully near the edge of the lake that's why it is called a part of paradise on Earth.
Accommodation facilities have been provided in the huts of Shangrila Resort situated near Upper Kachura Lake. The outside view from the restaurant and the airplane's café will enthrall you. Shangrila has gained international recognition because of its charismatic and beautiful geography.
Shangrila is located on the Gilgit road at a distance of 30km from Skardu City. At an altitude of 2500 meters above sea level, this site has 60 lakeside cottages, a zoo, sailing, indoor games, the trout fish farm, café DC three coffee shop (in the airplane), an open-air tandoori restaurant, a gift shop, a Pagoda restaurant, a Lake-view restaurant, helicopter safari services, and other facilities.
6- Upper Kachura Lake
Upper Kachura Lake is beyond Shangrila Lake (Lower Katchura Lake) at 8200 feet above ocean level. It is surrounded by thick fruit trees and sky-high mountains. This lake with deep green color water has a depth of 230 feet. In summer the temperature is usually 15 . The lake completely freezes in the winter. Enjoy boating and sailing on the lake. Restaurants and hotels are there too.
Wind Up Lines
Skardu Valley is an embodiment of natural beauty. There are historical sites too. It is one of the best and ideal city for holidays. You will be enchanted by the beauty of Upper Kachura Lake, Haramosh Valley, Lake Katpana, and Shangrilla Resort.