Khaplu
Historical Landmark Monuments
Khaplu is the capital of the district Ghanche which is in the east of the province Gilgit Baltistan. Khaplu was the second largest state of Baltistan near Ladakh. At an altitude of 2600 meters above sea level, Khaplu is located near the Shyok River at a distance of 103 km from Skardu.
The highway in Skardu City adjacent to Polo ground will take you to Khaplu City. A beautiful sight will welcome you after crossing 35km. It is a splendid spot where the river Indus and the river Shyok confluence. One can enjoy river rafting on the river Shyok.
Khaplu is colder than Skardu. District Ghanche is the coldest point in Pakistan. This district has two military frontlines connected to the Indian-occupied area of Ladakh. Khaplu is the base camp to reach Hoshe Valley and an initiating point to reach Saltoro Kangri, K-2, Mashabrum, Gondogoro Pass, K-6, and K-7 tracks.
There are found apricots of 300 kinds. It is called "Samarkand Sani" due to the abundance of fruits. Ghanche Lake, Bara Lake, and Thally La Lake are good tourist spots. Khaplu, Buraq, Kaldaq, and Khalotang are the best for trekking and hiking while Bia Mari and Thoksi Khar are famous rock climbing points.
Tourist Attractions in Khaplu Valley
1- Khaplu Fort Residence
This ancient and historic 700-year-old fort was owned by the ruler of old Kaplu's state. This palace is the best model of Tibetan architectural style in Pakistan. It is transformed into a grand luxury hotel of the international standard.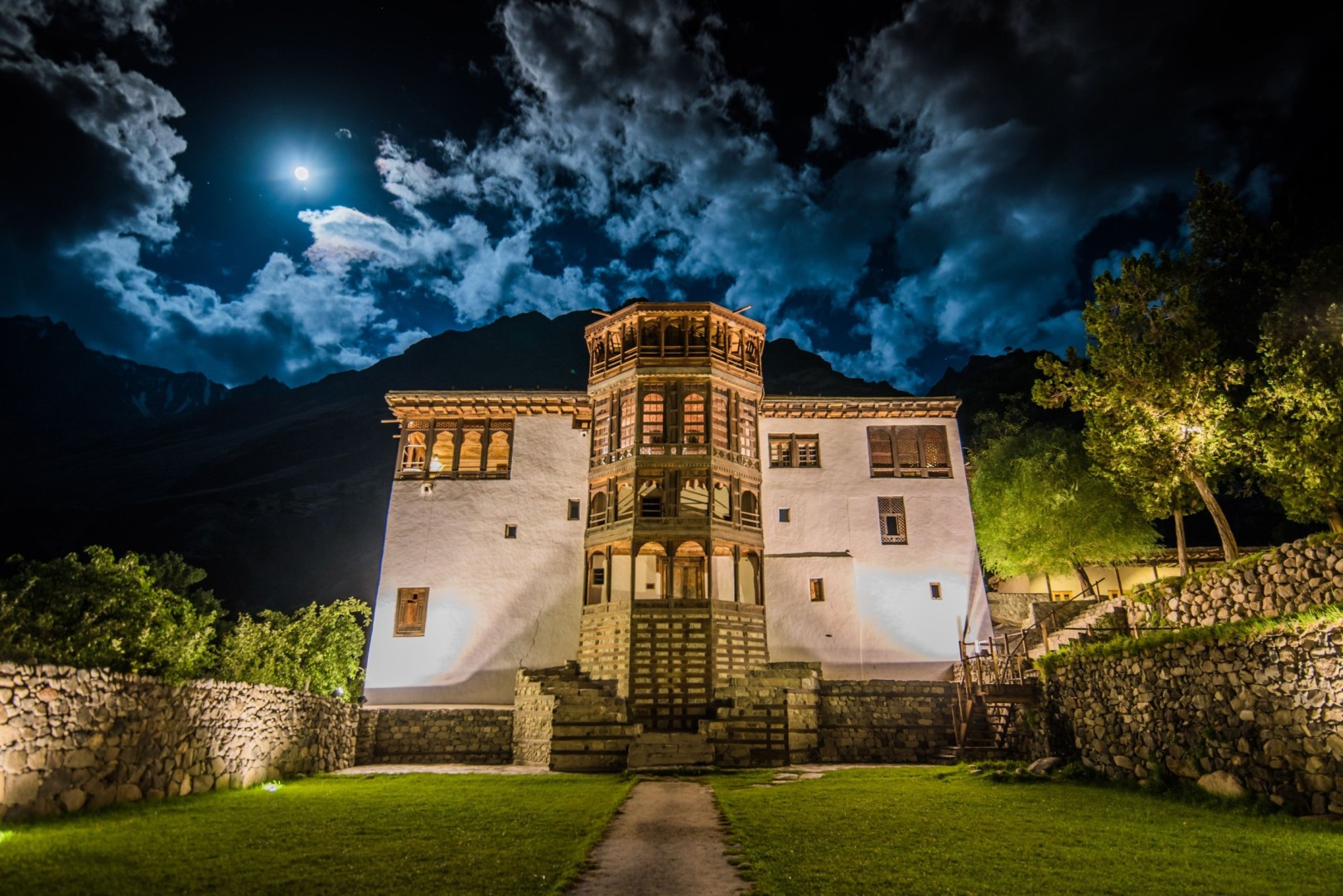 This hotel has become a favorite spot for tourists and holidaymakers. It has fine residing facilities, restaurants, and dining areas depicting local culture. The most intriguing thing is the private palace of the king. It has many floors and is now changed into a museum. This museum with plenty of rooms has artifacts related to the culture of Khaplu and Baltistan.
Home utilizations, weapons, clothes, furniture, utensils, jewelry, and many other items are exhibited in these rooms. Especially, the rare and valuable belongings of the royal family are worth watching. To sum up the discussion, it can be said that the Khaplu fort residence museum is the biggest cultural museum in Gilgit Baltistan.
2- Chaqchan Mosque & Monastery
This most antique mosque was constructed in 1504. It is attributed to Syed Ali Hamdani. Renowned historian John Harley has called it the most beautiful monastery in Asia because of its distinctiveness and magnificence.
It is said that Chaqchan has a meaning of "an item of iron". There is a pillar. The chain was tied to the pillar and the locals believed that at one time this chain was connected to the sky. The person who was abused would shake the chain. It is also called "Shiakh Chan" which has a meaning of "the mosque of justice". The mosque and the monastery are established at a height. This two-story mosque is made of wood from floor to roof.
Beautiful windows are built by joining small pieces of wood. There are geometrical shapes, circles, sun, rivers, pigeons in a row, and other designs engraved on the wood. It is furnished with the etchings of exquisite mosaic patterns, vines, shrubs, carvings, lilies, and beautiful birds.
There is an ancient Swastika (a religious symbol) sign too in both clockwise and anticlockwise directions. The curves and arches on its roof are an open challenge to modern architecture. It is narrated that, before 1362 there was a Gompa (Gonpa) of Buddhism before the construction of this mosque.
This mosque and monastery are about 5km from Khaplu Wagon Stand.
3- Thagas Valley
There is a solid trail to Thagus from Khaplu. As you exit from Khaplu Bazar and travel along the river Shyok, the Thagus Valley will welcome you at a distance of 50km from Khaplu. Old rocky streets, thousands of years old shrines, and all the monasteries begin to glow with the atmosphere of sanctity.
There is a mosque near the mausoleum of Mir Muhammad Ishaq towards ascent. It is said that it was established in 1601. These worship places have exclusive woodwork. Beautiful vines and intricate designs are made. There are many monasteries in which woodwork on the windows spreads to the roof. The peaks of K-2 and Siachen can be seen from this valley if the sky is clear.
4- Kharfaq Lake
Kharfaq Village is a one-hour drive from Khaplu. A three to four hours pedestrian track from this village will take you to Kharfaq Lake. This beautiful lake is teeming with trout fish. Sometimes, the trout fish in this lake weighs more than 10 pounds. You can enjoy fishing there but a license is required.
5- Hoshe
Enriched with natural landmarks, Hoshe village is 38km from Khaplu. It is hard to live in this village without warm clothes even in the hot month of July. Hoshe at a height of 3600 meters is one of the most attractive spots in Pakistan.
The residents of different countries in the world wish to visit this site again and again due to its charm. The reason for this captivating beauty is the beginning point of four famous treks. Mashabrum Base Camp Trek, K-6 Base Camp, K-7 Base Camp, Nagma Valley Trek, and K-2 Base Camp Trek (from Gondogoro Pass to Concordia) are included in these treks.
These are the enthralling names that are considered sacred among mountain lovers. You can reach Khaplu to Hoshe via a jeep.
6- Basha Valley
The route to great Concordia is so charming that you will forget to blink your eyes. The journey beyond Hyderabad town will leave a pleasant impact on you. It is a four-hour journey from Skardu. The fascinating valley of Basha begins from the river Braldu.
Visit the jungle and a small valley at the point of Gorocho. The Roaring River, skipping water waves, lush green woods, charming waterfall, snow-capped peaks, and loaded flowers on the trees will rejuvenate you. The butter and famous desert Marzan of Basha Valley are famous in the whole region. You will see local and foreign trekkers all around in Basha Valley.
7- Bagrote Valley
A signboard 15km before Gilgit points towards Bagrote (Bagrot) Valley. The distance to this valley from Gilgit in the east is about 45km. The track to reach the valley is tough and narrow but unforgettable. The upper valley is the most enchanting spot and the best for cultivation.
The important village Sinakkar of the valley is at a distance of two hours. The meadows are beyond this point. You can enjoy the beautiful sight of Hinarche from here. You will see locals and foreigners trekking in this area. Diran Peak (7270 meters) and Dobani Peak (6143 meters) are located there.
Nagar Valley is on the other side of Bagrote Valley. It is said that very few climbers are successful in hiking Dobani Peak. Every year researchers come to the Bilpi Glacier for research and exploration. There is a splendid track to reach Diran peak through pastures. On the other side, travel of four to five hours will take you to Dar.
Garosh point is at the same distance (four to five hours) from Dar. These are seasonal villages. In summer, you will see locals with goats, sheep, and other animals. This valley which is renowned for fruit trees of pears, walnuts, apricots, and apples is the favorite site of local and foreign hikers and trekkers too.
Wind Up Lines
Gilgit Baltistan is not only known for beautiful scenery, and trekking sites, but also for its historical landmarks. Khaplu Fort Residence and Chaqchan Mosque are some historical assets while Bagrote Valley and Thagas valley are nature's gift for adventurous people.