Most Beautiful Capital of the World – Islamabad
Among the top ten beautiful capitals, Islamabad is the most beautiful capital of the world. It is located between the Rawalpindi District and the Margalla Hills National Park to the north.
Islamabad region is a part of the crossroads of Punjab and Khyber Pakhtunkhwa, Pakistan. It has two boundaries of two provinces Punjab and KPK. The city is a master-plan and it is, designed by Greek architect Constantinos Apostolou Doxiadis. Islamabad divides the city into eight different zones. It has Asian's largest Faisal Mosque.
Detaille Info of Islamabad PK
| Aspect | Information |
| --- | --- |
| Name | Islamabad City |
| Location | Capital Territory of Pakistan |
| Population | Approximately 1.1 million |
| Area | Approximately 906 square kilometers |
| Established | Became the capital of Pakistan in 1963 |
| Geography | Located in the northern part of Pakistan, at the foothills of the Himalayas |
| Climate | Islamabad has a moderate climate with hot summers and cool winters. |
| Economy | The city's economy is diverse and includes government offices, foreign embassies, services, and a growing technology sector. |
| Languages Spoken | Urdu is the official language, but English is also widely used. Various regional languages are spoken by different communities. |
| Education | Islamabad is home to several prestigious educational institutions, including universities like Quaid-e-Azam University and COMSATS Institute of Information Technology. |
| Transportation | The city is well-connected through a network of roads, an international airport, and a well-developed public transportation system. |
| Landmarks | Notable landmarks include Faisal Mosque, Daman-e-Koh, Pakistan Monument, Rawal Lake, and Lok Virsa Museum. |
| Parks and Gardens | Islamabad is known for its greenery and has numerous parks and gardens, including Fatima Jinnah Park and Shakarparian Park. |
| Government | Islamabad serves as the capital of Pakistan and is the seat of the federal government and diplomatic missions. |
| Cultural Events | The city hosts various cultural events, including music festivals, art exhibitions, and traditional celebrations. |
| Healthcare | Islamabad has a well-developed healthcare system with several public and private hospitals and medical facilities. |
| Dining | The city offers a wide range of dining options, from street food stalls to upscale restaurants, serving Pakistani and international cuisines. |
Beauty of ISB-PK
Welcoming Hospitality
Beyond its physical beauty, Islamabad is distinguished by the warmth and hospitality of its inhabitants. The city's residents take immense pride in its cleanliness, orderliness, and the welcoming embrace they extend to visitors.
Lake view Park
Lake View Park is a popular recreational area located in Islamabad, the capital city of Pakistan. It is situated on the picturesque Rawal Lake and offers a serene environment for visitors to relax and enjoy various outdoor activities. Here are some key features and information about Lake View Park:
Location: Lake View Park is located on Murree-Islamabad Highway, in the vicinity of Rawal Lake. Its strategic location provides easy access to both locals and tourists.
Rawal Lake: The park is set against the backdrop of Rawal Lake, which adds to its natural beauty. The lake is an artificial reservoir that supplies water to the twin cities of Rawalpindi and Islamabad.
Recreational Activities: Lake View Park is known for offering a range of recreational activities for visitors. These activities include boating, picnicking, hiking, and horse riding. The park is equipped with facilities for both children and adults.
Playgrounds and Rides: The park features playgrounds with swings and slides for children. Additionally, there are amusement rides, making it an ideal destination for families.
Restaurants and Cafes: There are several restaurants and cafes within the park, allowing visitors to enjoy meals with a view of the lake. These establishments serve a variety of local and international cuisines.
Flora and Fauna: Lake View Park is home to a variety of plant and bird species. The lush greenery and diverse wildlife enhance the overall experience for nature enthusiasts.
Events and Festivals: The park often hosts events and festivals, especially during public holidays and special occasions. These events may include cultural performances, food festivals, and other entertainment activities.
Entry Fee and Timings: There is usually an entry fee to access the park, and the timings may vary, so it's advisable to check in advance. The fees often contribute to the maintenance and improvement of park facilities.
Scenic Views: The park offers panoramic views of Rawal Lake and the surrounding hills. It's a popular spot for photography and a peaceful retreat from the hustle and bustle of the city.
Lake View Park is not only a recreational space but also a place where people can connect with nature and enjoy quality time with friends and family. It stands out as one of Islamabad's prominent attractions, providing a perfect blend of natural beauty and leisure activities.
Shakarparian Park
Shakarparian Park is a verdant haven that seamlessly blends nature, culture, and stunning vistas. Known for its lush greenery, historical significance, and a dynamic cultural scene, this park offers a peaceful escape for residents and visitors alike. With breathtaking views of the city and the Margalla Hills, it's a cherished destination for relaxation, family outings, and cultural engagement in the capital city of Pakistan.
Location: Shakarparian Park is located at the foothills of the picturesque Margalla Hills, near the Zero Point Interchange in Islamabad.
Scenic Views: The park offers breathtaking panoramic views of Islamabad and is a popular spot for both locals and tourists to enjoy the natural beauty of the surroundings.
Rose and Jasmine Gardens: Within Shakarparian, you'll find well-maintained Rose and Jasmine Gardens. These gardens are known for their vibrant and fragrant flowers, making them a pleasant place for a leisurely stroll.
Pakistan Monument: One of the key attractions in Shakarparian Park is the Pakistan Monument. This iconic structure represents four provinces of Pakistan and three territories, symbolizing national unity. The complex also includes a museum and an art gallery.
Cultural Events: Shakarparian Park is a venue for various cultural events and festivals. It is often used for public gatherings, celebrations, and exhibitions.
Outdoor Activities: The park provides spaces for outdoor activities, picnics, and family gatherings. The lush green lawns and well-maintained pathways make it an ideal place for recreation.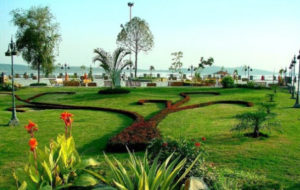 The Iconic Faisal Mosque
A pinnacle of contemporary architecture, the Faisal Mosque stands as an emblem of grace and grandeur. Its minimalist design, marked by clean lines and a resplendent white marble façade, is further accentuated by the backdrop of the verdant Margalla Hills. As one of the largest mosques globally, it signifies not only a place of worship but a living testament to Pakistan's embrace of modernity and sophistication.
Architectural Significance: Completed in 1986, Faisal Mosque is one of the largest mosques in the world and is an iconic symbol of Islamabad. The mosque's modern and unique design was created by the Turkish architect Vedat Dalokay.
Capacity: The mosque has a vast prayer hall and can accommodate tens of thousands of worshipers. It features a distinctive contemporary design with clean lines and a minimalist aesthetic.
Surroundings: Faisal Mosque is surrounded by greenery and is set against the scenic Margalla Hills National Park. The serene and peaceful surroundings contribute to the spiritual atmosphere of the mosque.
Tourist Attraction: Apart from its religious significance, Faisal Mosque is a major tourist attraction. Its striking architecture, coupled with its serene location, draws visitors from around the world.
Visit Guidelines: Visitors are welcome to the mosque, but it's important to respect the rules and guidelines associated with entering a place of worship. Tourists are often fascinated by the mosque's design and take in the breathtaking views from its vantage points.
The Margalla Hills National Park
For the nature aficionado, Islamabad is a paradise incarnate. The Margalla Hills National Park, merely a short drive from the city center, offers a web of hiking and trekking trails catering to enthusiasts of every skill level. Adorned with myriad vantage points that proffer panoramic views of the city and its environs, this park is an oasis for the outdoor enthusiast.
Rawal Lake
Rawal Lake, an enchanting water reservoir, provides an idyllic escape where visitors can partake in leisurely boat rides, indulge in picnics, or merely bask in the serenity of the lakeside. As the sun gently sinks behind the Margalla Hills, the visage is nothing short of magical, rendering Rawal Lake a quintessential Islamabad experience.
The Pakistan Monument
Symbolizing the unity in diversity of Pakistan, the Pakistan Monument is an architectural triumph. It embodies the four provinces of the country in its distinctive design and is situated amidst a lush park, inviting visitors to delve into Pakistan's rich historical tapestry.
The Lok Virsa Museum
For the discerning traveler with an appetite for cultural exploration, the Lok Virsa Museum is an indispensable treasure trove. Immerse yourself in a myriad of artifacts, traditional crafts, and art that resonate with the rich tapestry of Pakistan's diverse cultures and traditions.
Daman-e-Koh
Perched in the Margalla Hills, Daman-e-Koh serves as a magnificent vantage point, unveiling Islamabad's sprawling grandeur. The view is at its most mesmerizing during the evening hours when the city's myriad lights twinkle below, forming a dazzling mosaic.
Culinary Delights
Islamabad's culinary scene reflects the gastronomic diversity of Pakistan. From bustling street food stalls serving spicy chaats to elegant restaurants that present succulent kebabs, the city's epicurean offerings are a journey through the country's flavors and culinary heritage.
A Hub for Art and Culture
The burgeoning art scene in Islamabad is a testament to its vibrant cultural ethos. Galleries such as the Nomad Art Gallery and the Pakistan National Council of Arts (PNCA) regularly showcase local and international artists, positioning the city as a hub for creativity and cultural appreciation.
Islamabad Zoo
Nestled in the heart of Islamabad, the Islamabad Zoo offers a unique opportunity to witness diverse fauna from around the world. Visitors can observe a range of animals, from majestic big cats to exotic birds, in habitats designed to mimic their natural surroundings. It's not just a place of entertainment but also a center for education and conservation.
Schools:
Beaconhouse School System
The City School
Islamabad Model College for Boys/Girls
Froebel's International School
Roots Millennium School
Colleges:
Islamabad Model College
Federal College
F.G. College for Women
Punjab College
OPF Boys College
Universities:
Quaid-e-Azam University
National University of Sciences and Technology (NUST)
Allama Iqbal Open University
International Islamic University Islamabad
Hospitals:
Shifa International Hospital
Aga Khan University Hospital
Pakistan Institute of Medical Sciences (PIMS)
Ali Medical Center
Federal Government Services Hospital
Restaurants:
Monal Restaurant
Tuscany Courtyard
Chaaye Khana
Des Pardes
Street 1 Café
Frequently Asked Questions 
What makes Islamabad the "Most Beautiful Capital of the World"?
Islamabad is often regarded as the most beautiful capital due to its stunning natural surroundings, modern architectural marvels like the Faisal Mosque, planned infrastructure, and a harmonious blend of urban development with the lush Margalla Hills.
What is the significance of the Margalla Hills National Park in Islamabad?
The Margalla Hills National Park serves as a natural backdrop to the city, providing residents and visitors with scenic hiking trails and breathtaking landscapes. It contributes to Islamabad's reputation for natural beauty.
Tell us about the Faisal Mosque and its importance.
The Faisal Mosque is one of the largest mosques globally and a symbol of modern Islamic architecture. Its unique design, set against the backdrop of the Margalla Hills, makes it a key feature in Islamabad's skyline.
How is Islamabad's infrastructure planned?
Islamabad boasts well-designed road networks, organized sectors, and a systematic layout, contributing to a cityscape that is not only aesthetically pleasing but also functional and orderly.
What are some of the prominent green spaces in Islamabad?
Islamabad is home to several green spaces, including Shakarparian Park and Rawal Lake. These areas offer residents and visitors places for relaxation, picnics, and outdoor activities.
Why is Islamabad considered a diplomatic hub?
Islamabad houses the Diplomatic Enclave, hosting numerous foreign embassies. This reflects the city's role as the diplomatic center of Pakistan, emphasizing its global significance.
What cultural and educational institutions are present in Islamabad?
Islamabad is rich in cultural institutions, museums, and educational centers. From art galleries to academic campuses, the city fosters an environment that celebrates both creativity and learning.
How does Islamabad balance modernity with natural beauty?
Islamabad's architectural development is characterized by modern structures complemented by the city's natural beauty. The careful integration of modern elements with the lush greenery contributes to its unique charm.
Can visitors explore the Margalla Hills National Park within the city limits?
Yes, the Margalla Hills National Park offers hiking trails and recreational activities within the city limits of Islamabad. It provides a natural retreat for both residents and visitors.
How has Islamabad evolved over the years?
Islamabad has evolved into a modern and vibrant capital while preserving its natural beauty. The city's progress reflects Pakistan's development, and its ability to harmonize modernity with the inherent beauty of its landscapes.
Wind Up Lines
Islamabad, with its scenic beauty, modern architecture, and planned infrastructure, stands out as a gem among world capitals. Its unique blend of natural landscapes and urban development, coupled with a rich cultural and educational scene, makes it deserving of its title as "The Most Beautiful Capital of the World." As Islamabad continues to evolve, it remains a testament to Pakistan's progress and its ability to harmonize modernity with the inherent beauty of nature.