Pakistan has numerous beautiful places which attract Tourism, below are top 10 most beautiful places in Pakistan.
1)   Hunza Valley

Hunza is a beautiful mountainous valley in the Gilgit-Baltistan, Pakistan. It lies at an altitude 7,788 (25,551ft.) meters above sea level. It's distance from Islamabad City is 600 meters.
It has bordering with Xinjiang region of China and the Wakhan Corridor of Afghanistan and, it is situated in the extreme part of northern areas of Gilgit-Baltistan, Pakistan.
Hunza has become easily tourist friendly, easy accessible, sightseeing attractions and peppered with regional cuisine.
2)    Kalash Valley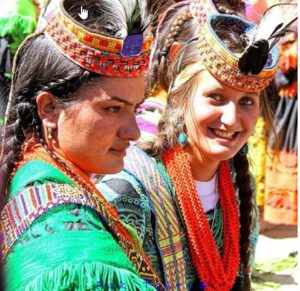 The Kalash Valley is located in northern side of Chitral District, Pakistan. It lies at an altitude 1,670 m (5,480 ft.) above sea level. It's distance from Islamabad city is 420 km. The valleys are surrounded by the famous Hindu Kush mountain range.
The inhabitants of the valley are the Kalash people and they unique language and unique culture, they follow a form of ancient Hinduism. These beautiful Valleys are a source of attraction for Pakistani as well as International tourists.
There are three main valleys which are Bumburet, reached by a road from Ayun in the Kunar Valley, Rumbur is a north side valley of Bumburet. The third valley is Biriu which is also beautiful and attractive.
The annual celebration of the unique tribe of Kalash in Pakistan will be celebrated in all three valleys from May 12 to May 16 (the last day in Rambar and May 16 in Bombard), with thousands of tourists visiting the Kalash Valley. It is interesting to note that Joshi (Chlam Yoshi) is only a festival for us, but for the Kalash tribe it will come with a religious color.
We have a duty to promote any religious group and not disturb them for any reason. Usually it is seen that when Kalash people perform their traditional dance, tourists flock to them, or without permission. Entering a house and making pictures of girls or women is certainly not a favorite of the Kalash people.
Do not enter Kalash synagogues without permission.
 3)    Swat Valley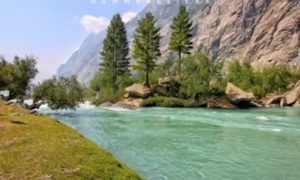 Swat valley is another beautiful Valley in Khyber Pakhtunkhwa, Pakistan. It lies at an altitude of 2,001 m (6,565 ft.) above sea level. It's distance from Islamabad city is 314 km. It has the largest ski (Malam-Jabba) resort in Pakistan.
The Malam Jabba ski resort, owned by the Pakistan Tourism Development Corporation, had a ski slope of about 800 m with the highest point of the slope 2804 m (above sea level.
Malam Jabba Ski Resort was the joint effort of the Pakistan government with its Austrian counterpart. The resort was equipped with modern facilities including roller/ice-skating rinks, chair lifts, skiing platforms, telephones and snow clearing equipment. The resort was destroyed by the Taliban when they were in hold in Swat valley.
Now that writ of the government has been reinstated and peace established, tourism has picked up. The government of Khyber-Pakhtunkhwa (KPK) has awarded the tender for rebuilding the Malam Jabba skiing resort to a private company. Skiing has already been restored and a skiing festival was held in Jan 2015.
The world is beautiful – there is a scene, there is a song, there is terror, there is water, but everything is in a bin, in the outskirts of a mountain, somewhere high.
Those who have low courage will lose these beauties. Then create some crazy songs that convey universal and infectious aesthetics, share the feel of the four walls of your own cubicle, singing poems, lyrics and songs. Make pictures, write, analyze, create sculptures. Some do not tolerate the yawning of the dude.
4)    Chitral Valley
Chitral Valley is the beautiful Valley. Its capital City is Chitral in Chitral District, it is located on the Chitral River in northern Khyber Pakhtunkhwa, Pakistan. It lies at an altitude of 1,500 m (4,921 ft.) above sea level.
It's distance from Islamabad city is 405 km. Chitral is famous beautiful places for snowy mountains far from the city of Chitral, the only witness to the history of its inhabitants for centuries.
Whether it is to invite someone to your village, to have children play in the morning and evening, to have an assembly of elders, a gathering of political people or a funeral of a man, this is the center of all.
The reason for the population settling in this cold area is a fountain whose water is extremely hot, allegedly by an NGO, a regular system of pipeline from this fountain's water brought hot water to the entire village. It has connections to schools, mosques, madrassas, hotels, homes everywhere. And that is why this area is called hot springs.
5)    Shounter Valley
Shounter Valley is another beautiful sub valley of Neelam Valley, Azad Kashmir, Pakistan.
It lies at an altitude of 3,100 m above sea level This beautiful Valley has surrounding mountains and glacial waters, mountains and green grass. It's distance from Islamabad City is 400 km.
6)    Shimshal Valley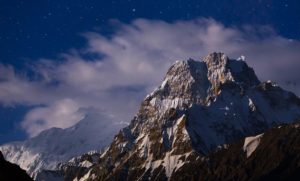 Shimshal is a beautiful valley which is located in Gojal Tehsil, Hunza District, Gilgit–Baltistan in northern areas of Pakistan. It lies at an altitude of 3,100 m above sea level and it is the beautiful highest settlement in the district.
It's distance from Islamabad city is 680 km. It has a border village that connects the Gilgit-Baltistan with China.
The total area of this beautiful Shimshal Valley is approximately 3,800 km and around two thousand inhabitants with a total of 240 households.
7)    Neelam Valley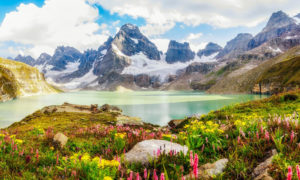 Neelam Valley is the one of the top most beautiful valley in northernmost region of Azad Kashmir, Pakistan. It is a huge valley with beautiful places, Karen, Sharda, Kel, Arang Kel and Taobat are most beautiful visiting points. There is beautiful river which is called Neelam river throughout the valley.
Beautiful Muzaffarabad City is situated on the river side which is 127 km away from Islamabad.
It has beautiful waterfalls like Dhani Waterfall, it's distance from is Muzaffarabad City 33 km. Another beautiful Kutton waterfall, it's distance from Muzaffarabad City is 60 km. This Valley lies at an altitude of 1,615 meters (5,299 feet) above sea level.
In Winter season mostly mountains are covered from snow and in summer beautiful greenery enrich the beauty of Neelam Valley.
8)    Kumrat Valley
Kumrat is another beautiful valley in opposite side of Neelam Valley in Upper Dir District of Khyber Pakhtunkhwa, Pakistan. It lies at an altitude of 2,359 meters (7740 ft.) above sea level.
It's distance from Islamabad is 385 km. It is located around 40 minutes away from a beautiful town of Thal Village. It is the recent attraction places for the visitors.
Kumrat has beautiful forest, cool river, high peaks, beautiful lakes and beautiful hiking treks. In Summer season numbers of tourists from all over the worlds come to visit to Kumrat valley and enjoy the greenery and fresh cool weather.
There is Panjkora river located on level ground forest. It is an ideal place for enjoy camping and fishing.
9)    Kaghan Valley
Naran is another beautiful in upper Kaghan Valley which is located in Mansehra District of Khyber Pakhtunkhwa, Pakistan. It lies at an altitude of 2,409 meters (7,904 ft.) above sea level. It is around 280 km away from Islamabad City.
Kaghan Valley is an example of beauty and beauty, but if you want to enjoy nature and listen to the silence, stop at any place ahead of Naran, in front of you are numerous scenes.
Knowing that you will have no choice but to stop, one of the beautiful destinations, it has magnificent and lush field on the two sides, after crossing Lulosar on the way to Babusar.
In the upper mountains and sides, small streams and springs hold the viewer in their grip, leaving the liver free of the kidney. The task is that the servant feels himself mentally and spiritually even after his return, and his dreams are always sought after.
After visiting this place, you will suffer from fatigue and discomfort instead of being overwhelmed by the beauty of nature.
10)    Naltar Valley
Naltar is a beautiful valley near Gilgit, Hunza, Gilgit Baltistan, Pakistan. There is a jeep track and 40 km away from Gilgit.
Naltar is a forested region, it's distance from Islamabad city is 560 km. It lies at an altitude of 2,359 meters (7740 ft.) above sea level.
Ski competitions can be found commonly at Naltar ski resort. It is one of the famous tourist attractions in Northern areas of beautiful Pakistan. The valley has a variety of fauna, flora as well as natural scenery.
There are number of rest houses recently established there by the help of Government, accommodation facilities & hotels are easily available in the valley.