Famous Sites of Gilgit Baltistan (GB)
Gilgit Baltistan is blessed with breathtaking beautiful Sites. Fairy Meadows Chilas, and Juglot are among them. These sites are known for sky-scrapping peaks, rich green plains, melodious rivers, and murmuring lakes.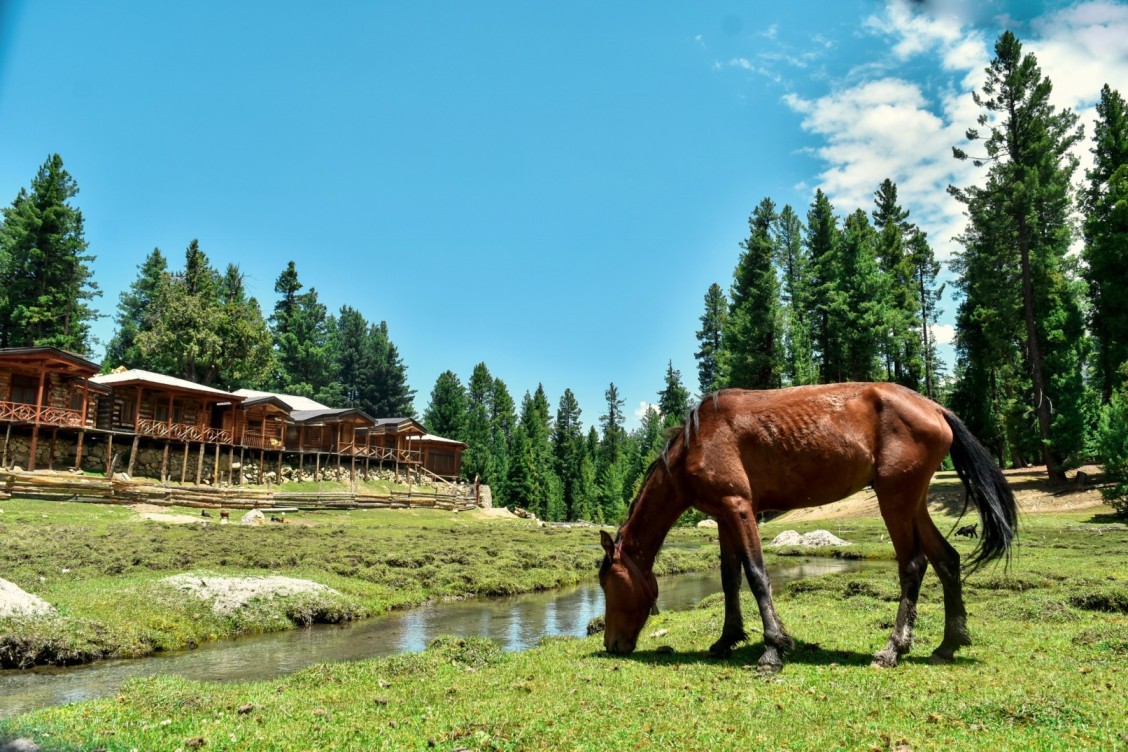 Overview Of some famous sites in Gilgit Baltistan (GB) 
| Site | Location | Features |
| --- | --- | --- |
| Naltar Valley | Gilgit District | – Breathtaking landscapes with lush greenery and alpine meadows. – Known for skiing in winter and vibrant flower displays in summer. |
| Hunza Valley | Hunza District | – Surrounded by snow-capped peaks, including Rakaposhi and Ultar Sar. – Historical sites like Baltit Fort and the serene Attabad Lake. |
| Skardu | Skardu District | – Gateway to some of the world's highest peaks, including K2. – Picturesque Shangrila Resort and Upper Kachura Lake. – Skardu Fort offering panoramic views of the valley and Indus River. |
| Fairy Meadows (Nanga Parbat Base Camp) | Diamer District | – Stunning views of Nanga Parbat, the world's ninth-highest mountain. – A starting point for treks to Nanga Parbat Base Camp. |
| Deosai National Park | Skardu District | – A high-altitude plateau with unique wildlife, including Himalayan brown bears. – Spectacular landscapes and Sheosar Lake. |
| Shigar Fort | Shigar District | – An ancient fort with a rich history and architectural significance. – Located near the town of Shigar, surrounded by stunning landscapes. |
| Khunjerab Pass | Hunza District (Border with China) | – The highest paved international border crossing in the world. – Stunning mountainous landscapes and the border point between Pakistan and China on the Karakoram Highway. |
| Satpara Lake | Skardu District | – A beautiful freshwater lake surrounded by snow-capped peaks. – Offers boating and a serene atmosphere. |
| Shandur Polo Ground | Ghizer District | – Known as the "Roof of the World" and hosts the annual Shandur Polo Festival. – Spectacular landscapes and high-altitude polo matches. |
| Rakaposhi Base Camp | Nagar District | – A starting point for treks to Rakaposhi, the 12th highest mountain in the world. – Offers breathtaking views of the surrounding peaks. |
| Hopper Glacier | Nagar District | – A stunning glacier surrounded by rugged mountains. – Popular among trekkers and adventure enthusiasts. |
Some famous sites in GB
Fairy Meadows
A track from the right side of Raikot Bridge goes to the 9th largest peak in the world and the 2nd largest peak in Pakistan which is Nanga Parbat. This bridge is 61km from Chilas. This peak with a height of 8125 meters is known as the killer mountain.
It is very difficult to ascent this top. Its shape and structure is different on every side but it can be seen clearly from the Diamer, Ropal, and Raikot.
The fascinating site of Fairy Meadows is a base camp for the hikers fond of climbing Nanga Parbat peak. An Austrian hiker Harman Bhal named it "Fairy Meadows" in 1953 because of the stunning tracks and charming scenes on the way to Fairy Meadows.
There are the best-camping sites for tourists going to the basecamps of Nanga Parbat. Jeeps are available near the Shangrila Hotel situated adjacent to Raikot Bridge. Halfway about 8km from Raikot Bridge is full of adventure. The Jeep will take you to Fatori and Tatto Village. You can reach Fairy Meadows in three hours on foot from this village.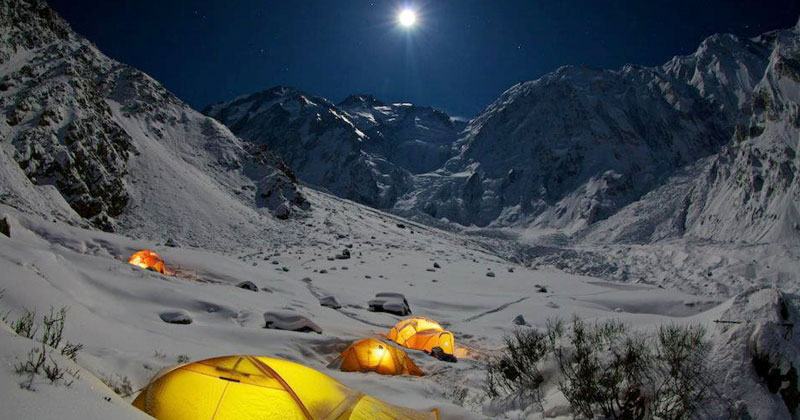 There are facilities for dwelling, dining, and rent village in this captivating valley. People can enjoy horse riding and fishing here. There are the best pastures for cricket, football, and polo match.
Fairy meadows site camps are located at an elevation of 3306 meters. Campfire is arranged for the locals and foreigners at the site camps who come to Fairy Meadows. All the vacationers sing their folk songs by sitting around the fire. They are just tourists irrespective of religion, color, and creed.
This route is open from May to August. After that, it is difficult to reach here due to snowfall. There is a restaurant at the Bial campsite too. It is two kilometers from the main site camp. Beyond 2 hours travel from this camp is the base camp of Nanga Parbat at a height of 4500 meters above sea level.
According to travel correspondent Mustanser Hussain Tarar, the fairies descend here. Fairy Meadows resembles the green areas of Kashmir.
Chilas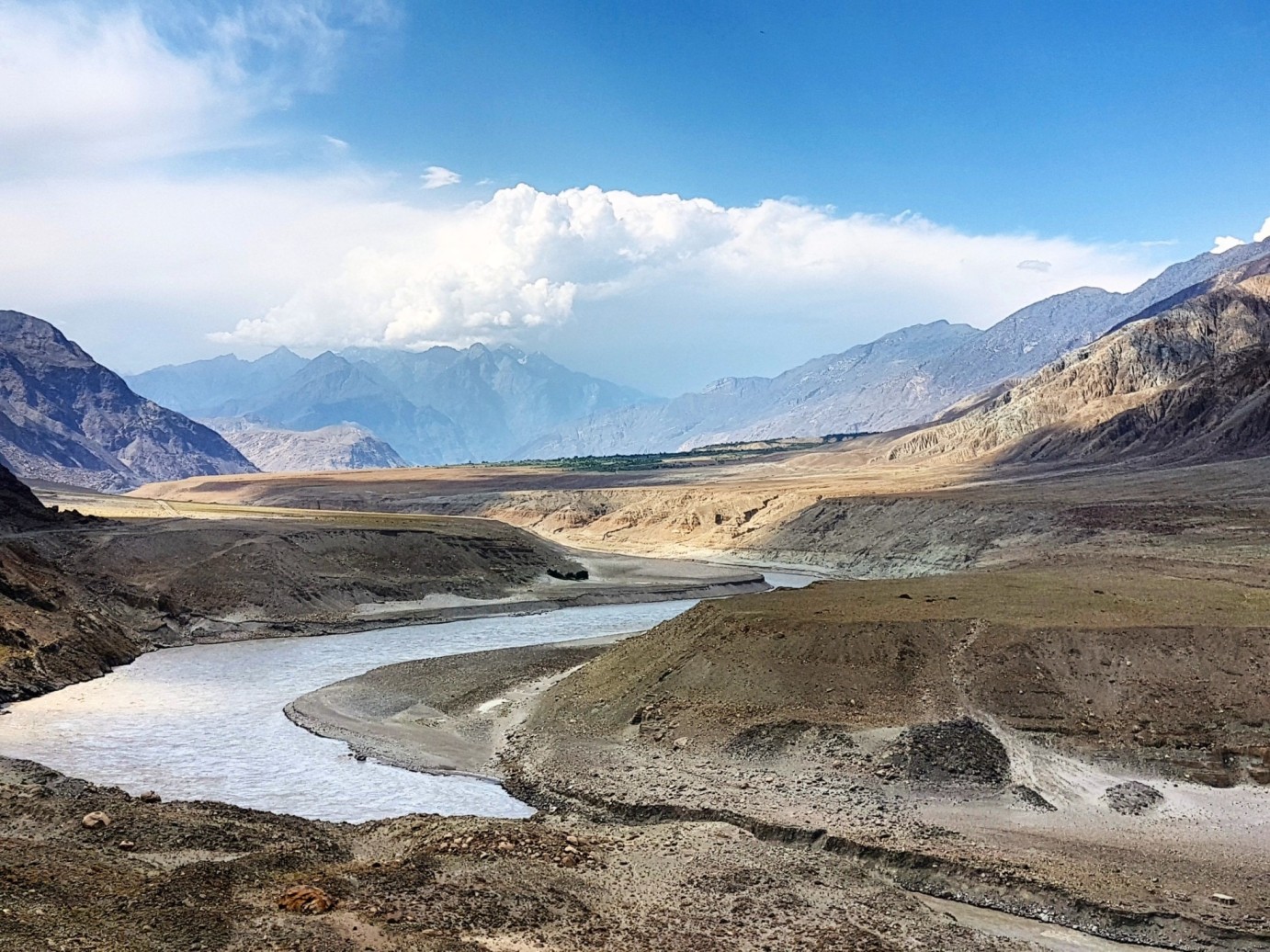 Chilas is located at the foothills of Nanga Parbat (8125meters) and is at an altitude of 950 meters above ocean level. It is the boundary of Diamer. Chilas at the bank of the river Indus has the status of base camp for the travelers going to Nanga Parbat and Fairy Meadows.
Most of the tourists stay here to see Petroglyphs. Chilas has a dry climate which is extremely cold in winter and terribly hot in summer. A route is directed to Babusar pass from the Thak water channel at a distance of 5km from Chilas.
It is the way to reach Kaghan Valley, Balakot, and Naran from Chilas. Before the Karakoram (Resham) Highway, this route was used to travel from Gilgit to Rawalpindi through Chilas, Babusar, Naran, Kaghan, Balakot, Mansehra, and Abbottabad. This area has hot water springs too.
Chilas fenced by mountains, is 4km from Resham (Karakoram) Highway. Diamer is also famous for Pinus tree forests, Pinon, and grapes.
Nanga Parbat View Point
The main signboard of Nanga Parbat View Point is fixed on the right side before Talechi and beyond Raikot Bridge. You will be spellbound by this clear view of Nanga Parbat. You will enjoy the beauty of this mount for a long distance. There is a Gasho Pashot Lake trek near this viewpoint.
Bunji and Jaglot
Jaglot (also spelled as Juglot) is a cantonment which is located on the Karakoram (Resham Highway). While the Juglot Village is situated in mountains at a distance of 7km from the Resham Highway. The river Indus turns towards Skardu whereas the Resham Highway goes straight.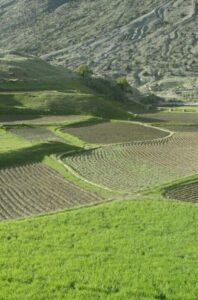 A route turns to the Astore Valley from the right side of Talechi. The Astore Valley was a source of contact between the Gilgit Agency and the British Empire. The easiest way to reach Nanga Parbat is through Astore Valley. A trail leads to Sirkon Lake from Bunji Cant.
Gateway to Northern Areas
Chilas serves as a gateway to various northern regions, including Skardu, Gilgit, and Hunza. Travelers heading towards these destinations often spend a night in Chilas, making it a hub for those exploring the wonders of GB.
Indus River Crossing
The town is situated at a point where the Karakoram Highway crosses the mighty Indus River. The view of the swirling waters against the backdrop of rugged mountains is a sight to behold. The bridge over the Indus River at Chilas adds to the dramatic setting, making it a memorable spot for travelers.
Historical Places
Baltit Fort, Hunza
Perched high above the Hunza Valley, Baltit Fort is a historical gem dating back to the 8th century. Renovated in the 1990s, it stands as a testament to the architectural brilliance of the region. The fort offers panoramic views of the surrounding peaks and valleys, making it a must-visit for history enthusiasts and admirers of ancient craftsmanship.
Shigar Fort, Skardu
Shigar Fort, located in the Shigar Valley, is another architectural marvel. Constructed in the 17th century, it once served as the residence of the local rulers. The fort has been converted into a museum, showcasing the history and culture of the region through artifacts, weapons, and ancient manuscripts.
Altit Fort, Hunza
Altit Fort, even older than Baltit Fort, dates back to the 11th century. Restored by the Aga Khan Cultural Service Pakistan, it offers a glimpse into the evolution of architecture in the region. The fort's intricate woodwork and ancient chambers transport visitors back in time.
Schools in the Region
Community Schools: In the villages surrounding Fairy Meadows and Chilas, there are community schools that cater to the educational needs of local children. These schools play a vital role in imparting education to the younger generation.
Hospitals and Healthcare
Healthcare Hub: Chilas has a hospital that serves as a healthcare hub for the region. It provides medical services to the local population and is equipped to handle a range of health issues.
Ambulance Services: Both Fairy Meadows and Chilas have access to ambulance services to facilitate the transportation of patients in case of emergencies.
Frequently Asked Questions
What makes Fairy Meadows special?
Fairy Meadows is renowned for its breathtaking views of Nanga Parbat, the ninth-highest mountain in the world. The meadow, surrounded by lush greenery, offers a magical setting for nature lovers and adventure seekers.
How do I reach Fairy Meadows?
To reach Fairy Meadows, one must first travel to the town of Raikot and then embark on a jeep ride through a scenic track. The journey is an adventure in itself, providing access to the mesmerizing meadow at the base of Nanga Parbat.
What historical significance does Chilas hold?
Chilas is known for its ancient rock carvings, dating back thousands of years. These petroglyphs depict scenes from daily life, hunting, and religious rituals, offering a glimpse into the rich cultural history of the region.
Why is Chilas a stopover on the Karakoram Highway?
Chilas serves as a crucial stopover on the Karakoram Highway, acting as a gateway to various northern regions, including Skardu, Gilgit, and Hunza. Travelers often spend a night in Chilas while en route to these destinations.
What accommodations are available at Fairy Meadows?
Fairy Meadows offers comfortable huts and campsites for visitors. These accommodations allow travelers to immerse themselves in the tranquility of nature and witness the stunning sunrise over Nanga Parbat.
What are some local snacks to try in the region?
Local snacks in the Gilgit-Baltistan region include Chapshuro (a pastry filled with minced meat), Phaphar (a traditional whole wheat bread), and Mantu (meat-filled dumplings). These snacks provide a taste of the region's culinary delights.
Are there medical facilities available at Fairy Meadows and Chilas?
While both locations have basic medical aid available, for more serious health concerns, it's advisable to seek medical assistance in nearby towns. Chilas, in particular, has a hospital that serves the healthcare needs of the region.
What are the historical forts to explore in the area?
Baltit Fort and Altit Fort in Hunza, and Shigar Fort in Skardu are historical forts in the Gilgit-Baltistan region. These forts showcase the architectural brilliance and cultural history of the area.
Can I explore Fairy Meadows on my own, or do I need a guide?
While it's possible to explore Fairy Meadows independently, hiring a local guide can enhance the experience by providing insights into the local culture, flora, and fauna, as well as ensuring a safe trek to Nanga Parbat base camp.
What role do the ancient petroglyphs in Chilas play in local history?
The petroglyphs in Chilas are significant historical artifacts, providing a glimpse into the daily life, rituals, and cultural practices of ancient communities. These rock carvings are a valuable archaeological treasure in the region.
While the attractions of Fairy Meadows and Chilas lie in their natural beauty and historical significance, the provision of accommodation, dining options, and essential facilities like medical services ensures that visitors can enjoy these places comfortably and safely. The region's commitment to balancing the allure of its landscapes with necessary amenities enhances the overall experience for those exploring these famous sites in Gilgit-Baltistan.