Lower Dir
Lower Dir is a beautiful district of Khyber Pakhtunkhwa (KPK). Chakdara, Temegirah, Bin Shahi, Damkot Fort, and Chakdara Museum are some famous sites for vacationers. Temegirah is the district headquarter of Lower Dir and has a deep-rooted history. There are traces of Gandhara and other civilizations.
Chakdara Chowk
9 km from Batkhela, the road from Chakdara leads straight to the Swat valley, while on the left it can be reached to Dir and Chitral districts. Famous Tourist & Historical Spots in Lower Dir
Historical and Tourist Sites in Lower Dir
1- Chakdara Fort
It is an ancient fort that was constructed in 1586. In 1895, the Britishers occupied this fort and reconstructed it in the year 1896.
2- Churchill Monument
Located on a hill of Chakdara, this memorial is also famous as Churchill Picket. In 1895, the tribes of Swat, Bajaur, Dir, Buner, and Mohmand had a war with the British army in this area.
During this, British journalist Mr. Churchill used to write the state of the war to the newspapers of the United Kingdom by sitting on this picket. He wrote about this in his two famous books "My Early Life" and "Malakand Field Force".
In these books, he admired the warrior skills, patriotism, courageousness, and determination of the Pathans. The military outpost where he stayed in 1897 is still in excellent condition under FC control.
When Queen Elizabeth visited district Swat in 1961, she parked her car at this site and got out to pay her respect in front of the Churchill Monument. And send a wireless message to Churchill (who was the prime minister of the United Kingdom at that time) that I am paying tribute to your memory.
3- Chakdara Museum
This museum is 3km from the bridge on the river Swat and 40km from both the sides, Temergirah and Saidu Sharif. The foundation stone of this beautiful museum with centuries-old traditional architecture was laid in 1970.
It is constructed with rare and valuable Malakand stones from the Malakand mountains. This museum has the whole story of Mahatma Gotham Buddha from birth to his death, his followers, and his leaders. They are described in the form of sculptures.
Moreover, sacred pieces of stuff related to Hinduism, regional art, valuable artifacts, and handicrafts are exhibited too.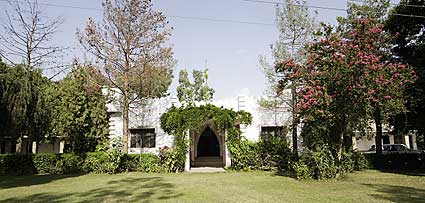 4- Damkot Fort
A strong fort of the Hindus dynasty is located on a mountain top in the Chakdara area dating from the eighth century to the tenth century A.D. Very beautiful and exquisite masterpieces of Buddhism have been discovered here. Buddha Stupa and archaeological remains are present in Chatpat village. This village is near the Damkot fort.
5- Islamic Blessings in Och Noor Mahal
This small private museum of blessings is owned by the Sahibzadagan family in the town of Och, near Chakdara. There are valuable blessings of the Holy Prophet Hazrat Muhammad (ﷺ), Sahaba Karam (R.A) (companions of Holy Prophet Muhammad (ﷺ)), and Saints of Islam.
All the details related to Islamic sacred sites and things are displayed on the walls with the help of charts and maps.
6- Andan Dheri
Thousand of years old archaeological traces of Buddhism have been discovered near Och town on the Temegirah and Chakdara road. This area is called the house of Stupas. There are many stupas built with stones which are a masterpiece of local art.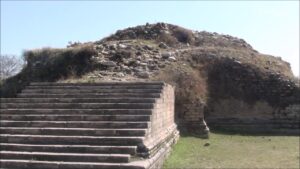 7- Baram Shab
This beautiful valley is 30km from Chakdara and 21km from Och in the north of Och. It is the most enchanting site of Lower Dir.
8- Archaeological Remains
The land of Lower Dir is crowded with archaeological traces. Its famous sites are Andan Dheri, Chatpat, Lajbok, Shah Dheri, Inayat Fort, and Jandol.
9- Timegara
This place has significant importance in Lower Dir in both the ancient and modern ages. The suburbs of this area have a deep history, culture, tradition, and norms in every era. Today's Timegara has equipped with all kinds of latest facilities.
Buses go direct to Timegara from Karachi, Rawalpindi, Lahore, and Peshawar. A road is directed to Afghanistan from the Tehsil Timegara of the district Dir.
Due to the snowfall, the Lawari Top was closed and people used to travel this route as well. This road passes through Afghanistan and bypasses Lowry Top and meets again at Chitral Road at Mir Khawani. But, the Chitral road is functional throughout the year because of the tunnel.
10- Plains
Lush green valleys, sweet water springs, cascades, and elevated mountains at a distance of 10 miles from Temegirah made it the best tourist spot in this area.
11- Lal Fort
This grand fort is in the plain area. It is constructed in the architectural style of Lal Qila Delhi.
12- Jandul
Situated near the river Jandol, it is a beautiful valley loaded with flowers and rich greenery.
13- Munda Fort
This fort has 60 rooms in Munda. It is in the Jandul area. Craftsmen for this fort's construction were called from Germany and Iran.
14- Shahi
This famous and beautiful pass is between the mountains of Samar Bagh and Brawal. These mountains are between Upper Dir and the side area of Dir.
This area of ​​lush greenery and velvet plains covering several kilometers at the foot of Mount Surglu is the best tourist destination. You can reach the valleys of Shalkundi, Maryar, Rokhana, and Gambat.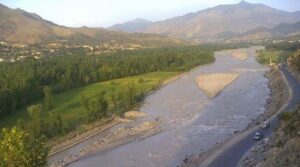 15- Shahi Fort
This historical fort is located at Bin Shahi point in Jandol area. It is a fine masterpiece of architecture by the local artisans.
16- Khak Zai, Karodara
These valleys are full of lush green meadows, fresh sweet water, and cold winds. It is the best spot in this area for one day trip.
17- Bin Shahi
This valley is adjacent to the Kantar area of Afghanistan at an elevation of 2500 meters from sea level. It is 30km from Shahi Valley. The zigzag road of this valley will make your journey more enjoyable.
Surrounded by conifer trees and forests, it is famous among tourists for the valley Shalkho Sardand. People fond of hiking and trekking can stay here for some days.
Wind Up Lines
Khyber Pakhtunkhwa is bestowed with natural beauty, wonderful landscapes, and snow-capped mountain peaks. It has many archaeological sites too. Lower Dir is one of the most beautiful sites in Khyber Pakhtunkhwa KPK. Chakdara, Timegirah, and Bin Shahi are famous among tourists.