Swat Valley
Let's Go to the Swat – The Switzerland of the East
The Land of Alpine Wonders
The Cradle of Buddhist Gandhara Civilization
Swat is the cradle of different civilizations, cultures, ancient archaeological relics, and mesmerizing sites. Swat is first mentioned in Rigveda. Swat has a meaning of heaven in the Jewish religion. It is the Vatican City of Buddhas.
According to Jataka stories by Buddha religion, Mahatma Gotham Buddha visited Swat. And the second religious leader of Buddha, Padma Simbo Ayaram Pochi Gautam II was born in Swat. The religion Lamaism has its origin in Swat. Therefore, there are 1400 monasteries of Buddhism on the coast of the river Swat. Arias called it the "Fare Dwelling Place".
Alexander the Great reached Swat via Afghanistan in 327 B.C. He got injured for the first time in history during the battle with the people of Swat. This wound later led to his death. Seeing the bravery of the people of Swat, these historical phrases uttered from the mouth of Alexander "Mother, you have given birth to an Alexander, and here Alexander lies behind every stone".
The mosque built by Mehmood Ghaznavid in Odigram still exists. Syed Akbar Shah, Akhwand of Swat Saidu Baba, Abdul Jabbar Shah, Mian Abdul Wadood, and Gul Abdul Haq Jahanzeb worked for the development of the state. On 29th July 1969, Swat state affiliated with Pakistan.
According to renowned historian Muhammad Parvesh Shahen,
What is Swat?

It is the Ghazal (poem) of Mir

It is the Quartet of Khayyam

It is more charming and interesting than the story of Alif Lela

Someone has entitled it with the Heaven

People called it the Switzerland of the East.
They all said right about it. It is because of its luxuriant thick woods, sky-kissing and snow-capped mountains, the chirping streams on the top of these mounts, captivating rivers, cascades, and enchanting waterfalls.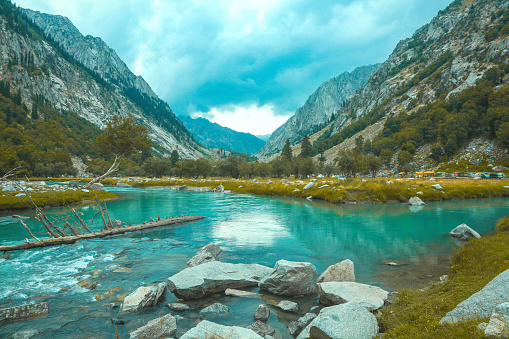 Key information about Swat Valley 
| Name | Swat Valley |
| --- | --- |
| Location | Khyber Pakhtunkhwa, Pakistan |
| Population | Approximately 2.31 million |
| Area | 5,337 square kilometers |
| Elevation | Ranges from 975 to 6,810 meters above sea level |
| Main Towns | Mingora, Saidu Sharif, Kalam, Malam Jabba, and more |
| Language | Pashto, Urdu, and English |
| Famous For | Scenic beauty, lush landscapes, and cultural richness |
| Climate | Mild in summer, cold in winter, with heavy snowfall at higher altitudes |
| Tourist Attractions | Malam Jabba, Kalam, Mingora, Buddhist archaeological sites, Udegram, and more |
| Outdoor Activities | Hiking, trekking, camping, river rafting |
| Local Cuisine | Traditional Pashtun dishes like chapli kebabs, mantu, and various rice dishes |
| Accommodation | Hotels, guesthouses, and resorts in Mingora, Kalam, and other towns |
| Culture | Rich Pashtun heritage, local crafts, traditional music, and dance |
| Permits | Typically no special permits required for tourists, but it's advisable to check local regulations and conditions before traveling. |
| Safety | Swat Valley has seen improved security conditions in recent years and is generally considered safe for tourists. Always check the latest travel advisories before planning your visit. |
Tourist Travel Guide
The tourist season in this valley of orchards loaded with fruits, and wavering flowers is all year round. The best season for tourism is from May to November. While it is crowded with vacationers from June to August.
 Tourist Spots & Delicacies
Mingora and Saidu Sharif
The twin cities of Mingora and Saidu Sharif at an altitude of 3250 feet from sea level are called the commercial and administrative capitals of Swat respectively.
Mingora is the largest trade center and market of Swat Valley at a distance of 159km from Peshawar. While Saidu Sharif has all the government offices, PTDC motel, and an information center.
The shrine of Hazrat Ikhwand Saidu Baba took up permanent residence in Saidu. He is among the heirs of Swat. He died in 1877 and was buried in Saidu Sharif. A grand shrine was built. The palace of the Swat's king is in Saidu Sharif. The worth-watching shrine of the founder of Swat Mian Gul Abdul Wadud Shrine is there too.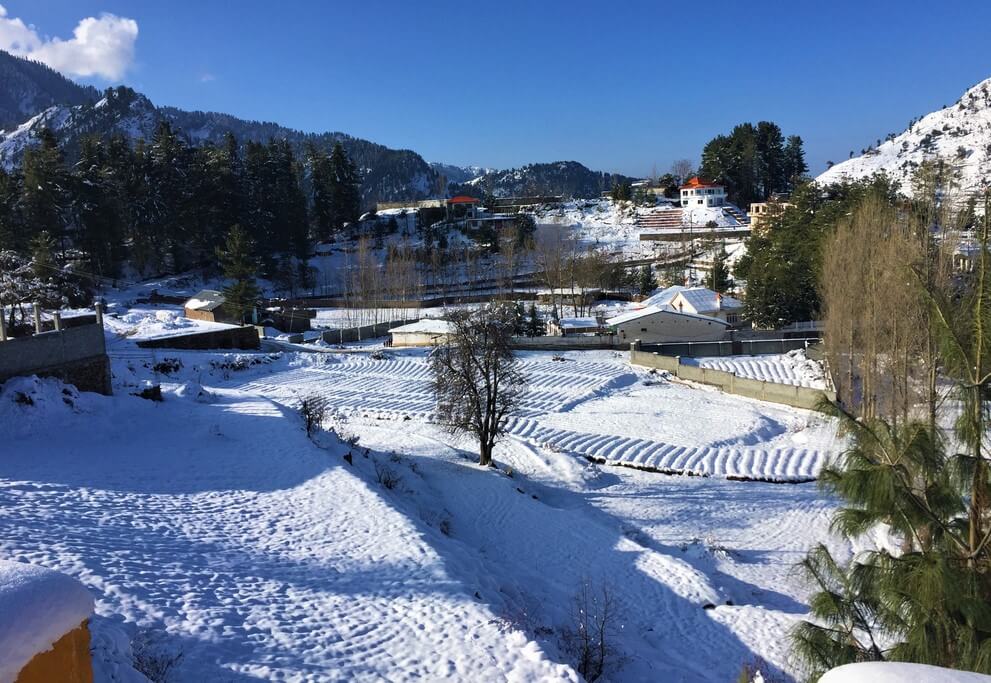 Swat Museum
According to Buddhism books, Mahatma Gotham Buddha visited Swat. Therefore, this area is full of archaeological remains related to Buddhism.
At this time, there are more than 400 Buddhism Stupa and monasteries stretching over an area of 160 square kilometers in the Swat region. According to Chinese Tourist Xuan Tsang or Xuanzang, there were 1400 monasteries in the Swat in the 7th century A.D.
According to Fahein Tourist, about 6000 viharas were established in Swat in the 4th century A.D. the discovered valuable ancient artifacts are exhibited in the Swat Museum. A visit to this museum will help you to understand more about the Buddhism and Gandhara civilizations and culture. This museum is in Saidu Sharif.
Butkara #1
A masterpiece of great architecture, spread over several acres, this zone has some of the finest archaeological sites. The rare relics discovered from this site are exhibited in the Italy Museum. many sculptures are still in pretty good physical condition. It is better to visit these sites with a local. People find it difficult to visit these sites because of the crisscross roads.
Butkara # 2
This archaeological site is located near Butkara 1 and has a monastery of Buddhism. It is located at some height.
Saidu Sharif Stupa
The archaeological ruins of Saidu Sharif Colony belong from the First century Before Christ to the fifth century Before Christ. There are other buildings beside central Stupa in this monastery of Buddha.
Uqbah Mahal
Uqbah Mahal is a worth-watching palace in Saidu Sharif. This building is owned by the first king of Swat. It is constructed with white marble and has a minaret like the Qutub Minaret in the center of the Palace. The mausoleum of Mian Abdul Wadud is in front of this palace. He built this tomb on the architectural design of the tomb of Mughal Akbar Azam in his lifetime.
Koh Elum or Ilum mountain
This mountain which is famous for its thick green forests and fertility is located at an elevation of 9000 feet. There is a podium on the top. According to Hindu beliefs, Ram Chander Ji meditated here for three years. Now, many Hindus come here every year during the start of the rainy season for the worship of idols and prayers.
You can enjoy hiking with the assistance of a local guide. On the way, The splendor of the swaying forest will accompany you. You can enjoy the splendid sight of Swat and Buner from the top.
Salam Pur
On the way to Marghazar, stop at Salam Pur village. There are hundreds of small textile industries of woolen and silk cloths. The woolen cloth, blanket, warm caps, and shawls of this area are famous in the country. The products of this region are exported to earn foreign exchange.
Marghazar
The former ruler of Swat Mian Abdul Wadud built a beautiful palace as a summer place forward to Salam Pur, and 15km in the south of Saidu Sharif.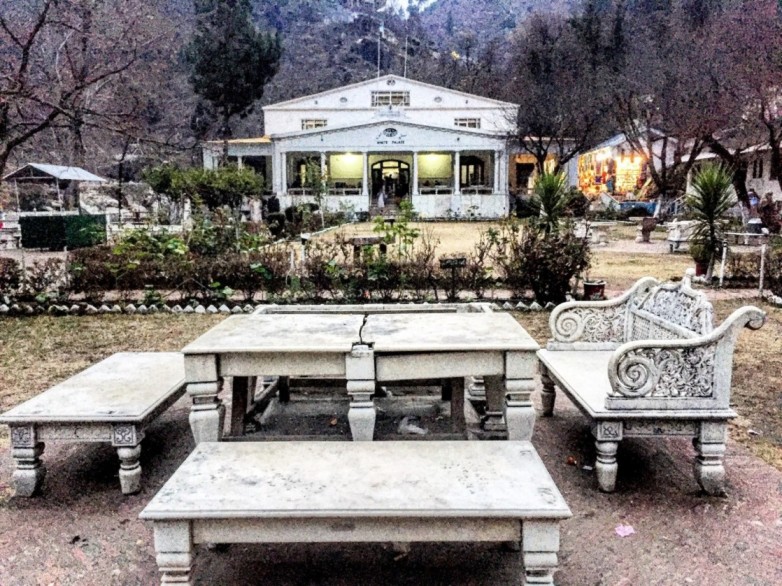 The artisans and white marble were imported from Agra India for this white palace which was completed in 1941. This large-sized marble is not available anywhere in India and Pakistan except Agra. It is the same marble stone that is used in Taj Mahal Agra.
Now, this white grand palace is transformed into a hotel. Now there are residential rooms, restaurants, and beautiful gardens. This palace has the room where Queen Elizabeth of the United Kingdom stayed in 1961. A wagon service is available for this place from Nishat Chowk.
Odigram 
The archaeological traces are on the Chakdara road. This area had remained the battleground of Alexander the Great. The army of Mehmood Ghaznavid attacked the empire of Jayapal's governor Raja Gira and he was conquered. This archeological site with numerous remains dates back to about 2000 BC.
Sultan Mehmood Ghaznavid Mosque
Sultan Mehmood Ghaznavid Mosque has established in 440 A.H. It is the ancient mosque in Northern Pakistan. An inscription has been discovered on the boundary of the mosque. According to this, Mehmood Ghaznavid ordered his nephew Mansur to build this mosque.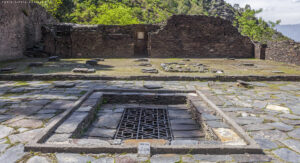 Hakim Mansur established this mosque under the supervision of commander Noshgeen. In 1985, the experts of Italy revealed this mosque. The structure of the mosque is the best example of fine architecture. The arch of the mosque, water pond, courtyard, verandas, and rooms are all in good condition.
On 28th April 2010, the Asr prayer was offered about one thousand years later under the supervision of the Pak Army. This mosque is at the back of Odigram village near the hill. A road is there which is directed to the mosque.
A museum is under construction to promote the regional culture and for the protection of the archaeological traces.
Odigram fort and the Palace
Raja Gira's fort and the place on the hilltop adjacent to the Mehmood Ghaznavid Mosque. These relics represent the splendor of the Raja's dignity. This top is half an hour uphill. Mingora city can be seen from the hilltop.
Ghalegay village and Cave
Ghalegay village is beyond Odigram and its suburb hills are full of archaeological ruins. The most important point is that the complete history from the Hijri era to this age has been revealed during the excavations of this cave.
Buddha Sculpture
A thousand years old Buddha sculpture is present in the mountain at the beginning of Ghalegay village. There are stairs along with the sculpture that goes to a cave on the top. There are signs of two small sculptures near the edges of the cave.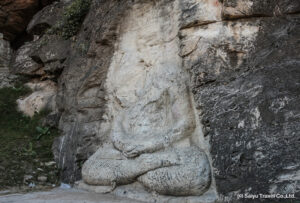 Gogdara
There are many archaeological signs on the cliff of the Gogdara area which is located 4km forward to Ghalegay. This area with three thousand years old traces has shapes of different animals and birds engraved on the stones of the hilltop.
Shingardar Stupa
Mahatma Gotham Buddha instructed his followers to give a part of his ash and blessings to the king Atrios of Swat after his death. They did so. After his death, the king went to Swat on an elephant along with the blessings and ash. When this white elephant reached Ghalegay in Swat, it died. The king established a Stupa there at the place where the elephant died. This stupa still exists near Shingardar road.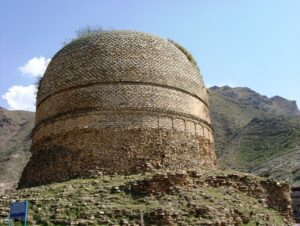 Bari Kot
Bari Kot Ghundi is famous for the traces of this area which date back to 1700 BC. Italy's expert has declared this city as the "Bazeera city of Alexander the Great ". This city of Alexander the Great is located in Bari Kot.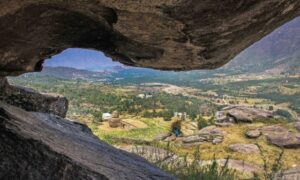 Amlok Dara Stupa
It is also spelled as Amluk Dara. This stupa is positioned on Buner Road in the Amlok valley. You will have to go to Nawagaii village which is 3km from the main road. This stupa with a 102 feet diameter and 60 feet height is a perfect reflection of the greatness of the Kushan civilization.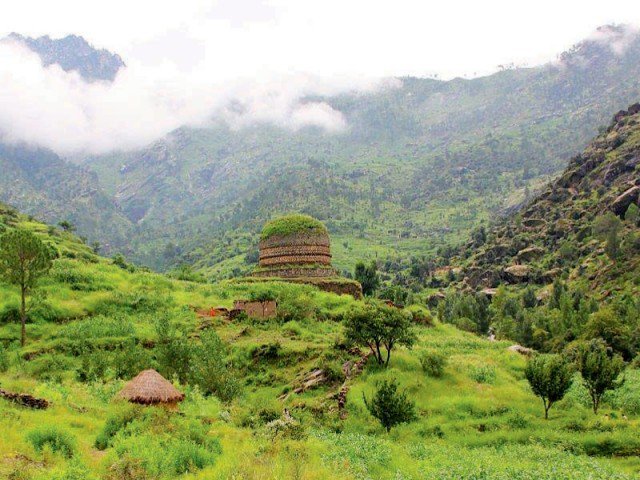 Najigram stupa
This stupa and monastery are in Najigram valley in the north of the highway directed from Bari Kot to Karakara pass. A central stupa and the rooms of the monks remind us of the Buddhism era. A cave is there at a height of 135 feet on a cliff. It is narrated that Buddha scholars used to worship and meditate there. Mingora is just half an hour's drive from this cave.
Namogram Stupa
This Buddha monastery is in Shamazoi valley on the hilltop at a distance of 45 km in the west of Saidu Sharif and 22km from Bari Kot. This monastery has 3 central Stupa and 65 other stupas. The coins of the Kashan era discovered here prove that this monastery was established in the 2nd or 3rd century A.D.
Trout
The trout fish of cold and freshwater glaciers and lakes is a great source of taste, nutrition, and vitamins. The trout fish of this area is considered best after Japan and America. These fish hatcheries are established on a private scale in many areas including Madyan.
Fishery
You can enjoy fishing in Swat valley to your fill. But you will have to take a permission letter from Saidu Sharif, Madyan, Bahrain, and Kalam.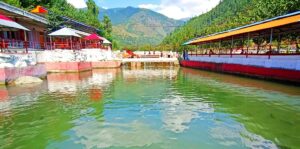 Shawal
It is mentioned in the history books that King Ashoka used to buy Shawls of Swat for his throne and court. The embroidered shawls of Swat are famous for their quality, colors, and designs.
Besides this, blankets, wasket, caps, mats, handmade rugs, antique silver jewelry sets, honey, and other such products are the identity of Swat valley. Its largest center is Islampura village on Marghazar road. Mingora has these products too.
Valuable Stones
Shit stone is used in sculptures and idols. There are emerald stone mines in the suburb of Swat. You can purchase the rare and valuable stones and jewelry of Sapphire, topaz, emerald, and ruby.
Swati Chaska
The upper Swat is renowned for the world's best quality Trout. Some restaurants on Swat Road sell river trout. There are farm trout too. Mir Jokray in the main Bazar, Akbari restaurant in Baba Chowk, and Umer Faqir Lala are well known for their taste.
Fizagat
The regional park of Fizagat on Kalam Road is a favorite spot for tourists from all over the country. This park is on the bank of the river and has swings, a playland, and a cafeteria. The climate is pleasant here as compared to Mingora city.
Fizagat is an ideal site for river rafting. There are huts and restaurants near the river. You can go anywhere. Order for a trout fish and enjoy by sitting on a Charapi (cot). There is a local cable car to go across the river.
Kabal, Shah Dheri, and Dardyal pass
Kabal, the first capital of Swat is 9km from Mingora city. There is a Chanar forest and a golf course of 18 holes. The village of archaeological remains Shah Dheri is 10km from Kabal. Beyond this, there is a beautiful valley named Dardyal.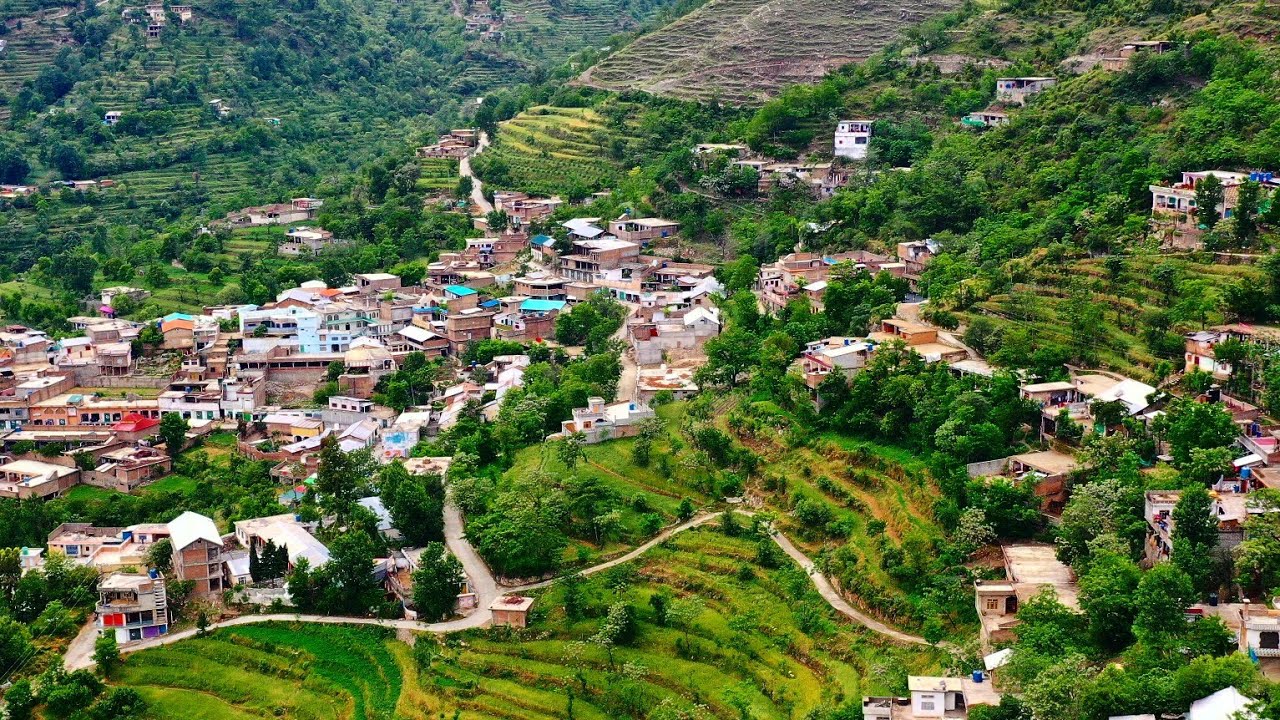 Gabin Jabba
It is a natural plain area that remained covered with snow throughout the year. Transport is available from Mitta to Lal Kodra to reach this valley of flowers. A good idea is to visit this valley on a horse with a local guide.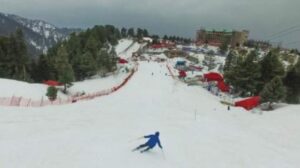 Manglor
This beautiful valley with numerous archaeological relics is called Manglawar (also spelled Manglor). It is 10km from Mingora on the Kalam road and it has remained the capital of the valley in different eras. There are many archaeological traces at the back of Manglawar near Bajnot pass and Gat.
Jahan Abad – Buddha Sculpture
The largest sculpture of Buddha in Central Asia is located on a cliff rock on the right of Malam Jabba road a few distances away from Mangalor.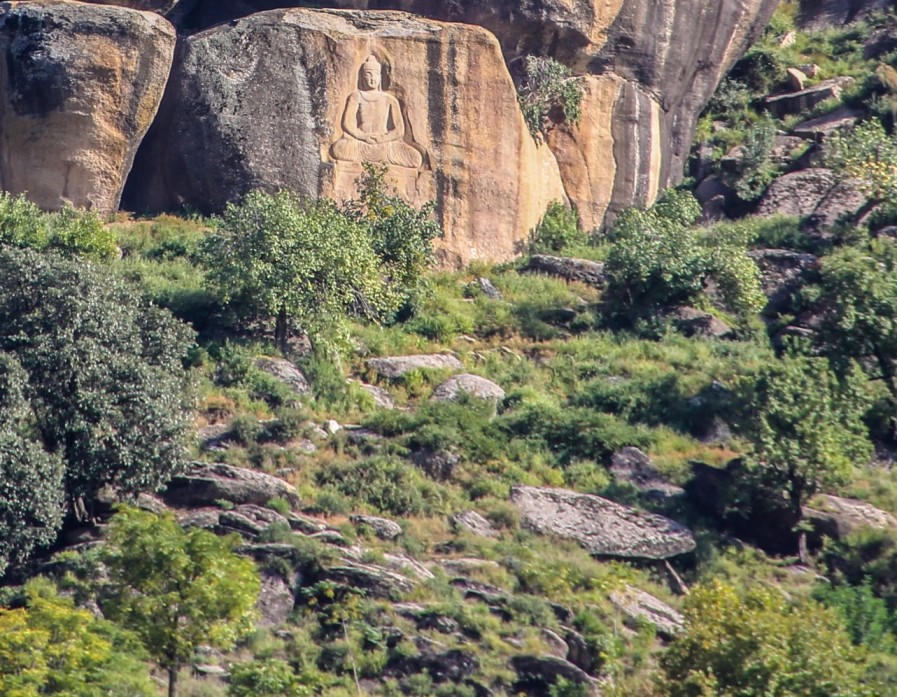 Schools:
Swat Public School
The City School Swat Campus
Beaconhouse School System Swat
Frontier Children Academy
Swat Grammar School
Colleges:
Jahanzeb College Swat
Swat Degree College
Women Degree College Mingora
Swat College of Science and Technology
Swat College of Commerce and Science
Universities:
University of Swat
Swat University of Engineering and Technology
Khushal Khan Khattak University
Hospitals:
Saidu Group of Teaching Hospitals
Syed Javed Shah Memorial Teaching Hospital
District Headquarters Hospital Saidu Sharif
Alkhidmat Hospital Swat
Alkhidmat Hospital Mingora
Restaurants:
Serena Hotel Swat
Shah Jahan Restaurant
Kalam Continental Hotel & Restaurant
Sangram Hotel & Restaurant
Rehman Khoka Restaurant
Frequently asked questions (FAQs) 
What is Swat Valley famous for?
Swat Valley, often referred to as the "Switzerland of Pakistan," is renowned for its stunning natural beauty, lush landscapes, and picturesque mountains. It's a popular tourist destination for its scenic views and cultural richness.
How can I reach Swat Valley?
Swat Valley is accessible by road from major cities in Pakistan. The nearest airport is Saidu Sharif Airport. Visitors can travel by road from Islamabad or Peshawar to reach Swat.
What are the best times to visit Swat Valley?
The best time to visit Swat Valley is during the spring and summer months (April to September) when the weather is pleasant, and the valleys are in full bloom. Winters can be harsh, with heavy snowfall in some areas.
What are the main tourist attractions in Swat Valley?
Swat Valley boasts numerous attractions, including Malam Jabba for skiing, Kalam for its picturesque beauty, Mingora for shopping, and Buddhist archaeological sites like Udegram and Butkara Stupa.
Is it safe to visit Swat Valley for tourists?
Swat Valley has seen improved security conditions in recent years, and it is generally considered safe for tourists. However, it's advisable to check the latest travel advisories and local conditions before planning your visit.
What outdoor activities are available in Swat Valley?
Visitors can enjoy a range of outdoor activities in Swat Valley, including hiking, trekking, camping, and river rafting. The region's natural beauty provides an ideal backdrop for these adventures.
What is the local cuisine in Swat Valley?
Swat Valley offers a taste of traditional Pashtun cuisine, including dishes like chapli kebabs, mantu (dumplings), and various rice dishes. The valley's lush surroundings also provide fresh produce and dairy products.
Are there any cultural festivals in Swat Valley?
Swat Valley hosts various cultural festivals and events, including the Kalash festival, which celebrates the indigenous Kalash culture. The valley's residents also celebrate religious and local festivals.
Can I find accommodation in Swat Valley?
Swat Valley offers a range of accommodations, including hotels, guesthouses, and resorts in major towns like Mingora and Kalam. Booking in advance is advisable during peak tourist seasons.
What are the cultural highlights of Swat Valley?
Swat Valley is known for its unique Pashtun culture and traditions. Visitors can explore the rich Pashto heritage, local crafts, and traditional music and dance during their stay.
Is there a need to obtain special permits to visit Swat Valley?
In most cases, tourists do not require special permits to visit Swat Valley. However, it's essential to check with local authorities and stay informed about any permit requirements or restrictions before traveling.
Wind Up Lines
Swat Valley is bestowed with tranquil sites, archaeological relics, and historic sites. A trip to Swat Valley will refresh you. Saidu Sharif, Gabin Jabba, Marghazar, Manglor, Fizagat,  Mingora, Jahan Abad, Amluk Dara Stupa, and Odigram are among the best sites for a trip. Besides this, Swat is known for trout fish, embroidered stuff, jewellery, and valuable stones.