Peshawar
Peshawar is one of the ancient cities in South Asia. It is also named the "City of Flowers". It is the capital of Khyber Pakhtunkhwa (KPK). Peshawar is the sixth largest city in Pakistan. This city is connected to all the major cities of Pakistan.
Peshawar is well known for its variety of food, handicrafts, and fruits. Islamia College Peshawar, Chowk Yadgar, Sethi House, Mahabat Khan Mosque, Peshawar Museum, Bab-e-Khyber, Qissa Khwani Bazaar, and Bala Hissar Fort are some worth mentioning sites.
Peshawar – Capital of Khyber Pakhtunkhwa
| Category | Details |
| --- | --- |
| Country | Pakistan |
| Province | Khyber Pakhtunkhwa (KP) |
| District | Peshawar |
| Region | Peshawar Valley |
| Founded | Ancient city with a history dating back over 2,000 years |
| Area | 1,257 square kilometers (485 square miles) |
| Population | 2,412,000 |
| Official Language | Urdu, Pashto |
| Time Zone | Pakistan Standard Time (UTC+5) |
| Climate | Hot semi-arid with extremely hot summers and mild winters |
| Major Religion | Islam |
| Currency | Pakistani Rupee (PKR) |
| Deputy Commissioner | Mr. Mohammad Ali Asghar |
| Known For | Rich cultural heritage, historic landmarks, hospitality, Peshawari cuisine |
| Major Industries | Trade, commerce, manufacturing, agriculture, services |
| Famous Landmarks | Qissa Khwani Bazaar, Mahabat Khan Mosque, Bala Hisar Fort, Peshawar Museum |
| Educational Institutes | University of Peshawar, Islamia College University, Khyber Medical University, Institute of Management Sciences (IMSciences) |
| Sports Teams | Peshawar Zalmi (Pakistan Super League – cricket), Peshawar Panthers (Pakistan domestic cricket) |
| Transportation | Bacha Khan International Airport, Peshawar Junction railway station |
| Tourist Attractions | Khyber Pass, Peshawar Museum, Qissa Khwani Bazaar, Sethi House, Cunningham Clock Tower |
History of Peshawar
The history of Peshawar is as old as the history of Khyber Pakhtunkhwa. According to Herodotus, the oldest name of Peshawar was Caspitros. Which is the city of the ancient Haft-i-Aqalitim, the seventh province of Paktika, from which the Achaemenid king Darius the Great set out on an expedition to the Arabian Sea.
It is named Bigram in Rag Veda, the ancient sacred book of Hindus. The first king of the Kashan family declared Peshawar its capital in the first century. He established monasteries and schools for the promotion of Buddhism.
This valley was called Korah and the residents were called Korohila when the first Islamic army reached the site of Gandara under the leadership of Hazrat Sanan bin Salma alias Ashab Baba. A famous Chinese tourist and historian Xuanzang (Hsüan-Tsang) have written the name Poloshapolo and Pur Shahpur in the Sanskrit language for Peshawar.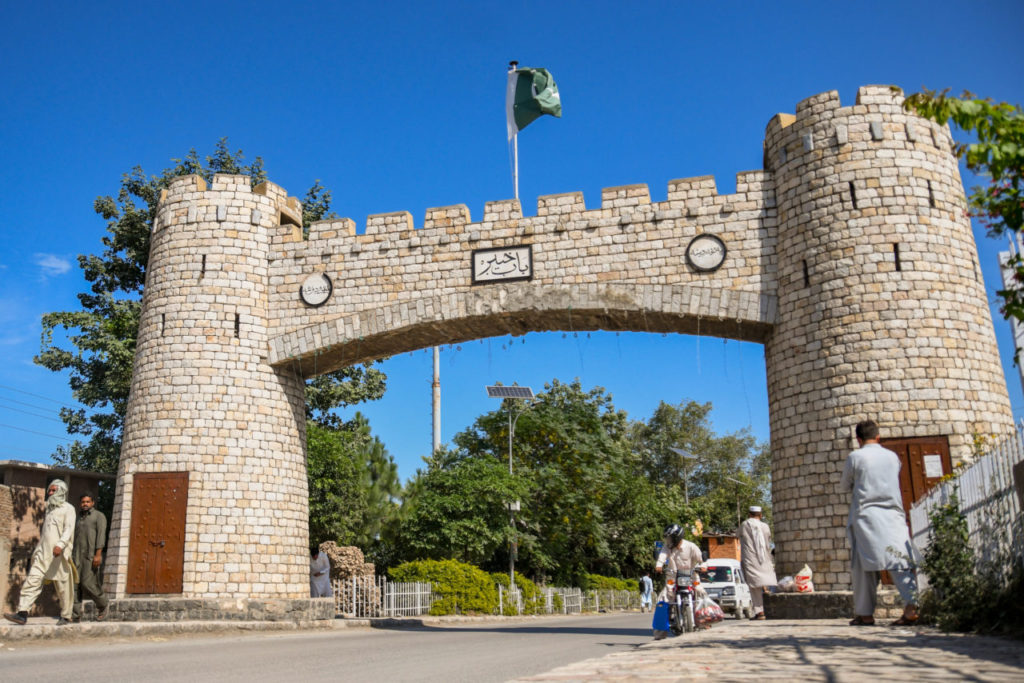 Different royal families of Hindus ruled it in the 700th century after the Buddha era. King Jay Pal declared the area of Hund as the capital of his state located at the shore of the river Indus within the boundary of Peshawar. The king jumped into the fire and committed suicide after getting continuous defeat from Mehmood Ghaznavid.
After that, the Islamic civilization started prevailing there. And the experts of Turkmenistan, Samarkand, Bukhara, Turkey, Iran, Afghanistan, and Middle Asia reached there. As a consequence, the buildings of the city seemed to have a reflection of Islamic civilization rather than Gandara civilization.
With the arrival of the Mughals, Mughal architecture reached its peak in Peshawar which is still seen in the residences, Havelis, and mosque there. There was a fortification around the city and it had 16 doors. Some of them were dilapidated and they were renovated a few years ago.
Dialects in Peshawar
The residents of Peshawar and its suburbs speak Pashtun and Hindko with fluency. According to the New York monument, Pashtun is the fourth oldest language in terms of conservatism.
Famous Historical and Tourist Spots in Peshawar
1- Fort Bala Hissar
It is the most ancient cultural heritage of Peshawar. Bala Hissar is a Persian language word that has a meaning of heightened or supreme fort. It was originally built by Hoshang Pashdad, the great-grandson of Kimarth.
According to Major M Nawaz, it was present 2000 years ago. According to the reference in Ahmad Hassan Dani's book, the Chinese tourist Xuanzang (Hsüan-Tsang) called it Shahi Mahal or Royal Palace in 630. According to doctor Hussain Khan, this fort was given the name of Qila Bala Hissar by the Afghan king Taymoor Shah Durrani (1773-1793).
Historically it remained a strategic city.  All the foreign invaders paid special attention to this fort at the time of the attack on the subcontinent. Ghaznavid, Ghori, Mughals, Durrani, Subektagin, Hindu Royals, Sikhs, and the British tried to demolish it. The son of Shah Abdali Taymor Shah used this fort as his residence. He built rooms and gardens.
The governor of Ranjeet Singh Nalwa Singh destroyed it completely but reconstructed it under the supervision of a French engineer in 1830 for the purpose of defense. They used raw bricks and mud during the repair.
Later on, the Britishers used solid bricks in the renovation when they realized the culture and defense importance. In the British regime, they used to keep the prisoners in this fort. When a shot was fired in the central bazaar, a movement started against the British.
The people involved in that movement were imprisoned in this fort. The stuff of different eras, clothes, shoes, weapons, and photographs of different officers who were appointed in the fort are exhibited here.
The most beautiful part of this fort is the royal court or Shahi Darbar. A brief history of the fort is engraved on the inner walls of the fort. This fort was constructed in the northwest corner of Peshawar city on a high rock but now it is in the center of the city because of the increased population.
Situated on the central G.T Road, it is under the supervision of the Frontier Constabulary since the creation of Pakistan. It is their head office too. A special permission letter is required for the visit to the fort. It can be taken from the central office.
2- Jamiya Mosque Mahabat Ali Khan
Mahabat Ali Khan was the governor of Peshawar during the Mughal reign. His real name was Lehrasab. He was the governor of Kabul in Jahangir's regime. He got the title of Mahabat Ali Khan because of his bravery and courage.
This title has the meaning of "the one who put you in astonishment". When he became the chief of Peshawar under the rule of Shah Jahan he built a splendid mosque in the Samai door. It has a long minaret and a big dome.
Constructed with marble stones, it is a marvelous piece of Mughal architecture. Constructed from 1658 to 1662, this mosque is the best model of the Islamic mosque. According to a second reference, this mosque was built in 1670 in the Auregzeb Alamgir era.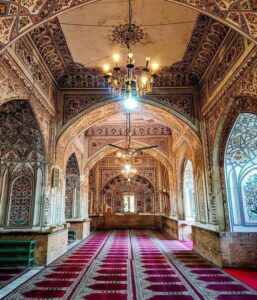 Two big doors are on the north and south sides and a large pond has been established in the center. Small hostel rooms have been constructed on both sides of the two doors. Old-fashioned lanterns are hanging in the mosque. Its minarets were damaged during the Ranjeet Singh attack. They were renovated after that. Italian governor Abu Tabela of the Sikh's reign used to throw the criminals from the minaret.
3- Chowk Memorial
In 1857, a memorial to Lord Hasting was built in the center of Peshawar. It was called Hasting's memorial. It was difficult for the common people to pronounce this name. It was changed to Chowk Yadgar or Chowk Memorail.
In the era of Field Marshal Ayub Khan, it was demolished by the mayor of Peshawar in one night and a cone-shaped minaret was built at the place of the beautiful memorial. The design of the minaret was never liked by the locals. After some time, it was transformed into its original design.
It gained the status of a political, religious, and social center in the last decade. A parking facility is provided to the citizens in the north-south of this memorial without changing the design of the memorial.
4- Meena Bazar
It is the best bazaar for females' stuff adjacent to the Memorial Chowk. Local and regional clothes, embroidery raw materials, and female stuff can be found there.
5- Clock Tower
It was built in 1900 as a memorial to the diamond's jubilee of Queen Victoria. And dedicated to British provincial governor Surcharge Cunningham. A Hindu contractor Lala Balmakand constructed it.
At that time, small bricks were used in Peshawar for construction. They were called Waziri Bricks. Lala constructor introduced the concept of large bricks. In this way, it was named "Bala ki Eint" (بالہ کی اینٹ). These bricks are still famous with this name.
Lala built this tower with large bricks and imported watches from London. This watch was called "Balo ka Gharyal". (بالو کا گھڑیال). It was working properly for one century. After that, it remained jammed. Its time was corrected its one century birthday in 2000. It is located on the road going to Gor Kathri and Sethi Mohalla.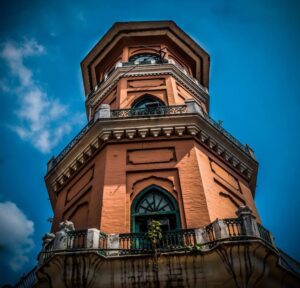 6- Sethi Mohalla
The people of Sethi Mohalla belonged to the profession of trade. Their business was spreading all around central Europe. Their lifestyle was like the royals because of the abundance of wealth. Their villas reflect their status. Their mansions are great masterpieces of architecture of the eighteenth and nineteenth centuries.
Doors, windows, rooms, and each corner of the mansions are designed by highly skilled craftsmen. There are models of Iranian, Gol Canda, Bukhara, and Kashmiri architecture. Some mansions are linked with each other by wood bridges.
The government has purchased one of the mansions and turned it into a museum to save the cultural heritage. The best way to reach this area is from Yadgar Chowk via Clock Tower. Tehsil Gor Kathri Museum is adjacent to Sethi Mohalla.
7- Tehsil Gor Kathri (Jahan Begum Inn)
It is located in the upper area of the city and an aerial view of the city can be taken from here. This is a sacred place for Hindus and Sikhs and is on a 50 feet high hill.
It is in the center of the city and stretches over an area of ninety canals (a unit of measurement). In this temple, the Hindus perform the rituals of the shaving head. The temple is still in good physical condition.
Greeks, Huns, Ghori, Suri, Mughals, Durrani, Sikhs, and the British people made this place their residence. In 1641, the daughter of Shah Jahan named Jahan Ara built a mosque and an inn. Passengers and traders used to stay there. 36 rooms of the total 49 rooms in the inn and the mosque still exist.
Later on, it was declared the tehsil headquarters of Peshawar. From then till now it is called Tehsil Gor Khatri. Two fire engines of merry vedar company were imported in 1919-1921 when the fire brigade office was established. These engines are still operating.
A city museum is established in 2006 and artifacts related to the rulers of Peshawar are exhibited there. Archaeological remains are present in underground buildings in the southeast area of Gor Kathri. These remains give a clue that Peshawar was existing in the fourth and sixth centuries before Christ.
8- Qissa Khawani Bazaar
Peshawar was once famous as the city of roses. The roses are not there now but their memorial is still in Qissa Khawani Bazaar. It is in the center of Peshawar and looks like the ancient streets of Baghdad.
In the past, the locals and passengers used to tell stories at the edge of the road by sitting at the big checkpoints. They used to enjoy Red Nan (tortilla), roasted meat, and Qahwa (a drink like black tea) during their meeting. As time has passed, those people are no more. But, Nan, meat, and Qahwa are there.
British high commissioner Herbert Edwards has called it the Pakadli of Central Asia. A memorial is built in remembrance of those killed in the 1930s by British troops firing on unarmed protesters.
The father of Indian actor Shah Rukh Khan belonged to Shah Wali Qattal of Qissa Khawani Bazaar. Nowadays, his uncle lives there. Raj Kapoor of the well-known Kapoor family of Bollywood also belonged to Peshawar.
9- Peepal Mandi
This wholesale market of clothes and grains is located in the Peepal Mandi. This peepal market has an old tree of Peepal. It is said that Mahatma Buddha used to worship here.
10- Qasim Ali Khan Mosque
This mosque was built by Qasim Ali Khan in the Mughal regime. He was the brother of Mahabat Khan. It was damaged in the flood. Haji Ghulam Samad Samdani renovated it. This mosque was constructed in 1846 in the center of Bazaar Masgaran and Dilgaran in Peshawar.
It was the time when Mughal Empire was in decline. The Britishers had occupied most of the areas of India. However, it can be said that this mosque was constructed in the Sikhs regime. But the art of architecture that became popular in the Mughal period was so strong and grand that the same architecture continued for centuries.
Later on, the front of the mosque was renovated. It has the status of "Dar-ul-Fatawa" for the people of Peshawar. The Muftis of Mufti Popalzai are performing the duties of Imamate and oratory from generation to generation.
11- Dilip Kumar House
Famous Indian actor Dilip Kumar belonged to Peshawar. His real name is Yousaf Khan. Yousaf Khan was shifted to India. The provincial government is planning to transform his house into an art gallery. Dilip Kumar visited his house in 1998 which is located in Mohalla Khudadad (Doma Gali) of Peshawar.
This 5 marla ( a unit to measure land) house is made of wood and has three floors. The ground floor is changed into an art gallery.
12- Namak Mandi
Namak Mandi has the same status in Peshawar as the Gawalmandi and food street of Lahore. This bazaar is in the center of Peshawar city and is famous for its high-quality food and recipes.
Mutton Karahi, Tikka Kebab, Chappal Kebab, and other various kinds of Barbecue. Charsi Tikka Kebab is also a good point. Besides this, many restaurants have been established on Ring Road, especially Hayatabad bypass.
There is the best setup with a contrast of traditional and modern environments. There are good restaurants on university road too. Shab Daig is a unique dish of Sheraz café. You will have to order one day before to taste this dish.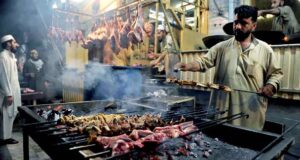 13- Food Streets &  Chapli Kebab
Chapli Kebab is the cultural dish of every region of the province KPK. In a special way, kebabs are prepared in large frying pans with a mixture of mince of cow and buffaloes, corn flour, onions, tomatoes, and a variety of spices. If food is not cooked in one's house, chapli kebabs are required from the bazaar.
Nisar Charsi Tikka, Lazeez Chawal House, Jalil Kebab House, and Afghan Sadaqat Juice Corner are some famous food points.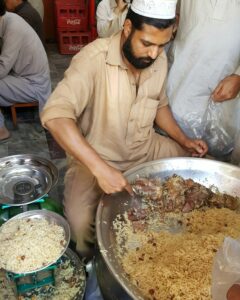 14- Shah Qubool James Street
It is located in Namak Mandi. You can buy valuable stones, rings, and other ornaments.
15- Nishtar Hall
A large beautiful hall is established near Peshawar high court for the literary and cultural programs. It is dedicated to Sardar Abdul Rab Nishter who was a great leader of the Pakistan Movement. He belonged to Peshawar.
He served as a Minister and governor of Punjab. He has buried in the basement of Quid-e-Azam tomb.
16- Peshawar Museum
This grand building was built in front of the government house in 1901. A vast hall was established in this building and named Victoria Memorial Hall. Foreign civil and army officers were used to staying here during official government celebrations.
It was utilized as a dining hall for some time. It was transformed into a museum in 1906. Dakrawall was named as the first curator. He served here for 21 days. Windows and ventilators were used as sources of light as there was no electricity. In 1927, it was given under the administration of the provincial government. It was extended in 1970-71.
Today, there are different galleries. Buddha life gallery, Islamic gallery, ethnological gallery, Quran gallery, and coin gallery. The most valuable asset of this gallery is the artifacts of the Kanshak family. They were discovered in 1908 and 1909 excavations.
They include pots, sculptures, stone items, greek, Sethin, Parthenon, Sassanid, and other traces of the Kushan period. Moreover, traces of Chander Gapat Moria and other Hindu rulers' eras, Hanuman shapes, and hunter's sculptures are there.
17- Gurdwara Bhai Juggan Shah
Sikh rulers constructed numerous buildings in the era from 1823 to 1848. Sikh worship places Gurdwara Bhai Juggan Shah is unique because of their architecture. This gurdwara is located near Asia gate.
18- Rehman Baba
It has been admitted with certainty that there is no cell or house of Pathans where Rehman Baba's poems are not recited. In these poems, Baba has expressed human emotions so well that every Pathan considers it as an expression of his emotions. His poems are so famous that they have now become proverbs.
His real name was Abdul Rehman. He was born in 1634 and belonged to Bahadur Kali which is six miles away from Peshawar. He was a literate person. He received formal education in Sufism and Fiqh. He never gave up worldliness.
He was fond of music. Therefore, his poetry has a touch of softness and sweetness. His words portray the complex concepts of Sufism in a very simpler and more beautiful manner. He usually remained in deep thoughts. Therefore, he never paid attention to the grammar in his verses.
The poetry that he used to send to his friends from time to time is all that is left. His poetry got so much fame but there are very few details about his life. He died in 1706 and his tomb is in Hazar Khawani.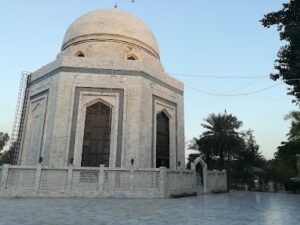 19- Karnal Sher Khan (Army Stadium)
There was a lake at this place before the park and stadium. This lake was changed into a pond. Gradually, the ground was dry. Military barracks were established there. There is a golf club too.
On 17th May 1990, a project for the construction of a park and a stadium was started. Mir Afzal Khan late inaugurated this project. A playland for children is established there near the vast green lawns.
Swings are there for the amusement of Children. Different festivals and exhibitions are organized in this oval-shaped museum. Army sports competitions are also held here. The celebration and exhibition every year on the 6th of September invigorates patriotism in the people.
This park is dedicated to Karnal Sher Khan Shaheed Nishan-e-Haider who sacrificed his life for the safety of the country. It is located on Khyber Road. Another, modern and beautiful playland is near Arbab Niaz Stadium.
20- Islamia College Peshawar
Islamia College Peshawar is an illuminating chapter of our freedom movement and we are proud of it. The foundation of the college was led by Sahibzada Abdul Qayum Khan in March 1912.
Its construction ushered in a new era of knowledge development in the province. It is the most ancient educational institute in Peshawar. Its building is quite exquisite and worth watching.
A mosque in the college has enhanced the beauty. There are gardens like the Mughal architecture style. The founder of Pakistan Quaid-e-Azam Muhammad Ali Jinnah and his sister Fatima Jinnah visited this college. Quid-e-Azam Muhammad Ali Jinnah bequeathed one-third of his estate to the college in his will.
A 1000 rupees note has its picture on it.
21- Sir Sahibzada Abdul Qayum Museum
A museum is established after the name of Sir Sahibzada Abdul Qayum at the University of Peshawar. This small museum has exceptional models of Gandara civilization.
Shopping
Meena Bazaar near Yadgar Chowk is a better option for female shopping. Embroided shoes can be purchased from Lara cobbler in the shoe market. Chitral Bazaar is famous for Chitrali cultural products. Foreign products can be purchased from Cantt Sadar and Karkhano markets.
Best Schools in Peshawar:
Peshawar Model School: This institution is renowned for its quality education and a wide range of extracurricular activities, providing a well-rounded learning experience for students.
Beaconhouse School System, Peshawar Campus: As part of the well-established Beaconhouse network, this school offers a strong academic curriculum and modern facilities.
F.G. Boys High School, Peshawar Cantt: This government school provides quality education to boys and has a long history of academic excellence.
F.G. Girls High School, Peshawar Cantt: The female counterpart to the boys' school, this institution offers education and support for girls in Peshawar.
Edwards College, Peshawar: Known for its historical significance, Edwards College provides higher education and a platform for intellectual growth.
Best Colleges and Universities in Peshawar:
University of Peshawar: This prestigious institution offers a wide range of academic programs, research opportunities, and is a hub for higher education in the region.
Khyber Medical University: Known for its medical programs, Khyber Medical University is a center of excellence in healthcare education and research.
Islamia College University: A historic institution, it provides a diverse range of undergraduate and postgraduate programs, contributing to the academic growth of the region.
Edwardes College, Peshawar: Beyond its school, Edwardes College also offers higher education programs and is a well-regarded institution in Peshawar.
Institute of Management Sciences (IMS), Peshawar: Known for its business and management programs, IMS is a popular choice for students pursuing careers in business.
Best Hospitals in Peshawar:
Lady Reading Hospital (LRH): LRH is one of the largest and most well-equipped public hospitals in Peshawar, offering a wide range of medical services and specialized departments.
Hayatabad Medical Complex: Known for its modern facilities and expert medical staff, this hospital provides high-quality healthcare services to the people of Peshawar.
Khyber Teaching Hospital: Affiliated with Khyber Medical University, this government-run hospital offers comprehensive medical services and specialized departments.
Northwest General Hospital & Research Centre: A private hospital with a strong reputation for healthcare, it offers a range of medical services and advanced technology.
Bacha Khan Medical Complex: Located in the heart of Peshawar, this medical complex provides healthcare services to the local population, including specialized care.
Best Restaurants in Peshawar:
Namak Mandi: Famous for its Peshawari cuisine, Namak Mandi is a must-visit for lovers of kebabs, karahi, and traditional Pashtun dishes.
Kabul Restaurant: Offering Afghan and Pashtun cuisine, Kabul Restaurant is known for its delicious pulao and mantu, a type of dumpling.
Charasi Tikka: A popular spot for grilled meat lovers, Charasi Tikka is known for its flavorful kebabs and tikka dishes.
PC Peshawar: Marhaba Restaurant: Located in the Pearl-Continental Hotel, this restaurant offers a diverse menu, including continental, Pakistani, and international dishes.
Mezban Restaurant: Known for its barbecue and traditional Pashtun dishes, Mezban is a favorite for those looking to savor local flavors.
Frequently Asked Questions (FAQs):
What is the historical significance of Peshawar?
Peshawar has a rich history, serving as a gateway to Central Asia and playing a crucial role in the region's trade and culture for centuries.
Are there any cultural attractions in Peshawar?
Yes, Peshawar boasts cultural treasures such as the Peshawar Museum, Mohabbat Khan Mosque, and Qissa Khwani Bazaar.
What is the climate like in Peshawar?
Peshawar experiences a hot desert climate with extremely hot summers and mild winters. It's important to consider the weather when planning your visit.
Are there any famous personalities associated with Peshawar?
Peshawar is the birthplace of Malala Yousafzai, the Nobel laureate and education activist, and has connections to various artists, writers, and political figures.
Wind Up Lines
Peshawar, the capital of Khyber Pakhtunkhwa, stands as a city with a rich tapestry of education, healthcare, and culinary delights. It's a hub of learning, with excellent schools, colleges, and universities catering to students' diverse needs. The city's healthcare infrastructure is top-notch, featuring prominent hospitals equipped to meet the medical requirements of the region. Peshawar's culinary scene is a treat for food enthusiasts, offering a wide range of local and international flavors.
As a city steeped in history and culture, Peshawar offers both residents and visitors a blend of tradition and modernity. Whether you're here to explore its educational institutions, seek quality healthcare, or savor its diverse cuisine, Peshawar has much to offer to those who come to experience its unique charm.