Khushab
The word Khuhab is a combination of two words Khush and Aab. It has the meaning of "sweet or pleasant water". It is enriched with green fertile lands, mountains, valleys, cascades, and lakes.
Moreover, its mountains have minerals like salt and Gypsum. The weather is very cool and calm in Summer and snowfalls at times in winter.
The heavy water and natural uranium research reactor project is there in Khushab.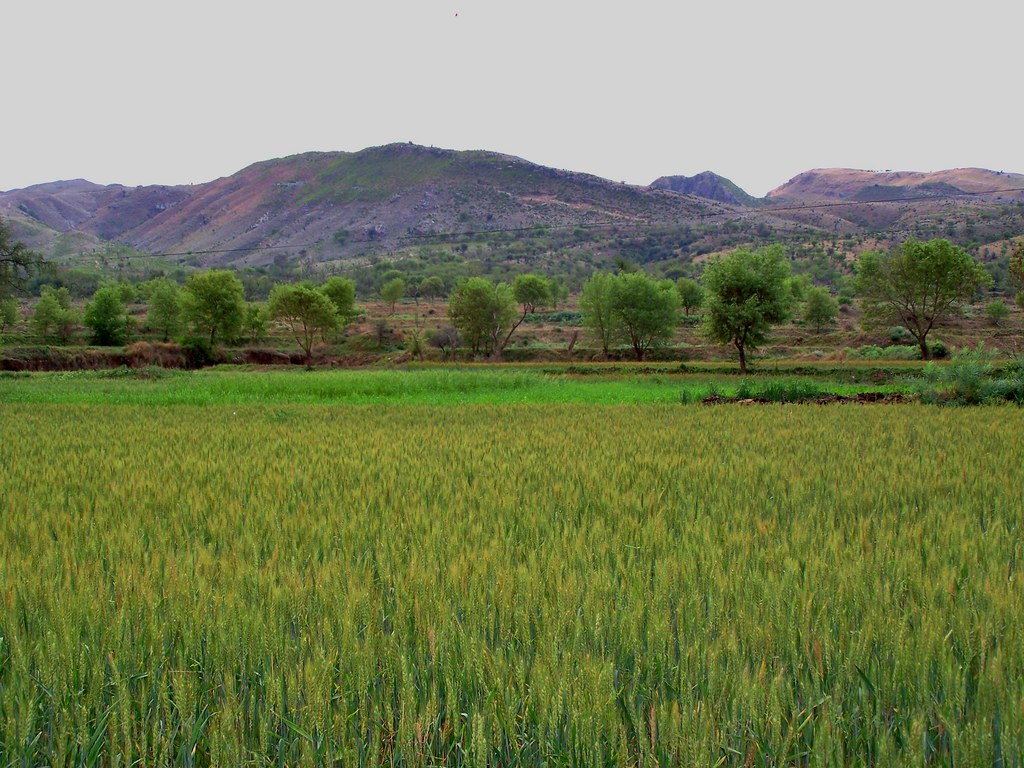 Khushab is the homeland of the famous writers Ahmad Nadeem Qasimi and  Abdul Qadir Hassan . Dhoda and Patessa (confectionery items) are the famous desserts of Khushab.
Parents of Saint Sultan Baho migrated to Shorkot from the town of Anga Soon valley.
Soon Valley, Khabeki lake, and Khadoomi waterfall in Kanhatti Garden are beautiful places to visit.
Key  information about Khushab
| Category | Information |
| --- | --- |
| Location | Khushab, Punjab, Pakistan |
| Population | Approximately 1,080,000 |
| Area | 6,520 square kilometers (2,517 sq mi) |
| Coordinates | 32.2967° N latitude, 72.3375° E longitude |
| District | Khushab District |
| Language | Punjabi, Urdu, and English |
| Economy | Agriculture, mining, and trade |
| Major Crops | Wheat, sugarcane, and cotton |
| Minerals | Salt, coal, gypsum, and limestone |
| Transportation | Well-connected to surrounding cities by road |
| Education | Schools, colleges, and the University of Sargodha, Khushab Campus |
| Healthcare | Hospitals and medical facilities |
| Notable Places | Soon Valley, Sakesar Hill, and Noorpur Thal Lake |
| Culture | Rich cultural heritage with traditional music, dance, and local cuisine |
| Administration | Khushab is divided into several Union Councils for local governance |
| Climate | Hot and arid, experiencing extreme temperatures in summer |
| Major Highways | M-2 Motorway, Khushab-Jauharabad Road, and others |
| Airport | The nearest airport is Faisalabad International Airport (about 160 km away) |
Famous Places in Khushab
Soon Valley – Worth A Visit
It is also called Soon Sakesar and is located in the northwest of Khushab on Bannu Road about 45 km from Sargodha.
The central point of this valley is the town of Nowshera. It starts from Pidhra village and ends at the highest peak of Salt Range Sakesar.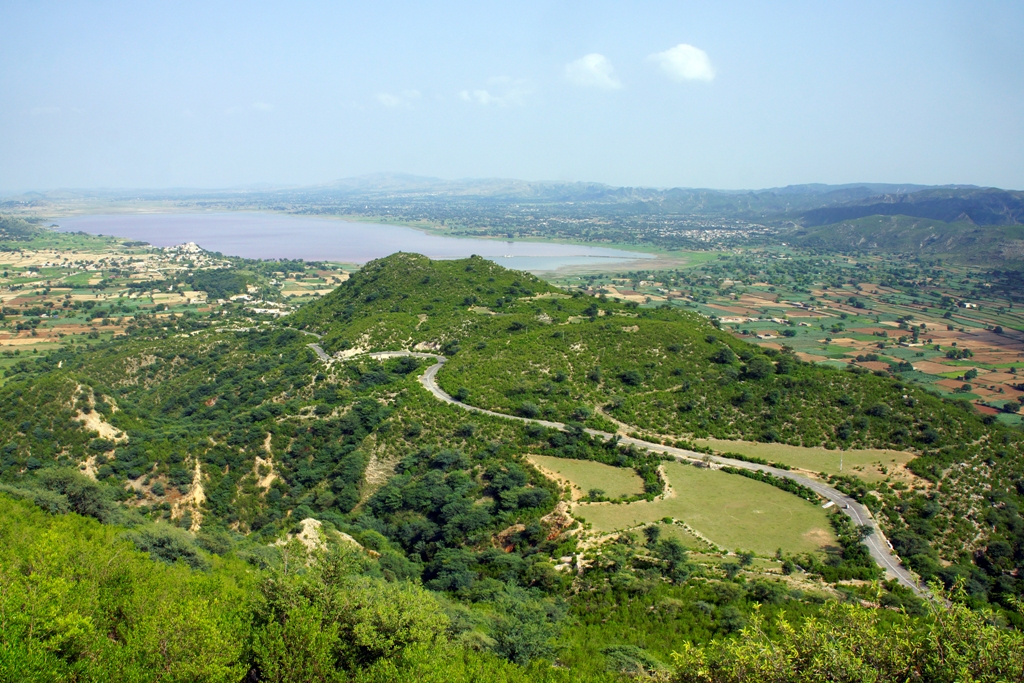 Sakesar is 5010 feet high from the sea level and it is the only place in that region where it snows occasionally in winter. This valley is about 56 km long and 14 km wide.
This beautiful valley has small and large lakes, waterfalls, natural water springs, and thick and lush green forests that attract tourists with their enchanting sights.
The waterfalls of Deep Sharif, Kafiri, and Sodi villages are spectacular. There is a rest house in Sodi Village. Some caves are discovered in this village. It is assumed that the people in the stone age lived there.
The breathtaking scenery on the way to Kanhnatti Garden can only be witnessed in Hollywood movies. In this garden, ponds, lakes, springs, and trees are loaded with hundreds of seasonal fruits awaiting you.
There is a camping site for a night's stay. You can see Kashmir hills in the southeast on the top of Sakesar mountain when the sky is clear or after rain.
It has Jhelum in the north, Indus River and Kohat hills in the west, Takht Suleman in the southwest, river Chenab in the far east, and Thal desert in the south.
This valley is 190 km from Islamabad and 110 km from Sargodha. Different places of Soon Valley can be visited through local buses from Khushab.
Uchali Lake, and Khabeki lake are two prominent captivating lakes.
Khabeki lake
Khabeki lake is 1 km wide and 2 km long. It is 7 km from Nowshera to Rawalpindi Road. A rest house boating and sailing facility are there is for tourists. It is said that both of these lakes are more than 400 years old.
In the winter season, thousands of Murgabi (Waterfowl birds) migrate there from far and wide. They went back in the summer season.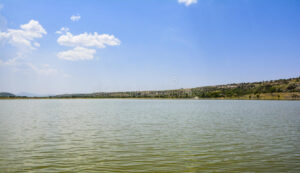 The clothes become neat and clean without detergents by washing them in this lake water. Its water is slightly acidic.
Schools and Colleges
Government High School, Khushab
Khushab College for Women
Khushab Medical College
Hospitals
District Headquarters Hospital Khushab
Civil Hospital Khushab
Khushab Medical Complex
Restaurants
Khayyam Hotel and Restaurant
Food Street Khushab
Al-Syed Restaurant
Frequently Asked Questions (FAQs) 
What is Khushab known for?
Khushab is known for its rich historical significance and natural beauty. It is famous for its salt mines, military presence, and being a hub of cultural heritage.
Where is Khushab located?
Khushab is a district located in the province of Punjab, Pakistan. It is situated in the north-western part of the province.
What are the famous spots in Khushab?
Some of the notable spots in Khushab include the Khushab Fort, Katas Raj Temples, and the Khushab Salt Mines.
What is Soon Sakesar Valley known for?
Soon Sakesar Valley is renowned for its stunning landscapes and is often referred to as a hidden gem. It offers picturesque views, lush greenery, and a serene environment.
How far is Soon Sakesar Valley from Khushab?
The distance between Khushab and Soon Sakesar Valley is approximately. The exact distance may vary depending on the route taken.
What activities can one enjoy in Soon Sakesar Valley?
Soon Sakesar Valley is an ideal destination for nature lovers and adventure enthusiasts. Visitors can enjoy hiking, trekking, and photography in the scenic surroundings.
Are there any accommodations available in Soon Sakesar Valley?
While Soon Sakesar Valley may not have an abundance of hotels, there are usually guesthouses or cottages available for accommodation. It's advisable to plan and book in advance.
Is there an entry fee to visit Soon Sakesar Valley?
Entry fees, if applicable, may vary and are subject to change. It's recommended to check with local authorities or information centers for the latest information on entry fees.
What is the best time to visit Soon Sakesar Valley?
The best time to visit Soon Sakesar Valley is typically during the spring and summer months when the weather is mild and the landscapes are lush and vibrant.
Are there any restrictions on photography in Soon Sakesar Valley?
Generally, photography is allowed in Soon Sakesar Valley. However, it's advisable to respect local guidelines and regulations, especially in sensitive areas.
Can I reach Soon Sakesar Valley by public transportation?
Public transportation options may be limited, and it's recommended to check for available transport services. Private transportation or hiring a local guide could be more convenient.
Is there mobile network coverage in Soon Sakesar Valley?
Mobile network coverage may vary, and some remote areas might have limited connectivity. It's advisable to check with your service provider for coverage details before visiting.
Wind Up Lines
Khushab and Soon Sakesar Valley beckon with a blend of historical charm and natural splendor. From the historic Khushab Fort to the enchanting landscapes of Soon Sakesar Valley, these destinations offer a unique experience for travelers.
Whether you seek cultural exploration, outdoor adventures, or simply a tranquil retreat, the rich tapestry of Khushab and the serene allure of Soon Sakesar Valley create an unforgettable journey. Plan your visit to immerse yourself in the beauty and heritage these destinations have to offer, and let the memories linger long after you've bid them farewell.