Islamabad
Islamabad is a beautiful modern city of Pakistan and a masterpiece of architecture. It is divided into different zones and areas. It is one of the modern capitals in the world.
It attained the rank of Gamma world city. According to an international survey report, it is included in the five world's most beautiful capitals.
A large number of beautiful green belts, fountains, gardens, parks, avenues, and shopping centers on its road's edges have made this unique from the others.
Islamabad which is 1663 feet high from sea level and the ancient city of Ghagras are located side by side. Therefore, they are called twin cities. Situated at the foot of river Kurang, Rawal dam, Margalah hills, and Rawalpindi, this city stretches about 906 square kilometers.
Queen of mountains and famous picnic point Muree is settled on one side and Taxila – the city that witnessed thousands of years old history is located on the other side.
Being the capital of Pakistan, it is the head office of all the government agencies and departments. The embassy of many countries in the world is established in Islamabad to represent their country.
Islamabad is the center of all government activities while Rawalpindi is the pivot point of industrial, trade, and military activities. Its weather is quite pleasant because of the three artificial dams named Rawal, samli, and Khanpur.
The internationally recognized institutes such as Allama Iqbal open university, Quid-e-Azam University, International Islamic University, and national university of science and technology (NUST) have increased their dignity.
Establishment of Islamabad
Former President of Pakistan Field Marshal Muhammad Ayub Ahmad Khan devised a plan to settle a new city Islamabad (this name was suggested by Qazi Abdul Rehman of Sahiwal) in the north of Rawalpindi on the bank of Potohar Plateau, in between the Margala hills and in the plains of Syed Pur and Noor Pur.
It is now the Capital of Pakistan. Maulana Ismail Zabih has written in his book that Quid-e-Azam selected Pind Malkan village in the suburbs of Islamabad to establish the Capital.
It is also the homeland of Lance Naik Muhammad Mehfooz Nishan-e-Haider.
In 1947, Karachi was selected as the Capital of Pakistan. But there was a chance of attack since it is on the edge of the Arabian sea. So, a site was designated that is accessible to all Pakistani and has a strong defense.
The Federal Capital Commission took a geological survey of different areas' locations, weather, weather changing patterns, logistics, and geological structure. They choose this place and gave a master plan near zero point in Shakarparain hills.
A detail is written on a podium in Shakarparian as a memorial that is still present there.
In October 1961, all the stages from the beginning to the end of the project are present in the form of pictures in the temple hall of Syedpur village.
The capital was not shifted from Karachi to Islamabad directly. Rather, it was shifted to Rawalpindi temporarily. After the completion of Islamabad, the capital was formally transferred to Islamabad.
Famous Places of Islamabad
1- Faisal Mosque

Faisal Mosque, is the identity of Islamabad, the largest mosque in Pakistan and in South Asia, and the sixth-largest mosque in the World.
From 1986 to 1993, it was the largest mosque in the world. But, the Hassan-II in Casablanca took the honor of the world's largest mosque after its completion.
The construction of this mosque is a gift from late Saudi monarch Prince Shah Faisal for Pakistanis. This mosque is named after him. (The Lyallpur is also named Faisalabad after his name). Completed with a huge cost of 50 million American dollars, it is declared the national mosque of Pakistan.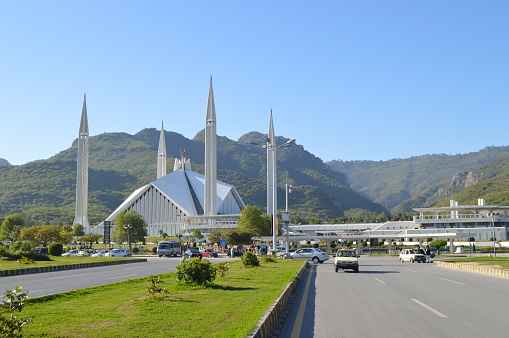 17 expert architects of the world gave 43 maps and designs for this mosque. After the observation and conversations for 4 days, the design from Turk Architect Vedat Dalokay was selected.
Its construction was started in 1975 and completed in 1986. There is a space for more than 3 lac worshippers. It is the third mosque after Masjid Haram and Masjid Nabi that has the largest capacity for worshippers.
This mosque has four minarets each with a height of 260 feet. And these minarets have the record of highest minarets in South Asia. The Chandelier of the central hall weighs 6.5 tons. This chandelier has 1000 bulbs.
An Islamic research center, a library, press center, lecture hall, museum, cafeteria, and the Sharia law department are located below the courtyard of the mosque on two floors.
2- Saidpur Village
This village is 400 to 500 years old. It is at foot of the lush green Margala hills range and enrich with many historical tales and traditions.
Hindus narrated that Ram Chand jee stayed in Syedpur. It is named after the name of Ghaghar chief Syed Khan who was the son of Sultan Sarang Khan. Mughal commander Raja Man Singh transformed it into a Hindu worship place.
CDA started a project with an initial investment of 400 million rupees and changed all the mosques, temples, and Gurdwaras into the old state. The streets, houses, and environment depict the lifestyle of the rural area.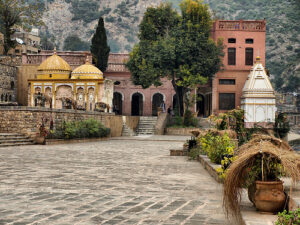 Modern restaurants have been set up in old-style houses. They are the source of attraction for visitors.
The incidents during the construction and renovation of Islamabad and Saidpur are exhibited in a hall to enhance the information of tourists.
Please visit the skilled pottery makers Rahim Dad Khan and Niaz Muhammad whenever you go to Saidpur. You will be surprised to see the train made of mud and other stuff.
On the zoo road, you will see the Saidpur village from a distance where a gate made of mud bricks will welcome you.
3- Daman-e-Koh
It is an enthralling place located in the north Margala mountain range. A spacious road will take you to the height of 7th Avenue.
You will reach Daman-e-Koh at a distance of 3 km from the zigzag road between the thick green trees. You will see monkeys dancing on your way to this place. Don't try to disturb them. You can reach the lobby via a small golf course car from the parking.
There are corridors in between the green lawns where you will see peacocks and other animals.
You can enjoy an aerial view of Islamabad from the terrace of the lobby and gallery.
British princess Lady Diana said on her visit to this place that it is one of the most fascinating sceneries she had ever seen in her life. There is a map of Islamabad on the other side of the terrace.
People can see the Rawal lake and Islamic university on the left side of the terrace. The scenery becomes more beautiful in the floods of lights at night.
There is a track for the adventurers. A pathway goes from the zoo to Daman-e-Koh at a height. Different shops and restaurants are there for refreshment. A PTDC restaurant staff is there for welcoming tourists.
4- Peer Sohawa
At a height of 5500 feet, it is the highest point in Islamabad. It is a part of district Haripur. But it looks like a part of Islamabad since it is close to Islamabad.
Before the establishment of the city, Peer Sohwa was the way to reach Haripur. The temperature here is even less than in Islamabad. Therefore, the holidaymakers come here for a picnic.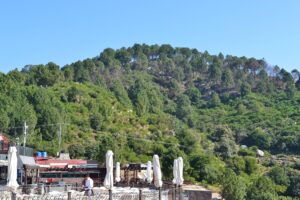 Since it is located at a height, it is sometimes surrounded by clouds. There is a restaurant named Monall completed in 2006. It compelled both national and international tourists for its charming views.
Peer Sohawa gives a clearer scenery of Islamabad than Shakar Parian and Daman Koh.
It will be a nice idea to stay here from evening till night.
5- Marghzar zoo
It is located at the foothills of Margala. Cheetah, deer, bear, peacocks, and many others are kept there. It is not too big but best for animal care and the environment.
Daman Koh and Peer Sohwa's ways start here. There is a Japanese-style park and playland adjacent to it. It is a gift from Japanese children to Pakistani children.
A display center of the Pakistan national museum of natural history is also there.
6- Blue Area
It is the center of trade, and shopping in Islamabad and is linked to the road going to important government departments.
This area is represented with blue color on the map of Islamabad. That's why it is called Blue Area.
A complex is under construction named The Centaurus with international investment. It is a hub of trade and will boost the economy.
7- Constitution Avenue
You can watch the beautiful buildings of Parliament house, president house, Supreme court of Pakistan, Pakistan broadcasting House, National Library of Pakistan, Foreign office, Auditor General of Pakistan, and Grand Hayat Islamabad via traveling this avenue.
8- Super Market and Jinnah Super Market
It is an expensive city as compared to the other cities in Pakistan. These two markets have branded shops where you can buy high-quality products, garments, jewelry, handicrafts, and rugs.
Besides, there are restaurants and food streets for refreshment.
9- Fatima Jinnah Park
It is also called F-9 park. It is named after the sister of Quid-e-Azam Mohtarma Fatima Jinnah in the acknowledgment of his services.
It is one of the largest parks in South Asia. Lakes, rock gardens, monuments, fountains, and aquariums are the source of its charms.
It was designed by Michael Jasper.
10- Sports complex and Aabpara Market
It is one of the oldest markets in Islamabad located near the Lal Mosque on Khayaban Soharwardi. It is dedicated to "Aab Para" who has the honor of being the firstborn in Islamabad.
The prices are a little bit low here. You will find everything for daily use there. The splendid building of Islamabad Sports Complex is on the other side of the Kashmir Highway. There is a Liaqat Gymnasium for indoors and a Jinnah Stadium for outdoor games.
11- Shakar Parian
It is located between Faizabad and zero point at a height of 1998 feet. The scenery of Islamabad and Rawalpindi is clear from this small hill.
The fountains terrace and park situated in the East and North part of Shakar Parian enhance the beauty of this place. People can easily watch and enjoy the Jinnah sports complex, Rawal lake, Margala, and Muree hills.
According to the tradition, the international ministers plant a sapling there that grows into a tree as a symbol of friendship. On 24th May, General Ayub Khan formally approved the master plan of Islamabad. A monument is also built there.
12- Lok Virsa /Folk heritage
It is one of the best cultural museums in Pakistan. It is also known as folk heritage. It is under the administration of the National Institute of Folk and Traditional Heritage.
Lok Virsa is the best source for becoming familiar with Pakistani foods, clothes, and lifestyles. The Lok Virsa fair is the largest cultural activity in Pakistan for the last 22 years.
Different actors, singers, and skilled craftsmen come here every year to show their talent. Furthermore, the different international delegation also participates in this fair. At this fair, the artists welcome guests by wearing their cultural dresses and signing their local music.
This fair portrays the lifestyle of all the provinces of Pakistan along with different zones. The celebrations continued for 10 days.
However, the museum remained open the whole year.
Its building has a display center related to embroidery, clothes, dresses, shawls, jewelry, wood, metalwork, block-printing, and ivory. Traditional architecture, marble, fresco, glasswork, and other models are displayed.
There is a library adjacent to Lok Virsa Museum. Different kinds of things are sold in souvenir shops. Moreover, these products are available in the Lok Virsa shop in Super Market.
13- Nargis Jheel (Lotus Lake)
A road on the right side near Lok Virsa goes to Lotus Lake. This small lake is crowded with flowers.
There are balconies for walking. You can enjoy the charming flowers with pleasant by walking in these galleries.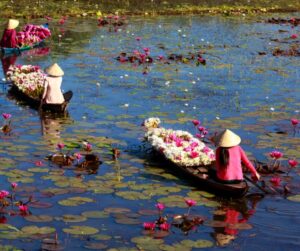 14- Rose and Jasmine Garden
Situated on Shakar Parain hills, it surrounds an area of 150 acres. About 250 kinds of roses and dozens of jasmine flowers are enhancing the beauty of this garden.
Many Flower Exhibitions are held by Government. You can enjoy a picnic at a nearby camping site. The weather is quite pleasant at the start of the summer and winter seasons. It is an adventure to travel to this garden in these times.
15- Pakistan's Monument
This project costs more than 850 million and started on 25th May 2004. It was opened to the Public after its completion on 23rd March 2007.
Pakistani Culture has been portrayed in this monument. Situated in the west of Shakar Parain, the design by Arif Masood was approved for this monument. Its map is like a blooming flower.
The large four petals represent four provinces and three small petals Fata, Gilgit Baltistan, and Azad Kashmir. The artists have worked 111,900 hours on these petals.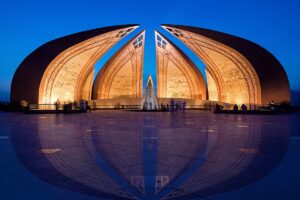 These petals have pictures of Badshahi mosque Lahore, Rohtas fort, Gwadar, Faisal Mosque, Quid-e-Azam, Fatima Jinnah, Minar-e-Pakistan, Shah Jahan Mosque, Karakorum highway, the shrine of Shah Rukh-ne-Alam, Shahi fort Lahore, Delta River Indus, Shalamar Gardens, the tomb of Uch Sharif, Islamia College Peshawar, Ziarat residency, Khyber Pass, and Polo match pictures.
It looks like the moon and star of the Pakistani flag from the top. The scenery of Rawalpindi and Islamabad looks beautiful since it is located at a height. The beauty of these twin cities is intensified by the floods of light at night.
16- Monument Museum
It is located inside the Pakistan Monument. It was inaugurated in September 2010. This museum contains deep information about Islamic History and the struggle of Muslims of the Subcontinent for a separate state.
17- Museum of Natural History
It is located on Garden Avenue. Different things related to human history, geology, and Pakistan's wildlife are places there. They are a source of attraction for children.
18- National Art Gallery
It is located on a small hill in front of the president's house and Parliament. It was opened to the public on 26th August 2007. A contest was organized in the country for the selection of its design.
The designs by Naeem Pasha and Sohail Abbasi got selected. Surrounded by an area of 1800 square feet, this gallery has four floors. These four floors have 14 galleries, a lecture hall, a theatre, and an auditorium with a capacity of 400 people.
19- Shrine of Imam Bari
The real name of the famous pious Sufi saint Hazrat Imam Bari was Shah Abdul Latif Kazmi. He is also called Imam-ul-Faqr. He was born to Syed Mehmood Shah in 1617 in Chakwal. His father shifted to Bagan (Aab para, Islamabad).
Hazrat Imam Bari traveled to Gor Ghasti (Attock) for gaining knowledge. He learned about Hadith, mathematics, medicine, and other subjects.
When he returned to Aab Para, this area was under the dacoits. This area was called Chor Pur. Those dacoits were impressed by his teaching and left robbery. The name of this area was changed to Noor Pur.
Mughal monarch Aurangzeb renovated his tomb. A wagon goes to his shrine from Aab Para.
20- Karwan Park 
This small park is a short distance from Shakar Parian. It is for foreigners only. Its purpose is to protect them and give them special care. This park provides foreigners with great facilities so they do not feel homesick.
21- Rawal Lake
This lake is the aged fellow of Islamabad. It is built on a large barrage for providing water facilities to the twin cities. The water from the river Korang and small streams of Margala hills mix into this lake.
It stretches at an area of 8.8 square kilometers and is located within the boundary of Margala Hills National Park. The surrounding of this lake is beautified with fruit trees and orchards.
It is transformed into the best picnic spot through the facilities of fishery and sailing. There is an Islamabad club on the west of this lake. They provide services for different sports.
A PTDC Jaltrang restaurant is there for tourists. Rawal Dam is located on the right side of Rawal chowk.
22- Lake View Park
This worth watching park of splendid landscapes, gardens, picnic spots, and galleries is constructed by CDA. This amusement park has a motorbike safari, roller coaster, and many other thrilling games for people of every age.
Staircase garden, sailing, and fishery facilities have made this park a crowded park. Different water sports contests are organized in the lake of the park.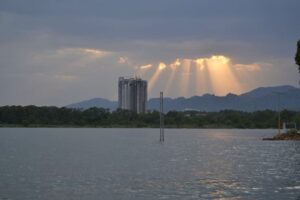 Islamabad Sports club also provides opportunities for different sports. The motion ride set up in this park is the largest motion ride in Pakistan.
This park is on Murree Road about three kilometers away from the Convention center.
23- Shahdara
This splendid and captivating spot is a favorite place for locals and foreigners. It has not been given special attention at the government level but it is the best picnic site for tourists.
Very few locals know about this place. It is located 8km away from Quid-e-Azam University. A way goes to Shahdara on the road directed to Muree near Bhara Kau.
24- Simly Dam
This lake and dam are located 30 km away from Islamabad. The water comes from the springs in the mountains of Murree. This water is used by the citizens of Islamabad.
There is a facility for sailing and fishery in the lake. There is a rest house of CDA. There are two ways to reach this Dam. One from the Lehtrar road and the other from Bhara Kau.
25- Railway Museum
This unique museum is in the southeast of Margala Hills in the E-11 sector of Islamabad and in the east of Taxila. It is 1994 feet high from sea level and located on the platform of Golra Sharif Railway station near the railway line going from Rawalpindi to Peshawar.
Constructed with small stones, it is built in Victorian architecture style. It is useful as a junction. The train going to Karachi, Peshawar, Rawalpindi to Multan through bisal, Jhung, Mianwali, Kundiya, and Layyah turn from this railway station.
This railway station was established in 1862, it is the only museum in the world that is located on the platform of a railway station.
Surrounded by thick green 130 years old banyan trees it is built to create awareness among the youth about the history and culture of railways.
The museum was established in 2001 by converting an inn into a museum. This railway station was built for the pilgrims who used to come to the shrine of Pir Mehar Ali Shah Golarvi.
There is a 115-year-old steam engine on the Nero gauge railway line. An old handling crane is also there. this 115-years-old engine was operational till 1990. It is still functional. A hand pump of 1901 is positioned here.
A 7MM gun used by a safety guard, kerosene oil lamps of different sizes, Ampere meters, pendulums, watches, gate signals, navigation stuff, crockery of railways offices, fans, weapons, railway emergency bogies, surgical instruments, historical pictures, piano and a time table of 1943 are exhibited in the museum.
At the time of separation, a train came from India with 500 passengers. The bogies of the train were locked from inside to keep the passengers safe within the boundary of India. Those historical keys of bogies are displayed in the museum.
An interesting fact is that there is a signboard of tea in five different languages. These languages are Urdu, English, Bengali, Devanagari, and Gurmukhi languages.
A local Suzuki van from Raja Bazaar Chowk Fowara to Goltra Sharif.
Wind Up Lines
Islamabad is one of the most beautiful cities in the South Asia region and the second most beautiful capital in the World. It is progressing city in terms of economy, tourism, technology, population, and urban development. It is under the administration of the Pakistan Federal Government. Besides this, its rich green areas and historical places make it a favorite place for holidaymakers.