Rawalpindi
The base camp of adventure
Gateway of Karakoram highway
It is commonly known as Pindi and is the fourth largest city in Pakistan.
It is the most important City on the Pothohar plateau and the twin city of the Federal Capital Islamabad. The Pakistan Army Headquater is also located here.
The original city of Rawalpindi is the old fort in the middle of the contemporary city. This fort is a splendid masterpiece of ancient architecture style.
It is of great importance as it is the central connecting location of Azad Kashmir, Khyber K.P.K, and Gilgit Baltistan.
Almost all the areas of Azad Kashmir, Murree, Galiyat, and Gilgit Baltistan are connected to Rawalpindi for trade.
It is the first station for tourists coming from all across Pakistan. It is connected to all areas of Pakistan through highways, railways, and airports. Therefore, there are transport and hotels for almost every class.
Foreign tourists on their arrival in Pakistan booked transport from Rawalpindi for the trip to northern areas according to their tour plan. The weather is pleasant here as it is close to Murree.
A brief history of Rawalpindi
River soan is the oldest river there. Its caves have the signs of the age of stones. These millions of years old archaeological signs have proved Punjab to be the first birthplace of humans in the world.
At the time of the attack of Alexander the Great, it was called Amanda. According to the Guinness Book of World Records, Rawalpindi, located near one of the oldest universities in the World Takshashila was settled in 1000 B.C. The Mughal regime called it "Sindh Sagar".
During the invasion of the Mughals, it was destroyed completely and deserted for a long time. At last, a chief Jhunday Khan Rawal of the Ghakhar tribe settled this city and named it "Rawalpindi".
In 1765, Sikhs seized this city. in 1849, the Britishers defeated them and included them in their government. In 1851, it was transformed into army Head Quarters.
In 1960, it become a temporary capital of Pakistan when Islamabad was under construction.
In the Suburbs of Rawalpindi
Stupa
Stupas are those tombs in which the remains of the follower of the Mahatma Buddha were buried. After the death of Mahatma Buddha, his remains were divided into 8 parts and buried in different places.
Maharaja Ashok dismantled all the burials and took off all the remains. He spread these remains in every corner of his empire and built a stupa at every remain.
I- Mankiala Stupa
It is narrated that this stupa belonged to 128-151 B.C. this stupa was established in the Kanishka era. It is said that the Mahatma Buddha sacrificed his body parts to fulfill the hunger of seven cubs.
In 1930 excavations, gold, copper, silver coins, and bronze boxes have been discovered. They are engraved in the Kharosthi language.
The largest stupa in this area is 32 km before Rawalpindi on the right side of Makayla village. Makayla village is 2km from G.T road. Stupa can be seen from G.T Road.
II- Rawat Fort
Rawat has a meaning of Inn. It was built by the brave Ghaghar chiefs of the Potohar plateau at the beginning of the 16th century.
It is located 8km away from Makayla on the G.T road. It was an Inn, built at the beginning of the 15th century for tourists, and government officials.
It is also dedicated to Masood the son of Mehmood Ghaznavid. The rebellious soldiers of his Army arrested him in this fort. And they killed him in the Giri fort near Taxila.
There are rooms and large doors in the east and north around the wall. There is a tomb, a mosque, and some graves surrounding the fort. This fort is located alongside the street of Rawat Bazaar.
III- Sawar Muhammad Hussain Shaheed (Nishan-e-Haider)
Muhammad Hussain Dhodak Peer Baksh (Gojar Khan) was born on 18th June 1948. Before his matriculation, he joined the army as a driver in an Armored core.
During the Indo-Pak war of 1971, his regiment was posted in Shaker Garh. He went into the enemy's battlefield with only one stun gun. He analyzed the enemy's checkpoint and told his colleagues.
Sawar Hussain destroyed 16 tanks alone. He created a disturbance on the frontline of the foe. He ran and pointed his comrades at the enemy's tanks and troops.
He was assisting one of his comrades when a bullet pierced his chest. In this way, he martyred while supporting his companions and safeguarding his country.
He was bestowed "Nishan-e-Haider", the highest military award. He was the first soldier recipient of this honorable reward.
Before this, it was given to officers only. His tomb is located in Dhodak Muhammad Hussain Janjoa which is 6km on the right side from Jatli and 23 km away from Chakwal Road.
IV- Captain Muhammad Sarwar Shaheed (Nishan-e-Haider)
He was born to constable Raja Muhammad Hayat on 10th November 1910. He did his matriculation from Layal Pur Faisalabad. In 1929, he joined the army as a soldier and got a commission in 1942.
He was promoted to captain rank at the time of the creation of Pakistan. In 1948, the foe captured a sensitive area of Kashmir and established a frontline there. The enemy wanted to move forward.
Captain Muhammad Sarwar's regiment was ordered to stop the enemy. When he reached the mountain top with his battalion, the enemy's troops bombarded his battalion with cannons and machine guns.
Muhammad Sarwar strongly defended his country and moved forward. He faced hurdles due to iron wires around the enemy's frontline.
During this, a bullet hit him and he couldn't survive. His comrades attacked the enemy and took revenge for their caption.
He was awarded Nishan-e-Haider in acknowledgment of his unparalleled services. He is the first caption to receive this honor.
He was buried inTilpatra. In 1971, the Tilpatra was in Pakistan's land. In the Indo-Pak war, India captured this area. Singhroi Sarwar Shaheed village is beyond mandra and Gojar Khan.
The memorial to this Shaheed is 2km from this village.
Famous Places in Rawalpindi City

1- Ayub National Park
Stretching an area of 2,300 acres it is one of the unique parks of its kind. As you enter the park, you will find carts, camels, and horse riders looking for you. They will travel you to the whole park.
There is a Jungle World amidst swathes of thick green meadows. It has a zoo, playland, snake house, and a reptile world.
A heritage house is established there focusing on the Muslim and Pakistani military history. Different sculptures, maps, pictures, and models in the museum reflect the golden and brilliant history of military achievements.
A Garden café, an open-air theatre, an aquarium, and a Japanese Garden hold glory. There is a lake with sailing facilities.
The pictures of the recipients of the Nishan-e-Haider are engraved on the rocks in front of the lake which is called ideal rock.
A jogging track and a Bara Darri are there for the people fond of walking.
A food street with a variety of continental foods, Jungle Barracks rest house, and Topirakh auditorium make it a worth-watching site.
2- Army Museum
It was established on 24th April 1962 and shifted to the present building in 1993. There is a sculpture of constable Khuda Dad Khan in uniform (the person who received the first-ever Victoria Cross in World War-I).
Tanks, cannons, helicopters, and cars used in different wars are exhibited in the courtyard of the museum. A centurion and Sherman tank of the enemies is also displayed.
There are two Cadillac cars, weapons, pictures, uniforms, and other rare pieces placed near the reception camp.
The artifacts are beautifully decorated in the Infantry Gallery, Nishan-e-Haider gallery, uniform gallery, general gallery, and armed and services gallery.
The sword of king Jahangir, a battle-ax of Ameer Khan, and the arrow and bow of Sultan Tipu Shaheed are worth notable artifacts.
You can also see the pictures of martyrs, uniforms, personal use things, letters, clothes, tributes, and rewards. There are also embossed pigeons and red flags presented by China on the inauguration of Resham Highway.
It is located on the highway going to Rawalpindi GHQ adjacent to the army central library.
3- Jinnah Park
It is a well-known park in Rawalpindi. It is close to jail road and MacDonalds and has a playground, fountains, green lawns, playlands, and a jogging track.
Besides this, DHA jungle park, Rumi Park, Shah Baloot Park, Racecourse, Nawaz sharif Park, Children Park, and Liaqat National Bhag are the beauty of Rawalpindi.
4- Pharwala Fort
It is located on Kahuta road, 40 km from Pindi in a semi-mountain range. It is surrounded by a small Himalaya range on one side and river Soan on the other side. So, it is naturally defended.
In 1002 A.D, its construction was started by Chief Ghaghar Shah and it was the first Islamic fort.
In 1012, Data Ali Hijvari R.A stayed here. In 1519, Mughal king Babur conquered this fort. After some time, he gave it back to Ghaghar. After that, Sikhs defeated them and captured the fort.
5- Tanaza Dam
It is located on Diamial road about 35km away in the southwest of Rawalpindi. It is a good place for a family trip.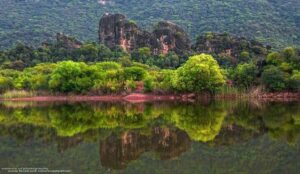 6- Misriot Dam
It is also located in the southwest of Rawalpindi at a distance of 12 km. There is a facility for sailing and fishery in the lake. A permission letter is required from the guard. The charming view of the lake will capture your heart.
 Shopping and Food Points
Raja Bazaar, Bara market, Sarafa Bazaar, Saddar Bazar, Mall Road Saddar, Muree Road, and Commercial market are big shopping sites.
You can buy the best hair oil from the shop of Hafiz Yaseen named Jamil perfume which was established in 1947 in Raja Bazaar.
Lasania Restaurant, Usmania Restaurant, Lavish restaurant, and Savor food are famous for their quality foods. Former Prime Minister of Pakistan Mian Muhammad Nawaz Sharif often visits Raja Bazar Dilbar Hotel.
You can also enjoy the taste of Haleem Ghar of Kohauti Bazar, Aziz Tikka from babu Bazar, and Bhabra's Nihari.
A food street is also established near the cricket stadium and Nawaz Sharif Park on Muree Road.
The branches of all good restaurants are there. It is the best place to enjoy food of different kinds.
Wind Up Lines
Maize, Barley, millet, and wheat are the main crops that are grown in the neighboring rural areas. It is also known for its oil refineries, brewery, cotton, and textile industries. It has gained popularity due to tourism, administrative, commercial, industrial, cultural, and educational activities.