Uch Sharif
Uch Sharif is a historical city at a distance of 75km from Bahawalpur.
It was situated at the junction of the river Chenab and the river Indus. Due to some reasons; this junction was shifted to 100 km away at the point of Mithan Kot.
It is assumed that the Great Alexander led its foundation in 325 B.C. In the 7th century A.D., it was under the dominion of Chach.
After a seven-day siege, Muhammad bin Qasim conquered it. Later on, in the Muslim era, it was an important center for the promotion of Islamic Teachings. Bulla Shah was also born in this two.
He Said,
اسیں اچے ساڈی ذات اچری اساں وچ وچ دے دس نے ہاں
In this city of beautiful mosques, there is a historic graveyard having the tombs of famous saints such as Bibi Jawindi, Jalal-ud-din Bukhari, and Bhao-ul Haleem. These shrines are masterpieces of Islamic art.
They are furnished with blue and white glazed tile work. No other buildings in Multan and Bahawalpur have such fine and high-quality work.
The tombs are square-shaped or domed-shaped. Bibi Jawindi's tomb is fully furnished with white and blue tiles. Jalal-ud-din Bhukari tomb's roof is painted with red and blue colors.
Bha-ul-Haleem's tomb is also decorated with white and blue tiles.
These buildings have been declared "World Heritage Site" by UNESCO.
People can travel to Uch Sharif through public transport which is 20km away from Ahmad Pur Sharqiyah.
Well of Baba Guru Nanak
About 100 yards from the tomb of Jalal-ud-din Surkh Posh, there is an old well (watering source). This water well has a pipal tree in it.
According to folk tales, Baba Guru Nanak used to meditate here. The administrator of this tomb Syed Zumurd Hussain Bukhari and a member of the provincial assembly Syed Iftikhar Hussian have many rarest sacred blessed things.
 Head Punjnad
Punjnad Headworks is in the suburbs of Bahawalpur at a distance of 20 km from Uch Sharif. It has three canals named Punjnad canal, Abbasia Canal, and Abbasia Link Canal. These Canals are used to irrigate Bahawalpur, its neighboring areas, and Rahim Yar Khan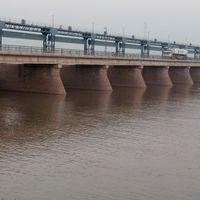 All the five rivers in Punjab confluence at this point and after that this combined river meets the Indus river at Mithan Kot. It is the best Picnic Spot for families and holidaymakers. A market is also there.