Rahim Yar Khan
Rahim Yar Khan (RYK) is considered a city of ancient heritage. It is the 17th largest city in  Pakistan by population. It plays a key role in the economy of Punjab and Pakistan through the production of cotton. The majority of people belonged to the occupation of agriculture.
Some Famous Historical Places
Bhong Mosque.
District Raheem Yar Khan is a well-known city for the production of a variety of mangoes, fertilizers companies, flour mills, and Sugar mills. It is important to mention here the first sign of Muslim sanctity, the Mosque.
Mosques have played a major role in the progression of Islam. Mosques are the reflection of Islamic traditions and architectural inheritance in every epoch. In 1932, Renowned personality Sardar Raees Ghazi Muhammad (late) led the foundation of Bhong Mosque in the boundary of his palace in Bhong town Tehsil Sadiq Abad, district Rahim Yar Khan.
In the design of the mosque, gold is used in calligraphy and art. He took the pieces of art from Lahore, Iran, Spain, and turkey and blended them with western fine art to build a splendid masterpiece.
In the construction of the mosque, Teak, Ivory, Marble, valuable stones, Glazed tiles, Fresco, glasswork, Gilded Tracery, ceramic, complex calligraphy, the latest artificial marbleized tiles, colorful cement tiles, and other arts were assorted.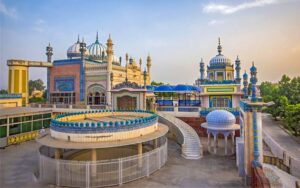 Islamic art is prominent in all parts of the mosque. This mosque was completed in fifty years. For this purpose, masons from Rajasthan India, craftsmen from Multan for glazed tile work, and calligraphers from Karachi were called. Workshops were established.
The skill was transferred from father to son and then to grandson. One thousand workers were trained during the groundwork of the mosque.
The entering door is a duplicate of Imam Raza (R.A)'s shrine door in Mashhad. A spacious garden with fountains like the Shalamar garden Lahore is there.
He was bestowed with the Sir Agha Khan award in Morocco in recognition of building such a high-profile mosque at the regional level. On 23rd March 2004, the President of Pakistan presented him "Sitara -e- Imtiaz" for his services.
Pakistan post issued the first stamp on 12th May 2004. It is 20 km from the Sadiq Abad. Tourists can visit this mosque by bus and wagon.
Rahim Yar Khan City
In 1751, Fazal Elahi Hilani established the city Nowshera on the remains of Phal Wada fort which is situated 25 km from Sadiqabad. Forth Nawab Sadiq Muhammad Khan, governor of Bahawalpur named this city "Rahim Yar Khan" after the name of his son from his second wife.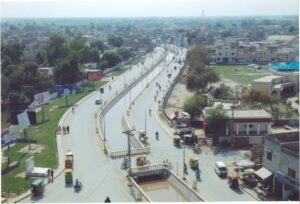 Next year, on 23rd February 1882 he died in a fireworks display. Its name was Nowshera in papers until 1932. Nowshera mines canal is still flowing in the city. Sheik Zaid Bin Sultan (United Arab Emirates) captivated the hearts of the people by playing a role in the prosperity and development of this city.
Patan Menara
Artifacts unearthed from the ruins of these desolate settlements on the east bank of the ancient Indus crossing reveal the fact that the area was no less important than the ancient cities of Harappa and Mohan Jodaro.
According to some historians, Mahatma Gautam Buddha established an educational institute there. Patan Menara was the Burj of this splendid building. There is a clue of many basements near the Burj.
The temple was built around 300 BC, according to Sanskrit inscriptions on the recovered bricks. Kernel Manchon excavated near Patan Menara. During this time a very strange thing came to light a very foul liquid substance came out of the earth on which huge ants were sitting. Whoever was bitten by this creature fell down and died in agony. Therefore, the excavation was immediately canceled. These ruins are spread over miles.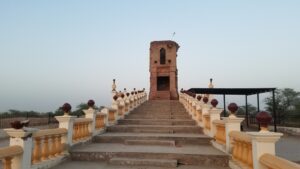 In the early 18th century, a big fair was organized there. There were two ponds in the Shiwateri fair. One was full of milk and one was full of water. In 1840, its administrator Sadho Baba Rata suicide by pressing himself in salt.
His devotees made a Mardi named Shiva temple. Here the worship of Shivling began. Childless Hindu women started coming here in droves to have children. Muslim women also started coming there. There arose a dispute and the temple was demolished. A mosque was constructed named Patan Menara. It is present to date.
This old memorable mosque of the Buddhism era is situated 10 km to the east of Rahim Yar Khan city. This mosque is located on a podium at a height of 26 feet and covers an area of 14 square feet.
From the present piece of the building, seeing the beautiful construction, one can be sure that it is a part of this magnificent building which is centuries old. Rahim Yar Khan is declared the twin city of Paris, Abu Dhabi, and Sydney.
Bhutta Wahan
It is situated 20 km away from Rahim Yar Khan city on the KLP road. It is said that this town was settled in Daher's era. It is supposed to be the birthplace of the famous romantic folk tale character Sassi.
Besides this, it is the hometown of the Mughal emperor Akbar's courtier and politician Abul Fazal and Scholar Faizi. According to Locals, if a female gives birth to a son in Bhutta Wahan he will have the traits of Abul Fazal, Faizi, and Sassi.
Moreover, it is the homeland of Mughal king Akbar's advisor Mulla Do Piaza. Located 3 miles from Zahir Pir to Khanpur Road near this Bhutta Wahan, the area of ​​Jajja Abbasia is famous for its high production of dates.
Wind Up Lines
Rahim Yar Khan holds significant importance both as a mysterious historical city and agricultural land. Bhong Mosque is a splendid piece of architecture. Patan Menara and Bhutta Wahan are famous places.