Nankana Sahib
(The City of Guru Nanak)
Guru Nanak (Founder of Sikh Religion)
Baba ji Guru Nanak was born on 21st November 1469 in Rai-Bhoi-Di-Talwandi Nankana Sahib. He was born to a mathematician family.
His father's name was Kalyan Das Ji and the alias was Kalu Ji. His cast was Khatri, tribe Badi, and his family profession was farming. He was not interested in Business. He learned Hindi, Sanskrit, and Persian.
On 12th September 1487, he married Mulchand's daughter Mata Salakhni of Gurdaspur. She gave birth to two sons. In 1497, he detached from the Worldliness and started tourism with three of his friends. He was a saint who was engaged in meditation.
He was a true believer in one God. He hated idolatry. He was against Racism. Baba Guru Nanak led the foundation of the Sikh religion and most of his teachings were in accordance with Islam.
According to his teachings, Allah is one. He is the Sole Creator of everything, Al-Mighty, and All-Knowing. We should worship only one Allah. The persons who find Allah are blessed with eternal life.
It is said that he went for Hajj two times. He was a great poet. He combined and collected the poetry of Baba Fareed Ganj Shahkar and Bhagat Kabeer.
His poetry and sayings are included in the religious book of Sikhs "Granth Sahib". in 1504, he settled a town near the river Ravi named it "Kartarpur". In his old age, he used to live in Kartarpur and died there.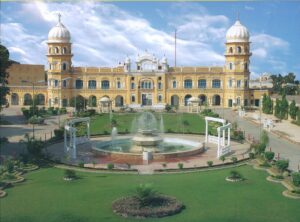 The Gurdwara Janam Asthan and Birthplace of Baba Guru Nanak
Baba Guru Nanak, the founder of the Sikh religion was born to mathematician Kalu Khatri in 1469 in the Talundi district of Punjab which is 16 km away from Faisalabad Road, 32 km from Sheikhupura.
He was against idolatry and discrimination. He believed in monotheism and believed in the oneness of one God. He had deep love and devotion toward Islam and Prophet Muhammad ﷺ. He had admired him (ﷺ, Peace be upon him) in many Janam Sakhis.
A beautiful building is constructed at his birthplace and the religious book of Sikh (Granth Sahib) is placed there. This place is called "Harmandir Sahib".
Muslims use the word "Sharif" with their sacred books and places, Hindus use "Shiri" with holy places, and Sikhs use the word "Sahib" with their religious books and sites.
The Gurdwara built at the birthplace of Baba Guru Nanak is "Gurdwara Janam Asthan". This area is transformed into a spacious building. There are seven Gurdwaras related to the early life and miracles of Baba Guru Nanak.
Their names are Hall ji, Sacha Suda, Tanbu Sahib, Panchiwi Badshahi, Nihanga, Bal Lela, and Janam Asthan. That's why Nankana Sahib is called the "City of Gurdwaras".
There is a big festival organized on the fourteenth day of the rising moon in the month of Baba's birthday in Nankana Sahib.
Sikhs walk around the city in procession, barefoot, with drummers, singing religious hymns with tongs. Fireworks are displayed at the end of the festival.