Sheikhupura
Famous for the production of rice, it is the sixteenth largest city in Pakistan. It is one of the oldest cities settled in the Mughal regime. Sheikhupura Fort and Hiran Minar are some famous historical places. It is famous for the production of rice.
Key information about Sheikhupura 
| Name | Information |
| --- | --- |
| Location | Punjab, Pakistan |
| Coordinates | 31.7131° N latitude, 73.9783° E longitude |
| Establishment | Historical city with roots dating back to the Mughal era |
| Area | Approximately 5,960 square kilometers |
| Population | Over 3 million |
| District Capital | Sheikhupura City |
| Languages | Punjabi, Urdu, English |
| Geography | Situated on the fertile plains of Punjab, rich agricultural land |
| Agriculture | Known for the cultivation of crops like wheat, sugarcane, and citrus fruits |
| Industries | Agriculture-based, with emerging sectors in manufacturing and textiles |
| Education | Hosts numerous schools, colleges, and a university campus |
| Transportation | Well-connected by road and rail networks |
| Historical Sites | Hiran Minar, Sheikhupura Fort, and various Mughal-era structures |
| Tourist Attractions | Qilla Sheikhupura, Sheikhupura Stadium, and local markets |
| Economy | Agriculture remains a key economic driver, with growing industrial sectors |
Famous Historical Places of Sheikupura
Sheikhupura Fort
In 1620, king Jahangir hunted in the royal hunting ground of Jahangir Abad (Hiran Menaar) on his return from Kashmir. He settled a village there after his name and built a building. He gave this building under the supervision of Sikander Sabin.
After the enthronement of Jahangir, this village was gifted to Sikander Sabin as Jagir (A jagir was a type of feudal land grant in South Asia bestowed by a monarch to a feudal superior in recognition of his administrative services).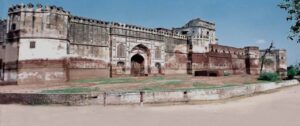 The king ordered to build a pond, Minaret, and a fort. After the death of Sikander, this Jagir was awarded to Iradat Khan and he completed the project. It was completed at a cost of 1.5 lacs. The building is dilapidated due to a lack of maintenance.
It surrounds an area of 65 Canals and has five floors. Small bricks are used in the construction of high walls. Beautiful paintings on its walls enhance its beauty.
You have to go to Sheikhupura, 37 km away from Lahore to visit this fort. From where the road leads to the fort on Shah Jamal Road on the left side from Saddar Chowk on Sargodha Road.
A memorial to animal's love / Hiran Menaar
Noor-Ud-Din Salim Jahangir, the son of Mughal monarch Jalal-ud-din Akbar was born on 20th September 1569. In 1605, he became King. He was fond of hunting. A special hunting ground was established in Sheikhupura for him. He used to come there for hunting very often.
One day, he saw a deer in the thick forest. He fell in love with the deer.  He ordered his servants to catch the deer. They did so and took it to the king. He loved this deer so much that he gave it the title of "Royal Deer" and named it Hassan Siraj.
Whenever he came here, this deer would be the center of his special attention. In this way, the love between a man and this animal continued to grow.
One day he went out hunting. He took Siraj Hassan with him. During the hunt, the deer came at his target and died in agony before his eyes.  He felt gloomy for the deer. To compensate for this loss, he ordered to build a beautiful minaret there and banned hunting.
This project was initiated under the supervision of Sikander Mueen. After that in 1620, Iradat Khan worked near this minaret. After the death of Jahangir, Shah Jahan built a pond near the minaret to make this place more beautiful.
A two-story building is built in the center and a special path ends at Bara Dari which is built in the center of the pond. This building is a model of classical Mughal Art.
This Hiran Minaret complex with a pond and a Bara Dari stretches at an area of 16 acres. This minaret has a height of 110 feet with 108 stairs. This minaret is in a round shape. Its diameter is 33 feet at the base and decreases gradually towards the top. Its diameter is reduced to 23 feet at the top.
Enjoy the swings in the park and sailing in the center of the lake. It is included in the UNESCO World Heritage Site. You have to go to Hafiz Abad Road which is 8 km away from Sheikhupura.
Waris Shah, The great Sufi Poet of Punjabi
The great Sufi poet of Punjabi language and writer of Heer's poem, Waris Shah was born in 1150 AH in Jandiala Sher Khan (a suburb of Sheikhupura). He got his early education from his father and went to Kasur and Pakpattan.
He came to Thatta after gaining inner grace and spirituality. He fell in love with Bhag Bhari and when the story of love spread around, he went to Malka Hanis. He wrote the story of Heer and Ranjha there.
In his poetry, he has summarized the love story of Heer Ranja along with injustice, cruelty, the political conditions culture and tradition of Punjab, lifestyle, industry, and agriculture.
According to folk tales, Waris Shah and Bulla Shah were class fellows and colleagues.
His tomb is located in a spacious garden that is 10 km away from Hiran Minaret and in Jandiala Sher Khan.
There is a library and a complex adjacent to the shrine. This tomb is the only one that is under the supervision of the Arts Council. Every year on the 15th of Sawan (5th month in the Hindu Calendar), the Jashen Heer Khawni competition is held.
Khushboo-e-Madinah Museum Farooq Abad
Haji Riaz Shahid (late) belonging to Farooq Abad, established a personal museum with a collection of Islamic blessed items. It is located on Sargodha Road 15 km away from Sheikhupura.
The holy hair of Hazrat Muhammad ﷺ, Hazrat Usman R.A, and Hazrat Bilal R.A., letters of Hazrat Muhammad ﷺ, the calligraphy of Sahaba (companions of Hazrat Muhammad ﷺ), valuable and holy items from Makkah and Madinah, models of Islamic sites, and many other things are exhibited in showcases in air-conditioned halls.
Islamic history is revealed with the help of pictures, charts, and maps. Photography, audiographer, and videography galleries are also established.
It is open in the evening for two hours. You can find out the timetable by contacting on 0300-4476786
Sacha Suda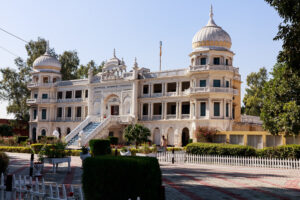 The old name of Farooq Abad was Chohar Khana. You can also visit Sacha Suda Gurdwara of Baba Guru Nanak which is 3 km from Khushboo-e-Madinah Museum.
Famous Schools 
Beaconhouse School System, Sheikhupura Campus
The Educators, Sheikhupura Campus
Government Comprehensive High School, Sheikhupura
Notable Colleges 
Government Postgraduate College Sheikhupura
Punjab College Sheikhupura
Superior College Sheikhupura
Prominent Hospitals 
Sheikhupura District Headquarters Hospital
Hameed Latif Hospital Sheikhupura
Social Security Hospital Sheikhupura
Popular Restaurants 
Al-Nakhal Restaurant
Butt Karahi House
Food Street Sheikhupura
Frequently Asked Questions (FAQs) 
What is the historical significance of Sheikhupura?
Sheikhupura has a rich historical heritage, with landmarks like Hiran Minar and Sheikhupura Fort reflecting its Mughal-era roots.
What role does agriculture play in Sheikhupura's economy?
Agriculture is a key economic driver in Sheikhupura, with the cultivation of crops like wheat, sugarcane, and citrus fruits contributing significantly.
Are there notable educational institutions in Sheikhupura?
Yes, Sheikhupura hosts various schools, colleges, and a university campus, fostering educational growth and development.
What are some famous visiting places in Sheikhupura?
Famous places include Hiran Minar, Sheikhupura Fort, local markets, and Sheikhupura Wildlife Park.
Tell me about healthcare facilities in Sheikhupura.
Sheikhupura provides healthcare services through hospitals like District Headquarters Hospital and Hameed Latif Hospital.
Are there transportation facilities in Sheikhupura?
Yes, Sheikhupura is well-connected by road and rail networks, facilitating easy transportation within the city and to neighboring regions.
What are the popular restaurants in Sheikhupura?
Al-Nakhal, Butt Karahi House, and Food Street Sheikhupura are popular dining spots offering a variety of local cuisines.
Is there a university in Sheikhupura?
Yes, Sheikhupura is home to the University of Sheikhupura and Sheikhupura Institute of Technology.
Tell me about Sheikhupura's cultural landmarks.
Cultural landmarks include Arts Council Sheikhupura and community centers that promote cultural activities and events.
How has Sheikhupura evolved economically in recent years?
While agriculture remains prominent, Sheikhupura has seen the emergence of industrial sectors, contributing to economic diversification.
Wind Up Lines
The city is enriched with historical landmarks. In addition to this, it is linked to urban cities through railways which means there are more chances of development in both agriculture and industrial sectors.