Famous Historical Places of Thatta
Thatta is an exceptional site that holds a splendid history in it. Bhambhore, Keenjhar lake, Shah Jahani mosque, Haleji lake, Shahjahani mosque, and Makli Graveyard are the assets of this area. The folk tale of Sassi Punnuah attracts the listeners and their place. UNESCO has ranked these places as "the World Heritage Sites".
1- Bhambhore
64 km east of Karachi and 38 km from Chaukhandi a sub road near Gharo 2 km south leads to Bhambore Archaeological Site. Bhambore was actually Debel seaport, where Great triumpher Muhammad Bin Qasim took down the armies. The excavation process of this Historic archaeological site began in 1956. After the completion of proper research, three different periods were confirmed here.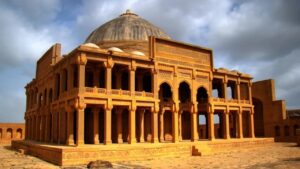 The era of the oldest inhabitants of this place goes from the first century B.C. to the second century A.D. Hindu and Buddhist people were the residents of this place from the second century A.D to the eighth century A.D. In the eighth century, Muslims came here and they used to live there till the 13th century. When the river Indus changed its path, the city was desolated slowly and gradually.
The houses were collapsed and became a heap of remnants. An archaeological museum and rest house are also located near these remnants. The weather becomes more pleasant here after rain.
2-Keti Bandar
After crossing Gharo, a road on the right side goes towards the south.  You will reach Kati Bandar after crossing " Ghumbad walay Qabrustan" (گنبد والا قبرستان) domed- graveyard.
At this stunning and unique place, you will always remember the worth-watching sight of the mixing of the Indus River into the sea.  But keep in mind that, you can only enjoy this sight from June to August. It is because, after these months, the water level drops and the Indus River water doesn't reach there.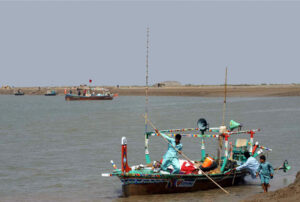 3-Sassi Punnuh Tale 
Besides, Bhutta Wahan Rahim Yar Khan, it was also the city of Sassi. A character of a famous romantic parable of Bhambore is remembered as "Sassi Punnuah". According to local folk tales, Sassi was born to a rich family. Jutish designed her horoscope and told her that she will fall in love with a Muslim guy at a young age. His parents did not want to be ashamed so they locked her in a box with money and jewels. They throw the box into the sea. An infertile and poor couple found that box. They were extremely happy as they were over the moon. She was named Sassi as she was too gorgeous. The chief of Bhambore awarded her for her beauty. And the revenue of area was given to the girl.
They brought up the girl with great care. She was an apple of her father's eye. She was drop-dead gorgeous. Her beauty was matchless in the area. A lot of proposals came but she rejected them. One day a Caravan of Makran stopped at the excise duty office. The leader of the Katch caravan had a son named Punnuh. Sassi and Punnuh met there and they fell in love at the first sight. At last, they married each other. But the separation of father and son was unbearable for the leader of Makran. He sent the brothers of Punnuh  Cheezay, Noti, and Dhoti to take the Punnuh back. They fainted with him and kidnapped him.
When the Sassi came to know about Punnuh, she went to Makran in search of Punnuh. The hurdles of the route had an adverse effect on her. On her way, a shepherd named Panwar met her.  He was attracted to her with an evil intention. She prayed and the Earth split into parts. She had gone under the Earth. When the shepherd realized his mistake, he made a grave of her.
On the way to Makran, when the Punnuh woke up, he quarreled with his brothers and moved towards Bhombore again. When he was on the track to Bhombore, he saw a new grave. He stopped there for a while. He saw the green scarf(dupatta) of Sassi there. The shepherd told him about the whole incident. He prayed for Sassi's closeness. The earth split for the second time and Punnah was also immersed into the sand. In this way, they became close to each other forever. (it's a folk tale. No one knows about its authenticity).
4-Haleji Lake ھا لیچی جھیل
It is 82 km from Karachi and 23 km from Bhombore, the route from Gojo goes Haleji lake. It is the biggest place for the birds to migrate to Asia (during winter season). In the early ages, it was a small lake.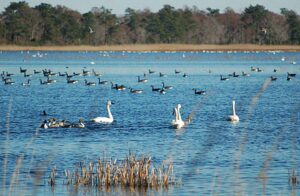 During the second world war-II, the British government emerged a canal from the river Indus and enlarged this lake. During the war, thousands of Americans and Britishers shifted to Karachi. The Haleji lake used to serve water for them. It was completed in 24 months. This place is a heaven for the birds' lovers. PTDC rest house is available for night stay.
5-Thatta City
Turning back from Highway and moving forward, you will reach the two thousand years old city of Sindh named Thatta. It is 100 km in the east of Karachi and 90 km away from Hyderabad. In the 14th century A.D., it was the center of Islamic art and the capital of Sindh.
Antique things have been discovered during the excavation in the surroundings of Thatta which belonged to the time before Christ. A lot of places and antiques of this historic place are declared as World Heritage by UNESCO.
In 1699, a British caption told in his office that Thatta is larger than London. The wooden art in the old homes of Thatta is worth watching. Buy the handmade printed clothes, glass bangles, Sindhi embroidery, decorations items, and handcrafts. These accessories are loved everywhere. Rabbri (ربڑی) eatable of this place is very renowned.
6-Shahjahani Mosque
Established in 1647, this mosque was built by Mughal Emperor Shah Jahan. It has an area of 6346 square yards and was Completed in almost three years. Nine lacs Shah Jahani rupees were used for its construction.
Its foundations are 12 to 15 feet deep and made from hilly rocks. Comprising of five doors, it has 94 pillars,6 large and 94 small domes. Its design has the unique ability to travel the sound of Azan without speakers. The air passage (flow) is such that no one feels suffocation. About twenty thousand people can offer prayer at one time.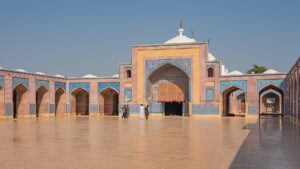 It is narrated that Shah Jahan had a dream one night. He was ordered to build a mosque from Allah subhanahu wa ta-ala. He built this grand mosque in a short duration. After being defeated by Sher Shah Suri, and moving towards Iran he stayed at this place to complete the mosque. He completed it with a well-known architect, Mir Abdullah. Blue glazed tiles were imported from Hala. They were mixed with red bricks before construction.
This Muslim architect of Crafty tile work is a supreme example of cultural heritage and traditional masterpiece. Since 1993, this mosque is temporarily included in the UNISCO world cultural heritage. Mosque Dubgheer near Shajahan is also prodigious.
7- Shah Jahan: 5th Mughal Emperor
Abul Muzaffar Shah-ub-din Muhammad Shah Jahan was born on 5th January 1592. Renowned as "Prince Khurrum" Shah Jahan became the King in Agra on 11 February 1628, after the demise of his father. He gave the title of "Mumtaz Mahal" to his wife Arjumand. His beloved wife died on 7th June 1631 during giving birth to a child.
Fond of art and architect, Shah Jahan built a splendid building in Agra in remembrance of his favorite wife named "Taj Mahal".  Its construction started in 1632 and was completed in 1647. According to some narrators, Ustad Amad Memar Lahori and another one says that ustad Esa Iranian architect completed its design.
Lal Qila Delhi, Jamiya Masjid, Shalimar Bhag Lahore, The Tomb of Jahangir, Masjid Wazir Khan, Shahi Masjid Thatta, and other numerous buildings are the example of Shah Jahan's great taste in art and architecture. In the reign of Shah Jahan, the Mughals sultanate had extended and stable.
In the war of power and authority, Aurangzaib overtook the Agra and jailed his father. He remained in prison for seven years.  On 23rd January 1666, Shah Jahan died in jail at the age of 74.
8-Tomb of Essa Khan Tarkhan
He built this tomb in his life and was died in 1644. After the completion of this tomb, he cut the hands of the skilled people so that no one can copy the design of the tomb. In addition to this, the tombs of Tughrul Baig, Jani Baig, and Dewan e Shurfa are magnificent pieces of architecture.
9- Makli Graveyard
Come back to high way from Haleji lake, at some distance, you will see the world's largest necropolis. Consisting of thousands of graves, it surrounds about 8 km. In these graves, about 120,000 scholars, Philosophers, saints, Kings, Queens, savants, and Generals are buried.
The specialty of these graves is their unique designs and eye-catching features. These designs are living examples of the culture, traditions, and versatility of that time. They are masterpieces of Iranian, Turks, and Sub-continent architecture. Shrine-typed buildings are also constructed on some cemeteries.  The structure of these buildings is quite strong and they are made of high-quality construction material. Complex and beautiful Qur'anic Ayahs are engraved on these graves.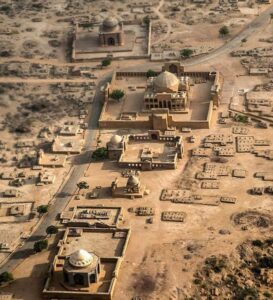 About one lac and eighty thousand tiles are used for the construction of one tomb. Every design is different from the other one. This burial ground is about 97 km from Karachi. According to the supervisor of this graveyard, Mai Makli's grave is located in the north part. That's why it is known as "Makli Graveyard."
10- Keenjhar Lake
It is an artificially created lake. This lake has facilities for Sailing and fishing. Therefore, it is considered the best picnic point. This lake connects the Sunehri lake ( Golden lake) and Keenjhar lake. It is located about 24 km from Thatta in the North. . PTDC hotel is established near the bank of the lake for a night's stay.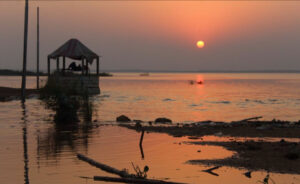 11- Shonda Graveyard
It is located on "Quomi Highway", about 36 km on the right from Thatta. The graves are similar to the Chaunkandi graveyard. Rather, the designs are more beautiful than Chaukandi Graveyard. Sindh highway rest house is also located here.
Wind Up Lines
The beauty of these historical places urges tourists to explore these world-famous sites. The keenjar lake, Haleji lake are the source of great attraction for holidaymakers. Since the Keenjhar lake is close to Karachi, families usually enjoy a one-day trip there.