Sindh Province
In terms of population, Sindh is considered the second largest province of Pakistan. Its total area is 141000 square kilometers. Its name is originated from the river Sindh
Sindh stretches from the Jacobabad district in the north to the vast Indus River delta wetlands abutting the Arabian Sea and India in the south, and from the thinly-populated Dadu district in the west to the Thar Desert and a militarized border with India to the east One-third of Pakistan's 650-mile Arabian Sea coastline is in Sindh.
The economy of Sindh chiefly depends on The River Indus. It is famous not only in Pakistan but all across Pakistan. In beginning, it is Abaseen, Attock in the middle, and the last part is known as Mehran.
Karachi being the provincial capital and central port has prospered a lot. That's why it is ranked as a "Metropolitan city". In addition to Karachi, Hyderabad, Sukkar, Larkana, Dadu, Khair pur, Desert Thar, Thatta and Badeen are also famous for their Tourist spots.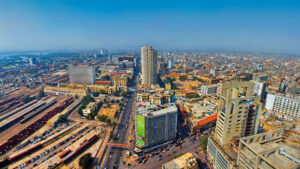 History of Sindh
Sindh takes its name from the Sindhu River, today known as the Indus. Pakistan's largest river, the Indus runs nearly 2,000 miles from its origin on the Tibetan Plateau to a 16,000-sq. mi. delta at the Arabian Sea near Karachi, modern Sindh's capital, major seaport, and Pakistan's business center. On its way, From Hazara to Gilgit Baltistan, it accrues the water of different stream lakes aquifers, and springs. Here at this point, besides the river, Kabul, The River Kurrum and Bolan from the western side also connected into it. In the Province Punjab, it mixes with the river Satluj, Bayas Ravi, Chenab, and Jhelum at the point of Punjnad.
In the province Sindh, its delta (wetlands that form as rivers empty their water and sediment into another body of water) surrounds almost 125 miles of the coastal area. While the area of its Delta is about three thousand square miles.
Evidence of an advanced urban civilization at Kot Diji, in central Sindh, dates to 3300 BCE and is considered the forerunner of the Indus Valley Civilization that flourished in the region for the next 2,000 years. Arab invaders brought Islam to the region during the 8th century CE, and the Sindhi language developed in Arabic's distinctive Nakshi script.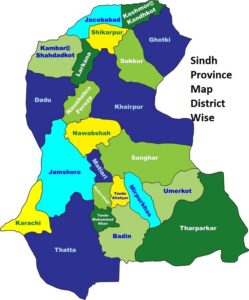 Mohenjo-Daro, Amri, Kot DG have been discovered in this three thousand years old historic place. From 1750 B.C to 5000 B.C, history is still mystified about the era. In 500 B.C, Iranian ruler King Dara-I conquered it. It was included in Iran. After two decades, The Great Alexander came here but moved on without occupying it. Later, Morya Khan ruled it and promoted Buddhism. A large population of Sindh started practicing Buddhism. Thenceforth, Pharteheen, Kashan, and hunn came there. About 40 km from Karachi, Archeology gave the signs of Setheen and Partheen culture in the southeast.
Much of the region came into the orbit of the Mughal Empire during the 17th century—Muslim emperors ruled first through the local Kalhora. From the third to the seventh century, Sindh was under Iranian rule. In 712 AD, Muhammad Bin Qasim introduced Islam to this area. in the tenth century, Muslim rule ended here. Subsequently, Mehmood Ghaznavi invaded and ruled it.
For some time, it was subjugated to Delhi's dominion. From 1783 A.D to 1843 A.D, Talpurs Commanded it.  Tughluq also influenced Sindh. After the declination of the Mughal sultanate, different Governors ruled its different parts, until two major British military victories in 1843, and Sindh's subsequent rule by the Bombay Presidency, an administrative division of British India.
In 1843, Sir Charles Napier defeated Talpurs near Hyderabad and encompassed Sindh to British India. It became to be a part of the province of Bombay. In 1943, British rulers made it a separate province, and Karachi was declared its Capital. When Pakistan came into being, Karachi became the first capital of Pakistan. Karachi was brought under the Federal Government Administration and, Therefore, Hyderabad was designated as the new Capital of Sindh. It remained the capital of Sindh during Talpurs' Reign.
In 1955, Sindh was integrated with Western Pakistan (one unit). On 1st January 1955, after the split of one unit, it became a complete province again. According to the Sindh government's official history, the British conquest was "inhumane," and "their supporters were Hindus," resulting in "a constant policy to subdue the Muslim majority and to lionize the Hindu minority in Sindh.
"Father of the Nation" Muhammad Ali Jinnah, who would become the first leader of an independent Pakistan, issued his famous Fourteen Points in 1929; these included a call for Sindh's separation from the Bombay Presidency. This was accomplished in 1936 when Sindh became a separate province with its own legislature. Many Sindhis were leading supporters of the "two-nation theory" that identified South Asia's Muslims as a distinct nation deserving of its own state, and the Sindh Assembly was the first in British India to endorse the 1940 Lahore Declaration calling for that independent Muslim state.
At independence in 1947, Pakistan comprised five major ethnolinguistic groups: Bengalis—an absolute majority of the original country's entire population in then-East Pakistan—and Punjabis, Sindhis, Pashtuns, and Baloch, each a majority within the four respective provinces of then-West Pakistan.
All five of these Muslim-majority communities had long self-identified as a distinct people or culture, and all experienced active secessionist or nationalist movements in the wake of independence. Each of these movements itself had vital transborder aspects, with Sindh's spanning eastward to India. These links grew primarily from more than one million, relatively wealthy, mostly Muslim, Urdu-speaking, "Mohajirs" who settled in major Sindhi urban centers such as Karachi Hyderabad, and Sukkur after migrating from central and southern India during the 1947 Partition.
Population of Sindh
Official government population statistics continue to be based on the most recent national census in 1998, which put Sindh's population at 30.4 million out of Pakistan's then-total 132 million, with 52% living in rural areas. Yet Pakistan's population has grown rapidly in the current century and is now at or near 200 million.
A provincial government department website reports a Sindh population of 44.2 million, but a 2012 press report citing government sources stated that Sindh's population increased by more than 80% from 1998-2011 to above 55 million. Other estimates reach as high as 60 million.  About one in four Pakistanis live in Sindh, and about one-third of Sindh's population lives in the Karachi metropolitan area.
According to current stats, Sindh with its 47.9 million population is the most urbanized and industrialized province of Pakistan.
The province is notably more urban than is Pakistan overall. Estimates show that about half of Sindh's residents live in urban areas, while only 33%-38% of the entire country's population live in rural areas. According to the CIA World Fact Book, about 14% of Pakistanis are ethnic Sindhis, and 12% speak Sindhi as their mother tongue. If correct, this indicates that about half of Sindh's population is comprised of ethnic Sindhis.
Decentralization and Separatism
Pakistan's 1971 bifurcation into two states left a "rump" (West) Pakistan dominated both politically and demographically by Punjabis but contained three other major ethnonationalism communities: Sindhis, Pashtuns, and Baloch.
Support for the two-state approach had always been tepid among these smaller groups—the overarching logic of South Asian Muslim unity did little to incorporate the region's narrower separatist and autonomist movements—and the success of Bengali separatism led national leaders to pursue a tough state-centric policy that sought to suppress ethno-lingual movements such as those of the Baloch, Mohajirs, and Sindhis.
Increased Punjabi dominance elicited considerable resentment among the country's ethnic minorities. Sindhi nationalism predated the loss of East Pakistan, beginning soon after 1947 independence with opposition to Punjabi settlers in rural areas and efforts to suppress the Sindhi language (Urdu was declared Pakistan's official language, thus empowering Urdu-speaking Mohajirs from India).
Many Sindhis also saw themselves acting in opposition to a "Mohajir-Punjabi nexus." Within four years of independence, the proportion of Sindhi-speakers in the province had dropped from 87% to 67%, and Sindhis became a minority in their own capital city, where about 57% were Mohajirs by the early 1950s.
The 1955 imposition of the "One-Unit" scheme, which had combined West Pakistan's four provinces into a single political unit, presented another grievance. Soon after, newly irrigated Sindhi land began being granted to retired military officers and bureaucrats (mostly Punjabis), in a practice that continues today.
By one account, up to 40% of Sindh's best farmland came to be owned by non-Sindhis. Moreover, Sindh, as the lower riparian of the Indus River, continues to have water disputes with Punjab, and Sindhis also found themselves significantly underrepresented in the powerful Pakistani military and civil bureaucracy.
In the 1970s, with Sindhi and Pakistan People's Party (PPP)-founder Z.A. Bhutto as Prime Minister, Sindhi nationalists sought to change laws so as to strengthen Sindhi identity and potentially lead to a separate or autonomous "Sindhudesh" ("Land of the Sindhis"). This movement was weakened by a mixture of concessions and suppression by the federal government.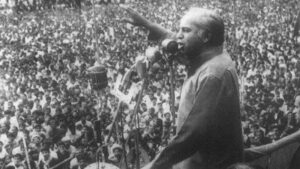 The PPP was a national, rather than Sindhi party, banned by General Zia ul-Haq after he took power in a 1977 military coup, and thus did not provide a vehicle for separatism. Although Sindh has always possessed most of the characteristics required for a viable independent state—and some nationalist sentiments persist to this day—its role as Punjab's conduit to the sea may well be the ultimate reason that successful Sindhi separatism faced long odds.
Sindh's Mohajirs had their own autonomist movement from the mid-1980s until the early 2000s. This was rooted in that community's loss of pre-eminence in provincial politics, bureaucracy, and industry, its lack of meaningful representation in the army, and its loss of identity following migration, among other factors. After the 1970 election elevated a Sindhi to the prime ministership, Mohajir student organizations began efforts to consolidate community identity, and in 1984 the Muttahida Quami Movement (MQM or United National Movement) political party was founded, one with an early "penchant for torture, kidnapping, and murder."
Political violence in Karachi grew to such a scale that, by the early-1990s, it had caught the attention of the army, which launched a crackdown that sent MQM leader Altaf Hussein into apparently permanent exile in London. Yet the party remains a major player in the province (and nationally) and has continued to be dominant in Karachi proper. Sindhi-Mohajir frictions remain unresolved, especially given widespread perceptions among Mohajirs that the provincial government is fundamentally unable to serve the needs of the Mohajir community.
Government and Politics
Sindh provides a core vote bank for the national PPP. Rural Sindhis tend to overwhelmingly support that party, and the city of Lakarna is the base of the powerful Bhutto dynasty (Z.A. Bhutto's daughter, Benazir, served twice as prime minister, from 1988-90 and again from 1993-1996; her widower, Asif Zardari, took the party reins after her 2009 assassination and ruled Pakistan as its president from 2008-2013; their 26- year-old son is now party chairman).
Meanwhile, the MQM plays a significant role in both national and provincial politics and has for decades dominated municipal governance in Karachi. Sindh sends 75 representatives to Pakistan's 342-seat National Assembly (NA), or 22% of the chamber's total.
The 2013 national election saw the PPP again account for a majority (55%) of Sindh's representation at the federal level, with 41 seats. The MQM won 23 seats (31% of Sindh's total), demonstrating that these two parties dominate provincial politics. Of the remaining 11 Sindhi seats in the NA, 8 are held by parties affiliated with the Pakistan Muslim League. The Lahore-based branch led by current and thrice Prime Minister Nawaz Sharif (PML-Nawaz) nearly swept Punjab in the 2013 elections and now enjoys an outright majority at the federal level.
The Provincial Assembly of Sindh houses 168 seats for the province's 28 administrative districts. At present, 92 (55%) of these are held by the PPP, providing that party with an absolute majority. Another 51 seats (30%) are held by the MQM, thus nearly perfectly reflecting the relative proportions found in the NA. The MQM leads an opposition alliance that includes the PML-N, which holds eight PA seats.
Total Sindh government expenditures for FY2013/14 were $5.75 billion, nearly 7% higher than total revenue (and up from a 2% deficit the previous year). By comparison, Punjab's provincial government spent $8.8 billion in the last fiscal year, and Baluchistan's spent $1.6 billion. Sindh's provincial government expenditure was nearly identical to that of the North Dakota state government's ($5.8 billion) in 2013, but for a population more than 50 times as large.
Sindh Chief Minister Syed Quam Ali Shah is also the provincial president of the Pakistan People's Party and holds a parliamentary seat from the north-central Sindhi city of Khairpur. He was trained as a lawyer and, having been born in the 1920s, is among the most senior of living PPP members. With the exception of a six-week hiatus for the 2013 national elections, he has served as provincial chief minister since April 2008. He also served a 14-month stint in the same office for the government of Prime Minister Benazir Bhutto, and as industries minister in the federal cabinet of her father and PPP founder, Prime Minister Z.A. Bhutto, during the 1970s.
At present, Shah's office comprises 24 cabinet ministers, 13 special assistants, 5 parliamentary secretaries, 4 coordinators, 3 advisers with portfolios, and a political secretary. Sindh Governor Ishratul Ebad, in an appointed office that represents and reports to the federal government in Islamabad, was seated in 2002, when he became the youngest-ever Sindhi governor at age 39. He began his political life as an MQM student activist during his training as a physician in Karachi and later held ministerial posts in the provincial government.
Upon the 1992 launch of the Pakistan Army's operations against the MQM (see below), Ebad sought and was granted political asylum in Britain, along with many other MQM leaders, party chief Altaf Hussein among them.
He reportedly remained close to Hussein until he was appointed to the governorship by then-Chief of Army Staff Pervez Musharraf, himself a Mohajir, who had declared himself President of Pakistan following a bloodless 1999 military coup (Musharraf's party had made a power-sharing arrangement with the MQM following 2002 national elections).
With the MQM chief remaining in apparently permanent exile overseas, Ebad has been able to amass considerable influence over the party apparatus during more than 12 years as governor, even as Pakistan's Constitution requires that governors are formally and officially nonpartisan.
Economy, Demographics, and Employment
According to the Sindh Board of Investment, provincial economic activity accounts for 33% of the national GDP with only 23% of the country's population. It also collects fully 70% of the country's income taxes and 62% of its sales taxes. Nearly half (45%) of Sindh's employed labor force is engaged in agricultural work. The poultry sector alone employs some 1.5 million people.
The province is home to 54% of the country's textile units and 45% of its sugar mills. Textiles are Pakistan's leading export, both globally and to the United States. Sindh also accounts for about half of Pakistan's total seafood exports, up to one-third of its rice, sugar cane, mango, and vegetable crop production, and 25% of its cotton. Granite and marble are major provincial mineral resources.
About 60% of Pakistan's oil fields and 44% of its gas fields are located in Sindh, and these contribute 56% of the nation's oil and 55% of its gas production. Sindh government sources also claim that Sindh is the site of one of the world's largest coal reserves of 185 billion tons, which would account for one-fifth of the world's total reserves. However, these claims are not supported by independent assessments, which generally find Pakistan as a whole possessing just above 2 billion tons of reserves, the vast majority of these in Sindh. At 5.0% in 2012-13, Sindh's official unemployment rate was fully 1.2% lower than the country's overall rate and also bucked a nationwide trend by decreasing slightly over the previous year. (see Table 1)
Unemployment Rate by Percentage: –
2010- 2011
2012-2013
Total                      Male                  Female
Total                     Male                  Female
Pakistan
6
5.1
8.9
6.2
5.4
9.0
Sindh
5.2
4.8
7.2
5
4.4
8.2
Table 1 source:  Pakistan Economic Survey
Sindh's primary school enrollment rate (for ages 5-9) was 52% in 2014, 5 points lower than the national rate and 10 points lower than Punjab's. Less than half of the province's girl children (48%) attend primary school. Female disadvantage also is illuminated in literacy rates: for ages 10 and above, Sindh's was 60% last year, the same as the national rate and only 2 points below Punjab's. However, Sindh's female literacy rate trailed Punjab's by 7 points (see Table 2).
Data also show that, while overall education rates among Sindh's urban residents track almost perfectly with those of urban Pakistan overall, the province's rural populace is notably less likely to ever enroll in school, 22% of Sindh's rural female population has ever attended school, as compared to 37% of rural Pakistani women overall (see Table 3).
Sindh, along with the Federally Administered Tribal Areas, has been singled out for faring poorly in official assessments of primary education performance, with one study finding less than one-third of its 5th-year students able to perform 3rd-year-level math and one-quarter able to read at the 2nd-year level.
More than one-third of the Sindh government's expenditures for the fiscal year ending March 2015 (38%) were devoted to "education affairs and services," up from 36% the previous year. In absolute terms, such spending increased by 21%, from $975 million to about $1.2 billion in the most recent fiscal year.
Table 2. Literacy Rate (10 years and above, by percentage)
Urban
Rural
Total
             Male         
Female
Total  
               Male                 
Female
Total   
Male
Female
Total
Pakistan
82
69
76
64
37
51
71
48
60
Sindh
84
70
77
59
22
42
72
47
60
Badin
62
38
51
47
17
33
50
21
36
Thatta
72
45
60
44
19
32
48
23
36
Table 3. Percent of Population That Has Ever Attended School
2012-2013
Urban
Rural
Total
             Male         
Female
Total  
               Male                 
Female
Total   
Male
Female
Total
Pakistan
84
70
77
66
39
53
72
50
61
Sindh
85
70
78
57
22
41
72
47
60
Badin
61
36
49
52
19
36
54
23
39
Thatta
68
48
59
46
19
33
49
23
37
Some statistics suggest that Sindhis' general health is slightly poorer than is Pakistan's overall (see Table
4). About 11% of the Sindh government's expenditures for the fiscal year ending March 2015 were
devoted to health services, down from 12% the previous year. In absolute terms, such spending was
essentially static, from $341 million to $347 million in the most recent fiscal year.
Table 4. Percentage Distribution of Population Under 5 Years Fallen Sick or Injured
| | | | |
| --- | --- | --- | --- |
| |              Male          | Female | Total   |
| Pakistan | 13.9 | 12.9 | 13.4 |
| Sindh | 15.8 | 14.4 | 15.1 |
| Badin | 20.4 | 18.9 | 19.7 |
| Thatta | 14 | 12.9 | 13.5 |
Conclusion: –
Sindh has a deep history. Sindh is one of Pakistan's four provinces, accounting for roughly one-quarter of the country's population in less than 18% of its land area. The vast majority of Sindh's residents live at or near the final few hundred miles of the river Indus's coastline.
It holds remarkable significance as Sindh valley from one of the ancient Human Civilizations. Sindh has lots of cultural and modern spots for tourists.  Ancient Monuments at Makli, Thatta, and  Archaeological Ruins of Moenjodaro are included in the World Heritage Sites by UNESCO.
According to current stats, Sindh with its 47.9 million population is the most urbanized and industrialized province of Pakistan. The macro survey revealed that Sindh has the highest GDP per capita in Pakistan, both in rural and urban areas. In brief, Sindh is the hub of Education, Economy, Culture, Tradition, and tourism.