Kalam
Kalam is at an altitude of 6,800 feet above sea level at a distance of 96km from Mingora. The river Utror and the river Ashoka merge into each other at this spot. This river gets the name river Swat beyond this site. Stay in Kalam and make a base camp there. And enjoy a day trip to upper valleys like Usho, Matiltan, Mahodand, Gabral, and Utror.
There are hotels, markets, and facilities of every kind. It is an ideal place for hiking, trekking, and Trout fishing. You will see many people enjoying sitting on cots alongside the river. The way to Kalam is open from April to November. After this season, it is difficult to reach Bahrain because of snow falling. However, some hotels are open during snowfall. The experienced drivers will take you to Kalam during snowfall.
The weather is cold here even in June and July.
Famous Tourist Sites in Kalam
1- Kalam Mosque
This mosque of Kalam is located on the bank of the river Swat. The Kalam village is beyond this mosque. The Kalam Jamiyah mosque is constructed from walnut wood. This mosque is established on giant girders. Designs are engraved on them according to Gandhara Art.
2- Bhoin (Aryani)
There is a spacious meadow above the Kalam hilltop across the river. You can reach there via jeep. It is an extremely beautiful area where the neighboring areas present a splendid sight. Two valleys are connected to each other. You can reach there almost two hours from Kalam.
3- Ushu
The road dived into two parts from Bantar point forward to Kalam. The left side has Utror (Atror) and Gabral. While the left side has Ushu valley at a height of 7300 feet above ocean level with a distance of 12km from Kalam.
This valley is furnished with lush green forests and ice-capped mountains. According to Muhammad Parvesh Shaheen, the region from Bantar to Mahodand is adorned like a bride. Ushu valley is about 40 miles long. The Ochar waterfall falling from an altitude of 1500 feet is very famous.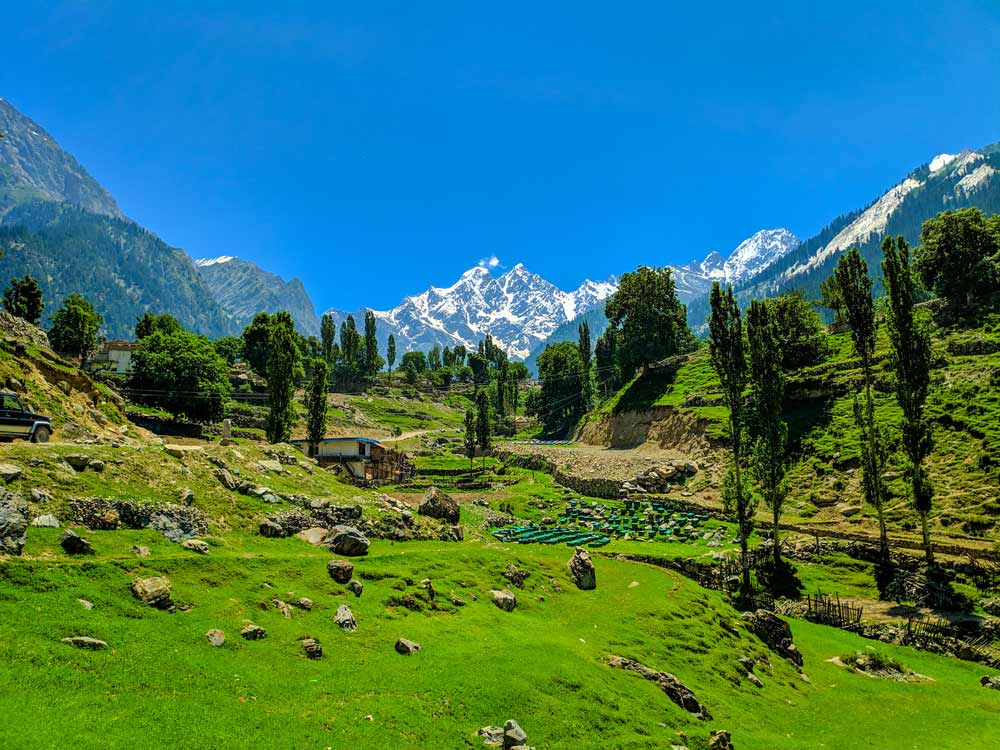 4- Matiltan
Matiltan is the headuqater or capital of Ushu valley and is 7km beyond Ushu. Matiltan is the name of white mud in the Kohistani language. This area is called Matiltan because of the white mud in this area. There is a beautiful waterfall at an altitude of 700 feet neat Mitlatan.
5- Chorat Gol
A wide valley in the south of Matiltan is named Chorat Gol. Its mountains are covered with snow. This valley is blessed with cascades, waterfalls, and mushrooms. It is the second-best choice of tourists after Miandam.
6- Glaciers
A large glacier is about 15km from Matiltan. It remains even in summer. It is a good choice for a picnic.
7- Mahodand Lake
This lake at a distance of 35km from Kalam is famous for its abundance of trout fish. This site will fascinate you with sky-high cliffs and lush green mountains. Its thrilling horse riding experience in the capacious plains is unforgettable.
Situated at a height of 9000 feet, it has dimensions of 3 miles in length and 2 miles in width. Stay in the camps in this part of heaven. You will always remember the boating adventure on this lake. Saif Ullah and Nasur Ulllah lakes are 1km and 2km respectively from Mahodand Lake. People can reach there via jeeps and bikes.
8- Neel Sar Lake
One day is required to reach this area which is at a distance of 10km from Mahodand Lake. The main reason for this is the rocky track and gradual elevation. A camping site is established near the lake for tourists. The travelers can stay in these camps for two to three days. Kachi Khani Top (Pass) is a few distances from this lake. You can reach Chitral Valley via this pass.
9- Pari (Fairy Lake) – Khanpiro Lake 1
There is a distance of about 10km by Jeep from Kalam to Utror (Atror). From here towards Anakhar site, Khanpiro Lake is located at a distance of 7km and 6 hours on foot. It is very important for the tourist who is eager to reach this lake to be steadfast and patient.
The tourists usually get upset by the difficulty and horror of the track. There are many waterfalls and cascades on the way to this lake. This lake with a triangle shape has crystal white water that comes from the nearby waterfalls. It is narrated that the fairies swim and dance in the full moon night. They sing and their voices can be heard in distant places.
10- Pari (Fairy Lake) – Khanpiro 2
It is located near the fairy lake Khanpiro 1. It is large and deeper than the other one. You will have to take a gas cylinder with you. The wood is not available here because of the vertical surface.
11- Utror (Atror)
Utror is 12km from Kalam at an altitude of 7300 feet. A grand mosque furnished with wood inscriptions is the identity of Utror. The ways to different valleys initiate from here.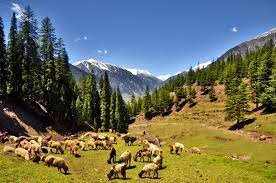 12- Kandol Lake
There is 1.5 hours drive from Kalam on the Utror road to reach Lado village. Kandol Lake is 3 hours away from Lado village on foot. It is in between Kalam and Upper Dir. The best track to reach this point is via Kalam. It is an ideal spot for people fond of camping and trekking.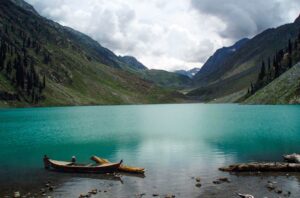 13- Spin Khwar Lake
This beautiful lake is hidden in the mountains in the north of Kondol Lake and in the east of Atror Valley. There are two ways to reach this lake. One is through Kandol and the other one is by Lado valley. The Lado valley track is easy while, the Kandol way is tiring and dangerous. Take the stuff of camping with you.
14- Gabral Valley
Gabral valley is 35km from Utror at an elevation of 2268 meters. You will start to believe why Swat is called the Switzerland of the East by visiting Gabral, Bela, Kashkan, bara, Mali Koh, Chota Jabba, Bara Jabba, Rangsi, Labri, and other beautiful sites. The water of the river Gabral coming from this charming valley is as cold as the water of Superior Lake America.
Wind Up Lines
Kalam is a serene place in Swat Valley. Its neighboring areas Mahodand Valley, Utror (Atror), Kandol, Maltiltan, Gabral Valley, glaciers, and trekking sites captivate the tourists, holidaymakers, and vacationers.