Malam Jabba
(Ski Resort)
On the way from Manglor towards Jahanabad, this captivating tourist spot is 50km from Mingora at an altitude of 9000 feet from ocean level. This region has two Buddha Stupa and six monasteries and the history of this area date back to 2000 years.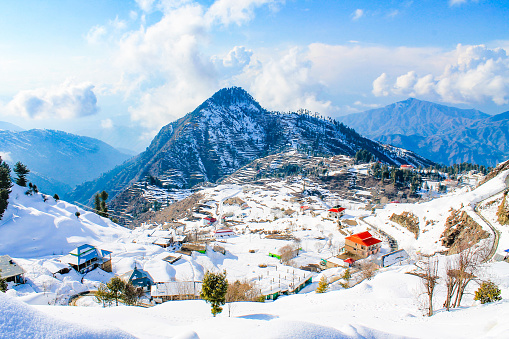 This site holds a unique status because of its height and snow falling. It is an ideal place for ice sports, especially ice skating. Annual ice sports competitions were organized there. Therefore, PTDC hotel was established. A chairlift was installed there too with the contribution of Austria. These two points were destroyed. Ice sports competition resumed in 2011.
The enchanting route from Mingora to Malam Jabba will urge you to stay. There are restaurants and hotels near the top.
Key information about Malam Jabba
| Name | Malam Jabba |
| --- | --- |
| Location | Swat Valley, Khyber Pakhtunkhwa, Pakistan |
| Elevation | Approximately 2,804 meters above sea level |
| Famous For | Skiing resort, lush green meadows, and scenic beauty |
| Skiing Season | December to February |
| Ski Facilities | Ski slopes, chair lifts, and equipment rental |
| Accommodation | Hotels and resorts with comfortable lodging options |
| Adventure Activities | Apart from skiing, options include hiking, trekking, and horse riding |
| Natural Beauty | Surrounded by picturesque landscapes, lush forests, and pristine mountain views |
| Accessibility | Accessible by road from Mingora, the largest city in Swat Valley |
| Local Cuisine | Traditional Pashtun dishes and local specialties |
| Nearby Attractions | Buddhist archaeological sites, Udegram, and scenic valleys |
| Safety | Malam Jabba and the surrounding areas in Swat Valley are considered safe for tourists. Always check the latest travel advisories before planning your visit. |
History
The Swat Valley, where Malam Jabba is located, has a rich historical heritage. It is believed that the region was inhabited by ancient civilizations and served as a significant trade route between the Indian subcontinent and Central Asia. Swat Valley, including Malam Jabba, was a center of Buddhist civilization during the Gandhara period. Many Buddhist monasteries, stupas, and relics have been discovered in the area, reflecting the region's Buddhist heritage.Malam Jabba gained prominence as a skiing resort in more recent times. The area's potential for winter sports was recognized, leading to the establishment of ski facilities and infrastructure.
Malam Jabba has become known for its ski slopes, chair lifts, and opportunities for skiing enthusiasts. It hosts skiing events and attracts both local and international visitors during the skiing season, which typically runs from December to February. Over the years, Malam Jabba has seen developments in terms of accommodations and adventure activities. Hotels and resorts have been established to cater to tourists looking to experience the region's natural beauty and outdoor adventures.
The region's natural beauty, with lush green meadows, dense forests, and pristine mountain views, has contributed to Malam Jabba's allure as a tourist destination.The local culture in and around Malam Jabba is influenced by the Pashtun heritage, and visitors can experience the warm hospitality and traditions of the local population.
Famous Tourist Spots in Malam Jabba
Shangla Top
The district Swat is linked to the district Shangla via the Resham Highway. Most of the tourists go to Abbottabad on the Resham Highway via Shangla Top Besham instead of returning to Malakand after visiting Swat. Or they travel to Mansehra, Balakot, Kaghan, Naran, Lalazar, Shogran, and Babusar from Besham.
Apart from Babusar, people from Mansehra also go to Garhi Habibullah, Muzaffarabad (Azad Kashmir), Abbottabad, Nathia Gali, Ayubia, and Murree. Reach Khwazakhela (Khawaja Khel) beyond Mangalore and Char Bagh.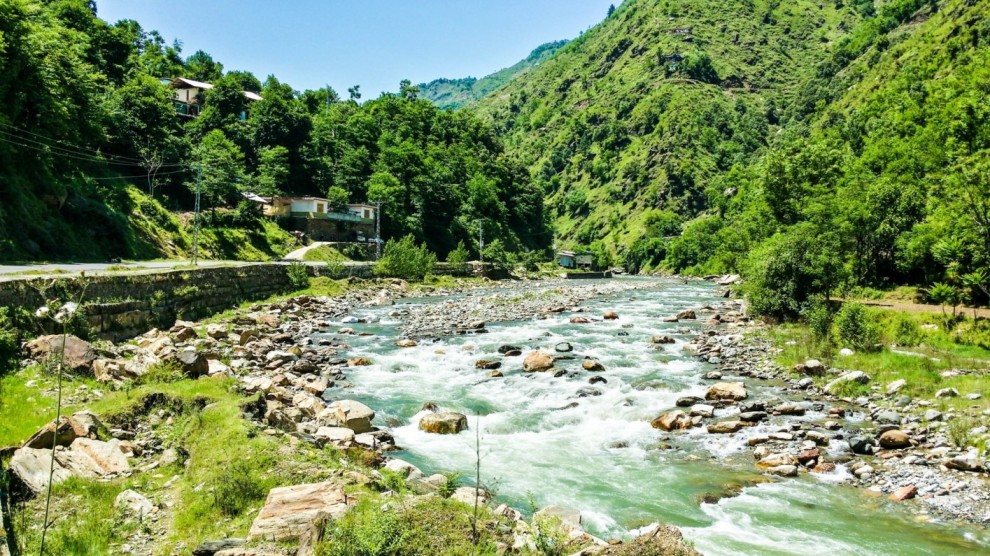 A straight road from here is directed to Madyan, Bahrain, Kalam, Gabral, Utror (Atror), and Mahodand. However, the second route in the east will take you to Shangla top to a height of seven thousand feet from sea level. Stay on the top for some time. Enjoy the sight and take pictures. This top gives a beautiful sight of the Malam Jabba.
There are three forest rest houses and some private hotels on the track from Khwazakhela to Besham. Then, the slop starts from here and ends at Alpuri.
Alpuri is the district headquarter of Shangla and a spectacular valley. The shrine of Sufi Pashtun Poet Ustad Hafiz Alpuri is located here. There are fewer sites for tourists in the Alpuri Valley. However, its suburb has natural springs, charming waterfalls, and woods spreading over miles.
You will always remember the journey to Porn and Martong from Alpuri which is 40 km.  There is a beautiful valley in the southeast of Alpuri which is called Lelonai. The road is divided into three routes beyond Alpuri near Karora.
Chakesar valley is surrounded by snowcapped mountains and woodlands at a distance of 30km from Karora. You can reach there via car. This road joins Shahpur, Damori, and Ajmer in the north near Karora and in the east, it joins the Resham Highway at Besham.
Shahpur is at a distance of 10km from Karora. Its old name is Dalai. Where houses with traditional architecture in the mountains along a beautiful stream look like rosary beads from the rosary. Olandar is a few kilometers forward to Damori. The surrounding mountains are covered with white snow. When the cold winds come from these mountains, even in hot weather, teeth start grinding from the cold.
There are hotels and restaurants in Olandar. Ajmer is a masterpiece of unveiled natural beauty a few kilometers away from Olandar. You will be mesmerized by the waterfalls, cascades, and streams of this valley. Bochi Dand lake is a few hours' walks away from Ajmer. Its blue water will freeze your hands. Let us return to Khwazakhela.
Miandam
The extremely beautiful, peaceful, and calm site of Miandam is 10km on the right side beyond Fatehpur and 14km from Khwazakhela. It is at an elevation of 6000 feet.
It resembles Murree and is renowned for its snowy mountains, flowing streams, and fruits. Besides, PTDC, there are hotels and life facilities of every kind. The sunlight barely reaches the PTDC since it is fenced by luxuriant and thick green mountains.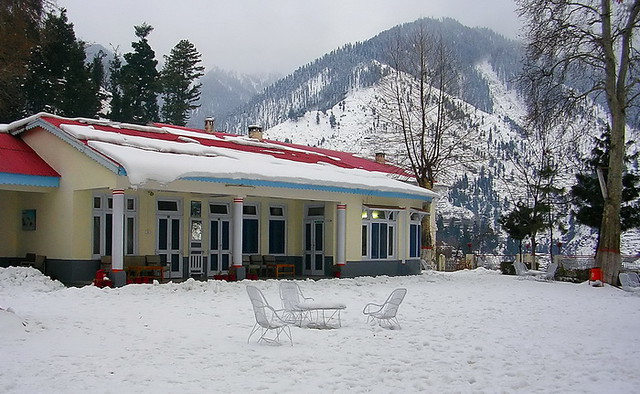 Madyan
Madyan is 56 km from Mingora at an elevation point of 4,335 feet from sea level. The river Bashigram confluences with the river Swat. Surrounded by mountains, the atmosphere in Madyan flickers at night in the small houses built on the mountains, so it feels as if stars have come from the sky.
It is a crowded area. There are bazaars, markets, and hotels of every kind. People can buy local jewelry, handicrafts, shawls, and other stuff from the market. Madyan has the Swat's largest trout farm. It has worth watching the mosque too.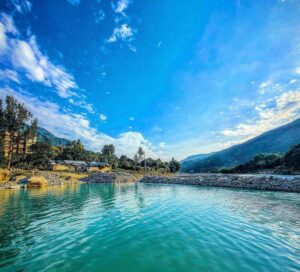 Cheel Valley
This beautiful valley is just a 15 minutes drive from Madyan. It is divided into two parts. The older Cheel and the new Cheel. Must visit the old Cheel to enjoy the natural beauty.
Tiret Valley
A track is directed to Tiret valley (also spelled as Terat) across the Ranzra Bridge at a distance of 4km from Madyan. The handicrafts and local industry are very famous. There are many archaeological traces of Buddhism in this valley. The Jamiyah mosque is a splendid piece of architecture.
Bashigram valley and Bashigram Lake
Bashigram is in the east of Madyan. The major area of this valley is covered with thick forests. A road on the right-hand side of the bazaar near the bus stand of Madyan goes along the river Bashigram and turns towards Bashigram valley.
At a distance of two kilometers from Madyan, the ascent begins with a bend in the shape of the English letter N. Transportation is available to Bai Bin. It is about a four-hour drive from Bai Bin to Bashi Gram along with the village of Mughal Mar, Shako, Bela, and Kas. Lake Bashi Gram is located at the foot of a hill some distance away from Mughal Mar.
According to locals, this lake is bigger and deeper than Lake Daral. Spreading over a vast area, it is fenced by ice-tipped mountains. It is a thrilling experience for hiking and adventure. This lake is 20km from Madyan. The use of honey is the Sunnah of our Holy Prophet (ﷺ). You can take honey as a gift from here.
Bahrain
The city of Bahrain is located at an altitude of 4,500 feet above ocean level at the confluence of the Daral and Swat rivers. It is 10km beyond Madyan. It is called the gateway of Swat Kohistan. Here the beautiful scene of the river Daral falling into the river Swat in the form of a waterfall is a charming and unforgettable sight.
There are hotels and the latest facilities of every kind. The wood mosques of this region are remarkable. The Earth's surface gradually rises from here.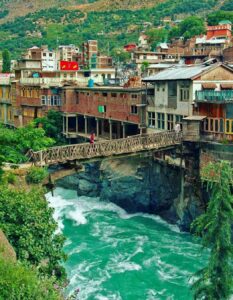 Aab Shar (waterfall)
A charming milky-colored waterfall is 2 miles from Bahrain in the Bajot area. You can reach there via Lagan village.
Panashi Lake and Shah Lake
These two beautiful lakes are at a distance of three hours from Gorni village by passing through Daroli, Khanko, Banda, and Bela. The ice chunks floats over Panashi Lake even in the month of August. Take some snacks and a guide with you to visit this valley. And stay in Bahrain at night.
Daral Lake
It is the largest lake in Swat. The river Daral of Bahrain rises from this lake. Daral lake is in the northeast of Saidgai Lake at a distance of three hours drive. Sholgara is located nearby. The tales of fairies and giants are common.
Saidgai Lake
It is situated in the mountain range of Hindukush. There are innumerable small and large lakes. The ways to reach this lake are Dir and Upper Swat. Sakhra Lal Koh (Upper Swat) is the best track to reach here. It is impossible to explain the beauty of this lake in words.
Mankial (Mankyal) Lake
Arrange a guide to Mankial Lake from the Mankyal site which is a few kilometers from Bahrain. There is a distance of 3 hours from Jeep and 4 hours by foot to reach Mankial Jabba and lake from Mankial. It seems like the river coming from the Malam Jabba top is irrigating the forest.
A hotel was built by PTDC at this site but it was burnt due to some unknown reasons. You will be mesmerized by the beauty of this whole valley. You can enjoy camping as there is no hotel to stay in. It is better to take food with you. This valley is so calm and clean since there is no tourism.
Chandsar Lake
This lake is toward Dobair forward to Mankyal.
Kolai
It is a comfortable place about 18km away from Bahrain. There is a rest house too at this site at a height of 5000 feet.
Godar Lake
This lake is before Kalam city and the earlier powerhouse. It is at a distance of 14 hours. It is better to reach this place with the help of a guide.
Famous food points in and around Malam Jabba
Local Dhabas: You can find small roadside dhabas (local eateries) in and around Malam Jabba serving traditional Pashtun dishes. These might include chapli kebabs, a delicious minced meat dish, and mantu, a type of dumpling typically served with yogurt and spices.
Hot Tea Stalls: Enjoy a hot cup of tea or chai from local tea stalls. Pakistani tea is often flavored with aromatic spices and herbs, providing a warm and comforting experience, especially during the cold winter months.
Resort Restaurants: Some of the hotels and resorts in Malam Jabba offer dining options with a variety of Pakistani and continental dishes. You can enjoy both local flavors and international cuisine in these establishments.
Local Bakeries: Look for local bakeries that offer freshly baked bread, pastries, and sweets. The bread, in particular, is known for its soft and fluffy texture, making it a great accompaniment to various dishes.
Street Vendors: In the nearby towns and markets, you might come across street vendors selling a range of local snacks and treats. Don't miss the opportunity to try some regional specialties.
Local Sweets: Savor local sweets and desserts, such as jalebi (a sweet, deep-fried dessert), barfi (sweet milk-based confection), and gulab jamun (fried milk balls soaked in sugar syrup), available at local sweet shops.
Frequently asked questions (FAQs) 
What is Malam Jabba famous for?
Malam Jabba is famous for being a picturesque hill station and a popular skiing destination in Pakistan. It's renowned for its lush green meadows, ski slopes, and stunning mountain views.
When is the best time to visit Malam Jabba?
The best time to visit Malam Jabba for skiing is during the winter season, from December to February. However, the region's pleasant weather makes it a year-round destination for nature lovers and hikers.
Are there ski facilities available for beginners at Malam Jabba?
Yes, Malam Jabba offers ski facilities suitable for both beginners and experienced skiers. There are ski slopes, chair lifts, and equipment rental options for visitors.
How can I reach Malam Jabba?
Malam Jabba is accessible by road from Mingora, the largest city in Swat Valley, Khyber Pakhtunkhwa. The journey by road offers stunning views of the Swat Valley.
What other outdoor activities can I enjoy in Malam Jabba?
Apart from skiing, visitors can enjoy activities like hiking, trekking, and horse riding in the scenic surroundings of Malam Jabba.
Is Malam Jabba safe for tourists?
Yes, Malam Jabba and the surrounding areas in Swat Valley are considered safe for tourists. However, it's always advisable to check the latest travel advisories before planning your visit.
What type of cuisine is available in Malam Jabba?
While Malam Jabba is not known for its culinary scene, you can find local dhabas (eateries) serving traditional Pashtun dishes like chapli kebabs and mantu. Some hotels and resorts also offer a range of Pakistani and continental cuisine.
Are there accommodations available in Malam Jabba?
Yes, there are hotels and resorts in and around Malam Jabba that provide comfortable lodging options for visitors.
Can I witness cultural traditions in Malam Jabba?
Yes, you can experience the warm Pashtun hospitality and local traditions in Malam Jabba, making it not just a scenic destination but a cultural experience as well.
Are special permits required to visit Malam Jabba?
Typically, no special permits are required for tourists to visit Malam Jabba. However, it's advisable to check local regulations and conditions before traveling.
Wind Up Lines
Malam Jabba stands as a hidden gem within the breathtaking landscapes of Swat Valley, Pakistan. Whether you're an avid skier seeking thrilling slopes or a nature enthusiast in pursuit of serene meadows and mountain vistas, this destination offers a perfect blend of adventure and tranquility. From its skiing facilities to the warmth of Pashtun culture, Malam Jabba promises an unforgettable experience for all who venture to its pristine hills. So, if you're looking for a place where the beauty of nature meets the thrill of winter sports, Malam Jabba is ready to welcome you with open arms, making it a must-visit destination for both local and international travelers.