Neelum
It is the largest district of Kashmir by area and the smallest district in terms of population. Athmuqam is the central headquarter which is 84km from Muzaffarabad.
Neelum valley is spreading over an area of 240km from Domel to Tao Butt on both sides of the river Neelum in the northeast of Muzaffarabad. The total area of neelum valley is 3621 square kilometers.
Its population is about 3 Lacs. There are deodar cedar, pine, and walnut evergreen forests on one side while sky-high and snow-capped mountains are positioned on the other side.
Cold and clear water springs, waterfalls, and streams with thrilling waves are there for refreshing your mood. Occupied Jammu Kashmir is at some locations of the river Neelum.
It is parallel to Kaghan valley. Elevated mountains covered with snow act as a boundary between these valleys. It is ideal for trekking.
Famous Tourist Spots in Neelum
1- Petka
Petka is the first tourist spot at a distance of 19km from Muzaffarabad. There are a few hotels and restaurants in a large market.
Mobile networks of all companies are available there. Beyond this point, only zong and local network scom facilities are available. There is an official guest house too.
2- Noseri
Neelum Jhelum hydro project, a splendid masterpiece of Pakistan-China friendship is under construction at the point of Noseri. It is 38 km from Muzaffarabad.
This project is capable of producing 968 megawatts of electricity by connecting the river Neelum to the River Jhelum through an underground tunnel.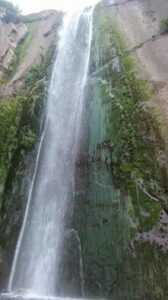 3- Challiana
Human's emotions are so deep here at this unique site situated on the shore of the river Neelum at a distance of 46 km from Muzaffarabad.
The line of control (LOC) between India and Pakistan has divided this small town into two parts. There is a crossing bridge for meetings of Kashmiri residents on both sides of the border.
Indian army, national flag, and cannons can be seen across the borderline. The relatives of the two towns cannot sit together. River Neelam is the hurdle between them. People of the two towns shout to talk to each other at the riverbank throughout the year.
Their voices are clearer during winter when the water flow is slow and less noisy. On the other side of the river, Tetawal village of occupied Jammu Kashmir is located.
It remained the Tehsil headquarters of Neelum valley at the time of United India. But now it is in the Indian Territory.
Leepa valley of Azad Kashmir is 12 km from here.
4- Ashkot
67km away from Muzaffarabad, this town is famous for rainforests on the left edge of river Neelum.
5- Kundul Shahi
Kundal Shahi town is 74km from Muzaffarabad where Jagran pond merges with the river Neelum. The hotel, bazaar, restaurant, and all the basic facilities are there.
Jagran valley is on the left side of Kundal Shahi. You can catch trout fish in the Jagran stream. But you have to take a license from Mahi Parwari Muzaffarabad.
Forward Jagran stream, there is a beautiful hilltop named Babwan top. Thaniyan peak is located nearby. You can reach Rani Lake from Thaniyan. It is a one-day long-distance walk. You can reach it earlier by riding on animals.
6- Kutton Waterfall
Azad Kashmir is full of waterfalls. But Neelum valley is well-known for them. And Kutton fall is the most famous one. It is above the Jagran stream.
It reminds me of Niagara Falls Canada. Beyond this, there are worth watching sites of Jagran valley. Kutton Waterfall and Jagran valley are 6km from kundal Shahi via road.
An underground stone-made hydro project of 324 megawatts is a unique piece of architecture by France and Swedish companies.
Mountain top "Raja Pogi" in front of Jagran is telling the interesting and beautiful folk take of Deomalai.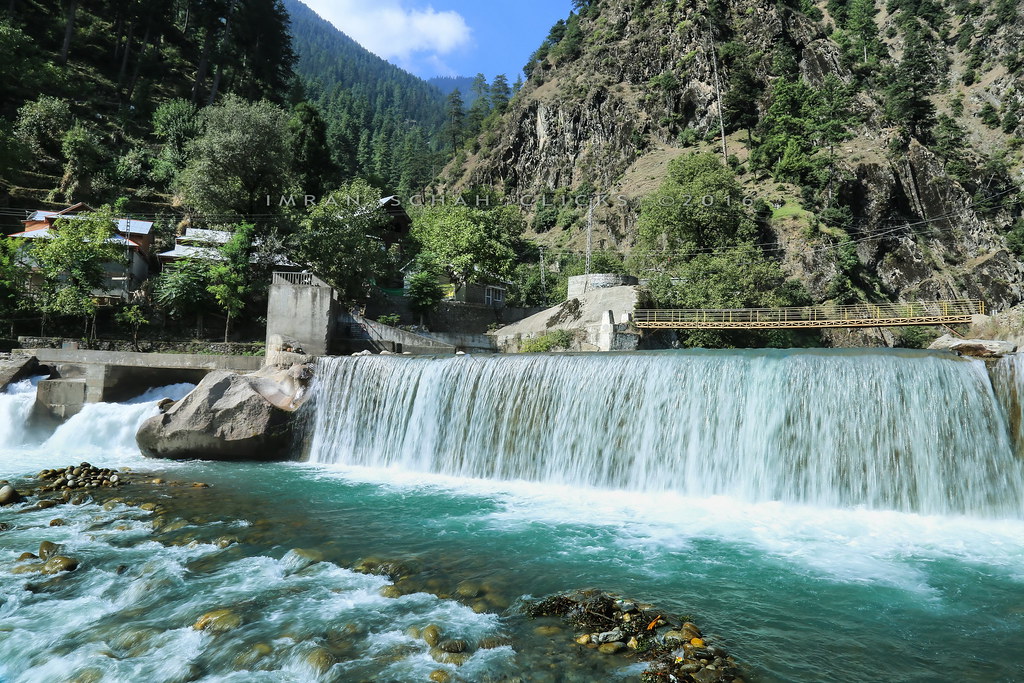 7- Salkhala
Salkhala is 5km forward from Kindle Shahi. There is an arrangement for fish growth by the fishery's department in this village.
8- Ath point or Athmuqam
The district headquarters of Neelum valley Ath is 5km from Salkhala. It is called Athmuqam by combining Atai and Muqam. 4500 feet high from sea level, it is famous for the fruit orchards.
It is the first staying point for hikers. There is a rest house and different facilities. Roads there are in good physical condition. It has the best jeep track. Hotel, markets and basic facilities are available there.
9-  Karen – Neelum
Karen town is on the bank of river Neelum at a distance of 12km from Athh point. It is at an altitude of 1524 meters from sea level. However, there is the Karen town of occupied Jammu Kashmir after crossing the river.
The people who resided on both sides of the river are in a blood relationship but they cannot meet each other. Here the Koshinage River is linked with the river Neelum.
You can enjoy the sweet sounds of river Neelum water and charming scenery of Karen-occupied Jammu Kashmir in the rest house located here. All the basic needs of life are accessible at this point.
 10- Upper Neelum
Upper Neelum is a beautiful point for lovers of hiking and tracking at a height of 2.5 km from Karen Neelum. The snow-capped mountains and forests of Kaling Malang, Dhodi, Shangar Laryan, and Ganja can be seen from the upper Neelum.
Below this point towards Karen, the twisting stream of Neelum valley will attract you. It is famous for apples and walnuts. All kinds of residential facilities are available there.
11- Lawat
Lawat pine stop is 100km from Muzaffarabad and 7km from Karen. You can reach Lawat in a 4×4 vehicle from Dawarian bypass which is at a distance of 1.5 hours by walk.
12-  Dowarian- Ratti Gali Lake
13 km beyond Neelum at a height of 5300 feet from sea level, Ratti Gali brook confluences with the river Neelum at the center of Dowarian. The rest house of the forestry department is on the peak of the mountain.
18 km from Dowarian towards Kaghan valley, the Ratti Gali Lake is located at 12,000 feet above ocean level. You can reach there only via 4×4 vehicle. However, a new road is under construction.
It is the most beautiful and largest lake in Azad Kashmir. It is also called the lake of fairies stretching at a length of 1.5km.
The men praise the art of nature by sighting the blue calm water, and lovely flowers. From this point, Ratti Gali's top is at a height of 14000 feet. You can reach Kaghan valley by walking a few hours from the other side of this top.
 13- Sharda
The noisy waves of river Neelum pass in a calm and quiet manner due to the wide area in Sharda which is at an elevation of 6500 feet from sea level and 30km beyond Dowarian.
Archaeological signs of the Buddhism era can be seen by crossing the river's bridge. According to some historians, there were great worship places and seminaries for Buddhist monks in Raja Ashok's regime.
Heavy stones weighing about 40 to 50 maunds are used for the construction of these worship places. Besides Buddhist religion, geography, logic, and philosophy were taught too. An old fort is located nearby.
There are facilities for sailing. Rest houses, Bazaar, hotels, and restaurants are there for holidaymakers. Sargan watercourse and the river Neelum confluence at Sharda. A track goes to Kaghan valley via Nori Nar Pas.
14- Kel
Kel is 19km from Sharda at an altitude of 6873 feet above sea level at the point where the river like a water channel Shunter convergences with the river Neelum. You can reach Chitta Katha lake through Shunter valley from this point.
Kel is an important trade center in northern Neelum valley. All basic services like hotels, bazaars, and restaurants are available.
Muzda Bus service is there from Muzaffarabad to Kel. It is better to reach Gurez valley beyond Kel by 4×4 jeep because of the rough road.
A beautiful lake has been formed in the northwest of Kel due to the flood of Shunter valley in the river Neelum. This lake is given the name "Gangaa Kashan".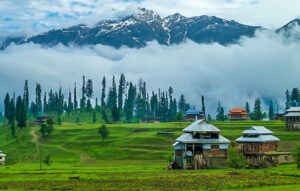 15- Arang Kel
Arang Kel is across the river on the right hand where one has to climb continuously for one hour. A chairlift can also take you to Arang Kel from Kel. It is easier to reach there via chairlift.
Thousands of flowers spread far and wide in the lush region, a masterpiece of nature's craftsmanship, make one think of divinity. For moving forward, horses and mules are there for travelers.
There is a rest house and private hotel too with all kinds of facilities.
16- Noori Top
Two ways from the thick green forests around Sargan brook in Kel are directed to Noori top and Ratti Gali. At the Noori Top, cold wind blow in the noon in the months of June and July.
After reaching the top, the height from the sea level becomes more than 14,000 feet. You will be astonished by the beauty of this top.
At a long distance below, the lush forests of Kashmir are shaded. In the twinkling of an eye, a flock of black clouds will suddenly appear and the Kel forests below will disappear in the fog. And light clouds will float around you.
It will be a nice idea to stay a night in a rest house on the top to enjoy this foggy charming sight.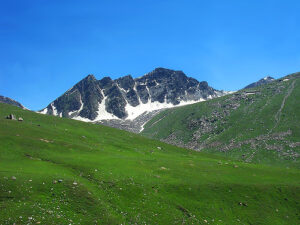 17- Chitta Katha Lake
It is a mesmerizing lake of Neelum. It is at 2 hours jeep drive from Kel. The Jeep will drop you at Chitta Katha village. A walkway goes to Upper Domel. You can enjoy tea if you feel tired. A restaurant is there for quality food and a hotel for a stay.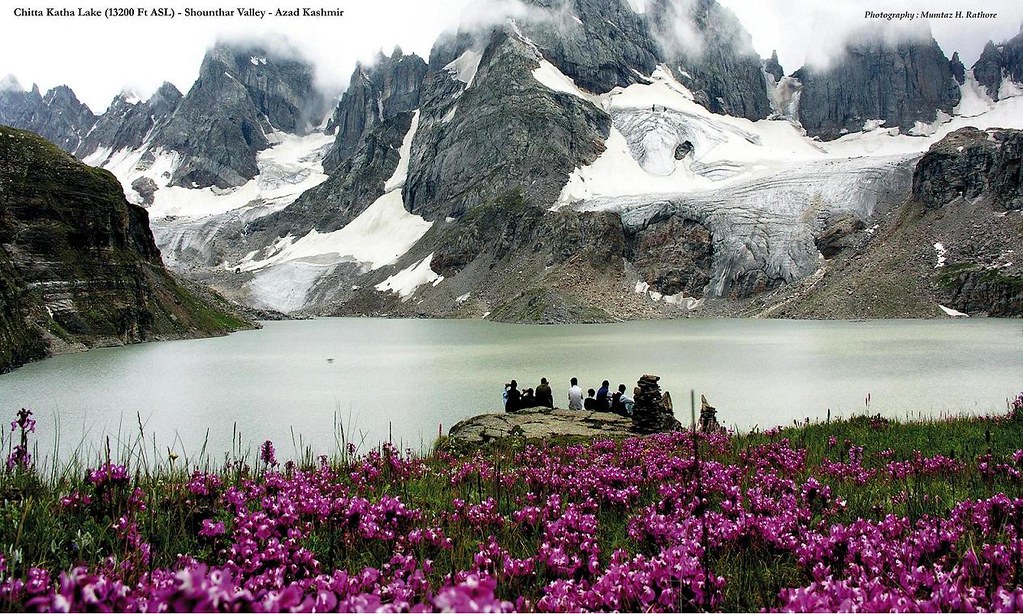 Wind Up Lines
Neelum Valley has numerous worth-watching sites. The charming valleys, lush green pastures, sky-high mountains, singing brooks, and waterfalls will mesmerize you. It is the perfect place for holidaymakers and adventurous people.