Nowshera
It is said that this city is located about 30km from Peshawar on the G.T road and was settled by King Akbar. In this decisive battle between the Pathans and the Sikhs in that bloody battle of 1823, the Sikhs were finally victorious. As a result, the whole valley was occupied by the Sikhs.
The graves of martyrs are still present on the hills in the suburbs of the city. A fine masterpiece of architecture Taj building is on the G.T road Nowshera. Established in 1920, it is under the administration of the archaeological department because of its unique architecture.
It is commonly called Nokhar in the district of Nowshera. Famous poet Khushal Khan Khattak was born in Nowshera. A well-known Sikh commander Phalang Singh is buried in Nowshera. Military barracks have been established in Nowshera in the British regime. Therefore, it holds great significance.
Jinnah Park and a small zoo are located near the river Kabul. The army training center, locomotive factory, PAF Risalpur, and Cherat are its identity.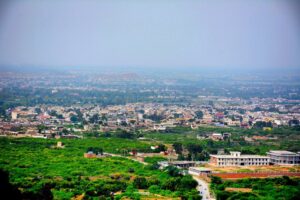 The Nowshera – Pakistan
| Category | Details |
| --- | --- |
| Country | Pakistan |
| Province | Khyber Pakhtunkhwa (KP) |
| District | Nowshera |
| Region | Peshawar Valley |
| Founded | 1868 |
| Area | 1,748 square kilometers (675 square miles) |
| Population (2021) | 120,668 |
| Official Language | Urdu, Pashto |
| Time Zone | Pakistan Standard Time (UTC+5) |
| Climate | Hot semi-arid with a mild winter and hot summer |
| Major Religion | Islam |
| Currency | Pakistani Rupee (PKR) |
| Deputy Commissioner | Qurut-ul-Ain Wazir |
| Known For | Strategic location, historical significance, agricultural productivity |
| Major Industries | Agriculture, manufacturing, construction, services |
| Famous Landmarks | Ghari Kapoora, Azakhel Bala, Grand Trunk Road, Qila Sheikh Musa Khan |
| Educational Institutes | University of Engineering and Technology (UET) Nowshera, Cadet College Nowshera, Frontier Homeopathic Medical College |
| Sports Teams | Nowshera Warriors |
| Transportation | Nowshera Cantonment Railway Station, Peshawar International Airport |
| Tourist Attractions | Jalozai Refugee Camp, Azakhel Bala Park, Qila Sheikh Musa Khan Park |
Famous Places of Nowshera:
Azakhel Payan: It is a village near Nowshera known for its historical importance. The village is home to ancient Buddhist stupas and relics, attracting tourists and history enthusiasts.
Jehangira: Located on the outskirts of Nowshera, Jehangira is known for its scenic beauty and the historical site of Ashoka Rock Edicts. The edicts date back to the 3rd century BC and are inscribed with ancient inscriptions.
Risalpur: Situated approximately 12 kilometers south of Nowshera, Risalpur is famous for its Pakistan Air Force Base and Aviation College. The base houses various aircraft and provides training facilities for pilots.
Khat Kaliyan Wildlife Park: This wildlife park is located near Nowshera and offers a unique opportunity to observe and learn about various animal species. It is a popular spot for picnics and family outings.
Schools in Nowshera:
Army Public School and College, Nowshera Cantt
Beaconhouse School System, Nowshera Campus
F.G. Boys High School, Nowshera Cantt
F.G. Girls High School, Nowshera Cantt
The Educators, Nowshera Campus
Peshawar Model School, Nowshera
Colleges and Universities in Nowshera:
University of Engineering and Technology (UET), Peshawar Campus, Nowshera
Govt. Post Graduate College, Nowshera Cantt
Jinnah College of Nursing, Nowshera Cantt
Garrison Cadet College, Kohat Road, Nowshera
Riphah International University, Nowshera Campus
Govt. Commerce College, Nowshera Cantt
Hospitals in Nowshera:
Combined Military Hospital (CMH), Nowshera Cantt: CMH is a well-known hospital in Nowshera, providing medical services to military personnel as well as civilians. It offers a wide range of healthcare facilities, including emergency services, specialized clinics, and surgical procedures.
Khyber Teaching Hospital, Nowshera: This government-run hospital is affiliated with Khyber Medical University and provides comprehensive healthcare services. It has various departments, including general medicine, surgery, gynecology, pediatrics, and more.
Nowshera Medical Complex: This public hospital in Nowshera offers healthcare services to the local population. It has specialized departments, including cardiology, orthopedics, ophthalmology, ENT, and others.
Azakhel Teaching Hospital: Located in Azakhel Payan, this hospital serves the medical needs of the local community. It has departments for various specialties and provides both inpatient and outpatient services.
Restaurants in Nowshera:
Taj Mahal Restaurant: Located in the heart of Nowshera, Taj Mahal is a popular restaurant known for its delicious Pakistani and Indian cuisine. It offers a wide range of traditional dishes and a comfortable dining environment.
Khyber Shinwari Restaurant: This restaurant specializes in Shinwari cuisine, which is a traditional Pashtun cuisine known for its flavorful grilled meats and bread. It is a favorite spot for locals and visitors who appreciate Pashtun culinary delights.
Shahjahan Restaurant: Shahjahan is a family-friendly restaurant in Nowshera that offers a diverse menu, including Pakistani, Chinese, and continental dishes. The restaurant provides a pleasant ambiance and caters to different taste preferences.
Peshawari Shinwari Restaurant: Known for its authentic Pashtun flavors, this restaurant serves a variety of traditional dishes, including grilled meats, karahi, and kebabs. It is a popular choice for those seeking a taste of Pashtun cuisine.
Khyber Pakhtunkhwa Restaurant: This restaurant showcases the culinary heritage of Khyber Pakhtunkhwa, offering a range of regional specialties. From Peshawari chapli kebabs to Charsi tikka, the menu features a variety of flavorsome dishes.
Khushal Khan Khattak
Khushal Khan Khattak was a well-known poet and nationalist leader of Pashtu or Pashtun. He gave the lesson of nationalism through his poetry.
His poetry has the topics of manliness, honor, bravery, and advice. He died in 1960 and was buried at the foothills of the small hills of Kora Khattak. Four colored marble was given by king Zahir Shah for the construction of the shrine. A rest house and a library are near the shrine.
Cherat
It is a hilly area of district Nowshera in the Peshawar region. It is at an altitude of 4,500 feet. The reason for the fame of this city is the military barrack. It is called Cherat after the name of major Chert.
In 1853, it was discovered by major Cook. This site was utilized by the British army in 1861 as a centurion in the south a few kilometers from Nowshera. The climate is too cold since it is located at a very high point. There are snowfalls in winter.
A means of public transport will take you to Cherat top in one hour from Nowshera.