Nowshera
It is said that this city is located about 30km from Peshawar on the G.T road and was settled by King Akbar. In this decisive battle between the Pathans and the Sikhs in that bloody battle of 1823, the Sikhs were finally victorious. As a result, the whole valley was occupied by the Sikhs.
The graves of martyrs are still present on the hills in the suburbs of the city. A fine masterpiece of architecture Taj building is on the G.T road Nowshera. Established in 1920, it is under the administration of the archaeological department because of its unique architecture.
It is commonly called Nokhar in the district of Nowshera. Famous poet Khushal Khan Khattak was born in Nowshera. A well-known Sikh commander Phalang Singh is buried in Nowshera. Military barracks have been established in Nowshera in the British regime. Therefore, it holds great significance.
Jinnah Park and a small zoo are located near the river Kabul. The army training center, locomotive factory, PAF Risalpur, and Cherat are its identity.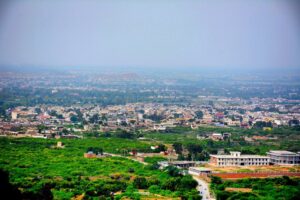 Khushal Khan Khattak
Khushal Khan Khattak was a well-known poet and nationalist leader of Pashtu or Pashtun. He gave the lesson of nationalism through his poetry.
His poetry has the topics of manliness, honor, bravery, and advice. He died in 1960 and was buried at the foothills of the small hills of Kora Khattak. Four colored marble was given by king Zahir Shah for the construction of the shrine. A rest house and a library are near the shrine.
Cherat
It is a hilly area of district Nowshera in the Peshawar region. It is at an altitude of 4,500 feet. The reason for the fame of this city is the military barrack. It is called Cherat after the name of major Chert.
In 1853, it was discovered by major Cook. This site was utilized by the British army in 1861 as a centurion in the south a few kilometers from Nowshera. The climate is too cold since it is located at a very high point. There are snowfalls in winter.
A means of public transport will take you to Cherat top in one hour from Nowshera.