Kaghan Valley
Kaghan valley is one of the most beautiful valleys in Pakistan. It is renowned for its high mountains and blue water lakes. Sky-high snow-capped mountains, lush green forests, jumping streams, glaciers, and melodic waterfalls, are the identity of this valley.
It has an area of 1627 km stretching from Balakot to Babusar Pass. This valley with a length of 161km has Gilgit in the north, heavenly beautiful Azad Kashmir in the east and the south, and Kohistan range in the west.
The climate is cold. The tourist season is from May to mid-October. While May to September is an ideal season because the temperature ranges from 5 centigrade to 20 centigrade. The moon soon season is from mid of July to the mid of mid-August. Therefore, it is land sliding in these areas during rain. The roads are blocked as a result.
Check the details about the weather of Kaghan valley from www.pakmet.com.pk before visiting.
Travel Guide
Public Transport of every kind is available for Mansehra from Karachi, Peshawar, Faisalabad, Lahore, and Rawalpindi. A wagon can be booked from Mansehra to Kaghan valley. You can stay during your journey. It is better to reach there via a jeep from Mansehra or Bala kot.
The jeep can take you to the areas where it is impossible to reach by car or wagon. Besides this, Suzuki vehicles will take you to Babu Sar top. But you will have to hire a jeep for Siri Paye, Shogran, Lala zar, and Saif-ul-maluk lake. You will have to pay the rent per day. It is advantageous to visit these areas by a jeep, as you can stay where you want. PTDC coster leaves at 9 am daily from Flash Main hotel Rawalpindi for Naran.
Tourist Destinations & Adventures in Kaghan Valley
1- Bala Kot
The historical city of Bala Kot at a distance of 40km from Mansehra is called the door to Kaghan valley. Bala Kot has a meaning of high fort. It is also called Bala Kot since it is located on a high hill. It is spreading over an area of 10 square kilometers.
Bala Kot city with an altitude of 3226 feet above sea level is located on both sides of the river Kahnar (Kunhar). The river Kanhar flows from the north to the south by playing tricks, shaking its head, blowing foam, and swinging. The river is wide before the Bala Kot boundary on the right side. The river is calm here. There are many picnic spots near the river. You can enjoy it there too.
When the Mujahideen movement started in the Sikh era, the Maharaja Ranjeet Singh had to face a lot of trouble because of this movement. Its founders were Syed Ahmad Shaheed and Shah Ismail Shaheed. Their graves are in Bala Kot. These graves were destroyed in the earthquake of 2005.
2- Mountain Biking
Bala Kot to Babusar Top Trekk is the best trek for adventurous tourists fond of cycling. This track with ice-capped sky-kissing mounts, dancing streams, and singing rivers has its own charm.
3- Jeep Safari
You can go to Kaghan Valley in your own vehicle. But, there are some areas where you cannot reach by car. Therefore, it is an ideal site for Jeep Safari. You can go Bala Kot to Babusar top, Shogran, Paye, Upper Kaghan, Shatran, Lake Saif-ul-Malok, Lala Zar, Noori Top, and other places to enjoy the thrill and adventure of Jeep Safari.
4- Horse riding
Kaghan valley is a perfect place for horse riding. Horses can be found easily from Naran, Lake Saif-ul-malook, Lala Zar, Siri Paye, and Siri. You can enjoy yourself there with your family. You will remember the horse ride in the Kaghan valley, around the Saiful Muluk Lake, and from Basil to Dudipatsar.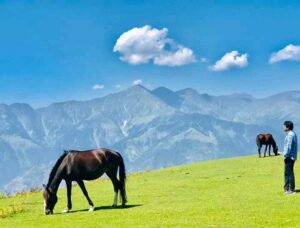 5- Kewai
Kewai town is 26km from Balakot on the Naran main highway. Its old name was Kewari. Kwari has a meaning of door or gate in the Hindi language. A trail goes to Shogran and Siri Paye from the right side of Kewai.
6- Shogran
Shogran is 8km from Kiwai at an elevation of 7750 feet above ocean level. Shogran has a meaning of beautiful place or settlement. A slopy climbing road from Kewai will take you to the captivating Shogran site by passing through Pines and Sanober trees.
The charming sight of the route will take refresh you. Ice-tipped mountains and luxuriant plains will give you a pleasant feel. The climate keeps changing here. The sky is clear. Gradually, dark grey clouds will surround you. Light rain will start in a few moments. The sky will be fair in no time. This repeats many times in a day.
Stay here for at least two days to fully enjoy the weather. There are hotels for residence, and markets for shopping. Special vehicles are required to reach Shogran as it is situated on the height. Hire a jeep from Kewai and park your car there. The jeeps from here will take you to Siri and Paye Meadows.
7- Siri Meadows
The enchanting Siri Meadows is 5km from Shogran at a height of 8500 feet from sea level. It is extremely attractive because of its thick tall trees, lush green grass, and captivating clean environment. There is a lake between velvet flowers and fertile green plains too. You can enjoy camping. You must have foodstuff along with you. One can reach there via jeep or on foot because of the difficult path.

8- Paye Meadows
A beautiful meadow of Paye is situated on the foothills of the Makra mountains at an altitude of 9500 above sea level. It is 3km beyond Siri. The alluring pastures of the Paye are compared with the Melbourne Cricket Stadium of Australia (It is said that this stadium is the most beautiful green ground in the World).
You will forget Melbourne after visiting Paye Meadows. Stay for a day in this valley to enjoy the thundering clouds and varying weather. You can buy some stuff from here but it is better to have all the belongings from Shogran. A lake has been formed due to rain. A plant is also found there similar to the shape of a snake.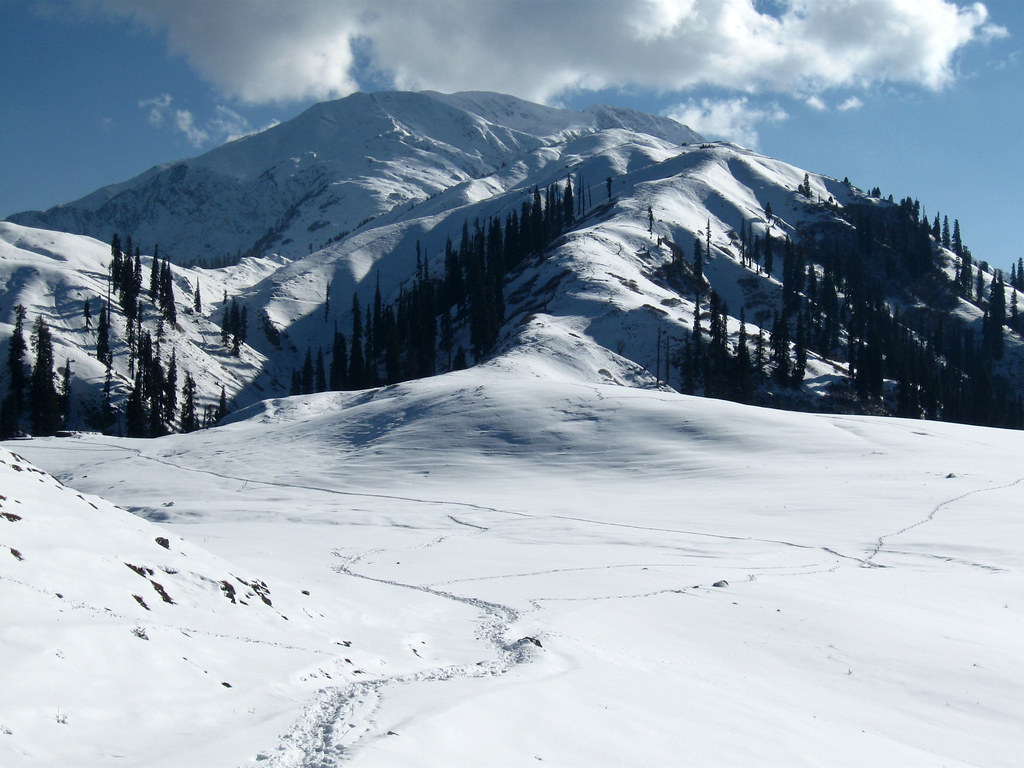 9- Koh Makra
Above Paye, at an altitude of 14,000 feet is the peak of Koh Makra. This area has an abundance of wildflowers, herbs, and shrubs. Physicians and medical herbalists are seen here in search of herbs.
10- Paras
A giant tree of Deodar Cedar is on the way to Kaghan from Kewai. According to locals, this tree is 2000 years old. Paras Town is famous for its apple orchards at a distance of 5km from Kiwai. It is said that there found a special stone that changed into gold after hitting by iron. But no one has found it yet. The river is too close to the road here. It seems that they are embracing each other.
11- Sharan (Shatran)
Sharan is located at an elevation, 15km away from the highway on the left side of Paras. It is at an altitude of 7,500 feet above sea level. One can reach there in 1.5 hours by jeep. It is a place of velvet green grounds fenced by lush green thick forests. Wildlife and beautiful birds are there too. There is a rest house and a youth hostel for a stay.
12- Darshi
Darshi's forest is 4km from Sharan. There is a pedestrian track. A folk tale of Darshi and Munshi is famous about this forest. A local will tell you the story.
13- Musa (A.S) ka Musalla (prayer mat)
Musa Ka Musalla (Musalla has a meaning of prayer mat) is at a height of 13,500 feet from ocean level. You can reach this spot on foot from Darshi's forest via Nadi Bangla. Two narrations are associated with this site. It is said that Prophet Hazrat Musa (A.S) offered a prayer here. According to a second narration, a pious man named Musa used to worship here on musalla (prayer mat).
14- Shino
Shino Town is beyond Paras. Shino has a meaning of sacred water. There is a hatchery department for trout fish by the fisheries department of Khyber Pakhtunkhawa (KPK). The trout from here are left into Dodipatsar lake, Saiful Muluk Lake, and the river Kunhar.
15- Jared
Jared is forward to Shino at a distance of 40km from Balakot. There are domestic industries for walnut wood furniture. In addition to this, there are Numda, mats, rugs, carpets, woolen shawls, and blankets Khadi. A handicraft development center and a shop are established there by the government of Pakistan.
16- Mahandri
Mahandri Town is at an elevation of 5050 feet above ocean level at a distance of 4km from Jared. Mahan is the name of a place where two rivers confluence in the local language. Here, the river Manoor convergences with the river Kanhar. The curd of Mahandri and the cold water of the river Manoor are famous. The jeep travels along the Manoor stream (coming from the east) towards the Valley Manor. The Kach Gali, Biari, and Bela points come the way to the jeep track and pedestrian. This same beautiful track reaches Lake Saiful Muluk. Take a guide, camping stuff, and belongings to enjoy this captivating pedestrian.
17- Manoor Gali
Manoor Gali is at a height of 12,200 feet from sea level. A trail goes to Saif-ul-Malook Lake and Ansu Lake from the right side of Mahandri. Splendid sights will travel along with you on this track. You will not find the scenery of this route anywhere else in Kaghan Valley. The government doesn't pay heed to the development of this point. Therefore, it is not famous among holidaymakers.
18- Khanian and Danna Meadows
Khanian point is at an elevation of 7626 feet above ocean level. The river's waves are so noisy and fast here because of the narrow valley at this point. A jeep track on a solid road from Khanya will take you to the height of Danna Meadows.
This point at a distance of 15km is a 1-hour drive track and 3 hours pedestrian track. There are dangerous turns too. But the beauty of these meadows above 9500 feet will mesmerize you. Danna Meadows is renowned for the production of Golden, Umber, and King golden apples.
19- Kamal Ban
Kamal Ban forest is 6km from Danna. There is a rest house by the UK in this area. This forest rest house was established in 1924 at a height of 6,500 feet from sea level. It is one of the oldest rest houses in this area.
20- Kaghan Town 
Kaghan Town is 59km from Balakot and 6km from Khanya on the main highway. This whole valley is recognized because of this Kaghan Town at an altitude of 6650 feet above ocean level.
According to ancient tales, the ruler of this valley was a Hindu female Kagi. The name of this site was Kagan after her name. It transformed into Kaghan with the passage of time. Sarwal peak is the highest top in the suburb of Kaghan at an elevation of 13,529 feet. There are spacious meadows in the northeast and beautiful villages are situated around.
There are facilities for staying and dining for the tourists. Vacationers on a long trip stay here for at least one day. Honey and cow's ghee are considered among the best gifts of Kaghan. When the mountains are snow-clad in the winter, then Kaghan is the last point to reach via transport.
21- Shangri Top
The beautiful point of Shangri is at an altitude of 12,700 feet in the north of Kaghan Town. One can reach Khuli Gatti via jeep. And then a journey of two hours will take you to an extremely attractive site of Shangri. People can enjoy the scenery of Musa ka Musalla, Danna Meadows, Kaghan, Koh Makra, and Naran mountain ranges from the Shangri top.
22- Glaciers
It was difficult to cross three to four huge glaciers on the way to Naran from Kaghan a few years ago. But now a proper track has been built by cutting glaciers through modern technology. The thrill of those moments will be remembered for a long time as you sit in the car and pass through the high walls of snow on both sides of the road. You will see such high snow walls from Naran towards Batta Kundi.
Wind Up Lines
Kaghan Valley is like a paradise on Earth. It's charming valleys, snow-capped mountains, luxuriant pastures, and plains, and trekking sites attract tourists and climbers.