Naran
The valley's width starts increasing after crossing glaciers. You will reach Naran as soon as the river's waves become calm. You will start shivering as you enter Naran. It feels like someone is passing through the street of his lover.
You will see camps near the river before Naran city. You can fix your camp there. You can borrow it as well. It doesn't mean that there are no hotels in Naran. Kaghan Valley has the best modern hotels equipped with all facilities. There is a PTDC motel and youth hostel too.
Naran city is 88km from Balakot at a height of 7888 feet above ocean level. Balakot has become the second-best tourist spot after Murree due to the reconstruction of the Balakot Naran highway. It is because of the facilities too. Naran has gained the status of a tourism base camp.
You can enjoy one day trip to Lala Zar, Lake Saiful Malook, Batta Kundi, Babusar Top, and other sites while staying in Naran. If you plan to visit these areas for one day, hire a jeep a day before. It is better to stay in Lala Zar and Bisal for one day. Usually, the tourists go to the suburb of Naran in the daytime. The crowd in the Naran Bazar is worth watching at night.
If you are fond of fishing, you can enjoy catching trout after taking permission from the department of fisheries. The stuff for fishing can be bought from the Naran market. This tasty fish can be caught easily in the cold freezing water. The weather is pleasant during the day and cold at night due to the snowy hills in the neighboring areas.
Cover yourself with warm clothes during the night. A route goes to Lake Saiful Malook from the right side of the iron bridge located at the end corner of Naran Bazar. There are PTDC hotels and lodges of different departments on the left side after crossing the river. You will be refreshed by the river Kanhar's dancing water and sky-scrapping mountains behind it by sitting in the restaurants of PTDC hotel.
Tourist Destinations & Adventures in Naran Valley
1- Lake Saif-ul-Malook – A realm of fairy tales.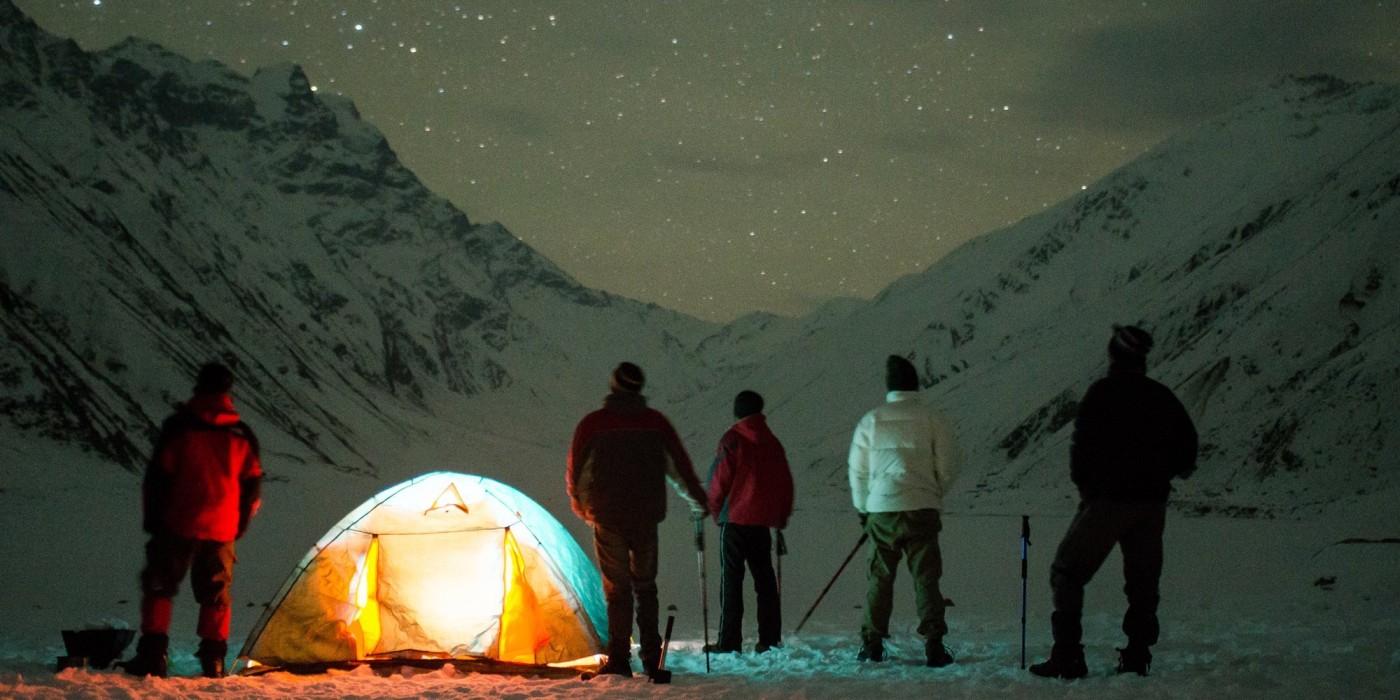 A trip to Naran Valley is incomplete without enjoying the enchanting landscapes of Lake Saif-ul-Muluk. It is 8km southeast of Naran at an altitude of 10,550 feet from ocean level. One can reach there on foot within two hours. A jeep from Naran can take you to the lake too. An adventurous glacier is awaiting you on the way to the lake.
This lake is in the corner bejeweled like a bride. It is wearing a dress of white snow and twirling in the water. It seems to be immersed in purity and holiness during winter. It feels as if winged princesses and fairies are about to descend into the lake.
According to the folk tales, these fairies dance in the lake at the fourteenth of the moon. After visiting this lake, you will believe why it is called the "Queen of the lakes". You will be hypnotized by the beauty of this round-shaped lake surrounded by sweet-smelling flowers.
The local guides will tell you a tale of prince Saif-ul-Malook and princess Badi-ul-Jamal. Give some money as a tip to these guides and enjoy the anecdote. There are restaurants, shops, hotels, and camping facilities. Sun rise and Sun set are the best times to adore the exquisiteness of this lake.
2- Malika Parbat
Lake Saif-ul-Malook is sitting like a shy bride at the foothills of Malika Parbat which is the highest peak of Kaghan valley at an altitude of 17,335 feet. It is about 8km from the lake. It is considered dangerous for hikers because of vertical slopes, unsafe uphill, and weird glaciers.
3- Ansoo Lake
It is unique among all the lakes because of its natural geography and shape. It has the shape of a 'tear'. One can reach there on foot or by a mule and horse. It is advisable to visit this lake with a guide, warm clothes, and all your belongings.
4- Ghar or Cave
This lake is at a distance of 5 minutes on the bank of the river Kanhar. This river is on the left side of the bridge which is at the corner of the main Naran Bazar. It is a symbol of the romantic relationship between Prince Saif-ul-Malook and fairy Badi-ul-Jamal.
According to the tale, this couple hid in this cave to protect themselves from the white giant. Native children await you during the season holding torches. You can see the cave with the help of these torches. Never forget to give a tip to these children.
5- White Water River Rafting
If you like challenges, then river rafting and sailing are your games. These are the games of brave and courageous people. River rafting is itself adventurous. There are many spots in Pakistan where you can enjoy these sports along with a visit to the historical sites.
The rivers flowing in between sky-high mountains and snow-tipped hills are the source of various water sports in Pakistan.
River Kunhar from Naran to Kaghan
River Pankora from Dir to Bat Khela
River Indus from Juglot to Thakot
River Hunza from Aliabad to Gilgit are the best sites for water sports. You will find the relevant department in Naran. Adventure Foundation of Pakistan can assist you. The contact detail is 0992-371103. Make a plan for a holiday if are fond of adventure. These rivers are awaiting you.
6- Aab Shar
A beautiful waterfall is near the road from Naran to Babusar Top in Batta Kundi. It is the largest fall from Balakot to Babusar.
7- Lala Zar
Lala Zar, the land of flowers is 18km from Naran at an elevation of 10,500 feet above ocean level. To reach here, you will have to go to Batta Kundi on the Babusar top. A jeep track from here will take you to 5km away Lala Zar.
It is the best place for people fond of hiking and trekking. Rich green velvet grass mat, enchanting sights, and colorful butterflies will mesmerize you. According to regional narration, Lala Afghani sacrificed his life for his love Sohni.
This place is named Lala Zar after him. The Sohni jungle is near Lala Zar where the Sohni used to wait for Lala Afghani. A difficult track is directed to Saiful Malook from Lala Zar.
8- Jalkhad
A little settlement at the shore of the river Kanhar and at a height of 10,300 above sea level is named Jalkhad. It is 40km from Naran. Here, the only way to connect Azad Kashmir to the Kaghan valley is by road. This trail has a way at an altitude of 13000 feet via the Noori Top Pass.
The beautiful and historical Shadra town is on the other side of this road on the edge of the river Neelum. About 3 km from Noori Top, while descending towards Shadra, a track on the right leads to Lake Noori about 12750 feet above sea level. The waterfall on the way to the lake is considered among the most beautiful falls in the valley.
9- Bisal
The way to Dudipatsar Lake is from Bisal which is 8km away from Jalkhad. This lake is 15km from Bisal (Basil). Besal is at an altitude of 10660 feet above sea level. Bnar Khatta is a few distances away from Bisal where many people were martyred in a day during the war of independence of 1857.
10- Dudipatsar Lake
This lake is more charming, captivating, and charismatic than Lake Saif-ul-Malook. It is a fascinating masterpiece of natural beauty. It is 15km on the right of Bisal Lake at a height of 11,700 feet above sea level. It is 5 to 6 hours on foot. One can go there via horse or a mule. Guides and horses are available in Bisal.
The route is too beautiful. You will not be exhausted by the journey because of the rich green plains, streams, and colorful flowers. You can stay for some time in the Mallan town. The best trout fish in the Kaghan valley is from Dudipatsar Lake.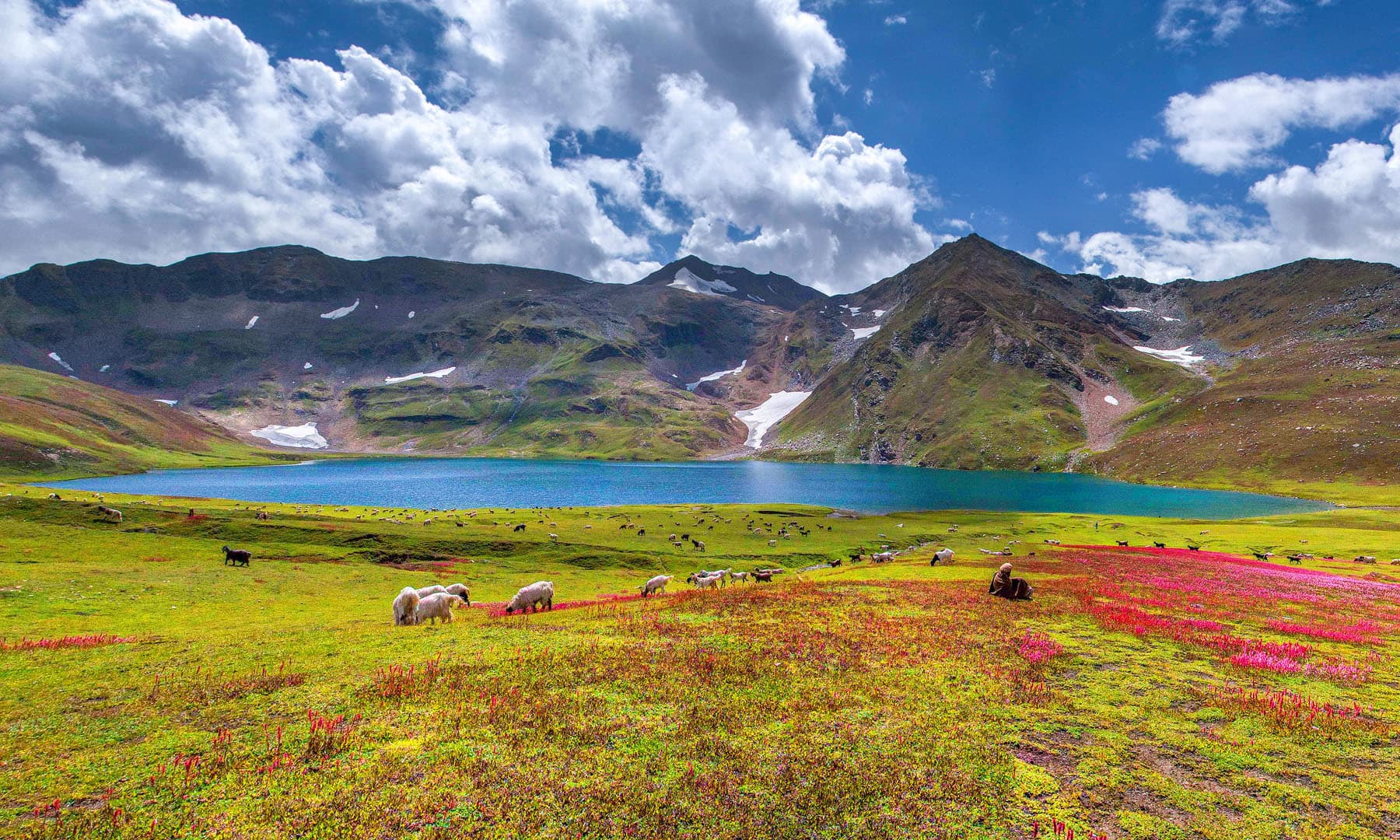 11- Lulusar Lake
This lake is 60km from the Naran Chilas central highway at a height of 11,200 feet above ocean level. It is formed from the river Kanhar which is 3km from Besal. This lake stretches at a length of 3km and is the longest lake in the Naran Valley. This spectacular lake surrounded by flamboyant flowers is spreading like the English alphabet "W".
Its water is deep emerald and blackish. It is narrated that a blind daughter of Mughal emperor Jalal-ud-Din Akbar washed her eyes from this lake water. She gained her sight after washing her eyes.
This lake remains calm and quiet every time. It covers itself in snow during winter. While the weather is pleasant during the summer because of the ice that remained in the mountains.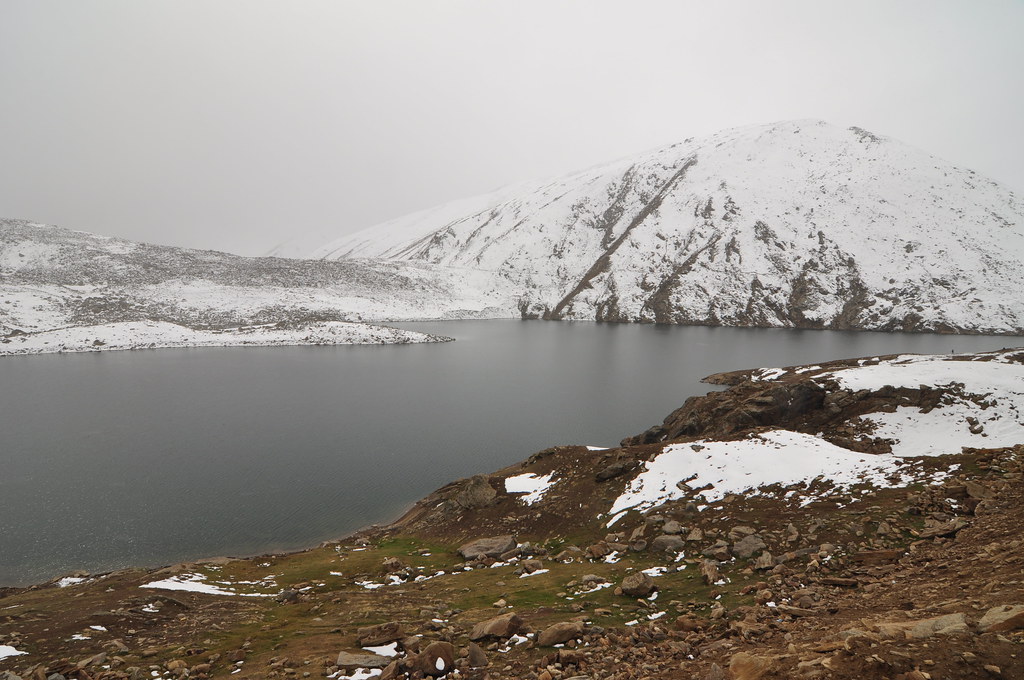 12- Singer Lake
It is at a height of 13,000 feet from sea level. If you have the time and courage, you can reach the lake in 5 hours by traveling along the stream on the right about 4 miles from Lulusar Lake.
13- Sat Sar Mala & Bito Gha Lake
These lakes are linked like a beautiful necklace. Their water keeps merging into each other. A way goes to these lakes beyond Lulusar Lake. You can visit these lakes in five to six hours. They are at an elevation of 13200 feet to 13900 feet above sea level.
Move towards the main highway while returning from Sar Sat Mala. From the left of Damri, Bitto Gha Lake is on the other side of Bito Gha top. There are three small lakes too.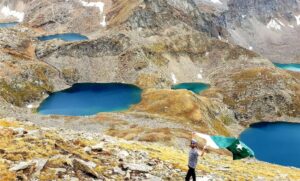 14- Gati Das
The last village of Kaghan valley is Gati Das which is 9km from Lulusar. You will find flowing brooks, rivulets, and wildflowers in this village which is at a height of 12,500 feet from sea level. Spacious and large stadium-shaped rich green plains are the identity of this village. Here, the beauty of Kaghan is in full swing.
15- The Suburb Lakes of Kaghan Valley
Dharamsar and Shambhak lakes are located at a height of 13,100 from sea level towards Gatti Das plains at a distance of 8km from Babusar Top. Besides these lakes, there are Ratti Gali Lake via Jorian, Noori Lake via Jalkhad, Gattian via Noori Top, Siral Lake through Noori Top, and Singer Lake near Lulusar Lake. Naran is rightly said the "Land of Lakes".
16- Babusar Top
The road goes upwards from the Gatti Das Village. You will reach Babusar Top, the last corner of Kaghan Valley at an altitude of 13,687 feet. It is 7km from the vertical uphill. There are ice-capped hilltops and rich green plains all around.
While there are dry mountains on the other side of the peak. In 1892, the Britishers made a track for their horses. Now, it has turned into a proper route. Before the construction of the Resham (Karakoram) Highway, northern areas of Gilgit Baltistan were connected to Naran Valley via this old track.
Here, the climate is bitter cold due to the fast winds. Don't forget to take woolen caps and jackets. There is a temporary arrangement for a night's stay. Babusar Village is 13km away on the other side of the top. A 13km descent will take you close to 5500 feet towards ocean level.
Chilas City is located 37km beyond this point on the Karakoram (Resham) Highway. The tourists usually stay here for two to three hours and then return back to Naran or move forward to Chilas. You can enjoy camping here too.
Wind Up Lines
Naran Valley is a beautiful gift of nature. It is one of the most astonishing areas of Khyber Pakhtunkhwa (KPK). Saif-ul-Malook, Lulusar Lake, Dudipatsar Lake, and Babusar Top are renowned around the globe for their spectacular scenery, trekking areas, and water sports.