Mansehra
Manshera city and district is ahead of Hazara Valley at a distance of 22km from Abbottabad. It was settled by Sikh ruler Man Singh of this area. It is named Mansehra after him.
This centuries-old city is related to the Buddhism religion too. The proof of this is Ashoka Rocks. The Resham Highway or Karakoram highway goes straight from here. While the Kaghan valley is on the right side. Mansehra is the base camp for Kaghan Valley. You can book a jeep or Suzuki for the valley. However, Jeep is a better option.
Details of Mansehra
| Attribute | Information |
| --- | --- |
| Location | Located in the Hazara region of Pakistan |
| Province | Khyber Pakhtunkhwa |
| Altitude | Approximately 1,020 meters (3,350 feet) above sea level |
| District | Mansehra District |
| Population | Approximately 98,000 (as of the last available data) |
| Major Language | Urdu, English, and Hindko (local language) |
| Geography | Surrounded by picturesque mountains and natural beauty |
| Historical Sites | Shahi Mosque, Gurdwara Siri Guru Singh Sabha, and more |
| Nearby Attractions | Kaghan Valley, Naran, Shogran, and Saif-ul-Mulook Lake |
| Economic Activities | Agriculture, tourism, and trade |
| Transportation | Connected by road and accessible from major cities |
| Notable Events | Kaghan Festival, local fairs, and cultural celebrations |
Historical and Tourist Spots in Mansehra
1- Gurdwara Siri Guru Singh
This beautiful Gurdwara holds significant importance in the center of Mansehra city. It is situated on Kashmir Road. This building is being utilized as a municipal library these days. It is renovated by the locals.
2- Ashoka Rock Edicts
A new monarch Chander Gapat Morya, established a state in the north of Ganga, 20 years after Alexander the Great left the Subcontinent. His reign lasted for 100 years in different areas of the Subcontinent. His grandson Ashok become the king in 274 B.C. He was the first ruler who issued orders for the nation and engraved them on the stones.
When he converted to Buddhism, the pain and suffering inflicted on human beings by human hands had a profound effect on his heart that he became against killing not only human beings but also animals. As a head of state, he worked a lot for the progression and promotion of Buddhism. The Morya state tore into pieces after the death of Ashoka in 232 B.C.
His sayings engraved on the stones can be found in different parts of the subcontinent. His orders can be seen on the left side of Bhat Bridge and in the Park in Mansehra.
3- Petra Valley
You can enjoy an aerial view of Mansehra and neighboring areas from the Petra Point hill near Bala Kot Bypass. The day and night view from this top is fascinating.
4- Dadar Valley
A Suzuki van will take you to the Dadar Valley from the Mansehra bus stand which is recognized for the area of Stupas built in the Ashoka era. The sun's rays on the shiny water of the river Sirin spread like a gold net in the whole valley.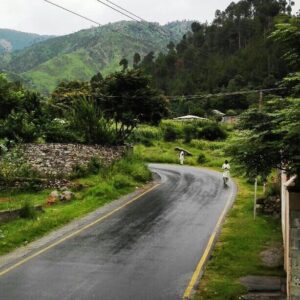 It was the favorite of the Britishers because of its healthy and clean environment. They also established a TB (tuberculosis) sanitorium. The trees in the woods in the suburb of the valley at the foothills of sky-scraping mountains, rich green fields, sounds of cascades, and the aroma of Chappal Kebab and Qahwa are awaiting you. Enjoy the thrilling waves of the river Sirin during the fishing.
Two central routes separate from Mansehra. The right turn is directed to Kaghan valley and the left side will take you to Karakoram or Resham highway, Gilgit, Hunza, and Khunjerab Pass.
5- Atter Shisha
A small village is named Atter Shisha on the Balakot Kaghan road a few distances away from Mansehra. It is well known for the story of Mughal King Jahangir and his wife Noor Jahan. They stayed here for some days during their visit to Kashmir.
The queen forgot her perfume and mirror here. It was named Atter Shisha (the name of perfume and mirror in the local language). A track is directed to Muzaffarabad (capital of Azad Kashmir) from Garhi Habib Ullah.
6- Sirikot
When you reach Tilli village from Garhi Habib Ullah via Dargha Sharif the pointed mountain of Sri Kot from the turn shows its appearance wrapped in fog. You will feel like it is December in July since it is located on the peak.
Coming here one realizes that the sweet fragrance of the soil is so much more than the money and it is better to lean against the trees here than to walk under hard sidewalks and modern buildings.
There are signs of Shiv Maharaj Temple and Barari Devi in a nearby village. A rest house, plum, and walnut trees are awaiting you there. The roads are blocked here from January to March because of the snowfall.
FAQs
1. Where is Mansehra located, and why is it known for its tourist sites?
Mansehra is a city in the Hazara region of Pakistan's Khyber Pakhtunkhwa province. It is renowned for its diverse tourist attractions.
2. What are the most prominent tourist sites in Mansehra, and what makes them special?
Mansehra boasts several tourist sites, each with its unique charm. Could you provide an overview of the key attractions and what sets them apart?
3. How accessible are these tourist sites in Mansehra for visitors, and what transportation options are available to reach them?
Accessibility is crucial for travelers. Can you share information on how tourists can reach the various sites in Mansehra and the transportation options available?
4. Are there any historical or cultural landmarks in Mansehra that visitors should explore?
Mansehra's history and culture are rich. Are there specific sites or landmarks that offer insights into the region's heritage?
5. What is the best time to visit Mansehra and its tourist sites for the most enjoyable experience?
Weather and seasons can impact the travel experience. When is the ideal time to explore the tourist sites in Mansehra?
6. Are there any accommodations, restaurants, or facilities available for tourists in Mansehra and its vicinity?
Convenience is essential for travelers. Are there hotels, restaurants, and other amenities to cater to the needs of tourists in the area?
7. What outdoor activities, adventure opportunities, or natural beauty spots are available in Mansehra for visitors to explore?
Nature enthusiasts and adventure seekers often look for outdoor activities. What options are available for them in Mansehra?
8. How do these tourist sites contribute to the overall tourism and economy of Mansehra and the surrounding region?
Tourism can have economic significance. How do the tourist sites in Mansehra benefit the local economy and support the tourism industry?
9. Are there any cultural events, festivals, or traditions in Mansehra that visitors can participate in or witness during their visit?
Local culture and traditions can enhance the travel experience. Are there any specific cultural events, festivals, or traditions in Mansehra that visitors might encounter?
10. Can you recommend any specific itineraries or routes for visitors looking to explore the tourist sites of Mansehra efficiently?
Itineraries and routes can help travelers make the most of their visit. Do you have recommendations for planning a trip to Mansehra's tourist sites?
Wind Up Lines
Mansehra is a historical city of Khyber Pakhtunkhwa (KPK). It has many traces of the Gandhara civilization and the Buddhism era. Besides this, it is known for its beautiful sights, mountains, and lush green meadows