Wazirabad
It is situated on the bank of stream Palku coming from the Himalayas range in the south of river Chenab and 36 km from Gujranwala.
This city of Shaheed Amir Cheema and Molana Zafar Ali Khan was settled by Wazir Hakeem many centuries ago.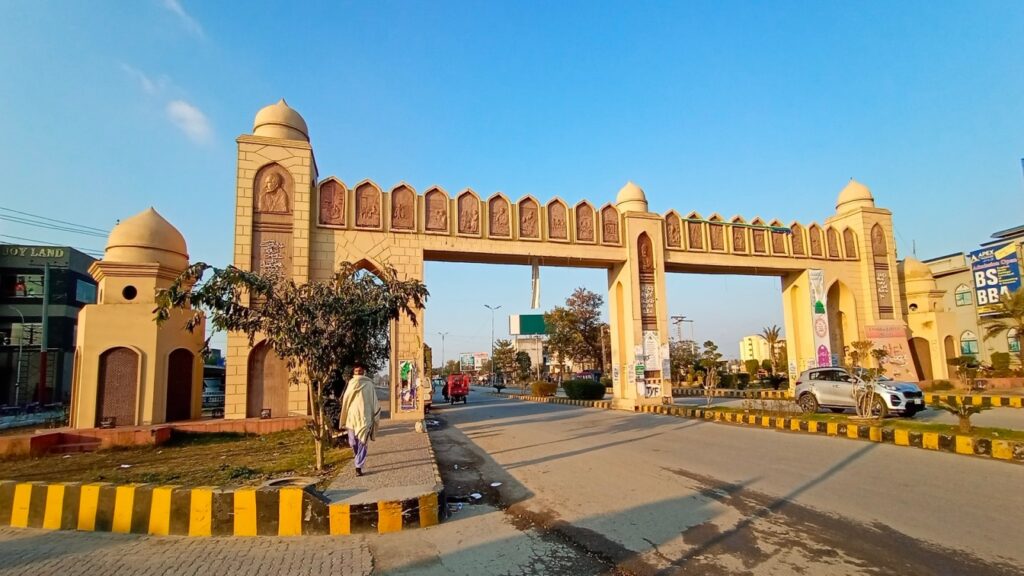 Now it is well-known around the world for the production of high-quality cutlery, lights, industrial manufacturing, knives, swords, axes, leather products, and surgical instruments.
Please visit Sher Shah Suri Dak Chowki (Mail station) and old Baoli (Stepwell). Furthermore, the Gurdwara Kotha and ancient Shamshan temple are worth watching sites.
Key info about Wazirabad PK
| Category | Information |
| --- | --- |
| Location | Wazirabad, Punjab, Pakistan |
| Population | Approximately 429,000 |
| Area | 491 square kilometers (190 sq mi) |
| Coordinates | 32.4483° N latitude, 74.1158° E longitude |
| District | Gujranwala District |
| Language | Punjabi, Urdu, and English |
| Economy | Known for its cutlery and metalworking industries |
| Major Industries | Stainless steel cutlery, surgical instruments, and hand tools |
| Transportation | Well-connected to surrounding cities by road and rail |
| Education | Several schools, colleges, and educational institutions |
| Healthcare | Hospitals and medical facilities |
| Notable Places | Allama Iqbal Park, Wazirabad Sports Complex, and Kala Shah Kaku |
| Culture | Rich cultural heritage with traditional music, dance, and local cuisine |
| Administration | Wazirabad is divided into several Union Councils for local governance |
| Climate | Hot and arid, experiencing extreme temperatures in summer |
| Major Highways | Grand Trunk Road (GT Road) and other regional roads |
| Airport | The nearest airport is Sialkot International Airport (about 50 km away) |
Molana Zaffar Ali Khan Baba-e-Sahafat
A great journalist, writer, and poet Molana Zafar Ali Khan was born in Kot Merath Sialkot. He was appointed as a secretary of Nawab Mohsin-ul-Mulk in Mumbai (Bombay) after getting his education from Ali Garh and Wazirabad.
Then he moved to Hyderabad Dakan and was appointed as secretary home department after getting a promotion.
In 1915, the magazine "Zamindar" issued by her father was banned for the sake of opposing the British. In December 1919, the ban was lifted.
A daily newspaper was re-launched from Lahore. In 1920, he was sentenced to life in prison for mutiny. He was a member of the Indian National Congress till 1932. Then he left due to the cunning tricks of Hindu Leaders.
He joined Muslim League. He was an exceptional poet, eminent speaker, translator, and a leading journalist. The central points of his poetry were politics and religion.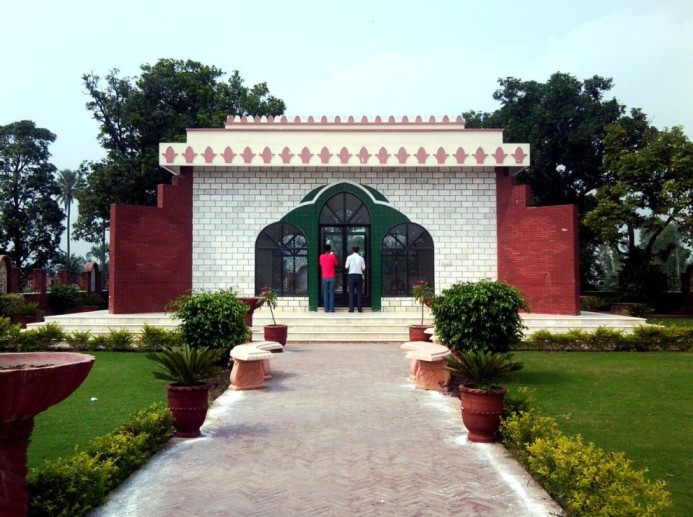 The collection of poetry was published with the names Baharistan, Nigaristan, and Chamnistan. Besides this, he also wrote many books and sacrificed his money and land for the war of freedom.
He died in 1952 and was buried in Karamabad (Wazirabad). The central mosque of Karam Abad has located 4 km on the right side, on the way from Wazirabad to Sialkot.
The tomb of Zafar Ali Khan is located on the lawn of this mosque.
Some famous historical sites in Wazirabad
Sohdra
This town Sohdra, a trustee of great historical heritage is located 3 km away from the road directed from the tomb of Zafar Ali Khan to Sialkot.This primeval city of high walls with hundred doors has heard the footsteps of Mehmood Ghaznavid. It has witnessed the administration of brave Afghan Generals of Ghaznavid's reign.
The arrival of the Mughal and giving it the name Ibrahim Abad is also recorded in the pages of history. The high Peer Minaret and spacious garden are spectators of the splendor of Ali Mardan.In the time of Sikhs, the ritual of Kriya Karam has also been observed here.
Sher Punjab Raja Ranjeet Singh was crowned here at the age of 13. In the downtimes, it has witnessed the destruction of the Nowlakha garden and other buildings.Besides the holy pond of Hindus and the Setala temple, the mausoleum of Baba Mastan Shah holds significant importance. He is the one who predicted Ranjeet Singh getting a crown.Barfi and sweets are the specialties of this city.
Iqbal Manzil
Iqbal Manzil stands as an iconic historical site in Wazirabad, being the birthplace of Allama Muhammad Iqbal, one of South Asia's most revered poets and philosophers. The ancestral home has been preserved as a museum, offering visitors a glimpse into the life and times of this intellectual giant.
Wazirabad Barrage
The Wazirabad Barrage, a significant water control structure, has historical importance due to its role in managing water resources in the region. Beyond its utilitarian purpose, the barrage also stands as an architectural landmark and a testament to the engineering prowess of its time.
Dullah Bhatti's Fort
This historical fort is associated with the legendary Punjabi folk hero, Dullah Bhatti, who is celebrated for his acts of valor and generosity. While the fort itself has weathered the sands of time, its historical resonance adds a layer of intrigue to Wazirabad's cultural narrative.
Mubarak Haveli
Mubarak Haveli, an old mansion in Wazirabad, is a testament to the grandeur of the Mughal era. The architecture reflects the intricate craftsmanship of the bygone years, and the haveli offers a glimpse into the lifestyle of the elite during that period.
Clock Tower
Wazirabad's Clock Tower is not only a functional timepiece but also a historical landmark that stands as a witness to the city's evolution. The tower's architecture is reminiscent of colonial influences, and it serves as a central point in the city.
Masjid Nizamia
Masjid Nizamia is a historical mosque in Wazirabad known for its architectural beauty and religious significance. The mosque has a serene ambiance and stands as a place of worship that has endured through different eras.
Qazi Ka Bangla
Qazi Ka Bangla is an ancient structure that has historical and architectural significance. The building, with its distinct design, serves as a reminder of Wazirabad's past and the cultural influences that have shaped the city.
Famous Schools and Colleges
Government High School Wazirabad: Typically, government schools are prominent in areas, and you can inquire about the reputation of the local government high school.
Private Educational Institutions: Wazirabad might have private schools and colleges. Popular chains like Beaconhouse, The City School, or Punjab Group of Colleges often have a presence in various cities.
Hospitals
Wazirabad Teaching Hospital: Check if there is a teaching hospital in Wazirabad associated with medical education.
Private Clinics and Hospitals: Local private clinics and hospitals may also provide healthcare services.
Restaurants
Local Cuisine Spots: Explore local markets and streets for eateries offering traditional Pakistani and Punjabi cuisine.
Ask Locals: Locals can provide recommendations for popular restaurants. Look for places known for their specialties.
Frequently Asked Questions (FAQs) 
What is the historical significance of Wazirabad?
Wazirabad holds historical importance as the birthplace of Allama Muhammad Iqbal, a renowned poet and philosopher. It also features historical sites like the Wazirabad Barrage and Dullah Bhatti's Fort.
Is there a notable educational infrastructure in Wazirabad?
Yes, Wazirabad has schools and colleges, including government institutions and potentially private educational establishments. The availability may vary, and locals can provide information about prominent educational institutions.
Tell me more about Wazirabad's craftsmanship.
Wazirabad is famous for its craftsmanship, particularly in cutlery and brassware. The city's markets showcase intricately designed knives, utensils, and decorative items, reflecting a tradition of skillful artistry.
Are there significant landmarks in Wazirabad?
Yes, apart from historical sites, Wazirabad has landmarks like the Clock Tower and Masjid Nizamia. These structures contribute to the city's architectural and cultural heritage.
What is the primary economic activity in Wazirabad?
Wazirabad's economy is primarily industrial, with a specialization in metalworking and manufacturing. The city is renowned for its cutlery industry, contributing significantly to the national economy.
Are there tourist attractions in Wazirabad?
Yes, Wazirabad offers tourist attractions such as Iqbal Manzil, the birthplace of Allama Iqbal, and local markets showcasing traditional craftsmanship. These sites provide insights into the city's cultural and historical richness.
Tell me about healthcare facilities in Wazirabad.
Wazirabad likely has healthcare facilities, including government hospitals and private clinics. The Wazirabad Teaching Hospital might be a notable institution for medical services.
What are the prominent local festivals in Wazirabad?
Wazirabad celebrates various festivals, including Eid and Basant, contributing to the city's cultural vibrancy. These events often include traditional music, dance, and communal gatherings.
How can I explore local cuisine in Wazirabad?
Exploring local markets and eateries is the best way to experience Wazirabad's cuisine. Look for places offering traditional Pakistani and Punjabi dishes, and don't hesitate to ask locals for recommendations.
Is there any information available about accommodations in Wazirabad?
Accommodation options in Wazirabad may include local hotels or guesthouses. Online travel platforms or local recommendations can guide you to suitable places to stay.
Wind Up Lines
Wazirabad stands as more than a city; it is a living testament to the harmonious coexistence of history, craftsmanship, and modernity. Visitors and residents alike find themselves immersed in a unique blend of tradition and progress, making Wazirabad an enchanting destination in the heart of Punjab.