Jhang
Jhang is a historical city and the homeland of the famous noble prize winner in Physics Dr. Abdul Salam.  It is the burial place of Heer Ranjha and Hazrat Sultan Bahu. It is located at a distance of 177 km from Multan.
Jhang has four Tehsils Ahmad Pur Sial, Jhang, Chiniot, and Shorkot. It is connected to Multan and some major cities of Pakistan by road and railways. It is surrounded by green fields and the climate is generally hot there.
Heer Ranjha
It is not only a romantic folk tale but also a real incident. At the end of the sixteenth century, there used to live a wealthy landlord in Hazara district Sargodha.
His name was probably Muez-ud-din or Meraj Din. They were Jat by the cast and called themselves Ranjhay. His youngest son Waheed-ud-Din alias Waheed Ranjha was fond of playing flute (Bansuri) since Childhood.
He depended on his brothers since his father died in his childhood. He did farm with his brothers but he didn't like it. When he complained to his brothers, they used to scold him. His sister-in-law also taunted him.
One day a Barat (a celebratory wedding procession) came, and a barati praised Ranjha so much for the beauty and splendor of Jhang's that Ranjha went to Jhang with him. The people of Barat in Jhang asked him to sing a song with his flute.
They started praising him. On the roof of Dewan Khana (room), a crowd of females was also listening to his voice. The daughter of Chochak was one of them. She fell in love with Ranjha.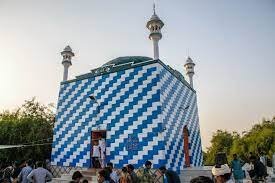 She requested his father to hire him. He hired him for grazing buffaloes. In this way, their love story began in fields, gardens, and in the shade of trees. And the villagers came to know about their love affair.
They started whispering about their story. Kedo, uncle of Heer complained to her father. As a result, she married to son Seedhay kheray of Chief Rang Pur district Muzaffargarh.
He could not bear her separation and became a disciple of Guru ball Nath for the peace of his heart. One day, he reached Rang Pur.
Heer came to know of his arrival. She came back to her father's home with the help of her sister-in-law. But Kedo didn't like her.
He devised a plan. He asked his brother to send the Ranjha to his town for the preparation of marriage. And he poisoned Heer. Chochak did so. When Ranjha came there with Barat, he saw the dead body of Heer. He also died on the spot.
There is a tomb of Heer on the right side at a distance of 2 miles on Faisalabad Road in Jhang Sadr, 84 miles away from Chiniot.
It is famous as Mai Heer Darbar. According to locals, the place where Rajha meditated for Heer is also located in the tomb. Waris Shah wrote this love story in 1766.