Jhang
Jhang is a historical city and the homeland of the famous noble prize winner in Physics Dr. Abdul Salam.  It is the burial place of Heer Ranjha and Hazrat Sultan Bahu. It is located at a distance of 177 km from Multan.
Jhang has four Tehsils Ahmad Pur Sial, Jhang, Chiniot, and Shorkot. It is connected to Multan and some major cities of Pakistan by road and railways. It is surrounded by green fields and the climate is generally hot there.
Heer Ranjha
It is not only a romantic folk tale but also a real incident. At the end of the sixteenth century, there used to live a wealthy landlord in Hazara district Sargodha.His name was probably Muez-ud-din or Meraj Din. They were Jat by the cast and called themselves Ranjhay. His youngest son Waheed-ud-Din alias Waheed Ranjha was fond of playing flute (Bansuri) since Childhood.
He depended on his brothers since his father died in his childhood. He did farm with his brothers but he didn't like it. When he complained to his brothers, they used to scold him. His sister-in-law also taunted him.One day a Barat (a celebratory wedding procession) came, and a barati praised Ranjha so much for the beauty and splendor of Jhang's that Ranjha went to Jhang with him.
The people of Barat in Jhang asked him to sing a song with his flute.They started praising him. On the roof of Dewan Khana (room), a crowd of females was also listening to his voice. The daughter of Chochak was one of them. She fell in love with Ranjha.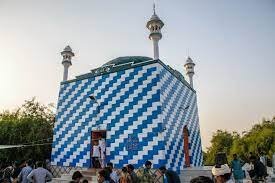 She requested his father to hire him. He hired him for grazing buffaloes. In this way, their love story began in fields, gardens, and in the shade of trees. And the villagers came to know about their love affair.
They started whispering about their story. Kedo, uncle of Heer complained to her father. As a result, she married to son Seedhay kheray of Chief Rang Pur district Muzaffargarh.He could not bear her separation and became a disciple of Guru ball Nath for the peace of his heart.
One day, he reached Rang Pur.Heer came to know of his arrival. She came back to her father's home with the help of her sister-in-law. But Kedo didn't like her.He devised a plan. He asked his brother to send the Ranjha to his town for the preparation of marriage. And he poisoned Heer.
Chochak did so. When Ranjha came there with Barat, he saw the dead body of Heer. He also died on the spot.There is a tomb of Heer on the right side at a distance of 2 miles on Faisalabad Road in Jhang Sadr, 84 miles away from Chiniot.It is famous as Mai Heer Darbar. According to locals, the place where Rajha meditated for Heer is also located in the tomb. Waris Shah wrote this love story in 1766.
Key information about Jhang
| Category | Information |
| --- | --- |
| Location | Jhang, Punjab, Pakistan |
| Population | Approximately 590,000 (as of 2021) |
| Area | 8,809 square kilometers (3,402 sq mi) |
| Coordinates | 31.2729° N latitude, 72.3147° E longitude |
| District | Jhang District |
| Language | Punjabi, Urdu, and English |
| Economy | Agriculture, commerce, and trade |
| Major Crops | Wheat, sugarcane, cotton, and rice |
| Transportation | Well-connected to surrounding cities by road |
| Education | Numerous schools, colleges, and a campus of the University of Jhang |
| Healthcare | Hospitals and medical facilities |
| Notable Places | Tarewala Mausoleum, Shorkot Fort, and Chenab River |
| Culture | Rich cultural heritage with traditional music, dance, and local cuisine |
| Administration | Jhang is divided into several Union Councils for local governance |
| Climate | Hot and arid, experiencing extreme temperatures in summer |
| Major Highways | M-4 Motorway, Faisalabad-Jhang Road, and others |
| Airport | The nearest airport is Faisalabad International Airport (about 80 km away) |
Famous Places in Jhang
Chenab River
The city is situated on the banks of the Chenab River, and a walk along the riverfront offers scenic views and a peaceful atmosphere.
Shrine of Heer and Ranjha
This shrine is dedicated to Heer and Ranjha, two legendary Punjabi love characters. It is a popular pilgrimage site for those seeking blessings for their love stories.
Tomb of Sultan Bahoo
This historic tomb is dedicated to the Sufi saint Sultan Bahoo. It's an important spiritual and cultural site in Jhang.
Chenab College Jhang
An educational institution known for its academic excellence and beautiful campus.
Jhang Bazaar
A bustling marketplace where you can experience the local culture, shop for traditional crafts, and savor local cuisine.
Dinga Baba Shrine
Another important Sufi shrine in the city, visited by devotees seeking spiritual solace.
Tareen's House
The ancestral house of the influential Tareen family, which has played a significant role in Pakistani politics.
Haveli Maan Singh
A historic haveli (mansion) that reflects the architectural heritage of the region.
Rakh Lashkar
A rural area in Jhang known for its agricultural landscapes, offering a glimpse of the agrarian life in the region.
Shrine of Shah Jewna
A revered Sufi shrine, attracting pilgrims and visitors interested in the spiritual heritage of Jhang.
Cultural and Historical Landmarks
Fawara Chowk
Fawara Chowk is a central landmark in Jhang, known for its lively atmosphere and as a meeting point for locals.
Chiniot Bazaar
The bustling Chiniot Bazaar is a cultural hub, offering a vibrant shopping experience with a variety of traditional goods and crafts.
Schools in Jhang
Jhang Public School and College
The City School Jhang Campus
Divisional Public School and College Jhang
Beaconhouse School System Jhang
The Educators School Jhang
Government Girls High School Jhang
College in Jhang
Government College University Jhang (GCU Jhang)
University in Jhang
Government College University Jhang (GCU Jhang)

GCU Jhang offers various undergraduate and postgraduate programs.
Hospitals in Jhang
DHQ Hospital Jhang
Allama Iqbal Hospital Jhang
Al Mustafa Hospital Jhang
Civil Hospital Jhang
Bilal Hospital Jhang
Shahzad General Hospital
Restaurants in Jhang
Pizza Hut Jhang
Subway Jhang
Lal Qila Restaurant
Al Rehman Restaurant
Food Master Jhang
Shaheen Shinwari Restaurant
Frequently Asked Questions (FAQs) 
What is the significance of the Chenab River in Jhang?
The Chenab River holds great significance, providing a serene backdrop and a peaceful escape for both locals and visitors. Its riverbanks are often frequented for leisurely strolls.
Tell us about the historical importance of the Shahi Mosque.
The Shahi Mosque in Jhang is a historical masterpiece, reflecting intricate design and craftsmanship. It stands as a symbol of the city's rich cultural and religious heritage.
Why is the Shrine of Sultan Bahoo renowned?
The Shrine of Sultan Bahoo is a revered spiritual sanctuary, attracting devotees seeking solace and connection. The shrine is known for its tranquil atmosphere and the legacy of the Sufi saint.
Which educational institutions are notable in Jhang?
Jhang is home to institutions like the University of Jhang and Government College Jhang, both contributing significantly to the academic landscape of the city.
What are some prominent healthcare facilities in Jhang?
DHQ Hospital Jhang and Allied Hospital are notable healthcare facilities, providing a range of medical services and treatments to the local population.
Name a few well-known restaurants in Jhang.
Jhang Sweets and Bakers, Chenab Sweets & Bakers, and Kababish Restaurant are popular eateries, each offering a unique culinary experience in the city.
Are there cultural landmarks in Jhang?
Fawara Chowk and Chiniot Bazaar are cultural landmarks in Jhang, representing lively meeting points and vibrant shopping experiences.
What is the cultural significance of Chiniot Bazaar?
Chiniot Bazaar is a bustling cultural hub known for its vibrant atmosphere and diverse array of traditional goods and crafts.
Wind Up Lines
Jhang stands as a testament to the enduring spirit of Punjab—a region where tradition meets tranquility. Whether exploring its historical landmarks, savoring local delicacies, or simply basking in the scenic beauty along the Chenab River, Jhang offers a multifaceted experience that captures the essence of this culturally rich city.