Muzaffargarh
It is located in southern Punjab. The closest Metropolitan city is Multan. Most people rely on agriculture for their livelihood.
Famous Historical Place
Sakina-Tu-Sughra Mosque
A Pakistani Cardiologist based in the United States Dr. Ismail Bukhari built this mosque in Kotla Raham Ali Shah town which is 11 km from Jatoi and 74 km from Muzaffar Garh.
Before that, there was a madrassa and a small mosque. Maulana Obaid Ullah Sindhi got his early education in this Madrassa. Dr. Ismail Bukhari renovated this mosque and allocated an area of 56 canals. He analyzed different architectural styles of the mosques in the World and selected Turkey's architectural style for this mosque.
The map of this three-floor mosque was designed by the renowned Turk Architect engineer Najeeb. The raw material was imported from Turkey. The chandeliers in this mosque were designed by the same company which designed the chandeliers of masjid -e- Nabi ﷺ.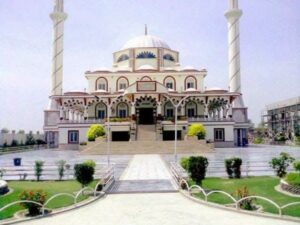 It was completed in a short duration of sixteen months. It gives a pleasant feeling when you enter this mosque.
The sacred names Allah and Muhammad are written with grass. The white marble net in the inner part of the mosque is a fine example of Mughal and Multani art.
The main door of this mosque resembles the front gate of Masjid-e- Nabiﷺ. The height of the mosque is 80 feet and the height of the two minarets is 186 feet. It consists of 23 small domes and teak wood is used in its doors.
A madrassa is connected to this mosque and more than 400 students are getting religious education there.
Transport is available from Multan to Jatoi. People can visit Kotla Raham Ali Shah through local transport.