Rakaposhi
After taking a turn on the Hunza Road, the beautiful peak of Rakaposhi, loaded with thousands of tons of snow, emerges at once through the cracks of red rocks. Rakaposhi peak will accompany you on the Karakoram Highway for 40km.
Its color changes to a unique color at every turn. This peak with an altitude of 25,551 feet is reckoned as one of the most beautiful peaks in the world. It is the eleventh highest peak in Pakistan and 27th highest peak in the world.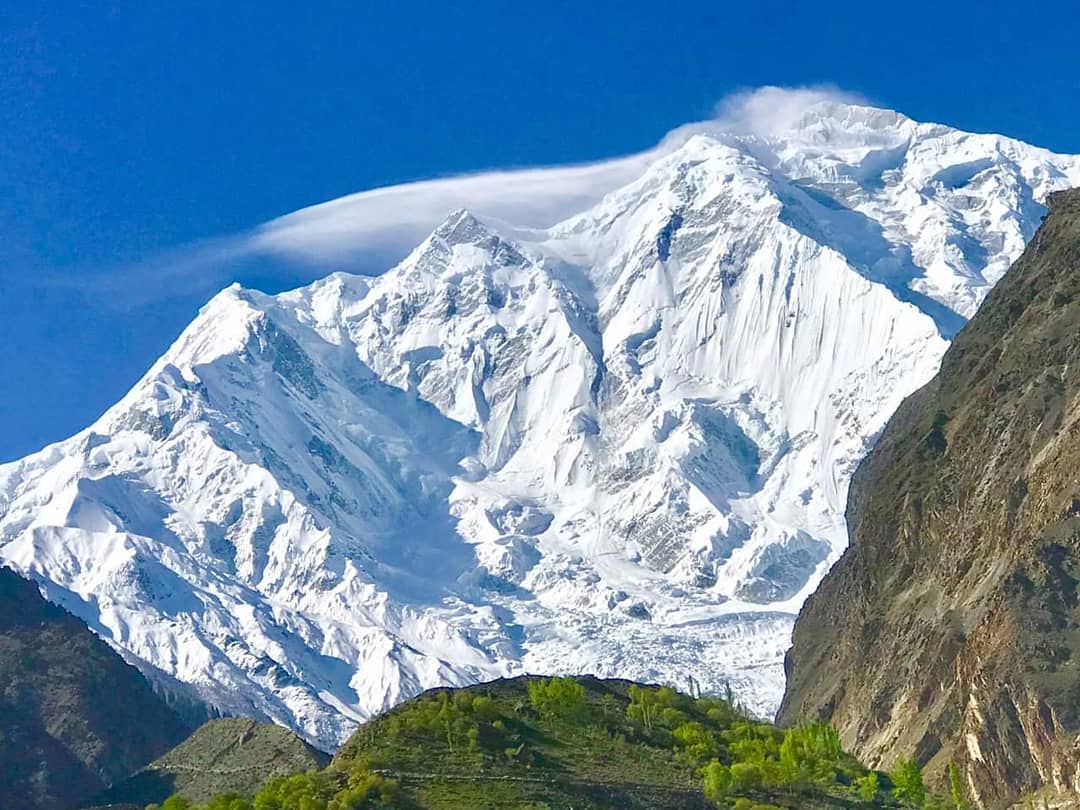 There are many trails to reach this peak but the easiest one is by Silk Route, before Aliabad via Pisson and Minapin Village. There is a three to four journey on foot from Minapin Village to Rakaposhi base camp. Move forward from Minapin Village with food, an airtight tent, a guide, and other necessary stuff.
| Feature | Details |
| --- | --- |
| Name | Rakaposhi |
| Location | Karakoram Range, Gilgit-Baltistan, Pakistan |
| Elevation | 7,788 meters (25,551 feet) |
| Prominence | 2,715 meters (8,907 feet) |
| Range | Karakoram Range |
| First Ascent | First climbed by a British team in 1958 |
| Notable Fact | Known for its relatively gentle and beautiful slopes, making it a popular peak for mountaineers |
| Scenic Beauty | Offers breathtaking views of the Karakoram Range |
| Trekking | Serves as an excellent trekking destination, with various trekking routes available |
| Climbing | Attracts climbers from around the world, offering both challenging and rewarding ascents |
| Geographical Significance | Lies near the junction of three important mountain ranges: the Karakoram, Himalayas, and Hindu Kush |
| Local Legends | Surrounded by local folklore and legends, adding to its mystique |
| Expeditions | Hosts numerous mountaineering expeditions, contributing to the local economy |
| Accessibility | Accessible from the town of Gilgit, with further trekking required for closer views |
| Safety | Climbing and trekking on Rakaposhi require proper equipment, experience, and permits |
| Best Time to Visit | Summer months (June to September) offer the most suitable weather for climbing and trekking activities |
The river Minapin flows till Minapin Glacier. Small ice cubes also flow along the water in river Minapin. Two splendid waterfalls on your way will urge you to stay there. Stay in Hapakan for a day. From this point, the Rakaposhi base camp trek has thick green forests and low and high trails.
Minapin Glacier, deserted peak, Minapin Village at the back, and Silk route will amaze you. The next stop is Tafakhri. Rakapsohi's beauty is in full swing there. Before descending into Tafakhri Valley, one can see a crowd of Minapin and other glaciers that look like beautifully carved sculptures of various sizes and shapes.
These shapes and sizes are the results of climate changes and thunderstorms. The ice layers cover Rakaposhi in such a way that it looks like a beautiful bride in a white Kashmiri Shawl. Most of the time, Rakaposhi is shrouded in mist. And it covers a large part of this region in fog. That's why it is called the "mother of mist".
Naltar, the first settlement of Nagar is 8km from Siknderabad adjacent to Hunza. About 8km from Nalt, the Rakaposhi view will spellbind you at the point of Gulmit. There are different cafeterias at this point near the water spring. Stay here for a while. Take pictures to your heart's content.
Nasirabad is 6km from this spot. Here, Rakaposhi appears with a different view. 10 km ahead of Murtazaabad, 5 miles after crossing Hassanabad comes the Hindi bridge. Garnet stones can be found near the river Hunza bank below the Hindi school. Rakaposhi will appear at the point of Aliabad.
You can enjoy a view of the Golden Peak and Altar Glacier. The slopes of this glacier are of granite. Due to this reason, the ice can't stay over it. There is an Aliabad (Karimabad) general bus stand too. A commercial area is located on Resham highway. Whereas, Karimabad is the central area that is located at some height.
FAQs
Q1: Where is Rakaposhi located?
Rakaposhi is situated in the Karakoram Range, within the Gilgit-Baltistan region of Pakistan.
Q2: What is the elevation of Rakaposhi?
Rakaposhi stands at an elevation of 7,788 meters (25,551 feet) above sea level.
Q3: Is Rakaposhi a popular destination for climbers?
Yes, Rakaposhi is a renowned destination for mountaineers due to its relatively gentle slopes and stunning views.
Q4: Can tourists visit Rakaposhi without mountaineering experience?
While a full ascent may require mountaineering skills, trekking routes around Rakaposhi are accessible to tourists without climbing experience.
Q5: When is the best time to visit Rakaposhi?
The ideal time to visit Rakaposhi is during the summer months, from June to September, when the weather is most favorable.
Wind Up Lines
Rakaposhi is a famous trekking and tourist spot in Gilgit Baltistan. Rakaposhi stands as a majestic sentinel in the Karakoram Range, captivating climbers, trekkers, and nature enthusiasts with its grandeur. This beautiful peak is not only a symbol of the region's natural wonder but also a testament to the adventurous spirit of those who dare to conquer its slopes.
Whether you're an experienced mountaineer or a traveler seeking breathtaking views, Rakaposhi's allure is undeniable. Plan your visit to this Himalayan gem and be mesmerized by the allure of Rakaposhi.