Mardan
Mardan is a historical city of Khyber Pakhtunkhwa. It has five districts.
Mardan Tehsil
Takht Bhai Tehsil
Katlang Tehsil
Rustam Tehsil
Lund Khwar Tehsil
Famous Historical, Archaeological Sites, and Delicacies of Mardan
1- Mardan Museum
Mardan is well known for its army base camp for two hundred years which is situated on the highway directed to Swat Valley. It is 64 km from Peshawar and 25km from Nowshera.
It is a culturally rich city. Especially, the Gandara civilizations signs are prevailing there. Proof of this is the archaeological signs of Jamal Garhi, Sehri, Behlol, Shahbaz Garhi, and Takht Bhai. In April 1991, Mardan Museum was established to save the culture of the region. It was temporarily established in Mardan Auditorium.
Initially, Peshawar Museum, the archaeological department of the University of Peshawar, and Chakdra museum contributed. Sculptures and other artifacts were decorated beautifully in different showcases of the Museum.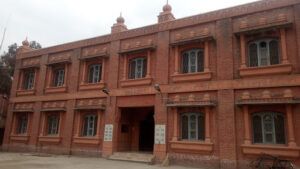 2- Badayuni Peray
These are special and famous peray (a confectionery item) of Mardan. They were prepared in the district Badayuni of the province of Uttar Pradesh of India. After the creation of Pakistan, seven brothers of a family immigrated to Mardan Pakistan, and started a business of Badayuni Peray.
Today, these healthy, delicious, and nutritious peray are the identity of Mardan.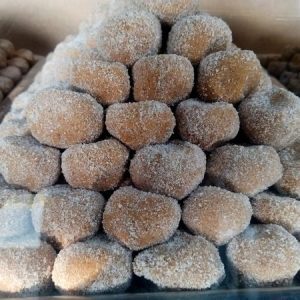 3- Jamal Garhi
The historical archaeological remains of Jamal Garhi are on the hilltop at a height of 152 meters. These signs are 13km to the north of Mardan. Actually, it was a monastery. And it was discovered by sir Gangham in January 1948.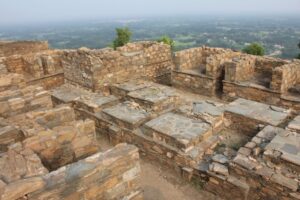 Later on, a British Karnal tool a sculpture loaded on 12 camels with him. Due to the negligence of the government, people took many valuable artifacts from there. Its stupa indicates that it was built during the reign of Ashoka in Gandhara.
Small rooms are designed around the stupa to erect the sculptures. The monastery was not in square shape and separate rooms are built for monks. This two-floor building had a veranda, a courtyard, and stupas.  A Buddha monastery is in the Turali region which is 2km to the east of Jamal Garhi.
4- Shahbaz Garhi
The area of Shahbaz Garhi is on Swabi road which is 15km from Mardan city. The historical significance of this area, which is full of Buddhist relics, is that Maharaja Ashoka, the guardian of Buddhism, also engraved his edict here.
Besides this, there is linger fort which was built by Mughal emperor Akbar. A few kilometers away is Isotamegalth near Shiva Ada.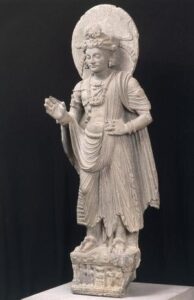 5- Seri Bahlol
This area consists of dozens of Dheri or archaeological and is located at a distance of 7 miles from Mardan. Many coins have been discovered here during excavations. According to experts' analysis, it was settled in the first century.
The experts have declared it an important center of Buddhism. The UN Department of UNESCO has declared it a World Heritage.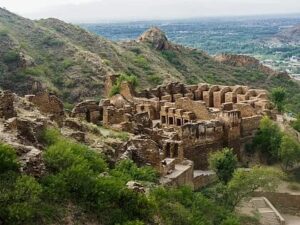 6- Takht Bhai (Land of Inspiration)
On the way to Swat from Mardan, a few miles away, at Takht Bhai's place, the intellectual and religious center of Buddhism of Raja Kanishka's time is now known as Takht Bhai ruins. There were many small empires in the Kanishka era. The empire of raja Bihai was called "Takht Bhai" which has a means of the empire of Bihai.
A monastery was established at a high rock for the promotion and religious training of Buddha monks. People used to come here from distant places to seek knowledge of Buddhism. The remains of the rooms proved this.
There are small rooms on both sides of the tunnel-like basements where monks used to meditate and worship for months. This seminary, a great masterpiece of Gandhara, had a unique place in the world for the promotion and propagation of Buddhism.
All kinds of facilities were provided here. Its small rooms were built with such skill that the light in these rooms is so well arranged that when the sun rises the rays of the sun enter through the holes and illuminate the meditation hall and its rooms. And its light is maintained at regular intervals till sunset.
This unique piece of Gandhara art will be reminiscent of the Buddhist era throughout history.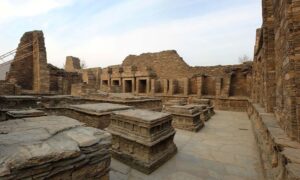 Wind Up Lines
KPK has a deep-rooted history. There are many traces of Buddhism in the province of Khyber Pakhtunkhwa. Mardan is one of them.
If you don't want to visit all of them then must visit the archaeological site of Takht Bhai. You will understand a lot about Buddhism. There are many shops for Chapli Kebab (slice of meat mince cooked with different spices). And never forget to take Qahwa after that.